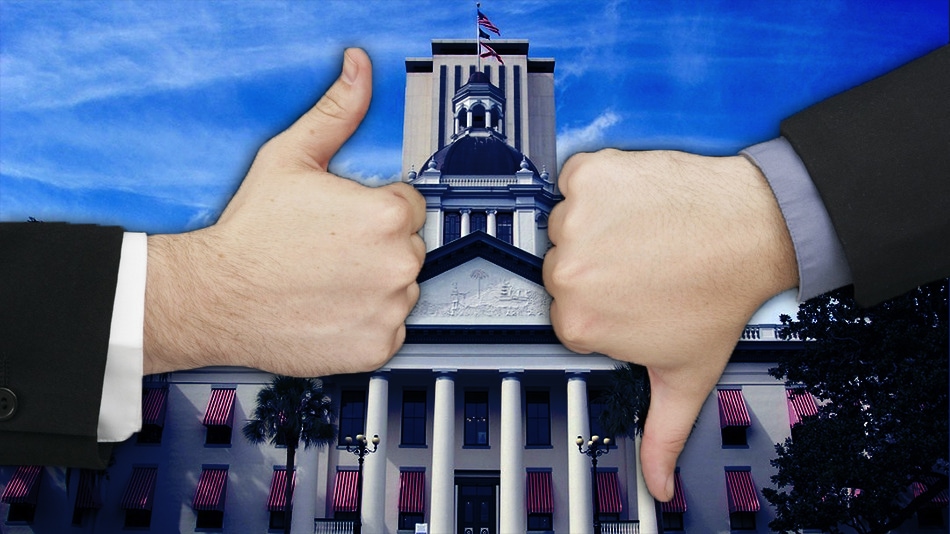 Matt Gaetz is threatening Kevin McCarthy's tenure as House Speaker, while prosecutors are threatening Alex Díaz de la Portilla with prison.
As Ron DeSantis struggles to gain support from the GOP Primary electorate, he's making clear he supports House Republican efforts to cause headaches for Republican House Speaker Kevin McCarthy.
The question is: Does he still have any pull?
Eugene Daniels of POLITICO this week highlighted DeSantis' efforts behind the scenes as the House enters a high-stakes period in the weeks ahead.
The Governor and 2024 presidential hopeful spent 30 minutes on the phone with a group of Republicans, encouraging them to keep up their threats to shut the government down if lawmakers don't agree to certain restrictions in the upcoming spending bill.
DeSantis campaign spokesperson Andrew Romeo confirmed the push in comments to POLITICO.
"Ron DeSantis knows that both parties — including the current and previous administration — are to blame for Washington's reckless spending spree," Romeo said. "He is urging congressional Republicans to hold the line in this current spending standoff and end days of rubber-stamping multitrillion-dollar spending bills that harm the American people."
Some of those lawmakers threatening a shutdown that DeSantis spoke to have endorsed DeSantis' 2024 bid, such as U.S. Reps. Thomas Massie of Kentucky and Chip Roy of Texas. DeSantis is also a founding member of the Freedom Caucus, so his bona fides seem solid among this cohort.
But as DeSantis' poll numbers continue to slide, one wonders how much help he is in shaping the narrative regarding a potential shutdown.
Yes, polls are imperfect predictors of future elections. But they can capture the public's current mood about a candidate. And right now, voters aren't buying what DeSantis is selling. He's been trending downward over the last few months. Perhaps the GOP base will happen to align with DeSantis' stance here. But it's hard to see what added value he's bringing to these House Republicans as they get ready to fight.
Consider, for example, what would happen if former President Donald Trump came out and began consistently voicing support for a shutdown. As the current GOP front-runner by a mile, that would put a lot of public pressure on GOP lawmakers to hold steady in this battle and would undoubtedly increase the chances of a shutdown if those spending reforms don't come to pass.
But as of now, a shutdown is likely to once again be incredibly polarizing and potentially politically risky for Republicans. Nevertheless, Team DeSantis is firmly lining up in support of these House hard-liners.
This seems to be yet another example of DeSantis aligning with a hard right base that increasingly shows that they prefer the former President to DeSantis. Instead of trying to expand his base, however, DeSantis is lining up with the fringes in a move that could alienate many voters affected by a possible shutdown.
It's hard to see how this does anything but narrow DeSantis' voter base further, a task DeSantis' team has proven themselves experts at these past few months.
Now, it's on to our weekly game of winners and losers.
Winners
Honorable mention: DeSantis and Trump. Though we're bearish on the pro-shutdown strategy, DeSantis' team did make a smart move this week by scheduling a sit-down with Norah O'Donnell of CBS News.
The appearance earned DeSantis a flurry of headlines and let him make his case to be the GOP's conservative standard-bearer to a national audience.
Despite appearing on the (gasp!) mainstream media, he could still focus on elements he'd hit before that are popular with his base. He reiterated an intention to kill cartel members or other "hostile" people who cross the border illegally, slammed the NAACP again for its "stunt" travel warning about Florida, and dangled a possible preemptive strike against North Korea.
Are any of those winners in an election where many more conservative Republicans are already backing Trump? Probably not! But these are the talking points his team clearly wants to keep hitting, and by appearing on CBS News, he got to make that case to a broader audience.
DeSantis also pitched more moderate policy points, once again downplaying the possibility that he could push for a national abortion ban and expressing skepticism the Supreme Court would undo federal same-sex marriage protections.
The appearance also let DeSantis speak to a national audience about why he's a better nominee than Trump. The Governor hit Trump and President Joe Biden on age and argued that Trump could not win a General Election if he is convicted of any of the 91 counts he's currently facing.
We've given credit to DeSantis before for doing these types of interviews and will continue doing so. If you believe you're the right candidate to lead the country, speaking to more people can't hurt.
Speaking of which, Trump also broke out of his conservative media bubble for an interview with Kristen Welker of NBC News.
Trump's full interview will air later this morning on Meet the Press during Welker's first episode as the host of that storied program. But Trump made headlines in clips of their talk, which aired this past week, including a promise he'll testify under oath that he did not ask a staffer to delete security camera footage in Mar-a-Lago, a key claim against Trump in the documents case.
He also strongly opposed the idea of pardoning himself for any potential crimes (though given Trump's penchant for acting in his self-interest more than anything else, we'll take those comments with a grain of salt).
Trump also sat down with Megyn Kelly, a conservative media personality who is nevertheless a tough interviewer. Trump made headlines here, though comments about the Biden impeachment process being payback for his own and meandering remarks about his relationship with Anthony Fauci have not gone over so well.
Still, we encourage candidates to sit down and face legitimate questions from non-sycophantic media. Everyone needs to get out of their respective bubbles and answer tough questions. If they increase their legal peril while doing so, that's on them.
Almost (but not quite) the biggest winner: Anna Paulina Luna. Luna landed on the TIME 100 Next list, a collection of the magazine's picks for "what society's future and future leaders will look like."
Luna is a newbie in Congress, winning her seat in 2022 just one cycle after she lost a General Election race against then-Democratic U.S. Rep. Charlie Crist.
She admittedly has little in the way of substantive legislative victories, though that's not unique for a new lawmaker.
What she has done is make headlines. She earned bipartisan praise for helping push for more info on unexplained aerial phenomena alongside Democratic U.S. Rep. Jared Moskowitz. She also got attention for pushing back against the U.S. Army Corps of Engineers over a beach renourishment battle in Pinellas County.
And Luna also has a big partisan win, backing a successful censure resolution for U.S. Rep. Adam Schiff.
That and more earned TIME's attention, with staff writer Eric Cortellessa penning remarks spotlighting Luna for the list.
"The charismatic Florida freshman is on a mission to disrupt the governing class," Cortellessa wrote. "Now the youngest House Republican is using her digital prowess to lead a new class of populists working to redefine the Republican Party."
Will the 34-year-old Luna one day land on the iconic TIME 100 list of the most influential world leaders? Stay tuned.
The biggest winner: Matt Gaetz. McCarthy has finally started an impeachment inquiry against Biden. And that's primarily due to pressure from Gaetz, who is serving as a perpetual thorn in the side of the top House Republican.
Gaetz teased a challenge to McCarthy's Speakership in recent weeks. This week, he amped up that threat with a floor speech in the House laying out his grievances against the Speaker. Those include inaction on several issues Gaetz said McCarthy promised would get done for McCarthy to win the Speakership after an excruciating 15 votes.
Notably, this week, Gaetz's floor speech came after McCarthy announced the impeachment inquiry would proceed. While Gaetz has pushed for more aggressiveness against Biden and his family, he argues McCarthy's move will lead nowhere and was simply an empty gesture to try to appease Gaetz and more hard-line members of the GOP caucus.
The tension between McCarthy and Gaetz grew this week, with each lobbing public grenades and questioning the motives of the other. That culminated in a closed-door meeting Thursday, where McCarthy, frustrated with Gaetz's public offensive against him, challenged him to "file a fucking motion" to challenge McCarthy's position as Speaker.
Gaetz has a similarly colorful response.
Gaetz's opposition to McCarthy is nothing new, as he was the most vocal holdout during McCarthy's bid to become Speaker following Republicans taking over the chamber after the Midterms.
We named Gaetz a loser when McCarthy eventually won out. Though Gaetz argued his efforts yielded concessions from McCarthy, Gaetz lost his push, and we recognized it.
But this is a column about news this week, not a lifelong rehash for every subject. And this week, it appears that Gaetz is holding those concessions over McCarthy's head to get him to move on several issues important to Gaetz and Republican hard-liners.
The problem for Republicans is that an overly aggressive strategy could cause serious problems for Republicans in more moderate districts. Remember, the GOP did not sweep to a monumental victory in 2022. They have a narrow House majority. And antics that cost members in more purple districts their seats could send them right back into the minority next cycle.
Gaetz appears to be on a mission regardless of the consequences. And he's clearly got McCarthy rattled.
Losers
Dishonorable mention: Fabián Basabe. The week started with Rep. Basabe grousing that he hadn't been served with a complaint in a lawsuit claiming he inappropriately touched his team members and then later defamed him. The plaintiffs, meanwhile, argued they had tried repeatedly to do so, but that Basabe was dodging process servers.
That issue was quickly resolved, as Basabe was served shortly after Jesse Schecker of Florida Politics published a piece on the back-and-forth.
To recap, former aide Nicolas Frevola and former intern Jacob Cutbirth filed the lawsuit. Frevola previously alleged that Basabe slapped him during an event. The suit covers that incident and another occasion where Basabe allegedly slapped Frevola's backside. Cutbirth also says Basabe grabbed him and tried to kiss him during a December incident.
Basabe has denied the allegations and denied the plaintiffs' claims that he was avoiding being served. Attorneys for the plaintiffs say they tried 15 times to serve Basabe at various venues without success until they finally reached him this week.
The Republican Representative, however, says he wants a chance to fight back against the allegations.
"I want my day in court, and I want anyone involved with (these) false allegations to be deposed under oath and under penalty of perjury," Basabe said.
Well, now that the lawsuit is officially underway, it looks like he will get it.
Almost (but not quite) the biggest loser: New College of Florida. DeSantis' conservative takeover of New College is once again courting controversy, as the U.S. Department of Education is investigating claims that the college is discriminating against people with disabilities.
The Department is looking into complaints that the college's website is not accessible for individuals with disabilities and that college officials are not effectively communicating with such individuals, per a report from Steven Walker of the Sarasota Herald-Tribune.
Another complaint has also been filed that officials are discriminating against LGBTQ students. The Department has received that complaint, but it's unclear whether there is a significant investigation into those claims.
DeSantis, for his part, is already chiding the Department for taking any of these claims seriously.
"I appointed conservative trustees. They reoriented the university from being left of the left to being classical education like Hillsdale," DeSantis told Laura Ingraham.
"And they did things like abolish the gender studies department, and they're now opening up a civil rights investigation against one of our trustees, Chris Rufo, because he misgendered one of the fired employees or fired professors," DeSantis added. "You've got to be kidding me."
That's an overly simplified version of the complaint but shows DeSantis is confident these claims won't have any weight.
And true, it's unclear how far the investigation into potential discrimination against students with disabilities will go. But this is another set of negative headlines as the college tries to reinvent itself.
The Governor was forceful in trying to overhaul New College, alienating the student body there as well as staff and supporters. Time and again, he's expressed a willingness to use the power available to him to conduct his policy aims, even if that means walking up to or crossing the line. But the least his New College underlings could do is not court any additional heat after the fact.
The biggest loser: Alex Díaz de la Portilla. Miami Commissioner Díaz de la Portilla was arrested and is facing corruption charges after allegedly accepting $245,000 to support a sports complex built in Miami.
This is the latest in a career of suspect dealings by Díaz de la Portilla but could be his biggest legal threat yet.
The charges come just over a week after lobbyist Manuel Prieguez filed a civil suit accusing Díaz de la Portilla of pressuring the operator of the Rickenbacker Marina to hire one of Díaz de la Portilla's associates in exchange for the Commissioner supporting a renovation plan for the marina.
But Díaz de la Portilla has long had issues. During his runs for City Commission in 2018 and 2019, residents complained that Díaz de la Portilla strong-armed them for their vote.
He beat 2001 campaign finance charges in court but was fined $300,000 by the Commission on Ethics. Díaz de la Portilla also faced an arrest in Boston and accusations from his ex-wife that he stalked her.
More recently, former Police Chief Art Acevedo accused Díaz de la Portilla and Miami Commissioners Joe Carollo and Manolo Reyes of impeding police investigations. An investigation into those claims is ongoing.,
So, Díaz de la Portilla is no stranger to the legal system. Lobbyist William Riley Jr. is also roped into the newest corruption charges regarding the alleged money laundering for that sports complex. Díaz de la Portilla also faces charges relating to campaign finance improprieties, such as using campaign funds for personal spending.
The Broward State Attorney's Office oversees the case to remove any potential conflict by Miami-Dade running an investigation of a City Commissioner within its limits.
For years, Díaz de la Portilla struggled to make a political comeback, before finally winning a seat on the City Commission. If these charges hold up, he may soon again be on the outside looking in.