Six of the seven board members of Jacksonville's nascent Kids Hope Alliance cleared City Council Tuesday evening.
Five of them made the cut via the consent agenda: Rebekah Davis, a former member of the Jacksonville Children's Commission board of directors; Kevin Gay, a previous Jacksonville Journey board member; former Jacksonville Sheriff and current Edward Waters College President Nat Glover; Iraq War Bronze Star recipient Joe Peppers; and Tyra Tutor, an senior vice president at The Adecco Group North America.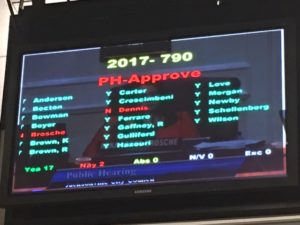 The sixth was not on the consent agenda.
Dr. Marvin Wells lives in St. Johns County.  And even though he cleared the Rules Committee a week before without a no vote, the waiver of residency requirement required a full hearing.
Ultimately, it was for naught.
Councilman Garrett Dennis noted in Rules that he worried that Wells was a "test case" for another nominee from outside the county, one who could have been more controversial.
In the Council meeting, there was some resistance to Wells.
Council President Anna Brosche, meanwhile, was less bullish on waiving the residency requirement for Wells.
"I'm not willing to out of the gate support someone who doesn't live in Duval County," Brosche said.
Dennis concurred.
"We are waiving the code. We are waiving the law," Dennis said. "I ask the mayor to select a nominee that lives in Jacksonville."
"The mayor couldn't find one person in Jacksonville who could serve on this board?" Dennis asked.
Allies of the Mayor's Office — such as Reggie Gaffney, Tommy Hazouri, Katrina Brown and Al Ferraro — backed the appointment.
In the end, Brosche and Dennis stood alone, with the rest of the Council going with the mayor's pick.