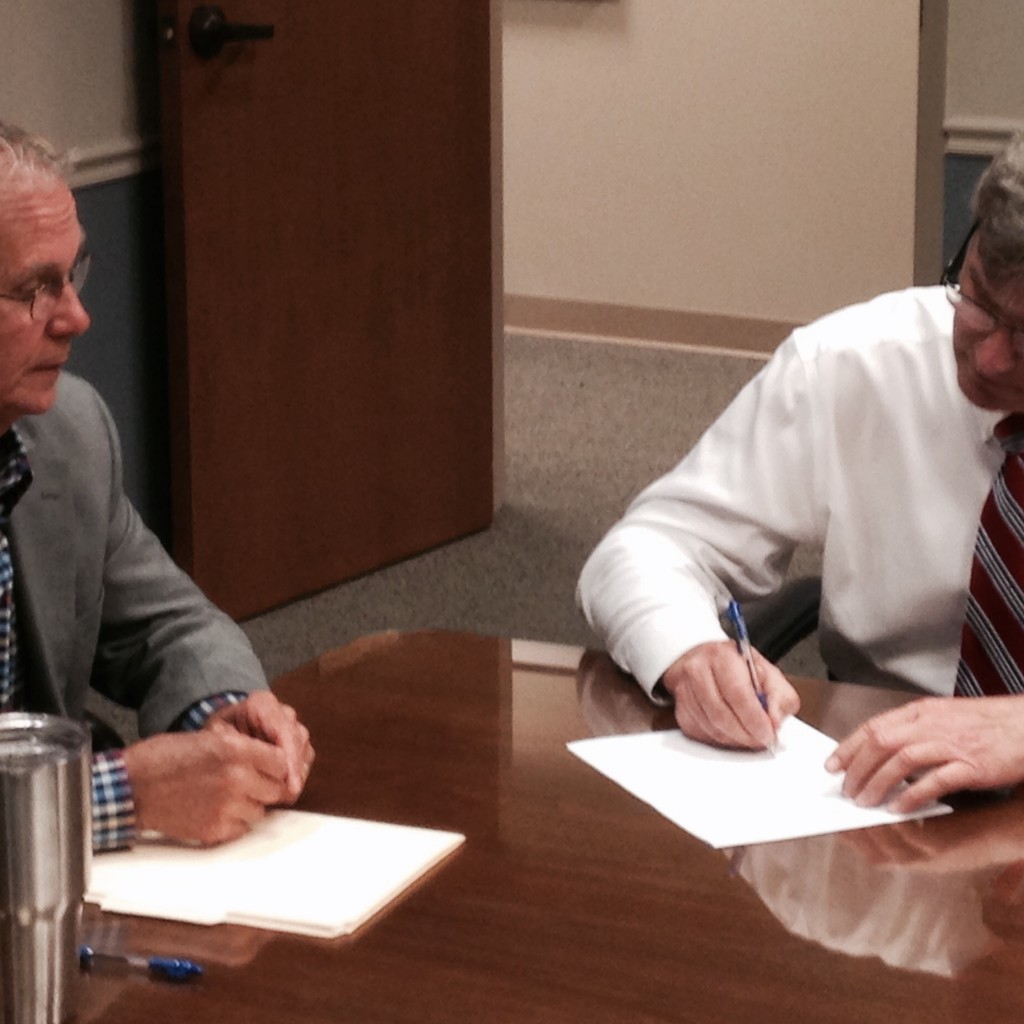 Republicans and Democrats alike will tell you the same thing. In Jacksonville's City Hall, there are few nicer or more personable people than Doyle Carter.
The Republican Councilman lives and breathes Jacksonville. So does his latest backer in the Jacksonville City Council vice presidential race, Al Ferraro.
Carter scheduled an open meeting for 8 a.m. Tuesday to meet with Council members about supporting him. Ferraro showed, and before signing the pledge letter, the two Councilmen talked. For half an hour.
The subjects? Concerns of the present day, such as the price of gasoline. A fish story from Ferraro, who jumped off a jet ski and caught a trophy bass barehanded. The past and present of local fish camps, such as the locally famous Clark's Fish Camp, and other fish camps, a few converted into houses over the decades.
Carter told stories about surfing in the morning, then feeding the cows and horses in the afternoon … as well as stories about the Skinners – of Skinner's Dairy fame – who back in the day were a lot poorer before Jacksonville's land boom made acres a more lucrative commodity than dairy cows.
Politics is a relationship business. Ferraro and Carter's relationship is rooted in an understanding of Jacksonville as it is, and as it was. And as it could be.
Carter's formal pitch for the VP slot has become familiar to this writer by now, who has covered his share of these meetings. As with other potential pledges, Carter pledged to be "respectful" as VP and president, as "one person" who can get the advice of 18 other people.
The goal is to make Jacksonville a "better city."
"We've got a chance to have the greatest city in the world," Carter said, who added that "if you aren't growing, you're backing up."
Carter spoke Ferraro's language in this meeting, and the subtext of Ferraro's remarks, before signing the pledge letter, is worth noting for those counting votes between Carter and John Crescimbeni.
"I do think that you listen," Ferraro said about Carter in his current role as Recreation, Community Development, Public Health, and Safety committee chairman.
"It seems like you get along with everybody."
"Where we're at," Ferraro said, it's "important to be able to encompass everybody."
Ferraro was too polite to say so, but others on background say it. As qualified as Crescimbeni is to be VP, he's hard to deal with.
There's a likability gap in the VP race. For Crescimbeni to resist Carter's suddenly viable candidacy, he's going to have to find a way to close it with the people who have worked with him closely over the past few months, in the case of new Council members. And the last few years, in terms of the old guard.
Crescimbeni still leads in terms of pledges, 6 to 4. But as Carter looks more viable, momentum may continue to go his way.
One factor worth noting: None of Crescimbeni's fellow Democrats have signed on with him yet.
He's going to need to change that trend sooner than later.