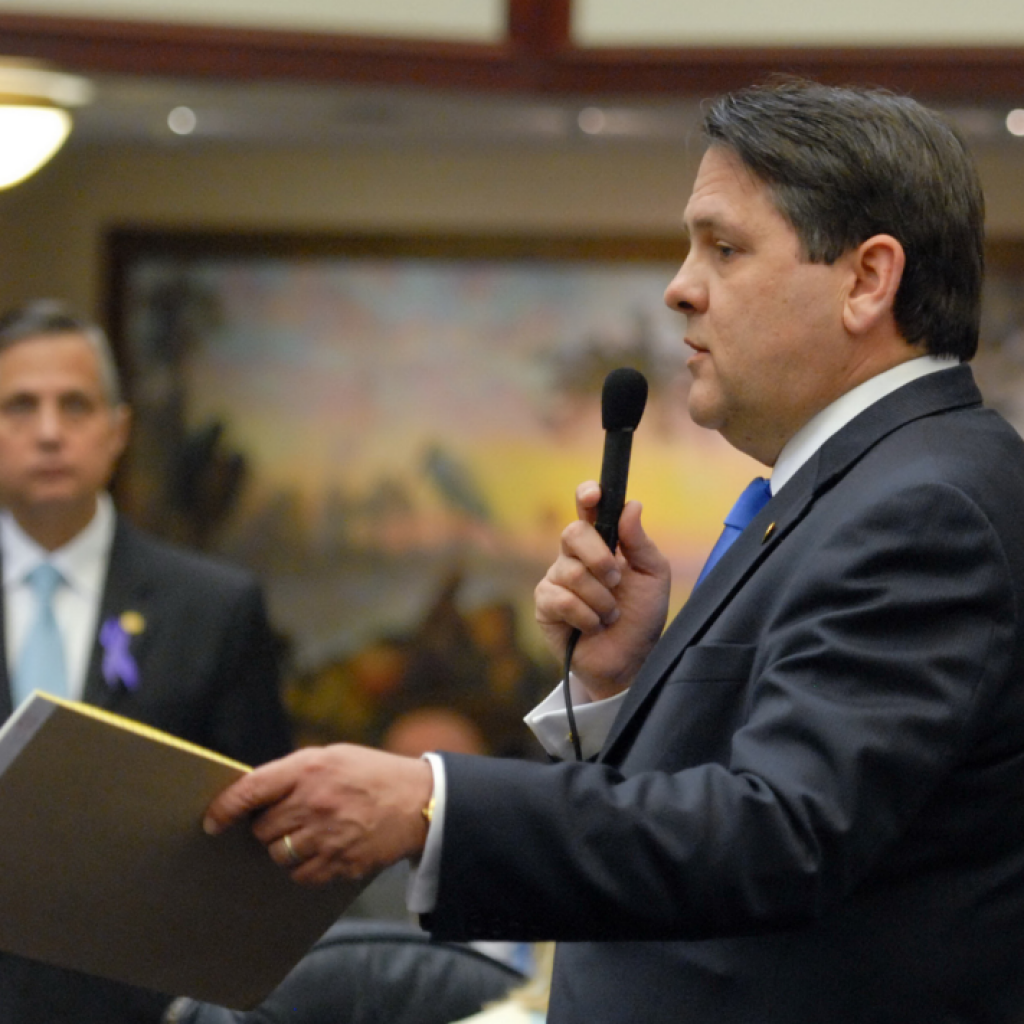 Rep. Charles McBurney has been the target of a concerted email campaign from National Rifle Association members, who seek to ensure that the termed-out Jacksonville Republican doesn't become a judge in the 4th Judicial Circuit, encompassing Duval, Clay, and Nassau Counties
McBurney is firing back, asking supporters to contact Gov. Rick Scott, to advocate for his ascension to a judgeship.
In fact, the NRA issued a sharply written "Florida Alert" email Tuesday giving a heads-up to supporters about the attempt to counter the NRA's aggressive campaign.
"Charles McBurney has now sent out an email asking for help to become a judge. We know it went to attorneys and we suspect he is trying to call in favors from prosecutors," former NRA president Marion Hammer wrote.
"He is asking people to email, call or write Gov. Scott in support of his candidacy. Of course," Hammer added, "his email didn't mention the conduct that makes him unfit to serve on the bench."
That conduct?
"In order to gain favor with prosecutors, he refused to hold a hearing on the 'Burden of Proof' bill, SB-344 by Sen. Rob Bradley, which restores the presumption of innocence in self-defense cases," Hammer wrote, saying that "McBurney, a former prosecutor himself, wants prosecutors to help him become a judge so he engaged in political pandering to prosecutors. McBurney traded your rights for personal gain."
Not everyone agrees with that read. Exhibit A: Jacksonville's Southside Business Men's Club, which is mobilizing its members in support of McBurney.
In a Wednesday letter to Gov. Scott, Patrick Heatherington, SBMC president, noted the strong support for McBurney among club members.
"By now you should have received several emails from our members individually as to why they support Charles McBurney. As many contacted me asking for our organization to support him as a group, today we held a vote at our regular meeting which carried overwhelmingly in favor. Rep. McBurney has served OUR district well over the past nine years. He's been objective, fair, humble, and available to his constituents," Heatherington wrote in the cover note to the formal letter.
The letter echoes that support.
"Recently the Florida head of the National Rifle Association has mobilized NRA membership against Charles' appointment. This attack is misguided. Until now, Charles has maintained a perfect rating by the NRA the nine years he's served as the District 16 State Representative. As a former prosecutor, private practice attorney, state legislator, and chairman of the Florida House Judiciary Committee, his credentials are impeccable and he would serve the State of Florida honorably and with integrity," the letter on SBMC letterhead reads.
McBurney, a "longstanding, active member" of the club, has "overwhelming support" from members, many of whom have been represented by him in the state House.
The letter goes on to urge Gov. Scott to "mute the noise being generated by the NRA and consider Charles' appointment based his experience, superior record of performance, and more importantly the support he has not only from District 16 who he has effectively represented for the past two terms in the Florida House, but also from the Jacksonville business community."
Founded in 1932, the SBMC is Jacksonville's oldest business and civic organization. Its support of McBurney sets local interests against outside lobbyists.
Gov. Scott, in Jacksonville Thursday for a National Guard deployment, discussed the squabble over McBurney with FloridaPolitics.com.
"I haven't seen it," Scott said regarding the NRA campaign.
Scott went on to describe the "process," including interviews and such, that allows him to pick the "best judge," one who understands the division between the three branches of government.
"I don't know when the appointment is," Scott added.
So, in sum, the NRA opposes McBurney. Local Jacksonville businessmen are asking Scott to "mute the noise." And this issue, for Scott, is just part of the day's work.