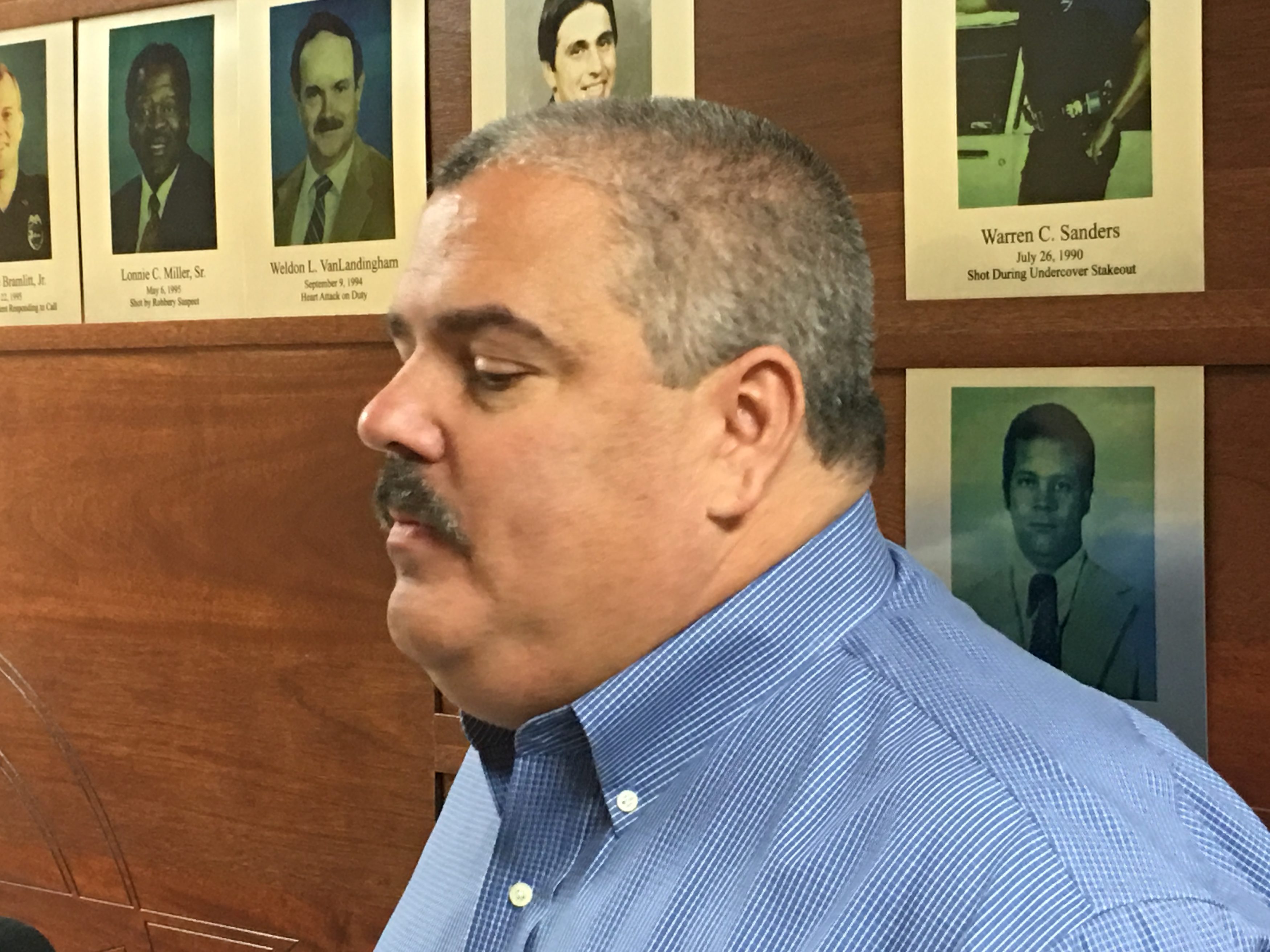 Pension negotiations resume for Jacksonville's Fraternal Order of Police on Monday. And an interesting preliminary battle is being fought between the FOP head and a reporter for the Florida Times-Union on Twitter.
While such pushback is an occupational hazard for reporters from political figures, the public nature of this dispute is unusual for the Jacksonville market.
The groundwork for Sunday's sharp exchanges was laid Saturday night, when FOP head Steve Zona posted to Facebook the long form version of an interview that the T-U's Ben Conarck conducted with him.
Conarck, the T-U's criminal justice reporter brought onto the paper last year, asked Zona a series of questions about police union negotiating positions on matters like body cameras and collective bargaining, and his union's approach to police shootings.
Also discussed: Conarck's reporting on such issues for the T-U, which Zona took some issue with.
Conarck, who took longhand notes throughout the extended interview, indicated his support for the members of the Jacksonville Sheriff's Office, and generally signaling an interest in building a good working relationship — necessary as he expects to cover the criminal justice beat for the T-U for the next year.
There is room for improvement in the dynamic still.
The FOP objected to an article Conarck posted on Saturday, saying that Conarck didn't tell the whole story.
Zona, meanwhile, included the following message on his post.
"I debated if I would post these videos, it brings me no pleasure. It is my interview with Ben Conarck about officer involved shootings and body cameras," Zona posted.
"Ben swore he would do better after one of his articles lacked facts, but his most recent article is a sad example so I'm posting these videos. They got split because of a phone call. They are long but well worth it to see what he says compared to what he writes," Zona added.
Comments were made, and many of them were robust. And one of them, which Zona "liked" on Facebook, went too far for Conarck.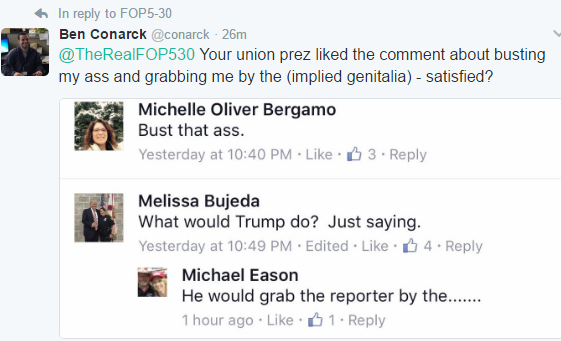 On Sunday, a Tweetstorm commenced from Conarck.
"So I guess we now know that @TheRealFOP530 thinks it is funny to encourage violence against reporters on social media. everyone feel safe? … Just a bunch of dudes with badges and guns joking about how they want to rough up a reporter who accurately reported the results of a poll … One last thing, @TheRealFOP530. To answer your q: I'm not intimidated. Nor will I be. My reporting will continue whether you like it or not."
Things may be settling down between the union head and the beat reporter. Conarck, again on Twitter, invited Zona to call or email him if he wanted to discuss the discrepancy between his reporting and the FOP position.
We will update if anything else interesting happens here.