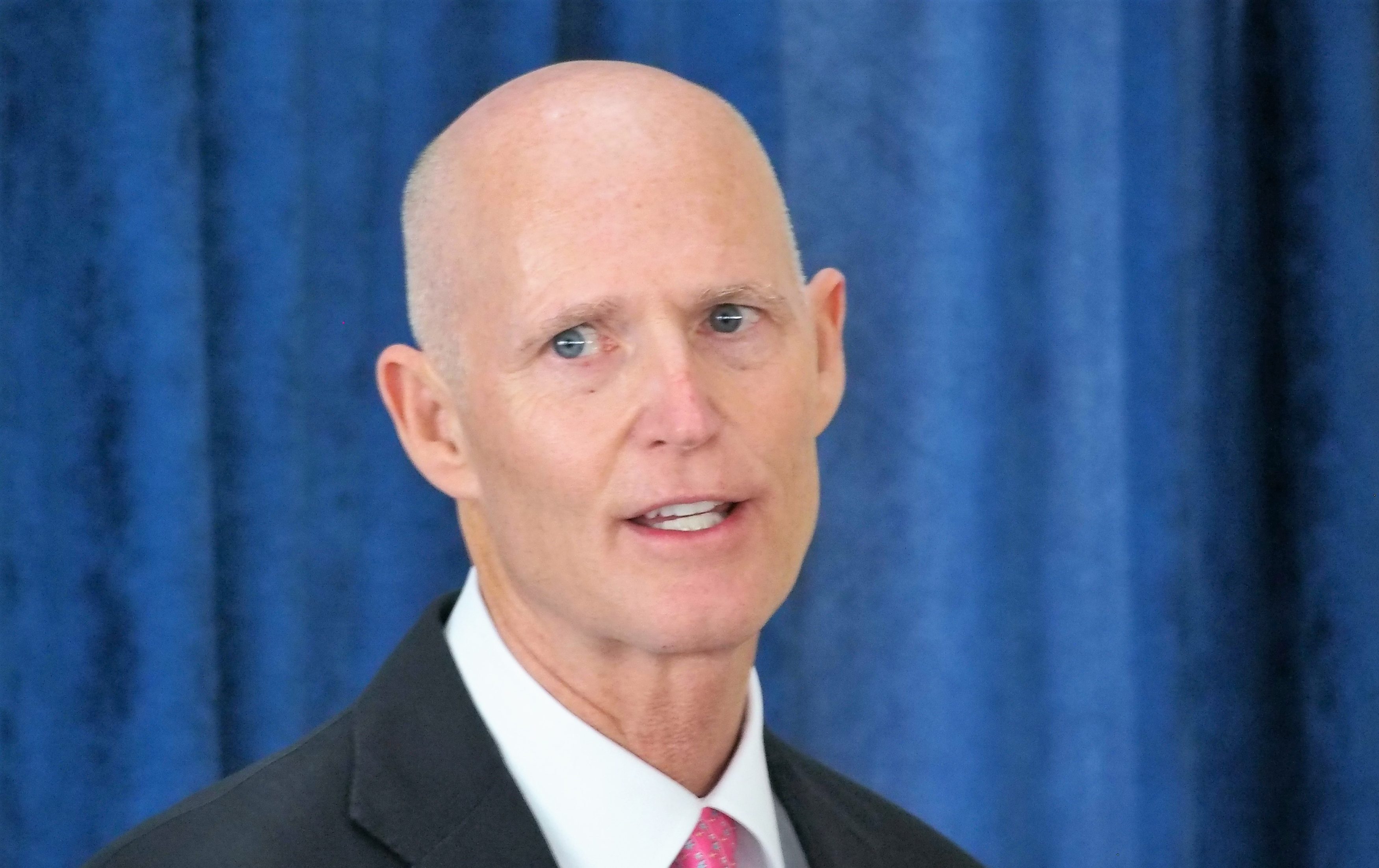 Rick Scott did not look like he was negotiating.
The governor fired a shot over the bow of the Legislature, all but demanding full funding in the state budget for his 2017-18 priorities: $200 million to begin fixing the dike at Lake Okeechobee, $100 million for VISIT FLORIDA, and salvaging Enterprise Florida from House Speaker Richard Corcoran's wrecking ball.
"All three of those project impact jobs," he said. "And whatever happens after this session—I'll have 610 days to go—I'll spend every day trying to get more jobs in this state."
Scott met briefly with reporters Thursday after a series of meetings with state senators, including Appropriations Chairman Jack Latvala.
But when asked specifically what he'll do if he vetoes the budget and lawmakers override the veto, Scott basically said he'll try again next year.
"I'll do exactly what I said I'll do," he said. "I've been completely open on what I ran on. And people agree with me. They care about jobs, they care about education, they care about being safe. And that's what I work on every day."
The governor spoke after legislative leadership announced agreement on budget allocations, the large pots of money that go toward funding major areas, such as education and health.
While the Senate largely has sided with Scott, Corcoran for months has lobbed linguistic grenades at the governor, including calling his favored business incentives programs, including the Quick Action Closing fund, "corporate welfare."
Scott has endorsed a key element of Senate President Joe Negron's Lake Okeechobee rehabilitation plan: Storing and treating water south of the lake. He has called upon the House and Senate to invest $200 million in repairs to the Herbert Hoover dike.
The state can afford the repairs because the $1.5 billion the Trump administration has provided to reimburse hospitals for charity care has freed up money for elsewhere.
"This is a golden opportunity to get this done," Scott said Thursday. "It's an environmental issue and a jobs issue."
He continued to advocate for VISIT FLORIDA, the state's tourism marketing agency, saying he "could not believe legislators don't understand the value of continuing to market this state." Fewer tourists mean fewer jobs in the tourist industry, he explained. "I am shocked at anyone who thinks we should cut one dollar from VISIT FLORIDA."
But Corcoran nearly sued the agency after it refused to disclose a promotional contract it inked with South Florida rapper Pitbull. The artist himself made the case moot by publishing a copy of the contract via Twitter, revealing he was promised a maximum of $1 million.
The speaker also has lambasted a promotional deal with superstar chef/restaurateur Emeril Lagasse for nearly $12 million.
Scott also said the state was losing deals for companies to move to Florida because he didn't have money in the Quick Action Closing fund, a pot of cash Scott can use with the least input from lawmakers.
"We are still competing with 49 other states," he said. "They want the jobs there, I want the jobs here. This legislature is turning its back on its constituents."