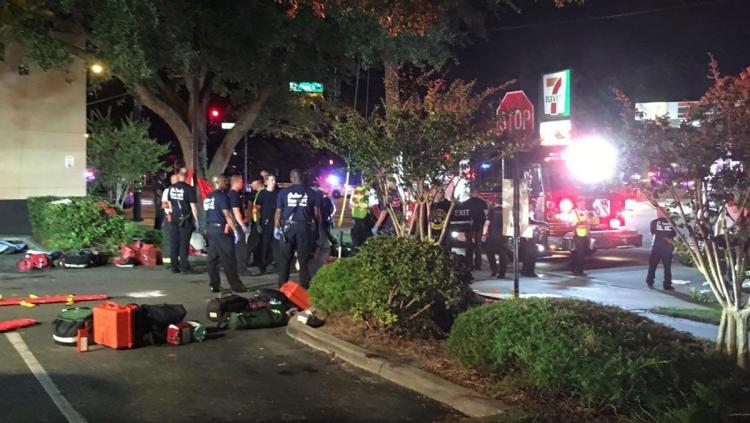 Stories of first responders to the 2016 massacre at Orlando's Pulse nightclub who have developed post-traumatic stress disorder, including a police officer dismissed Tuesday night, spurred several Orlando lawmakers Wednesday to renew their call for Florida's Workers Compensation to provide mental health coverage for them.
Democratic state Sen. Victor Torres of Orlando and Democratic state Reps. Amy Mercado, and Carlos Guillermo Smith of Orlando responded Wednesday in particular to Corporal Omar Delgado, who on Tuesday was dismissed effective Dec. 31, from the Eatonville Police Department.
There are several bills in both the House and the Senate that seek to expand Workers Comp to cover first responder PTSD cases.
According to a news release issued Wednesday by the Florida Senate Democrats, Delgado has been struggling with PTSD since rescuing Angel Colon, a Pulse nightclub victim who was shot six times during the early morning of June 12, 2016, when a madman killed 49 and wounded 53 inside the popular gay nightclub. For the past few months Delgado has been working on administrative tasks for the police department. Tuesday evening the Eatonville Town council dismissed him.
"When our first responders engage in acts of bravery and display amazing valor in the line of duty they are rightfully praised and awarded medals. Too often, however, when they need treatment for work-related mental traumas they become disposable and struggle to receive the support they deserve," Torres stated in the release.
Smith noted the Delgado case is not the first involving a Pulse first responder being terminated, and noted there are other cases statewide of first responders struggling with PTSD and even committing suicide.
"The story of Corporal Omar Delgado is just the latest example of how first responders in Florida are systematically denied the support they need when coping with PTSD. It is time we take action to change Florida law and start taking their mental health seriously."
And Mercado added, "We ask and expect our first responders to put their lives on the line every day. But when we need to protect them we fail."
Smith is a cosponsor of HB 629, introduced by state Rep. Robert Asencio, a Democrat from Miami who is a retired police captain, which would extend the workers comp benefits. There also is HB 227 by state Reps. Rene Plasencia, an Orlando Republican, and Matt Willhite, a Wellington Democrat, which has numerous co-sponsors, including Smith and Democratic state Rep. John Cortes of Kissimmee, and Republican state Reps. Mike Miller of Winter Park and Scott Plakon of Altamonte Springs.
Torres's senate version, SB 126, also has numerous co-sponsors, including Democratic state Sen. Randolph Bracy of Oakland. And another measure, SB 376 by state Sen. Lauren Book, a Democrat from Plantation, was unanimously approved Wednesday by the Senate Banking and Insurance Committee.
Yet several attempts failed in last spring's Session.
"I have been fighting for two years to make sure the first responders who protect the public get the treatment they need," Torres continued. "It is the right thing to do, not just for the first responders, but also for their families who are impacted by these mental traumatic injuries and need our support."