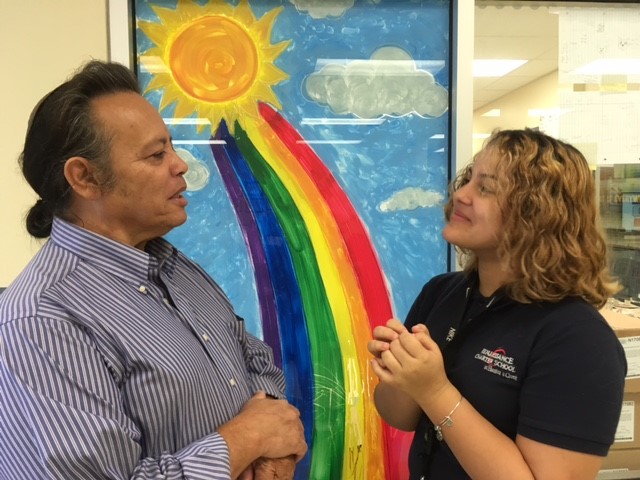 Two years ago, my daughter, Mia, struggled in school. She was getting C's, D's and F's.
But last year, she started seventh grade at Renaissance Charter at Hunter's Creek. Since we found the right school for her, she has improved quite a lot. She brings home A's and B's. She actually enjoys going to class.
That's how I know charter schools can make a difference for kids. As public schools, these institutions deserve to be treated fairly. And that's why I can't understand why districts like Orange County Public Schools are suing to block charter schools from receiving fair funding.
Much credit for my daughter's success belongs to her school's arts programs. She landed a starring role in a school production of William Shakespeare's A Midsummer Night's Dream.
If she wanted to keep her role as Quince and have a chance to perform onstage at the Dr. Phillips Center for the Performing Arts, she would have to earn good grades.
Much credit also belongs to the school's principal, Robert Acosta. He understands how to connect with students psychologically. He encourages parents to be patient and give their kids time to improve.
He understands how young people respond to incentives. If they need to get better grades before they can appear in a play, or take part in cheerleading, which has become my daughter's latest interest, they'll study harder.
Mr. Acosta knew it would take time to light a fire in my daughter. But when she first landed her role in the Shakespeare play, I noticed a change. She started staying late after school. She worked hard to memorize her lines. Soon, she was working hard in class, too.
I have seen firsthand how a great school culture can change everything for a child.
When I visit my daughter's school, I see happy kids. Other parents at the school tell me their kids have started behaving better at home since they started attending.
Mr. Acosta understands the power of arts to connect with students and help them focus in the classroom. He wants to expand the programs at our school. It would be great if, one day, our school could offer a music program.
Unfortunately, a study last year found charter schools in Florida received 71 cents on the dollar compared to district-run public schools. Arts programs cost money. My daughter attends a charter school that made arts a priority. If the school were funded fairly, it might be able to offer even more opportunities to its students.
That's why it's unfortunate that a district like Orange County Public Schools would sue the state to stop a law (HB 7069) that creates fairer funding for charter schools.
The Legislature recently decided all public-school students should be treated equally. I agree. That's why I think Orange County and 13 other districts should end their misguided lawsuit.
___
Victor Freytas is a parent from Orange County.
Last updated on February 2, 2018