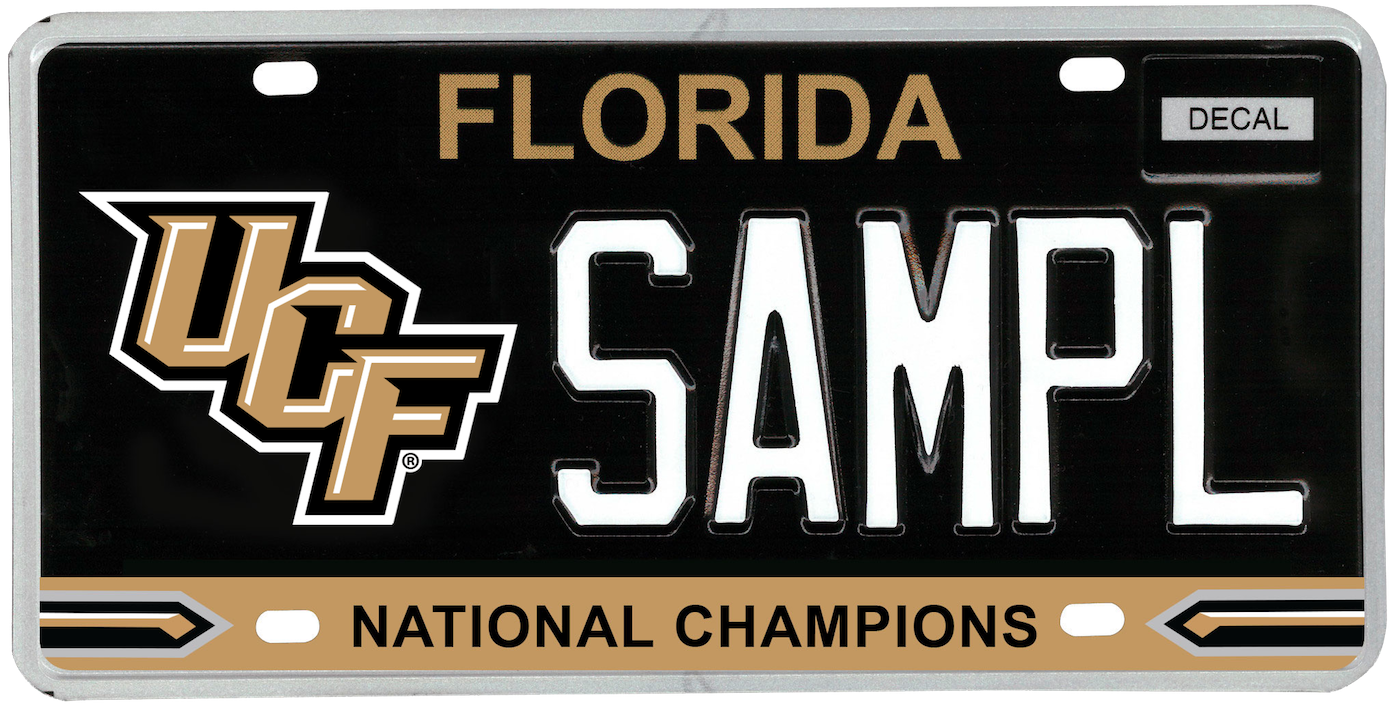 A proposed state-issued University of Central Florida license plate reading "2017 National Champions" is drawing the concern of some Florida lawmakers for its misrepresentation of the truth.
However, after hearing lengthy debate regarding the language of the license plate provided in HB 1359, a House committee on Tuesday ultimately advanced the bill.
Still, opposition to the plate's language is beginning to show.
Despite an undefeated record during the 2017 season, the UCF football program did not advance to the College Football Playoff. Consequently, UCF did not have a chance to vie for the national title and is not a national champion.
To some lawmakers, that's cause for concern.
Dania Beach Democratic Rep. Evan Jenne filed an amendment to the bill that would replace the words stamped on the license plate. Instead of "2017 National Champions," the plate would read "2017 Undefeated Season."
"[UCF] did not win the national championship," Jenne said. "I have a problem with putting something that is demonstrably false into our statutes."
Jenne said that his amendment would truthfully honor the team for its accomplishment.
"I just don't want to honor [UCF] with something that is factually incorrect," Jenne said.
[Jenne also filed two amendments that would change the license plate language to "We're #6" and "2017 was a Swell Year," respectively. He suggested these amendments were jokes and withdrew them from consideration.]
Jenne's argument resonated with several lawmakers, but was disputed by Kissimmee Republican Rep. Mike LaRosa, a UCF graduate.
"If truly the greater body of our House wants to see [UCF] be national champions, so let it be," LaRosa said while railing against Jenne's amendment. LaRosa also criticized the way the College Football Playoff operates, saying teams don't have the liberty to modify their schedules. Strength of schedule is a key factor in determining team rankings.
"Clearly there is a flawed system," LaRosa said.
Jenne said he believed he had the support needed to adopt the amendment, but conceded he did not know if the amendment was supported by the bill's sponsor, Tampa Republican Rep. Jamie Grant. Citing a friendship with Grant, Jenne withdrew the amendment after more than 20 minutes of discussion.
Though Jenne said he will talk with Grant about the language and expects a change similar to his amendment to be adopted on the House floor.
"I know this bill will be heading to the floor," Jenne said. "I look forward to dealing with [the bill's language] there with the help of Rep. Grant and his office."