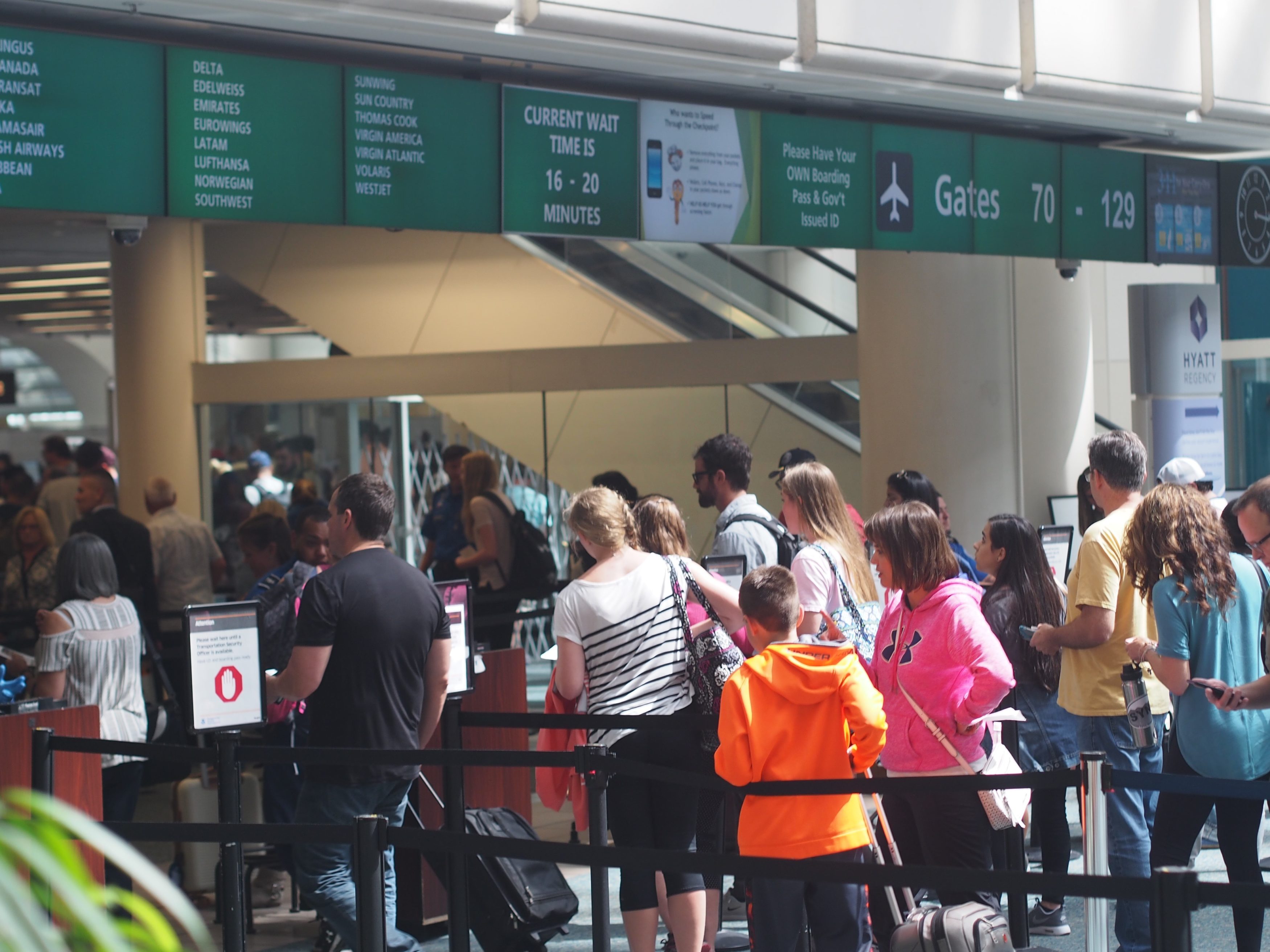 A trio of Orlando-area Democratic members of Congress, joined by Florida's two U.S. Senators, is calling on the United States Customs and Border Protection agency to suspend proposed transfers of safety officers out of Port Canaveral and Orlando International Airport.
Democratic U.S. Reps. Val Demings, Darren Soto and Stephanie Murphy, along with Democratic U.S. Sen. Bill Nelson and Republican U.S. Sen. Marco Rubio are opposing to a Customs and Border Patrol initiative to rotate customs inspections officers from airports and other ports to serve temporary shifts along the United States-Mexico border. The transferred officers are not replaced on the lines in their home ports, leaving the staffing there short-handed for periods of time.
The group sent a letter Wednesday to newly confirmed U.S. Customs and Border Protection Commissioner Kevin McAleenan, arguing that the airport and seaport customs inspectors were critical to public safety. They cited numerous incidents when inspectors have averted potential terrorist actions and seized countless amounts of illegal drugs and other contraband.
"The treats at our nation's ports of entry are real, and, if carried out, could have permanent devastating effects on our nation and cities like Orlando," they wrote. "Therefore we encourage your agency to prioritize and fulfill the scientifically based CFP officer working model for our nation's ports of entry."
Demings, Soto and Murphy first decried the program in January after Orlando International Airport officials called for help with overburdened customs stations at the airport's international gates. In February Demings and Murphy co-sponsored a bill that would increase customs staffing levels at airports, including Orlando. House Resolution 4940, the Border and Port Security Act got three committee referrals, including the House Homeland Security Committee, but has not yet been heard anywhere.
In May, Rubio called for an additional 500 customs officers to help address staffing shortages at many of Florida's airports and seaports.
"Orlando International Airport is one of the nation's best ports of entry, and Orlando is the number one visitor destination in the U.S. As we continue to grow, it's vital that we maintain safety staffing to meet increased passenger volume," Demings stated in a news release issued Thursday by her office. "I urge Customs and Border Protection to once again reverse this ill-considered move and ensure that Central Florida continues to have the level of staffing necessary to ensure speedy travel and necessary security for all passengers."
Airport officials have contended that, even without the rotations of agents and inspectors to the southwest border, the Orlando airport already was suffering from under-staffing by Customs and Border Patrol. They reported that from 2009 to 2016, the number of international passengers arriving at Orlando International Airport grew by 89 percent, from 1.49 million to 2.83 million.
However, over the same period, Customs and Border Protection Officer staffing levels have remained flat, the GOAA officials in a letter sent to area lawmakers, urging their help.
The lawmakers' letter noted that Port Canaveral also is being squeezed.
In 2017, the seaport, which mostly handles cruise traffic, welcomed 4.5 million passengers, a 7 percent jump from the previous year, while customs inspectors staffing decreased, "resulting in significant bottlenecks."
"Representatives Demings, Soto, and I have consistently told CBP that transferring officers from Orlando International Airport to the Southwest border is a mistake," Murphy said in the release. "These officers are needed at the airport to keep the public safe and the economy moving. As Orlando's representatives in Congress, we will continue to do everything possible to ensure Orlando International is fully staffed given that the airport is the busiest in the state and about to enter peak travel season."
Murphy first got involved early on, after GOAA officials declared the program would "seriously diminish security" at the airport.
"We've seen overwhelming support for the CBP officers at OIA from our community, including repeated pleas from the Central Florida congressional delegation to at-minimum halt transfers," Soto stated in the release. Each and every member of the CBP team is valued and desperately needed for the increasing demands of our area's busy ports of entry. Their work is critical for passenger safety and smooth-running operations. We look forward to working with Commissioner McAleenan and continue supporting our CBP officers."