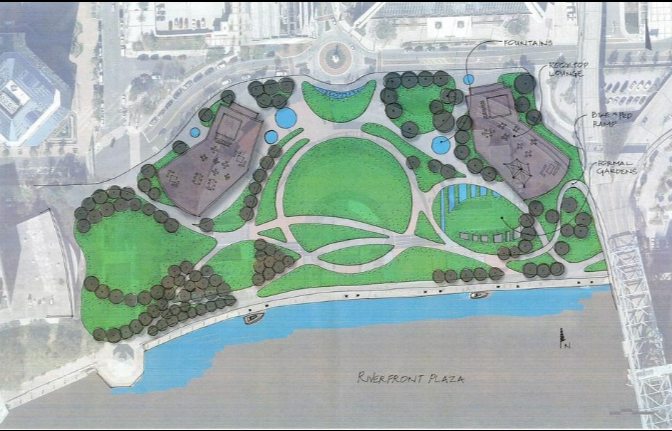 On Thursday, the Jacksonville Daily Record broke news about a City Hall conceptual drawing of the space where the Jacksonville Landing is now.
Gone: the 30-year-old riverfront mall, which has been a source of civic contention for well over a decade.
In its stead: a riverfront park.
Legal action continues between the city and Jacksonville Landing Investments, with the city wanting to take control of the land.
And Friday, at a campaign event in Jacksonville for Gov. Rick Scott's U.S. Senate campaign, Jacksonville Mayor Lenny Curry described the drawing as an "aspirational concept … an idea of what our front door, the front door to the centrality of our downtown could look like and could be."
What was clear in the discussion: Curry sees this concept as a big deal.
We noted that one issue in current Jacksonville passive parks: congregations of the homeless and the dispossessed, and wondered if such could be the case at the Landing park.
"(T)here's always going to be critics that are going to find reasons not to do something and make progress and move forward," Curry said.
"In fact," Curry added, "every big challenge that I've taken on since I've been in office for almost three years, there's been chirping and criticism, but that's not a reason not to try to make things happen."
"There's no question that the Landing is shameful, the condition that it's in. It's not a good use of taxpayers' money; that's their land. So this is the beginning of a conversation," Curry said, about what is — for now — "only a concept."
We asked also about how a Landing Ppark, however conceptual it is, would be run.
In Hemming Park, the city works with an extragovernmental group, which runs the park, enlists private security, and sets rules of conduct in a way that can't be done in most city-owned parks.
The Friends of Hemming Park has run the park as a nonprofit; we wondered if something similar would be done for this park, should it come to pass.
Curry dodged that question, reminding this reporter that this idea is still "conceptual," a way to use a "gem of green space."
As well, there are economic development opportunities in the concept, Curry said, with "two symmetrical buildings to the north, near the streets, that have opportunities for economic development."
"Whatever the market drives there," Curry said, "residential, retail, or commercial, that would remain to be seen."
Jacksonville City Councilman Jim Love, likewise on hand for the Scott event, noted that the Landing is "getting to be an eyesore," and extolled the potential advantages of redevelopment as "getting more people downtown."
Some will frame this debate as an ongoing beef between Curry and Landing developer Toney Sleiman. However, those with long historical memories note that the same contretemps occurred two mayors ago, between Sleiman and John Peyton.
Those who have wondered what Curry's second term vision looks like may have found it, in a sketch of green space, conceptually reclaimed from a Reagan-era shopping mall slow-walking toward blight.