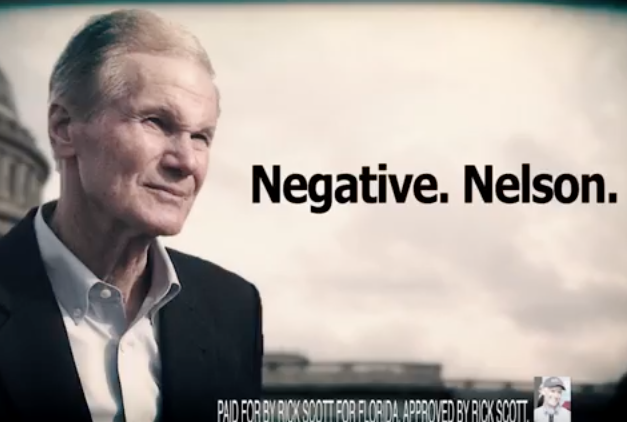 Gov. Rick Scott's U.S. Senate campaign has dropped another television commercial attacking incumbent Democratic U.S. Sen. Bill Nelson.
This time, it not just accuses Nelson of being a career politician who's been around way too long, but also for being negative.
It's the fourth consecutive attack ad the Scott campaign has released criticizing Nelson.
This time the ad accuses Nelson of going negative in his campaign — only it doesn't address Nelson's campaign exactly since Nelson's campaign hasn't actually released any negative commercials. So the commercial goes after the Democratic organizations that have been running negative ads on Nelson's behalf and blames Nelson for them.
The new Scott 30-second ad, "Negative Nelson," makes the leap quickly from around a long time to negative campaigning.
"When Bill Nelson was first elected, Richard Nixon was President. Yep. Nixon. A professional politician for 46 years, Nelson has learned some tricks.
"Cheap tricks, like attack your opponent regardless of the facts."
The commercial then makes visual reference to a commercial being run statewide by Senate Majority PAC, a political action committee run by Democrats.
Nelson's campaign has not yet released any commercials criticizing Scott. In fact, the Nelson campaign has not yet released any TV commercials, only two digital videos on the Internet, neither of them about Scott.
By contrast, "Negative Nelson" follows Scott's "Pinto," "New Ideas," and "Party Line," continuing the attack themes that Nelson is a lifelong politician, someone who votes the party line, and who is out of new ideas. The ad also does not specify what the attacks or facts are.
"Now that Nelson is attacking Rick Scott, you might ask, after almost a half-century in office, why can't Nelson find much good to say about himself? Bill Nelson. Negative. A long, long time," the Scott ad concludes.