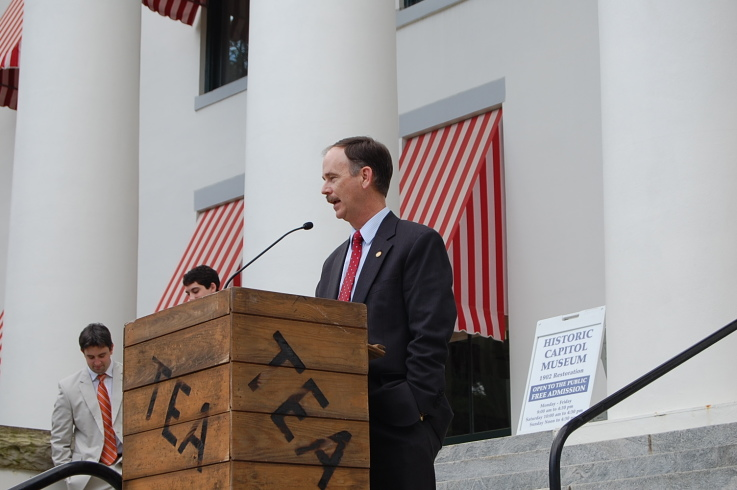 The National Rifle Association has an interest in the four-way race for Duval County Tax Collector, with the gun lobby backing former state Rep. Lake Ray.
A familiar orange mailer from the group trumpets Ray's A+ rating on gun issues, giving the Jacksonville Republican another boost ahead of the August primary.
Ray has maintained a cash lead over his three opponents, and that continued in reports released by the four campaigns Friday.
Ray has raised and self-financed a total of $143,435, with roughly $109,000 of that on hand still. Of the $6,500 brought in during the most recent two-week reporting period (July 7-20), the biggest name contributor was Sleiman Holdings.
Worth noting: Toney Sleiman, the strip mall magnate embroiled in ongoing litigation with the city of Jacksonville over the dilapidated Landing, is at odds with fellow Republican, Mayor Lenny Curry. It will be interesting to see if Curry endorses someone besides Ray, who at times has proven to be too independent of the mayor's priorities.
Ray is spending money now: He dropped $22,863 in the most recent reporting period, the bulk of it on printing and mailing costs.
At least one opponent may catch Ray in cash on hand by the time the next reports are released.
Republican Jim Overton, a former Jacksonville City Councilman and Duval County Tax Collector, has amassed $115,270 and has almost $89,000 on hand.
Overton put another $20,000 into his campaign over the two-week reporting period, which saw him bring in $22,650, including a $250 check from the Fiorentino Group.
Running third in the money race: current Jacksonville City Councilman Doyle Carter, who has raised $71,400 over the course of the campaign and retains $67,000.
Carter, also a Republican, raised $6,175 over the most recent two-week period, with a check from lobbyist Deno Hicks of Southern Strategy Group helping to fill the till. Also donating: former write-in candidate for the 4th Circuit State Attorney's race, Kenny Leigh; and Jacksonville Fire and Rescue director Kurtis Wilson
Carter also recently touted an endorsement of his own, via Baldwin Mayor Sean Lynch.
Running fourth, the sole Democrat in the race: former state Rep. Mia Jones.
Jones has just over $20,000 on hand, with $6,825 raised in the most recent two-week period.
The primary election in this race is on the August ballot; the top two finishers, regardless of party, advance to the November ballot unless one candidate attains a simple majority in August.