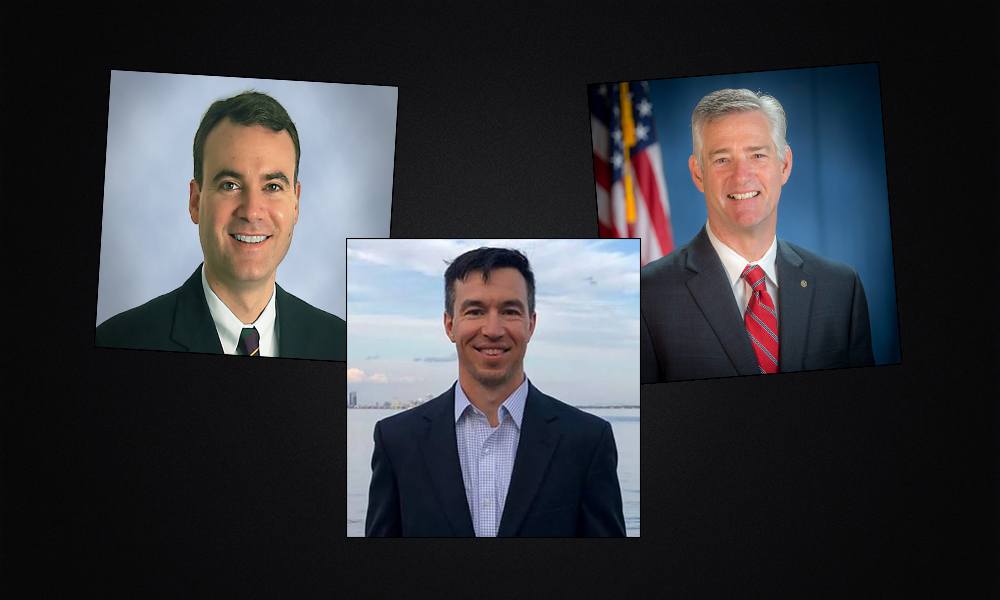 The three-way Republican race in Westside Jacksonville's House District 15 between Wyman Duggan, Joseph Hogan, and Mark Zeigler started slowly.
But with Early Voting wrapping up this weekend, the race has devolved into a series of recriminations and character assassinations, with two relatively underfunded candidates scoring some hits against the candidate backed by pillars of the Jacksonville Establishment ranging from the Mayor to the Chamber.
In the end, the election may be uglier than the 2014 Special Election primary clash between incumbent Rep. Jay Fant and then-challenger Paul Renner, a two-vote win for Fant after a campaign that got more personal and bitter as it went on.
The discourse in this campaign has had a surprising frankness, with Duggan drawing fire for his ties to Jacksonville's City Hall, with special focus on his career as a lobbyist.
Yet, despite the sprightly hit mailers from political committees, the three candidates had not publicly commented on the committee carnage until Friday, with Zeigler posting to Facebook an "open letter" responding to a political committee mailer.
"I am not perfect," Zeigler wrote, regarding a "desperate, last minute political mailing letting you know just how imperfect I am."
"This piece sent to you by a sleazy Central Florida dark money group run by a disgraced political operative seeks to paint me as something that I am not and makes several mischaracterizations, false statements and downright lies about me," Zeigler asserted.
The mailer, from "Central Florida Republicans for Truth," dinged Zeigler for being late paying his property taxes and having two tax liens on him. That latter claim, per Zeigler, is "a lie plain and simple."
Zeigler also accounted for a personal bankruptcy filing thirty years ago, after 1987's "Black Monday" crash.
"After the global financial crash, the industry went through a significant contraction and I was left with no income and no prospects. At this time I was advised by an attorney that in order to get my affairs in order I should declare bankruptcy. I did this, paid my debts and found a career that led to my current business. No one was left holding the bag," Zeigler said, before levying charges of his own about "this despicable Never Trump group from Central Florida attacking me."
"It is really quite simple. Their chosen candidate, lobbyist Wyman Duggan, is losing and they can't afford for that to happen," Zeigler said, adding that 76 percent of Duggan's campaign funds come from outside of the district.
Ziegler charges Duggan wants to "take away your right to vote for your Duval County School Board representative … wants professional politicians to stay in office longer so that they (he) can benefit from tax payer funded health care and pension programs … has been paid by a foreign company to guarantee that our JEA is sold."
"And finally they do not want you to know that if elected to the office of State Representative, Mr. Duggan will have a statewide platform from which to market his services as a lobbyist to the Jacksonville City Council," Zeigler asserts (charges echoed by mailers from Zeigler-friendly West Jax Conservatives United).
Duggan's lobbying for Canada's Emera in potential sale discussions of the utility has been noted on political committee mailers in this race, and those close to the Zeigler campaign believe the third party attack mailer to which Zeigler objects is because Duggan is losing the race.
Duggan's campaign was not immediately available for comment Friday afternoon.
Public polling of this race has yet to surface. However, the attacks suggest the race is not decided.
Meanwhile, another recent mailer from "Central Florida Republicans for Truth" slammed Hogan for his support for former Jacksonville Mayor Alvin Brown in the 2015 race against Jacksonville Mayor Lenny Curry, who backs Duggan.
Hogan "stands with anti-Trump progressives," the mailer charges, as Hogan said Jacksonville was "better off" with Brown.
The Duggan bet seems to be that district voters need reminding of that particular deviation from doctrine. Meanwhile, Hogan remarks that "my opponent has spent about as much money on negative and misleading mailers as we have on our whole campaign."
The use of Central Florida Republicans for Truth is interesting, given the location of that committee and the fact that it didn't report Northeast Florida money through Aug. 10, the last date for which campaign finance totals are available for the committee.
The fundraising reports for the period ending Aug. 23 were not available Friday afternoon, and chairman Jacob Milich couldn't be reached by phone.
The irony is that this divisive battle may make post-primary healing a tough sell, at a time when there is a very serious general election challenger.
Democrat Tracye Polson has roughly $150,000 in hard money and another $55,000 in the committee account. She will have buy-in from the state party and has personal resources that just might be able to match whatever buy-in the Jacksonville business community would offer Duggan.
If one of the other two candidates wins, it likewise is far from certain that financial support would be as robust as it would for Duggan.
The district is almost perfectly purple: of the 103,293 voters in HD 15, there are 39,997 Republicans and 40,323 Democrats. The rest are third party and NPA, and one wonders how receptive they will be to Republican messaging against a Democratic pragmatist who has support from Jacksonville's public safety unions and even Republicans like Audrey Moran.
____________