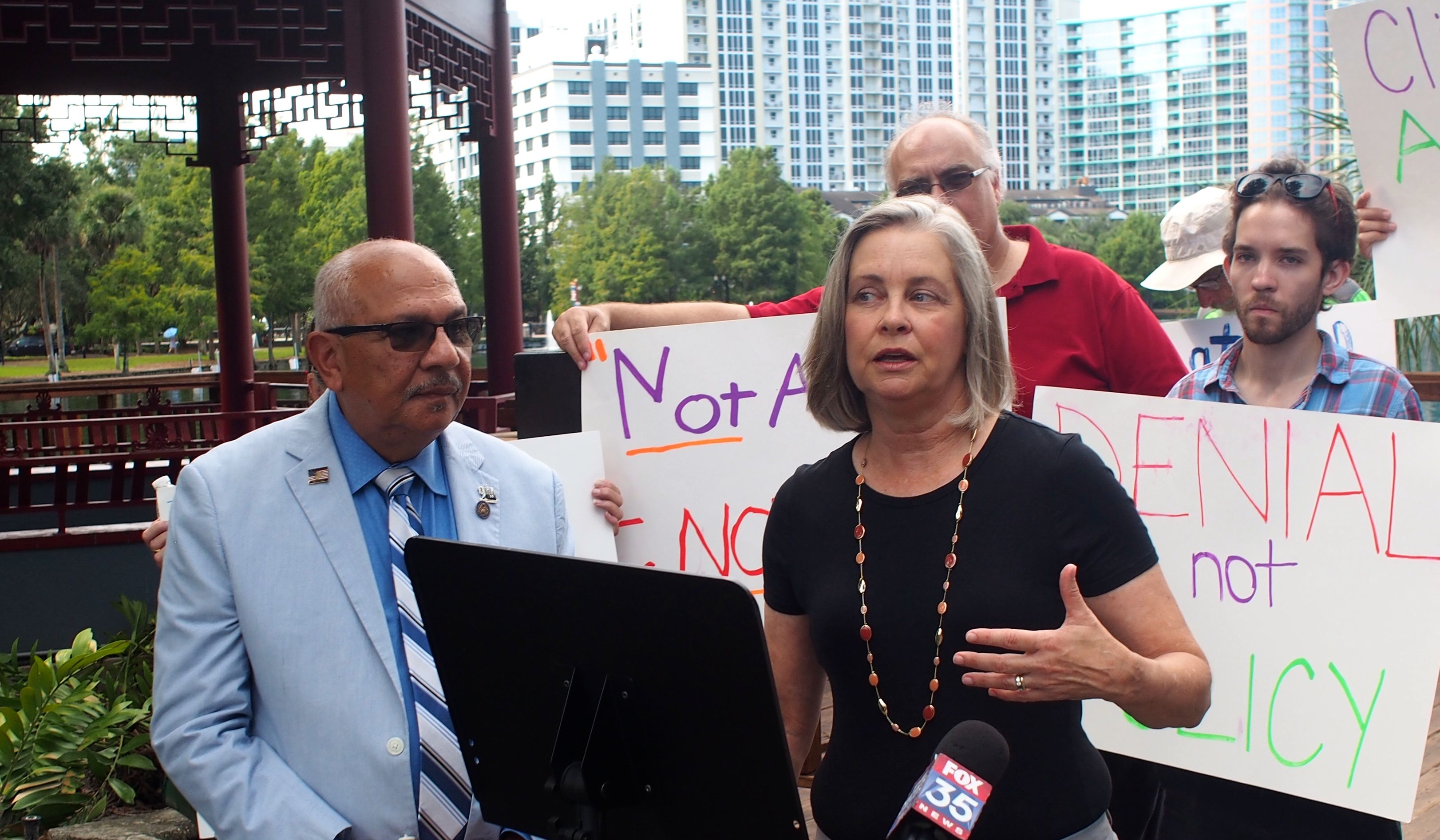 Now that Sept. 11 has, on some level, a double function as an anniversary and memorial, Democratic state Sen. Victor Torres led a moment of remembrance in Orlando for the 2011 terrorist attacks — then for hurricanes of the past, present and future, raising concerns of the long-term threat to Florida and the islands posed by climate change.
Torres, a former New York City police officer with bonds to many of those lost in the 9/11 attacks, paid respects at Orlando's Lake Eola Park and then turned to the more immediate threats, that of Hurricane Irma which hit Florida with its full force one year ago, Hurricane Florence, set to strike North Carolina Thursday, and hurricanes of the future.
Torres, who represents south Orange County and Osceola County, and Rollins College environmental studies Assistant Professor Leslie Poole pushed alarm Tuesday that Florence, Irma, and Hurricanes Maria and Harvey last year may become the norm as climate change warms the oceans, leading to bigger, stronger, slower-moving, more rain-producing, and more dangerous storms.
"One year ago Hurricane Irma revealed what the future has in store for Floridians, as warmer waters brought by climate change produced stronger, more dangerous hurricanes, wider than the state of Florida and roughly the size of Texas," Torres said. "Irma threatened every community in our state."
The issue that brought Torres, Poole and a small handful of activists, led by For Our Future Florida, together Tuesday had to do with the prospect that Irma, Florence, Maria and Harvey may be precursors of a future. Poole, who described herself as an environmental historian, discussed the science trends, declaring, "climate change is real, and trying to ignore it is only going to lead to bigger problems for Florida."
Torres pursued political trends, essentially accusing Gov. Rick Scott and other Republicans running for elections this fall of denying climate change and thereby denying pursuit of strategies to address it.
He also praised Scott's opponent, Democratic incumbent U.S. Sen. Bill Nelson, and Democratic U.S. Rep. Stephanie Murphy, and Democratic gubernatorial nominee Andrew Gillum for their positions on climate change, saying Florida cannot afford to not change leadership.
"More than anything Irma highlighted how unprepared our leaders have left us in the face of stronger hurricanes," Torres said. "That shouldn't come as a surprise from a governor who banned employees from even discussing climate change," he said.
"We live in a state uniquely at risk from climate change. Even now there are three hurricanes threatening the United States," Torres continued, noting the tracks of Florence, Isaac and Helene. "The time to kick the can down the road to the next generation ends now."
Poole said there may yet be time to address climate change so that enormous hurricanes don't become a permanent norm for Florida, other coastal states, and the Caribbean. But she insisted there is no mistaking that the recent enormous hurricanes were not previously the norm.
"Storms are getting bigger, and more violent, and moving slower, and dumping more water," she said.