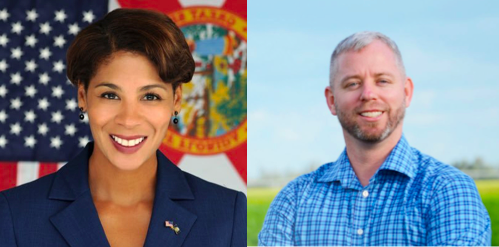 A federal judge denied Pam Keith and Roy David Walker the chance to run for Congress in Florida's 17th Congressional district, where Democratic leaders must pick a replacement for the late April Freeman.
Now party leaders will hold an emergency meeting to choose who faces Republican candidate Greg Steube in the Nov. 6 general election.
Keith and Walker on Friday filed a complaint in federal court asking that a judge determine the candidates, who lost separate party primaries earlier this year, be eligible as federal nominees despite a state law preventing candidates who have already run in a calendar year from seeking a separate office.
On Monday, U.S. District Court Judge Elizabeth Kovachevich ruled against the plaintiffs, saying they failed to put forth a reasonable argument to delay normal election proceedings.
"Indeed, recognizing the time-sensitive nature of this matter and in anticipation of these arguments, the Court conducted extensive research, on an expedited basis, to ensure that it could properly address this matter," the judge wrote.
"But, although the Court was prepared for Plaintiffs, Plaintiffs were not prepared for the Court."
Keith this year sought the Democratic nomination in Florida's 18th Congressional District in August and lost to Lauren Baer. Walker, formerly a candidate for Agriculture Commissioner, lost the Democratic nomination to Nikki Fried.
Keith said on social media she understood the judge's ruling and wished the ultimate replacement nominee "nothing but the best."
For those who want to know, we didn't win. The judge found that there wasn't enough development of our case, which I suppose is true. Tough to do with no Counsel and literally 1 day to get a document together. Our fight was a good one, and our point is still valid.

— Pam Keith, Esq. (@PamKeithFL) October 1, 2018
Keith and Walker were among six individuals who applied to be replacement nominees for April Freeman, who won the Democratic nomination for Congress in the 17th District but died unexpectedly on Sept. 23.
State law calls for the Florida Democratic Party to consult with county Democratic chairs in the nine counties that make up the 17th District on a replacement nominee. A name must be submitted to the Florida Division of Elections by noon tomorrow.
County chairs will hold a conference call with four eligible candidates, including:
— Eileen Game of Avon Park, who ran for state House in District 42 in 2012;
— Allen Ellison of Sebring, chairman of the Center for Economic & Policy Development;
— Greg Pilkington of Indian Lakes Estates, who previously ran in Florida's 15th Congressional District but withdrew before the primary;
— and Christopher Cause of Davenport.
The call will begin at 9 p.m., and participants hope to make a decision this evening.
The ultimate nominee must pay a $10,400 candidate filing fee for the race.
Freeman's name will still appear on the ballot, but once party leaders select a new candidate, election officials will inform district voters through a notice with their mail-in ballots or posted at polling places that votes for Freeman will count toward the replacement nominee.