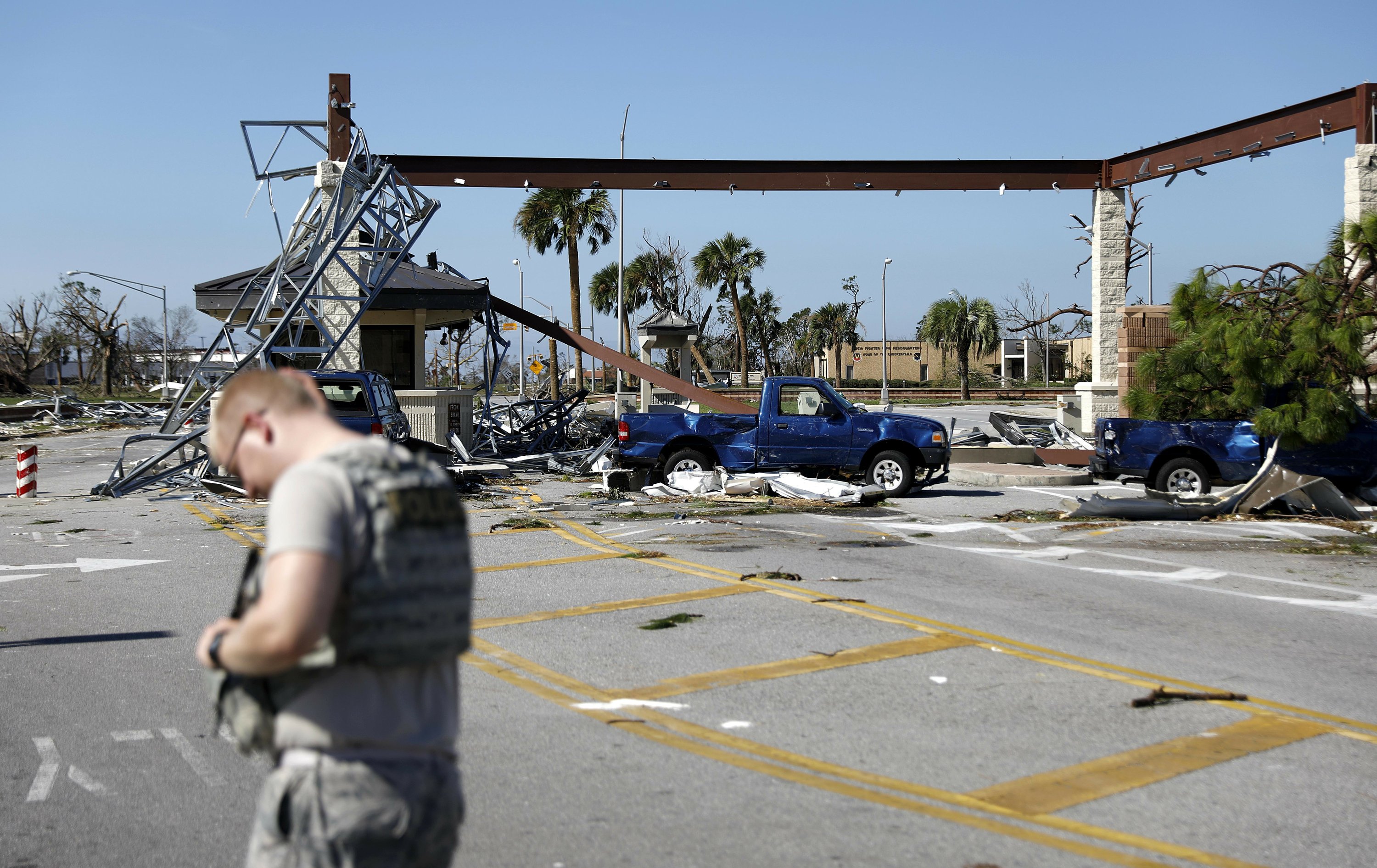 Because Hurricane Michael shredded through Tyndall Air Force Base (AFB), Gov. Rick Scott has now written to President Donald Trump appealing for federal help in rebuilding the base.
The move comes the same week U.S. Sens. Bill Nelson and Marco Rubio issued a similar request, in a letter to President Trump on Monday.
After visiting Tyndall AFB Thursday, Scott says in the letter he "witnessed firsthand the devastation brought to this community and critical military asset by Hurricane Michael."
Scott continues to Trump, "Now that I have visited Tyndall and seen the scope of the work ahead, I am requesting that you direct immediate action to dedicate the needed resources, manpower and funding to return Tyndall AFB to full operations as soon as possible. You have my commitment that the State of Florida will do whatever possible to aid in this important mission."
The damage to Tyndall AFB, home to the nation's 325th Fighter Wing, was just part of the devastation caused by Michael when it made landfall last week as a Category 4 hurricane with sustained winds of 155 mph, making it the most powerful storm to hit Northwest Florida in history.

Still, damage at Tyndall has been described as "catastrophic," and the base issued a mandatory evacuation for the 3,600 service members stationed there, leaving just a skeleton crew manning the nearly 15-square-mile military base. Every building on the base sustained damage, and some were completely destroyed. Additionally, USAF spokesperson Ann Stefanek said last Friday that the Air Force expects many aircraft parked in the base's hangars could have sustained substantial damage.
Still, Stefanek told the Associated Press last week that "the Air Force remains capable of executing its combat mission across the world with aircraft from other bases, as well as those that were evacuated from Tyndall in advance of the hurricane."
Scott made clear in his letter the importance of the base to the surrounding community.
"Tyndall serves a critical role in not only the lives of thousands of Floridians, but in the safety, security and strength of the United States of America – it deserves our full and immediate attention following the devastation of Hurricane Michael," Scott argued.
Scott also forward the letter to the chairmen of the U.S. Senate and U.S. House Armed Services Committees. In doing so, Scott's office says he appealed to legislators to work with the President in dedicating resources to the project.
"During my visit, the message I received from those who call Tyndall home about their future was clear – the resolve of Tyndall Air Force Base is unwavering and this community will recover, it will rebuild and it will not be beaten," he said.