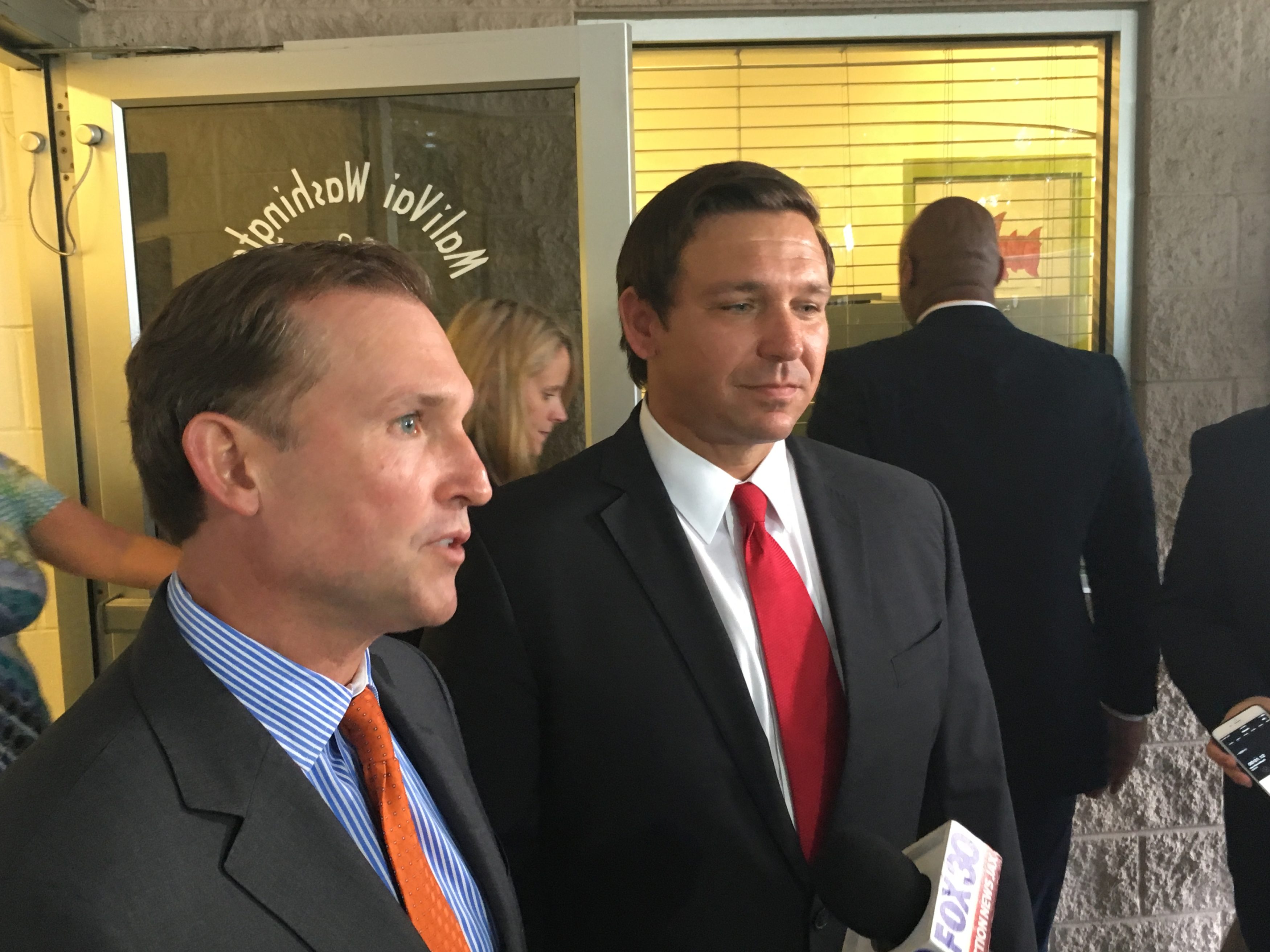 With Jacksonville's leading Republican officeholders all in for the Ron DeSantis campaign, October fundraising for their 2019 campaigns was on the back burner.
And why not? Though Jacksonville has a Democratic plurality, and statewide candidates Bill Nelson, Andrew Gillum, and Nikki Fried all won here, local Republicans have no reason to doubt their ability to hold serve based on campaign fundraising.
Mayor Lenny Curry raised nothing for his campaign account and a modest $75,500 for his his "Jacksonville on the Rise" political committee. He has just under $3,000,000 on hand, and still awaits a candidate with any sort of fundraising traction to file (only NPA Connell Crooms has over $1,000 on hand).
Sheriff Mike Williams raised just $2,000 in October, with no money going into his political committee over the same period. It likely won't matter: Williams, with roughly $440,000 on hand, is up against one candidate, Democrat Tony Cummings. Cummings' campaign account is in the red.
Property appraiser Jerry Holland raised $5,290 in October, pushing him over $148,000 on hand. Democrat Kurt Kraft has been running for three years now, and has $150 on hand.
City Council races are characterized by a mixture of well-established trends and genuine question marks.
The candidate who will win the race to replace Republican Anna Brosche in AL-1 probably hasn't filed yet. The two filed candidates, Jack Daniels and Christian Whitfield, have $115 and $1,190 respectively. Word is that District 10 Councilman Terrance Freeman may jump in here. He also is Republican, leaving an opening for a Democrat.
In AL-2, the fundraising has gone one way. Republican Ron Salem has $178,000 on hand; Democrat Darren Mason, just over $700.
In AL-3, former Mayor Tommy Hazouri, a Curry-crat, has over $115,000 on hand and no competition.
In AL-4, another political veteran (Republican Matt Carlucci) is sitting on a quarter-million dollars, as two Republicans and a Democrat languish far behind.
And in AL-5, incumbent Republican Sam Newby carries just over $31,000 out of October, putting him ahead of Democrat Chad McIntyre and NPA Niki Brunson.
In Arlington's Council District 1, incumbent Democrat Joyce Morgan expanded her cash on hand lead (~$21,800 to $14,700) over Republican Bill Bishop. Morgan got more GOP money this cycle, from developer and Lenny Curry ally John Rood.
In Council District 2, incumbent Republican Al Ferraro added $6,600 to his campaign account; he has roughly $63,000 on hand. Ferraro faces real competition: Democrat Carson Tranquille, a former zone commander for the Jacksonville Sheriff's Office and a Leadership Jacksonville alum. Tranquille has just over $11,000 on hand, $10,000 of it self-funded.
In Southside's CD 3 and 4, incumbent Republicans Aaron Bowman and Scott Wilson face no competition. Bowman, the Council President, had yet to report fundraising at publication time; Wilson raised nothing in October and has roughly $22,000 on hand.
Republican LeAnna Cumber long ago won the cash war in San Marco-centric Council District 5; with roughly $177,000 on hand compared to less than $500 for Democrat James Jacobs, this race seems to have been conceded by the Democratic Party.
Council District 6 in Mandarin looks like Republican Rose Conry's race to lose. In October, $5,000 of new money pushed her over $104,000 on hand. Her sole opponent, fellow Republican Michael Boylan, continues to lag with disappointing receipts: he has just $40,000 on hand, with $1,875 raised in October.
District 7 (Springfield/Downtown/Northside) incumbent Democrat Reggie Gaffney held his lead over a crowded field of challengers in October; his over $55,000 cash-on-hand is more money than every opponent has … combined.
In District 8, appointed incumbent Ju'Coby Pittman has yet to file for election. Democrat Tameka Gaines Holly leads a crowded and under-capitalized field, with just over $21,000 on hand. Pittman's move will determine the trajectory here. Notable: suspended incumbent Katrina Brown, who faces federal fraud charges, is still an active candidates.
District 9 Democratic incumbent Garrett Dennis has yet to file for re-election (he could run for higher office). The only filed candidate here is Marcellus Holmes, a former professional football player who has under $300 on hand.
District 10's incumbent Republican, gubernatorial appointee Terrance Freeman, is looking to run citywide. He wouldn't win in the majority Democratic district anyway, but it's anyone's guess who emerges from a field of 11 candidates, none of whom have more than $2,000 on hand.
Districts 11, 12, and 13 look to be Republican holds. Incumbents Danny Becton and Randy White have no competition and nearly $90,000 and $65,000 on hand in 11 and 12. And in Beaches' CD 13, Rory Diamond is the chosen candidate of the Jacksonville establishment, and despite the requisite grumbles, no one is throwing in against Diamond and his $122,000+ nest egg.
District 14 (Avondale/Riverside/Ortega/NAS JAX) continues to be a two-woman race: Republican Randy DeFoor has roughly $157,000 on hand, between her campaign account and her political committee. Democrat Sunny Gettinger has roughly $100,000.