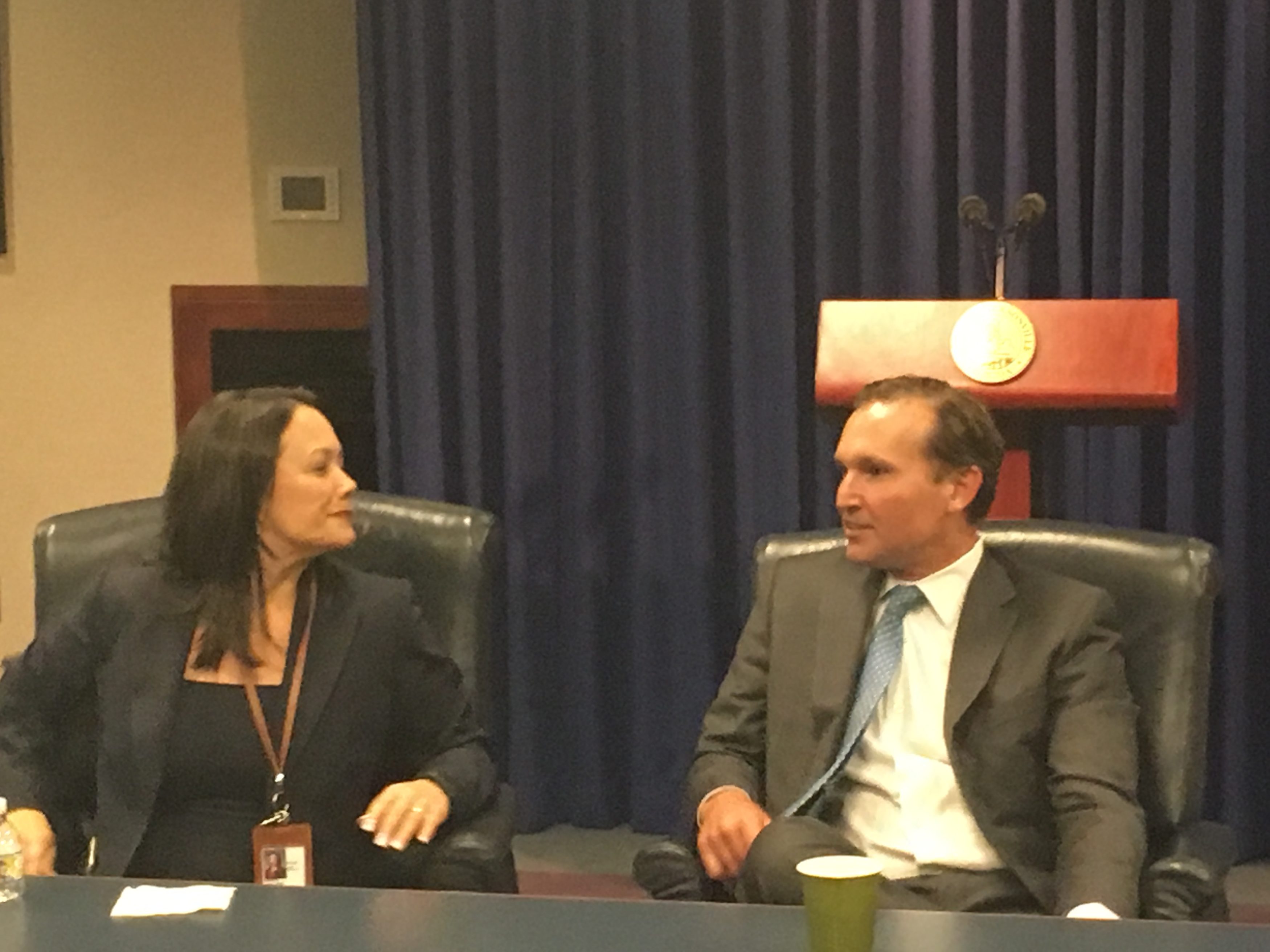 An early Christmas present emerged Thursday for Jacksonville political junkies, as At-Large City Councilwoman Anna Brosche moved closer to a mayoral run.
The media release was sent out by a heavy hitter with a statewide rep: Ryan Wiggins of Full Contact Strategies.
This means Brosche is playing to win.
"While Jacksonville is a beautiful and vibrant city much like Chicago, the citizens here do not
want the same reputation for violence," said Brosche. "We want to be ranked first in Florida for economic growth, diversity, tourism, and jobs, not for number of murders.
"Jacksonville residents don't want their city to be known as the home of the body bag, but thanks to the Curry crimewave, that's the reputation we are gaining. Statistics like this one harm our ability to recruit businesses and families to move into our great city, which has a negative impact on our economy and schools," Brosche added.
"Rather than focusing on fighting crime, Mayor Curry has prioritized an agenda aimed at helping his friends. This crime wave has forced me to take another look at challenging the current administration and its failed policies," Brosche said.
Murders are still up; Jacksonville has had 100 murders again this year, despite Curry running on a public safety platform.
Per the media release, calls for Brosche to enter the race have "intensified" in the wake of the murders.
A formal announcement could be in the works soon, with Brosche teasing a campaign against a failed mayor not dissimilar to the launch Curry had against Alvin Brown in 2015.
On behalf of the Curry campaign, operative Tim Baker slammed Curry's challenger as a failed and disingenuous politician.
"Anna Brosche is a failed politician who is all talk and no action as her record indicates she has offered zero substantive solutions to fighting crime in Jacksonville and has voted to support the mayor's anti-crime initiatives at every step of the way. For her to play politics with this issue is both hypocritical and shameful," Baker said.
"The citizens of Jacksonville deserve leaders who are going to continue to prioritize the fight against violent crime in our city and stand with law enforcement, not someone who plays politics with issues of life or death," Baker said. "The truth is that nobody has done more during the last 4 years to prioritize the fight against violent crime and to provide the necessary resources to our first responders and law enforcement than Mayor Curry has."
"The Supervisor of Elections office is open Monday through Friday 8am – 5pm and any citizen meeting the qualifications can file to run for mayor whenever they would like," Baker quipped.
That may be soon.
New Year's Day typically isn't a day for political intrigue, yet 2019 will begin in Jacksonville with a speech relevant to the election cycle.
On that Tuesday morning, Brosche address supporters in the Deerwood neighborhood on the Southside.
The 10 a.m. event offers light snacks and potentially heavy interest from Jacksonville's political class, as Brosche has been open about potentially running for Mayor.
Campaign launch? Not quite, Brosche says.
The #SHEVOTES brunch event is a "group of women wanting to support me in whatever decision I make."
"I have been very involved in numerous women's groups in Jacksonville," Brosche added.
Qualifying ends for Jacksonville elections on Jan. 11, so Brosche will have to decide either way soon, the culmination of a process that will be longer than whatever campaign emerges from it.
For months, the first-term Republican has mulled a challenge to fellow first-term Republican Mayor Lenny Curry in Jacksonville's March election, a storyline that has animated local politics for the better part of a year.
As far back as this summer, Curry was telegraphing his intentions regarding the 2019 elections and his political enemies.
"Elected office is loaded w/ amateurs. Folks w/ no ability to implement ideas. Many are full of empty rhetoric & a false sense of self. They survive on the bottom w cheap talk. We will retire some in the fights that matter When it matters [SIC]," Curry tweeted in July.
Contemporaneously, Brosche noted that a "different vision and different style of leadership" would better suit the Mayor's Office.
Tensions heated up during the year of Brosche's Council Presidency, one in which she clashed with the Mayor's Office on issues ranging from children's program reforms to attempts to privatize JEA.
Brosche contends that the Mayor's Office was attempting to force a vote on authorizing JEA to explore privatization options in a February meeting that led to the stunning spectacle of Brosche denying the Mayor time to speak on the mic.
The Mayor's allies have gotten their revenge in the interim, including gaslighting Brosche on bills she filed to increase public accountability for elected officials and to return a controversial donation from the United Arab Emirates.
Another issue Brosche has faced as a potential candidate: her stance toward removing Jacksonville's Confederate monuments after the violence in Charlottesville, Virginia, last year, then pulling back from the position when it was clear there was little appetite on the Council for that move.
Brosche's year as president, say critics, was characterized by quixotic decisions such as that, as well as appointing two Democrats to the Finance Committee who have since been federally indicted for fraud related to the use of taxpayer incentive money.
Brosche would be the most high-profile opponent for Curry on the ballot, which contains as of now a well-known and well-funded mayor against a clutch of cash-starved and largely unknown challengers.
Brosche, like Curry, has run and won citywide; she defeated current state Rep. Kim Daniels in a 2015 race defined by third-party oppo against Daniels, who was then a controversial incumbent.
However, Daniels was not an engaged campaigner. Curry, a former chair of the state GOP, has a political operation that doesn't miss opportunities.
With almost two weeks until the New Year's brunch, it is not out of the question that Curry's political operation could, perhaps via a third-party committee, message against Brosche.
Those close to the action have noted that there is no rule that a candidate must file before getting attacked.
Expect candidates to be forced to choose between the two slates. No prominent Democrat has yet to file for Mayor, so Brosche and Curry will make crossover plays unless that changes.