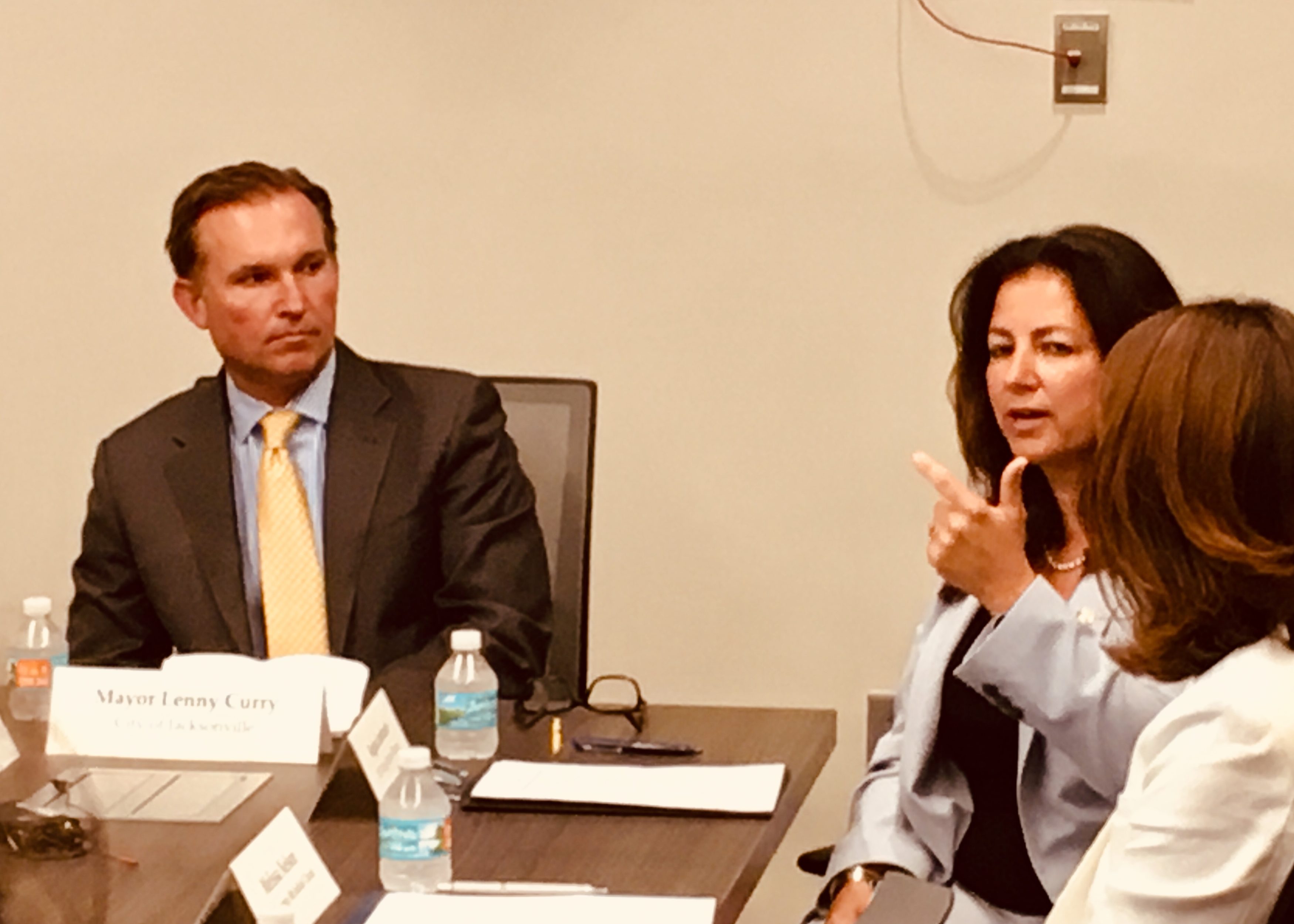 The city spends, but the murder rate is still rising.
Bureau of Alcohol, Tobacco, Firearms, and Explosives Acting Director Regina Lombardo was in Jacksonville Tuesday, as city leaders rolled out a "soft opening" for the new Crime Gun Intelligence Center.
This is the latest investment in technology in Duval County, which has struggled to stem a spike in homicide rates, and has struggled with homicide clearance rates that are among the lowest in Florida.
The Crime Gun Intelligence Center cost a million dollars to build out in the State Attorney's Office. It will have 26 staffers from the State Attorney's and Sheriff's offices.
The center will house some of the city's federal tools, including the National Integrated Ballistic Information Network (NIBIN) and ShotSpotter (which identifies the "where, what, and when" of gunshots).
Mayor Lenny Curry called the CGIC "another piece of the foundation built for public safety." another "investment in a strategic way," and "another best practice."
State Attorney Melissa Nelson, whose office hosts the center, said that NIBIN will be used as a tool to "generate active leads."
ATF Acting Director Lombardo said that "technology" was at the core of the approach, both for the NIBIN ballistics analysis and tracing capabilities via the ATF.
However, these investments in technology (along with 180 new officers, 80 new community service officers, upgrades in equipment, raises for employees amounting to 20 percent over a three-year period) have yet to bear concrete results.
Lombardo and local leaders addressed the lag between funding solutions and demonstrated gains during a media availability at the event, after offering anecdotal evidence of how the technology works.
Lombardo noted that she's "definitely seen higher clearance rates" around the country when these CGI Centers have been installed, citing Philadelphia as an example. However, neither she nor her assistant could say how much homicide clearance had improved year over year.
The ATF examines the "source" of weapons, cutting down the gun trafficking "pipeline," Lombardo added.
Sheriff Mike Williams said that the technology provides an exponential improvement in "leads," which allow for the investigations that ultimately drive higher clearance rates.
An example provided at the event involved three murders being established as linked and then solved through the technology, a trend local leaders certainly hope is maintained.
"You can absolutely expect improvement, but in terms of X percentage, no, not at this point," Williams allowed.
State Attorney Nelson noted that Jacksonville's homicide rate is driven by "a small amount of people who choose to pull the trigger."
"The four years before we were here, we had over 30 percent increases in violent crimes and murders," Curry said. "We got into office and began collaborating and investing, and those spikes began to flatline."
"Slight increases … last year we saw a slight dip, this year we're up a little bit," Curry said. "But we've stopped the hemorraghing."
"This is a long-term investment," Curry said.
However, the short-term looks rough, with 59 homicides already, which counters Curry's narrative.
"We are investing in the best practices and the cutting edge ways to reduce violent crime. We continue to seek those," Curry said, noting that the Chicago "Cure Violence" program is being teed up for this summer.
"Had we done nothing, had the city continued to do the same thing over and over with its investments," Curry said, "who knows where those spikes would be at this point?"
"You can't react or judge based on the data of a week or a month," Curry added.
"How long does it take to get there? It's different for every city," Williams said.
Policy makers are confident in their strategy. But for those on the outside looking in, it's still a work in progress.