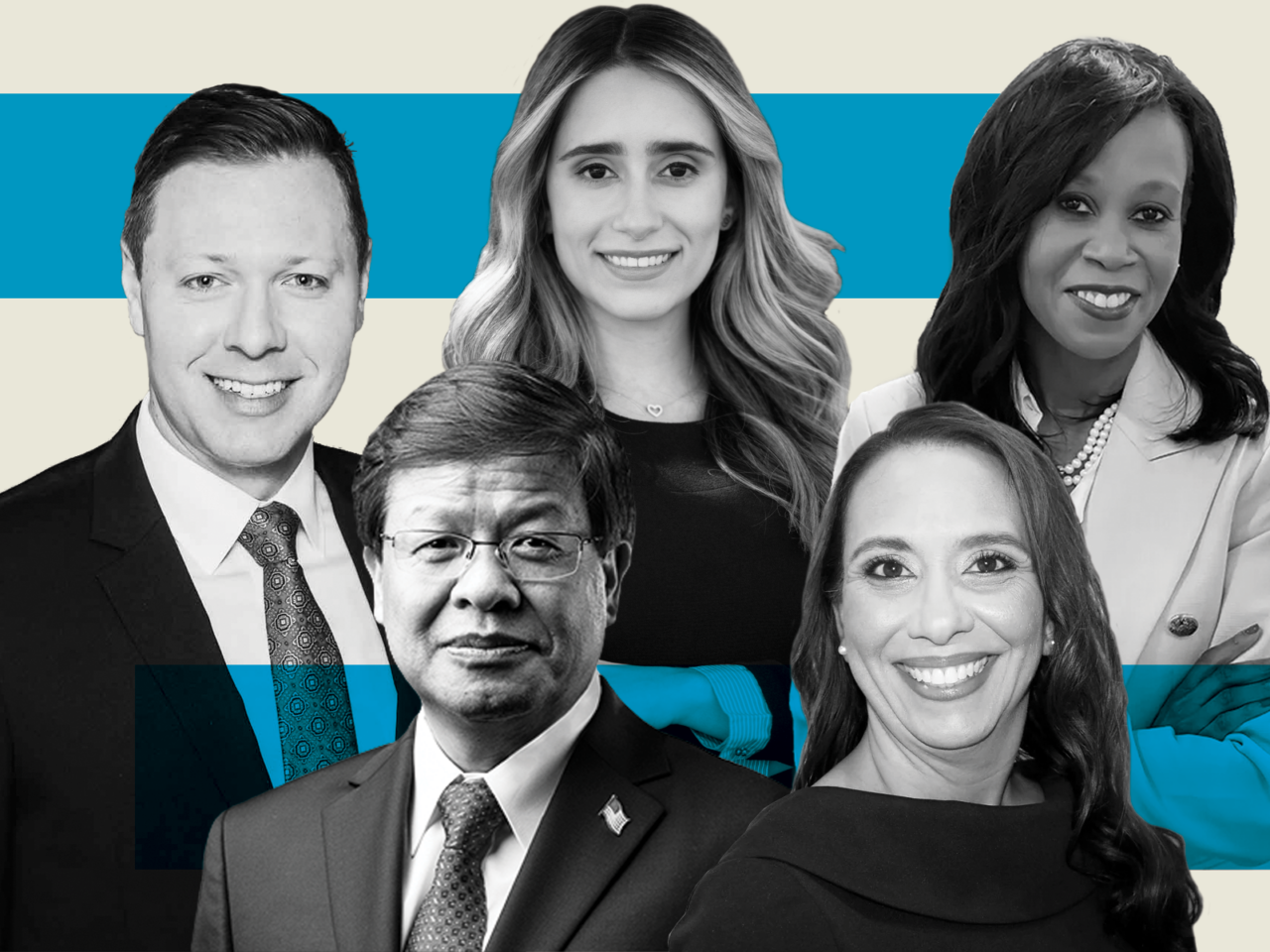 Carolina Amesty, Janet Frevola, Vennia Francois, Bruno Portigliatti and Mike Zhao seek the GOP nomination.
The hottest Legislature election battle in Central Florida is taking place among Republicans wanting to represent the newly formed House District 45, covering the Walt Disney World region.
The race has led to hundreds of thousands of dollars worth of TV ads targeted on cable and streaming services, radio ads, mailers, digital ads, signs and billboards. The rhetoric in the race has at times gotten personal and muddy.
The contest features five viable candidates: Carolina Amesty, a private Christian university executive and businesswoman from Windermere; Vennia Francois, a lawyer from Windermere who is a former aide to U.S. Sen. Mel Martinez; Janet Frevola, a retired law enforcement officer; Bruno Portigliatti, a lawyer, businessman and private Christian university executive, from Orlando; and Mike Zhao, an engineer, businessman and Asian American civil rights activist from Windermere.
HD 45 covers southwestern Orange County and northwestern Osceola County including part of the Dr. Phillips community, Windermere, the Four Corners area, Celebration, Reunion and ChampionsGate. The region is largely a combination of upscale neighborhoods and vast tracts of rental homes, apartments, condos, hotels and resorts.
At the heart of it all is Walt Disney World, the target of Republican pushback last spring when the Walt Disney Co. spoke poorly of Gov. Ron DeSantis' policies.
Four of the Republicans — Amesty, Francois, Portigliatti and Zhao — have combined to spend more than a half million dollars this month. Outside groups likely have matched that amount in mailers and other ads mostly attacking candidates.
The winner Tuesday gets a shot in the November General Election against Allie Braswell of Winter Garden, a diversity consultant, former Marine and former president of the Central Florida Urban League. He won the Democratic nomination because he did not get a Primary Election opponent.
Results from recent General Elections suggest HD 45 may have a slight Democratic lean.
Much of the Republican Primary Election contest has been about who has the more credible conservative credentials and record, and there hasn't been a big difference between the candidates' main issues, except maybe in priorities.
All vow to support DeSantis and his "Free State of Florida" policies that oppose "woke" policies, communism and liberals. All support parental rights in education and voter integrity at the polls. All vow to push for lower taxes and business regulation. All have expressed support for constitutional carry of guns, and strong opposition to abortion access.
Turning to the 500-pound Mouse in the district, all of them, at a Tiger Bay of Central Florida forum, decried the Walt Disney Co.'s politics. However, most also recognized the need to support the tourism sector in Orlando.
Frevola called for investments in infrastructure in the area, contending that traffic is choking off economic opportunity.
"We are driving to and from work and we are losing time in our life because of what is happening," she said. "We also need to be able to bring public safety into that area and make sure that folks are safe when they come to visit Florida."
Portigliatti called for protecting funding for tourism marketing. In Orange County, Visit Orlando is funded by the county's robust tourist development tax, which has been under constant scrutiny by some suggesting that some of it could be redirected to other community needs.
Zhao called for diversifying the economy by seeking to bring in more high-paying, high-tech business and jobs.
Amesty urged workforce training for jobs in the industry and declaring, "I will always stand in favor of our tourism industry. I will be an ally to bring more tourism, to bring more growth."