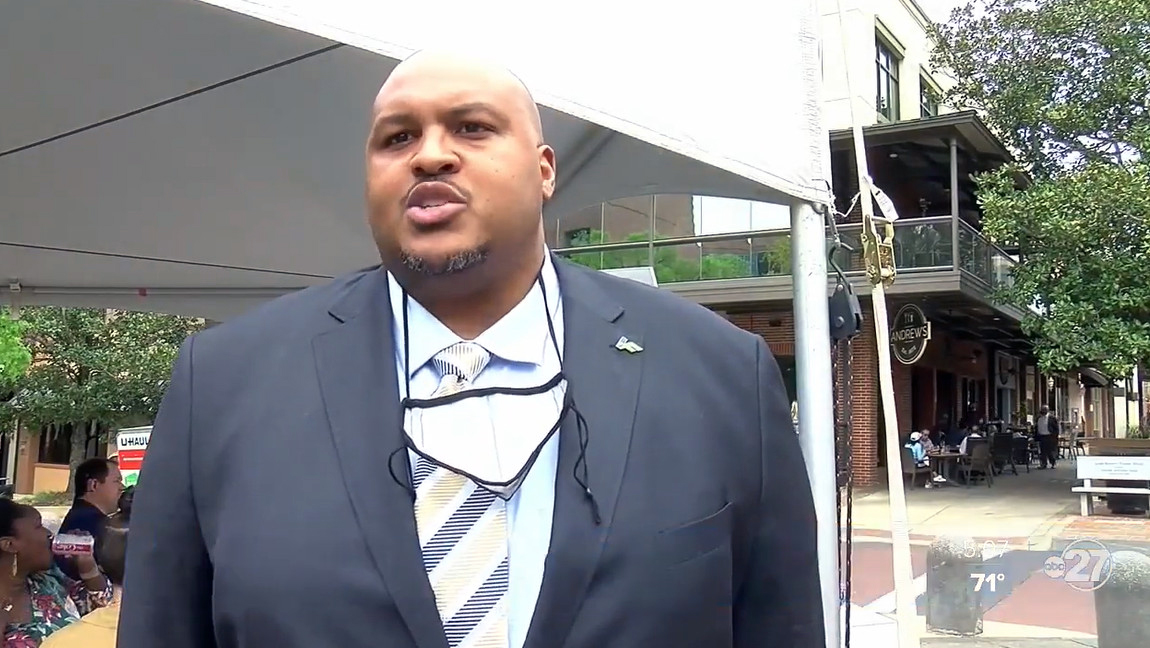 The former defensive lineman is on offense as he hopes to unseat Sen. Loranne Ausley.
Corey Simon makes his case for a leader not "born into power or privilege" in his latest ad for the Florida Senate.
Simon, a Tallahassee Republican and former football star who is going head-to-head with Democratic Sen. Loranne Ausley in November, is banking on the strength of his childhood background and careers with Florida State University and the National Football League to defend or strengthen the GOP majority line.
Ausley was already considered one of Senate Democrats' most vulnerable incumbents before Senate District 3 was redrawn in a way that is more favorable for Republicans. Now, she must contend with a district that was redrawn with an estimated 6-point swing toward Republicans and Simon, a former All-American defensive tackle and National Football League pro-bowler.
"He grew up in a tough neighborhood with a loving mom, a little hope and a talent for football," the ad begins. "Then he played for Bobby Bowden, he played in the NFL and he learned you don't win championships alone. You win them as a team."
"It's time for leaders who weren't born into power or privilege, leaders who care about people, not politics, leaders who hear that whistle and make that hit for our team," the ad continues.
Ausley was born into a politically active family. Her great-great-grandfather served in the Florida House and her grandfather served in the Florida Senate. Her father is also a powerful Tallahassee lawyer who served on the Commission on ethics and the Board of Regents.
Ausley served eight years in the House from 2000 to 2008 and another four years from 2016 to 2020, when she was elected to the Senate in a race that was closer than Democrats would have preferred.
Simon, a Broward County native, played football for Florida State University on a scholarship and was a 1999 BCS National Champion before being selected by the Philadelphia Eagles as the sixth overall pick in the 2000 NFL draft.
Simon's career spanned eight NFL seasons with the Philadelphia Eagles, Indianapolis Colts and Tennessee Titans. One of those seasons he did not play, but he still earned a Super Bowl ring as a member of the winning Colts.
After his football career, he devoted himself to philanthropy. Simon created Corey's Kids, a nonprofit that provided mentorship to kids within North Florida's foster care system. He also partnered with Big Bend Community Based Care, coached high school football at Maclay School in Tallahassee and played an active role at a local church.
Gov. Ron DeSantis drafted Simon in 2020 to be the CEO of Volunteer Florida, which administers AmeriCorps in Florida and joins Floridians looking to volunteer with organizations that need their help. DeSantis in June also picked him as his choice for SD 3.
Simon previously released an ad highlighting his childhood. Ausley earlier this month released her first ad, which touts her commitment to listen to the entire 13-county district.
Ausley defeated Republican Marva Presteon by 7 points in 2020. But redistricting turned SD 3 from a district that went for President Joe Biden by 9 points in 2020 into one that would have only broken his way by 3 points.
The new SD 3 covers Dixie, Franklin, Gadsden, Gulf, Hamilton, Jefferson, Lafayette, Leon, Liberty, Madison, Suwannee, Taylor and Wakulla counties. This year, the district picked up Dixie, Lafayette and Suwannee counties after losing Calhoun County and Blountstown to Senate District 2.
If Simon is able to unseat Ausley, he could serve in the Senate until 2032.