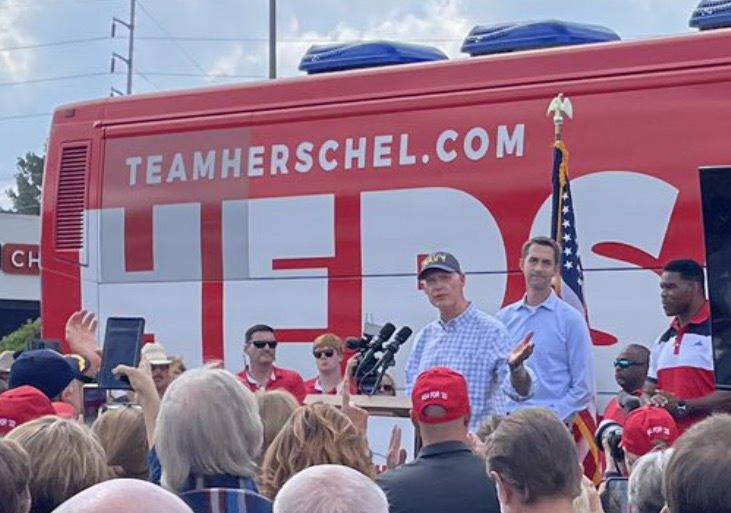 "See if you can do a 'LindseyGraham.com' ask when you are on TV."
Rick Scott will wrap up his time helming the National Republican Senatorial Committee with a sense of deja vu.
Two years ago, two Georgia Senate elections went to runoffs, with the seats eventually being flipped by Democrats. This time around, Scott hopes to flip one of those seats back, with Herschel Walker in the runoff.
The ability of Republicans to win this runoff, Scott and Walker assert in a memo to NRSC donors and the Republican Senate Caucus, rests in a unified effort.
The memo comes ahead of an announcement Thursday of a "robust national finance committee which will help raise the considerable resources needed to win."
Fundraising is key, with "fractured" efforts discouraged in favor of the Georgia Victory Committee, a joint fundraising committee.
"This JFC will support Team Herschel, the Georgia Republican Party, and the NRSC," the memo asserts.
"The collective effort is the most efficient and effective path forward. While we anticipate independent outside groups will get involved in the race, our joint effort is the most important because it will encompass all tactics under a unified strategy between Team Herschel and the Party."
The Senate Republican Caucus is "critical," and Scott expects members to lean in.
"As always, you can also transfer unlimited dollars to the NRSC from your campaign account," the memo suggests, urging allowances of a "one-time use of direct mail donors."
"Go on television and encourage viewers to donate at TeamHerschel.com where supporters can donate to our JFC. That is, see if you can do a 'LindseyGraham.com' ask when you are on television," the memo asserts, referring to the South Carolina Senator's unabashed pleas during Fox News hits in his most recent campaign.
Scott spent a lot of time in Georgia ahead of Tuesday's election, rallying by Walker's side as the candidate dealt with personal scandals in October.
"I was thinking of all the reasons people ought to vote for Herschel Walker, and I came across a problem," Scott quipped. "There's too many."
At that particular appearance, Walker's comments were more notable than Scott's. The former football star turned candidate spun a potentially apocryphal tale about a virile bull that escaped a pasture where the bull had impregnated several cows, only to find that there were only other bulls over the fence.
Scott maintained a stoic facial expression throughout that section of the remarks, which came in the wake of a Daily Beast investigation that broke news of Walker funding an abortion with a signed check and a "get well" card, as well as complaints from Walker's estranged son Christian Walker, who is a conservative activist.
Scott compared these attacks to what Supreme Court Justices Brett Kavanaugh and Clarence Thomas had to deal with ahead of their eventual confirmations.
The need for a runoff between Walker and Warnock is the coda of a disappointing election season in which Republicans will not attain the Senate majority Scott predicted, a take strongly disputed by Republican Senate Leader Mitch McConnell.
Scott offered a series of defenses of the 2022 candidates who emerged from Primaries while countering McConnell's doubts that Republicans have more than a 50/50 shot at taking back the Senate due to questionable candidates in certain races.
Scott said Republicans could win up to 54 seats this November. However, it appears McConnell's position will be vindicated, with the GOP coming up a few votes short of that number even if Walker prevails in the December runoff.