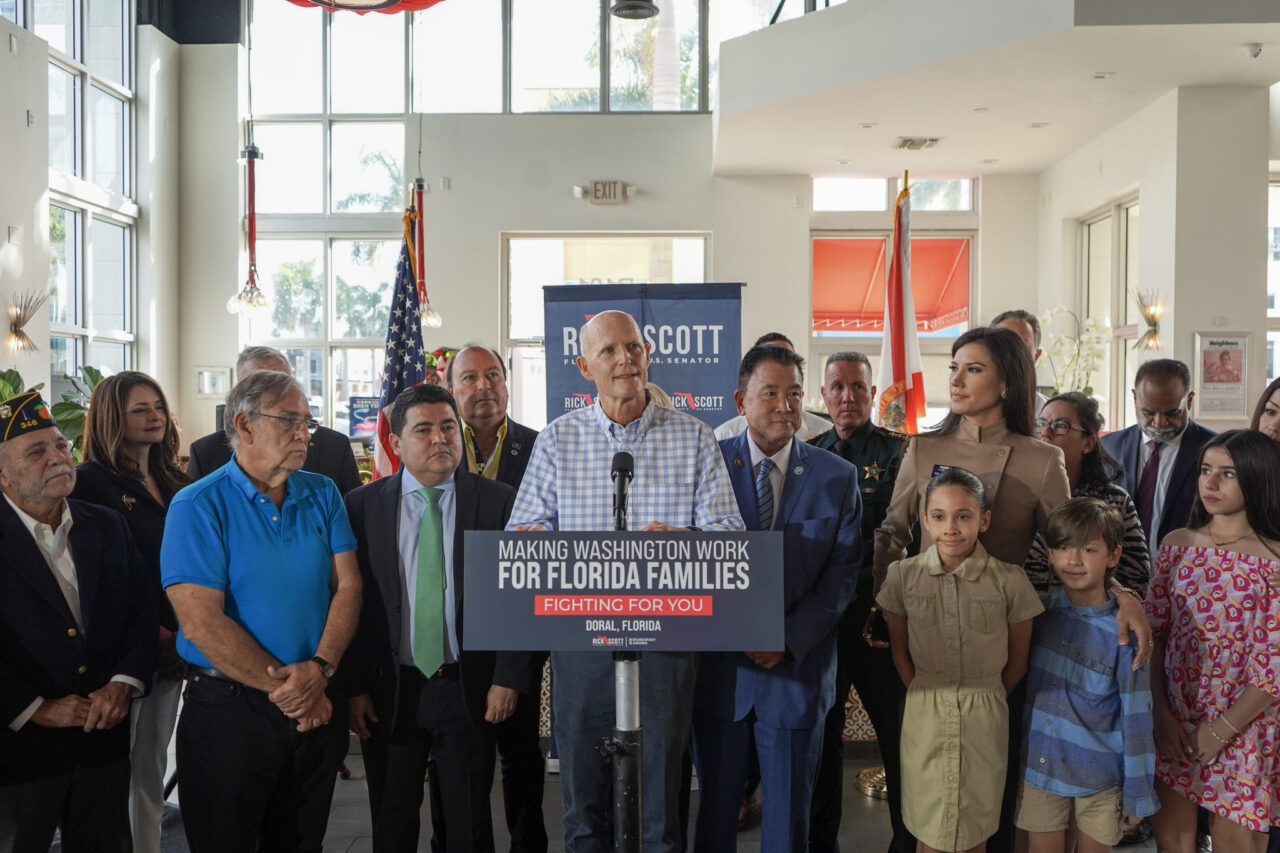 'I've never lost an election and I don't intend to now.'
Rick Scott has already begun his re-election campaign, and it will be staffed with familiar names from his past runs.
Four of the major names involved were part of his less-than-successful stewardship of the National Republican Senatorial Committee (NRSC). All but one of them were involved in one or more of his three previous successful campaigns for office since 2010.
Jackie Schutz Zeckman, who served most recently as NRSC Executive Director, will run the political operation. She was central to his tenure as Governor, eventually serving as his final Chief of Staff, and moved on to the same position when Scott moved to the Senate. She also ran his 2018 campaign when he defeated Democratic incumbent Bill Nelson.
Chris Hartline will serve as a senior advisor and communications consultant. For longtime Scott observers, that name is familiar. Hartline was the spokesman for the NRSC after serving a stretch running comms for Scott's Senate office.
Priscilla Ivasco will serve as Communications Director. Ivasco handled media affairs for the NRSC, and also served in a deputy communications director role for Scott's Senate office.
National Press Secretary Jonathan Turcotte also served in a support role with the NRSC, directing rapid response. Prior to that, Turcotte worked on former President Donald Trump's failed re-election campaign.
Lisa Goodspeed, who has been a Finance Director for Scott's previous campaigns, is back on board in the same role.
Longtime Scott advisor Curt Anderson will continue to consult, meanwhile, while Ana Carbonell will also serve as a senior adviser for Hispanic engagement.
Scott offered some fighting words in a statement accompanying the hiring announcement.
"I've never lost an election and I don't intend to now," Scott said.
"We've worked hard to turn Florida into a red state that elects Republicans up and down the ballot. But I never take anything for granted. The people of Florida have elected me three times so far to fight for conservative values, stand up to Joe Biden and the radical, woke Democrats, and bring common sense to Washington. We're going to keep fighting to do the things the people of Florida elected me to do."
One political newcomer is already teasing a challenge. Keith Gross, an Assistant State Attorney from Melbourne, is exploring a Primary bid. But don't expect any help for this insurgency from the National Republican Senatorial Committee, as new chairman Steve Daines said Thursday he is "thrilled" that Scott is running again.
Meanwhile, national forecasters are relatively bullish on the Senator's chance at six more years. The Cook Political Report and the University of Virginia Center for Politics both say he is "likely" to be re-elected.
Scott continues to refute ongoing speculation he is interested in a 2024 run for the presidency, and the formalization of his core campaign staff should help to tamp down that talk. For his part, the Senator has said for weeks he intends to run for re-election.
"I have no plans to run for President and I have a 100% plan to run for the U.S. Senate," Scott said last year on the Hugh Hewitt Show, "I'm running for re-election for Senator from the great state of Florida. I will, you know, work my butt off for the next two years for my re-election."