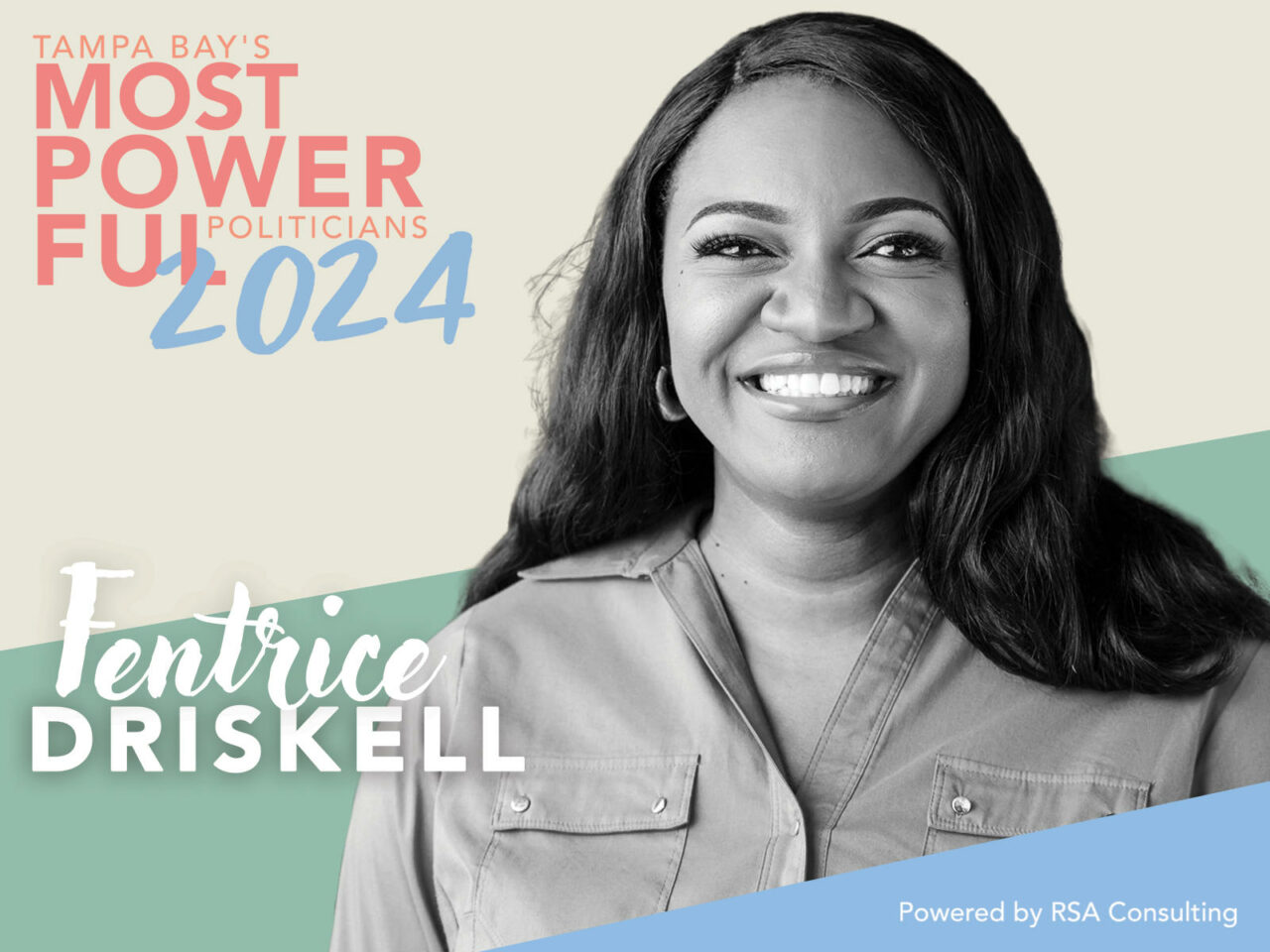 As a Democrat in deep-red Tallahassee, there's not a lot she can do. But like a true leader, it doesn't stop her from trying.
Landing in the No. 13 spot is an impressive feat for state Rep. Fentrice Driskell, whose name didn't even show up in the also-rans in last year's ranking.
On the surface, her inclusion this year seems like a no-brainer — as the chosen House Democratic Leader this year, Driskell is the first Black woman to lead a party caucus in the House.
But on closer look, "lead" is subjective. She's "leading" a caucus that is supremely hamstrung by a sea of red in Tallahassee. Republicans flooded the state in November amid a red wave that saw the GOP increase its House majority from 78 of 120 members to 85 of 120 members — more than enough for a supermajority.
That means there's not much Driskell can do. But like a true leader, it doesn't stop her from trying.
"In the four years since she was elected to the Florida House, Leader Driskell's name has continued to rise to the top and she is arguably the most influential Democrat in the state right now. This didn't happen by chance," said RSA Consulting President and CEO Ron Pierce. "Leader Driskell is a trusted voice that is well-liked and well-respected from members both sides of the aisle. She has an unmatched work ethic and dedicates herself to analyzing every bill and truly understanding the ins and outs of policy to ensure that she is doing what's best for Florida families. Leader Driskell has a bright future ahead of her and will be a powerful force for years to come."
Even though she knew it was an uphill climb, Driskell fought to expand Medicaid this year, asking it to be included in the February Special Session. The Republican majority ultimately shot down her request by voice vote.
In another long shot, Driskell is also leading the fight to mitigate any potential additional abortion restrictions that might come up this year in the wake of the U.S. Supreme Court overturning Roe v. Wade and leaving it to states to regulate abortion access. She's vowed to fight any legislation that limits access to abortion care, which Driskell has repeatedly said is women's health care.
She's also continuing to lead the fight to preserve forgotten African American cemeteries throughout the state. Driskell originally championed a law creating a task force, which resulted in recommendations that included starting the Office of Historic Cemeteries within the Division of Historical Resources with three full-time employees.
Legislation incorporated the task force recommendations, but the bill, which Driskell carried in the House, died last year without a single Senate committee hearing.
Driskell introduced the same bill (HB 49) for the 2023 Session. 
"Rep. Driskell is a steadfast leader for Tampa Bay. It takes a high level of skill and acumen to effect change as part of the minority and her rise to leadership couldn't have come at a more critical time for House Democrats," said Christina Barker, Chief of Staff for the Vinik Family Office.
"She continues to focus on the pocketbook and public health issues plaguing Floridians throughout the state in a style that is all her own — fearless, pragmatic and refreshingly authentic." 
And Driskell is unafraid to take on Republican Gov. Ron DeSantis.
She claimed DeSantis' decision to block an Advanced Placement course on African American studies was merely an attempt to attract headlines as he ramps up for a 2024 presidential bid.
Likewise, Driskell said in January that DeSantis' push to increase teacher salaries was "a political move from a man who wants to run for President and distract from the abortion discussion."
In February, she was among a group of Democrats to criticize Republicans for holding a Special Session to address property insurance issues, noting she thought they were "trying to help (DeSantis) save face" on that and other issues. Specifically, she wondered aloud whether Republicans might try to cure problems with spending on controversial immigrant flights.
The bottom line: Driskell may not yield much power in a House that has the numbers to squash anything Democrats so much as think, let alone speak, but she's building power that could take her to new heights.
"Leader of the Democrats in the House ain't what it used to be, but the state House doesn't seem to be her destination," said Joe Farrell, Vice President of Public Affairs for the Pinellas REALTOR Organization. "The connections she will gain in her role will aid her in whatever she does next."
Methodology
We define the Tampa Bay region as Pinellas, Hillsborough and Pasco, but can also include Hernando, Polk or Sarasota — if the politicians from those counties impact either Pinellas or Hillsborough.
We define a politician as being in office or running for office.
Being first on a panelist's list earns the politician 25 points, second earns them 24 points and so on, to where being listed 25th earns a politician one point. Points are added and, voilà, we have a list.
Special thanks go to our experienced and knowledgeable panelists, who were essential to developing the 2023 list: Christina Barker of the Vinik Family Office, Ashley Bauman of Mercury, Ed Briggs of RSA Consulting, political consultant Maya Brown, Ricky Butler of the Pinellas Co. Sheriff's Office, Reggie Cardozo of The Public Square, Ronald Christaldi of Schumaker, Barry Edwards, Joe Farrell of Pinellas Realtors, pollster Matt Florell of Vicidial Group, Shawn Foster of Sunrise Consulting Group, Adam Giery of Strategos Group, political consultant Max Goodman, Mike Griffin of Savills, Todd Josko of Ballard Partners, Natalie King of RSA Consulting, political consultant Benjamin Kirby, Merritt Martin of Moffitt Cancer Center, Mike Moore of The Southern Group, Ron Pierce of RSA Consulting, J.C. Pritchett, pastor of St. Pete's Faith Church, Darren Richards of Tucker/Hall, Preston Rudie of Catalyst Communications Group, Amanda Stewart of Johnston and Stewart, Bemetra Simmons of the Tampa Bay Partnership, and Alan Suskey of Shumaker Advisors and communications consultant Janelle Irwin Taylor. With Michelle and Peter Schorsch.