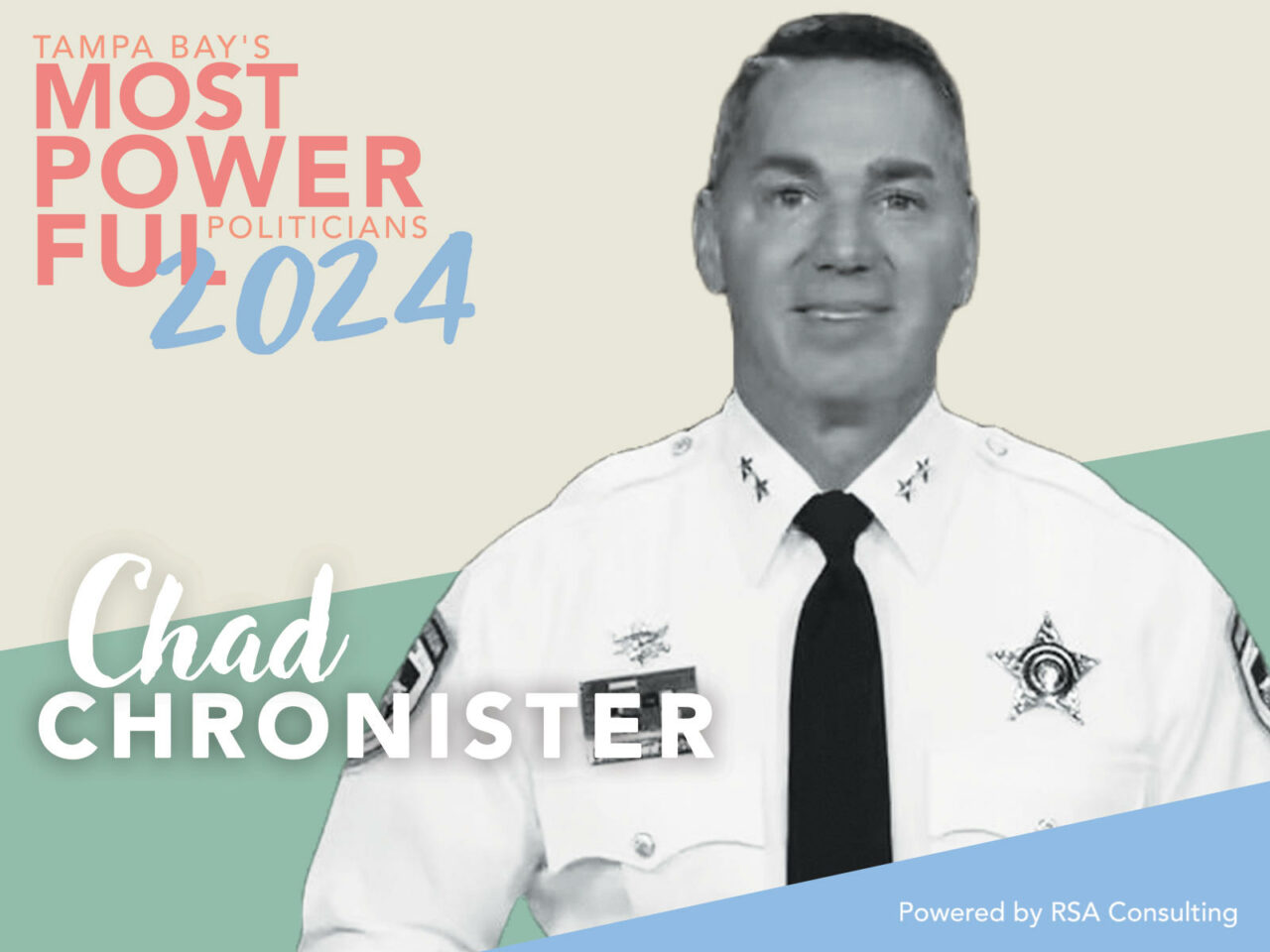 He's Hillsborough County's only Republican constitutional officer.
It's hard to survive in today's Republican Party if you get labeled a RINO (Republican In Name Only). That is, of course, unless your name is Chad Chronister.
Haters lob the RINO moniker at the Hillsborough County Sheriff on the regular, particularly when he's facing opposition for re-election, but the hurled insults never stick.
Perhaps because it's not a fair accusation — Chronister occupies a partisan position that requires nonpartisan behavior, and he acts accordingly. 
Or perhaps it's because he has unwavering support, on both sides of the aisle.
Whatever the case may be, few elected officials in Hillsborough County are as universally beloved as Chronister.
"After one hard-fought primary and two hard-fought general elections, Sheriff Chad Chronister has cemented himself as one of the most popular elected officials in Hillsborough County and Tampa Bay. As a candidate, Chronister isn't afraid to go into communities few Republicans dare to do outreach. As a Sheriff, he's kept crime low and modernized an agency of over 4,000 employees," said GOP political consultant Anthony Pedicini, who has managed Chronister's campaigns. "As a human being, he is one of the most giving and honorable people I've ever met. There's no doubt it is for all of these reasons that candidates on every level and from both political parties seek out his support and endorsement and it's why he's known as one of the most influential political figures in Tampa Bay.
Added communications consultant Ashley Bauman, who typically works with Democrats: "Sheriff Chad Chronister's steadfast dedication to public safety is unmatched. He is a shining example of strength and integrity, working tirelessly to keep Tampa Bay a safe and secure community."
Proof of his popularity and power is in the money. 
Since early 2019, Chronister has raised more than $2.2 million for his political committee, Friends of Chad Chronister. He's not facing re-election until next year, but has more than $1 million available should he draw opposition. 
If he needs more, he'll get it. Pedicini previously told Florida Politics he raised $1 million in just one night. 
In his 2020 re-election campaign, Chronister raised more than $545,000. None of his opponents even reached six figures. 
It's no wonder he's jumped from No. 7 on this list to No. 3. Chronister has a history of rising to the occasion. 
He played a crucial role in the pandemic's early days serving on the now-defunct Emergency Policy Group, which was tasked with setting policy on the pandemic.
While he mostly stuck to the law enforcement perspective on how to enforce policy proposals, he put duty before the politicization of COVID-19. Chronister directed deputies to arrest Brandon pastor Rodney Howard-Browne for continuing to hold crowded in-person services at The River at Tampa Bay church in violation of the county's then stay-at-home order.
That same year, he also directed the high-profile firing of a 21-year HCSO veteran. Chronister not only fired the deputy for pointing a gun at a suspect's head, but he also had him arrested for aggravated assault with a deadly weapon.
While those are two older examples of Chronister putting honor and duty above political pandering, they remain relevant, particularly because Chronister manages to avoid any of the more recent negative light on local law enforcement, namely problems plaguing Tampa Police leadership.
"Win after win, there is no doubt that Sheriff Chronister is an incredibly effective leader who goes above and beyond for his community," said RSA Consulting Vice President and COO Natalie King. "He is regularly seen out at community events, engaging with his constituents, and truly delving into the issues that residents face. His department's successful track record is a testament to his leadership, and the public takes note as his office continues to crack down on large crime rings and increase public safety resources."
Consider also this: Chronister remains Hillsborough County's only Republican constitutional officer. The other four constitutional officers — Clerk of Court, Property Appraiser, Supervisor of Elections and Tax Collector — are all Democrats (though keep an eye on that in 2024 after the red wedding that happened in 2022.)
Chronister is also the only constitutional officer in Hillsborough County to (spoiler alert) make this list. 
"Law enforcement is successful when they understand and demonstrate the desire to help others. Sheriff Chronister has lived this mentality for over 30 years with the Hillsborough County Sheriff's Office," said Florida Sheriffs Association President and Hernando County Sheriff Al Nienhuis.
"His innovative mindset has created education and growth opportunities for inmates to take the first step to build a better life out of prison, and he has worked tirelessly with state leaders to protect children from coming into contact with fentanyl."
And there's one last thing. So far, Chronister has only managed to improve his standing. His inaugural appearance on this list landed him near the bottom at No. 23.
Chronister then moved up to No. 16, No. 9 and No. 7 in the years since.
At No. 3 now, it begs the question: Does he still have room to grow?
Methodology
We define the Tampa Bay region as Pinellas, Hillsborough and Pasco, but can also include Hernando, Polk or Sarasota — if the politicians from those counties impact either Pinellas or Hillsborough.
We define a politician as being in office or running for office.
Being first on a panelist's list earns the politician 25 points, second earns them 24 points and so on, to where being listed 25th earns a politician one point. Points are added and, voilà, we have a list.
Special thanks go to our experienced and knowledgeable panelists, who were essential to developing the 2023 list: Christina Barker of the Vinik Family Office, Ashley Bauman of Mercury, Ed Briggs of RSA Consulting, political consultant Maya Brown, Ricky Butler of the Pinellas Co. Sheriff's Office, Reggie Cardozo of The Public Square, Ronald Christaldi of Schumaker, Barry Edwards, Joe Farrell of Pinellas Realtors, pollster Matt Florell of Vicidial Group, Shawn Foster of Sunrise Consulting Group, Adam Giery of Strategos Group, political consultant Max Goodman, Mike Griffin of Savills, Todd Josko of Ballard Partners, Natalie King of RSA Consulting, political consultant Benjamin Kirby, Merritt Martin of Moffitt Cancer Center, Mike Moore of The Southern Group, Ron Pierce of RSA Consulting, J.C. Pritchett, pastor of St. Pete's Faith Church, Darren Richards of Tucker/Hall, Preston Rudie of Catalyst Communications Group, Amanda Stewart of Johnston and Stewart, Bemetra Simmons of the Tampa Bay Partnership, Alan Suskey of Shumaker Advisors and communications consultant Janelle Irwin Taylor. With Michelle and Peter Schorsch.