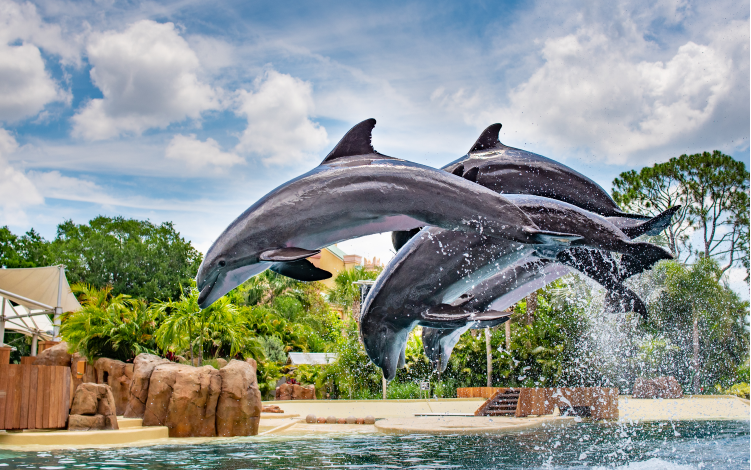 'While staffing has improved from earlier in the year, we're still not yet at optimal levels,' said SeaWorld Entertainment interim CFO Jim Forrester.
While its two biggest Orlando competitors pay higher wages for workers, SeaWorld Entertainment leaders are discussing how the company can handle existing labor shortages.
"While staffing has improved from earlier in the year, we're still not yet at optimal levels," said interim CFO Jim Forrester during the company's fourth-quarter earnings call, which showed the company's continued financial rebound during the pandemic.
"We continue to suffer from less-than-optimal staffing in various roles across our parks during the quarter which, among other things, impacted our ability to fully capture in-park revenue," he said.
The staffing shortages hit worst in the food and beverage areas of the company's theme parks, said CEO Marc Swanson.
The company's solution is growing its mobile ordering, said Swanson, who didn't give any indication the company was looking at raising the minimum wage to compete with Disney and Universal for staffing.
"We've targeted to have mobile ordering," Swanson said. "We'll continue to grow that over time."
Swanson also said the company is looking carefully at scheduling and other factors to deal with the staffing issues.
Universal Orlando announced employees will soon get paid at least $17 an hour and Disney World unions are in the middle of a contract fight for more money. SeaWorld Orlando's minimum pay was $13 as of 2021. The park has not responded to two requests by Florida Politics this month to confirm if the pay has changed.
At Disney World, union members currently make at least $15 an hour, although the company and its largest union coalition are in talks over a new contract that could potentially raise that.
Universal Orlando announced in February the company is raising the minimum hourly rate to $17 as of June 4, which would make it the highest paying Orlando theme park.
SeaWorld leaders discussed the labor shortages during Tuesday's earnings call that otherwise brought good financial news for SeaWorld Entertainment. Swanson called it "our seventh consecutive quarter of record financial results."
The company's quarterly revenue rose to $390.5 million — 5% more from 2021's fourth quarter — despite an attendance drop.
Attendance fell to 4.9 million visitors — a decrease of 16,000 visitors from 2021 because of bad weather and fewer international visitors due to pandemic travel restrictions.
The company touted investments, both major and smaller scale. The parks are adding new rides, including a surfing-themed coaster set to open in Orlando later this spring. Forrester also said the company is spending money to improve the guest experience whether that's more shade, better bathrooms, mobile ordering and improved eateries at the parks.
The Orlando-based company operates 12 theme parks in the United States.