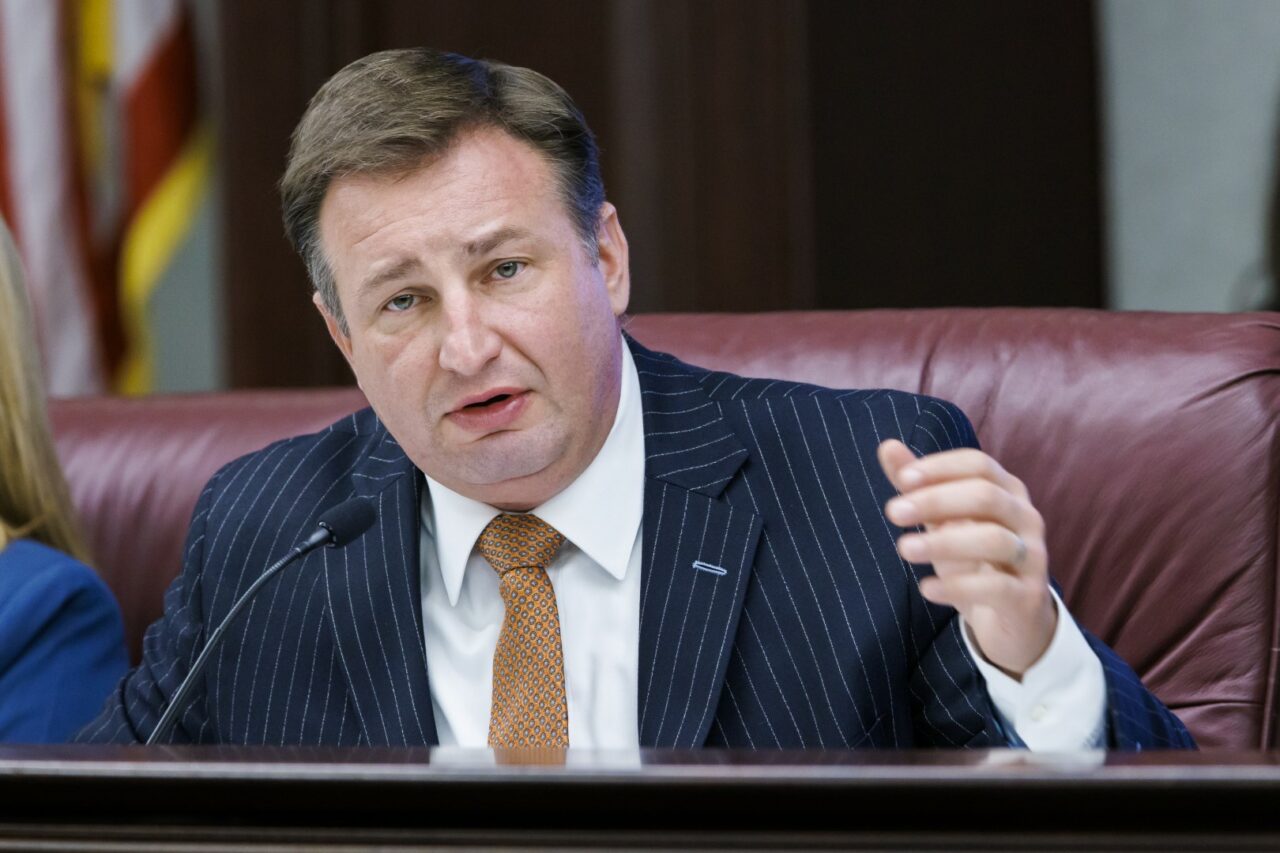 Support fell along party lines, with Democrats dissenting.
Republican lawmakers sidestepped decades of constitutional precedent and a wave of public opposition Tuesday to advance legislation aimed at weakening legal protections for journalists writing about public figures.
Members of the Senate Judiciary Committee voted along party lines for the measure (SB 1220), one of several bills Gov. Ron DeSantis has prioritized this year targeting long-held First Amendment safeguards.
The expansive bill and its House analogue (HB 991) would make it much easier to successfully sue journalists and media outlets for defamation by lowering legal thresholds established in the 1964 U.S. Supreme Court ruling New York Times v. Sullivan.
It would reduce a plaintiff's burden of proof in a lawsuit from having to show "actual malice" in news reports citing unnamed sources to only proving a journalist acted negligently, with a lack of reasonability or care.
The bill would also revise the state's laws against SLAPPs (Strategic Lawsuits Against Public Participation) that protect against meritless legal action meant to harass or silence reporters and outlets.
Under current law, defendants of such lawsuits can seek early dismissal of SLAPP actions and, as a punitive measure against frivolity, receive compensation from the plaintiff for attorney fees. SB 1220 would upend that provision by requiring only that plaintiffs cover defendant's legal costs if the statement or statements being challenged were "not negligently made."
Lake Mary Republican Sen. Jason Brodeur, the bill's sponsor, framed the proposed changes as necessary for balancing a currently unfair system in which it is virtually impossible for parties wronged by the press to receive due recompense.
"This bill attempts to put some guardrails on that so somebody who knowingly or falsely claims, or fails to exercise a certain amount of care, can be held liable for damaged caused to people," he said. "This is about somebody making and printing an untrue statement that causes harm. We all know you cannot yell 'fire' in a crowded theater and claim that's free speech."
To further tighten journalistic strictures, Brodeur's bill would redefine "actual malice" — the benchmark by which a plaintiff in a defamation suit can win damages — to apply to reports fabricated by the defendant. Reporting based "wholly on an unverified, anonymous report," containing information "so inherently improbable that only a reckless person would have put it into circulation" or for which "there are obvious reasons to doubt veracity" would also qualify as malicious.
In cases where that revised definition applies and a journalist or media company refuses to name a confidential source used in the report, the plaintiff would only have to prove the defendant acted negligently to win damages.
The bill would also change the criteria for being a public figure. Under the proposed language, a person would not be a public figure if their fame or notoriety stems from defending themselves against accusations or for granting interviews to media. People who obtain public employment but don't hold public or appointed office and those with a "broad audience" on social media would be exempted as well.
Senate Democratic Leader Lauren Book argued the measure presents "some real constitutional issues" and needs much more work. She referenced the 1966 Supreme Court case Rosenblatt v. Baer, which among other things, set forth that states cannot define by law who is and isn't a public official.
Book also noted that contrary to an overarching objective of the 2023 Legislative Session to reduce the number of lawsuits in the state, SB 1220 and its House companion would "open the floodgates to frivolous lawsuits."
Brodeur countered that while the "tenor of this Session" is to curb needless litigation, "a greater obligation that the government has is to protect innocent citizens."
He added that no lawsuits should hold up if a published story is factual.
"This bill has, in other places, been called the 'journalism 101' bill. If it's factual, print what you want, anonymous source or not. That's fine," he said. "It's only when there's an unidentified source and it is the subject of actual malice or negligence that we get into an issue."
Sen. Geri Thompson, an Orlando Democrat, challenged the need for Brodeur's bill considering the United States and Florida already have laws governing free speech and providing protection from false statements.
Brodeur — who is carrying another bill this year that would require paid political bloggers to register with the state — said the legislation brings Florida's defamation statutes in line with other laws concerning misconduct, criminal negligence and accountability.
"In all other places of life where we experience avoidable harm — medical malpractice, car accidents, you name it — failure to exercise the duty of care that is with that particular activity is the standard by which somebody is entitled to damages," he said. "Only in publishing is this actual standard this high."
Thompson said later that she finds the bill hard to justify at a time when there's a state-ordered survey of college students and faculty on whether there's a stifling of conservative speech on campuses across the state.
"We want robust conversations … unless we're talking about public figures," she said. "Here we're saying we don't want divergent ideas. I think America is a place where you can feel comfortable voicing your opinion whether that is in writing, spoken or whatever, and I think this bill takes us backward in that respect."
Book and Thompson were far from alone in objecting to the bill. The committee's 8-3 vote followed nearly an hour of testimony from dozens of attendees. All opposed the bill.
Rachel Fugate, a Tampa lawyer whose law firm specializes in First Amendment defense, presented an itemized list of provisions in SB 1220 that pose "significant constitutional problems" and raise "troubling public policy concerns."
If it passes, she said, Florida will become "the preferred destination of any libel plaintiff in America," a prospect that may benefit attorneys and their litigious clients but "will hurt every citizen of this state."
Aside from making the Sunshine State a lawsuit magnet and weakening the free press, she continued, the bill would have a "particularly profound" impact on the insurance market and homeowners whose policies cover defamation claims.
"Their policies will skyrocket," she said. "Individual bloggers and hyperlocal media will no longer be able to afford insurance to stay in business, and it can even be used against politicians in their social media posts, advertisements, speeches and debates."
Others, including representatives from the First Amendment Foundation, Florida Press Association, Equality Florida, Common Cause Florida, Florida Now, and Foundation for Individual Rights and Education expressed similar disquiet.
Abdelilah Skhir, voting rights policy strategist for ACLU Florida, summarized the history of New York Times v. Sullivan, which came about after a "prominent supporter of Jim Crow" sued over "trivial factual errors" in an advertisement the newspaper ran from supporters of the civil rights movement.
"The Legislature should not empower abuse of the judicial process and the rights of others to speak on matters of public importance," he said. "This brazen and blatant attack on the First Amendment is intentionally designed to chill, silence and punish those who criticize public officials and their powerful allies."
Republican Sens. Ben Albritton, Dennis Baxley, Coleen Burton, Jim Boyd, Nick DiCeglie, Jay Trumbull and Clay Yarborough voted for the measure. Democratic Sen. Linda Stewart joined Book and Thompson in voting no.
SB 1220 must next pass through the Senate Rules Committee before going to a full chamber vote. HB 991 by Pensacola Republican Rep. Alex Andrade awaits a hearing by the House Judiciary Committee, its last stop before reaching the House floor.