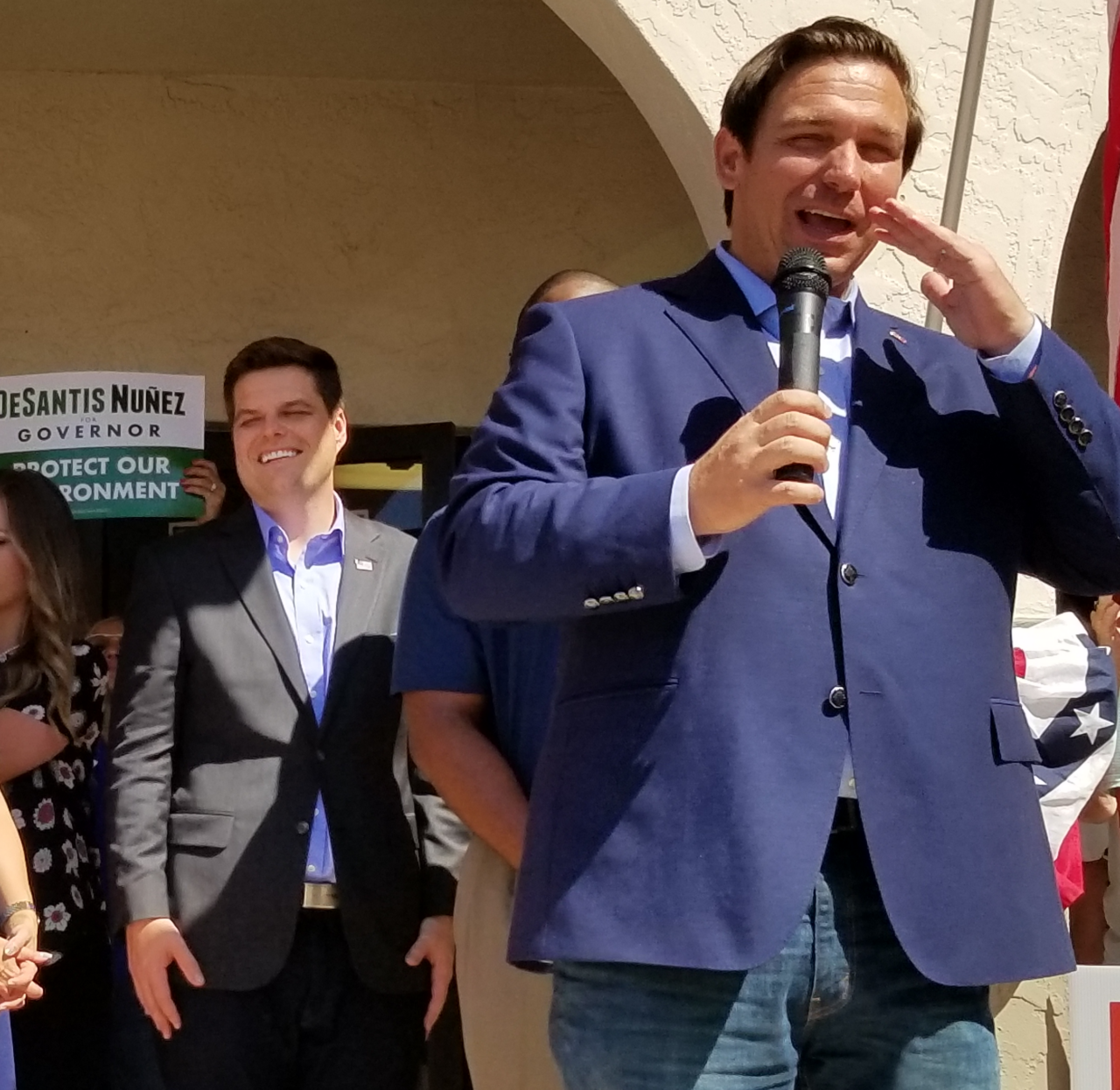 'I don't think he really understands the nature of this fight right now.'
U.S. Rep. Matt Gaetz was a key validator and endorser of Gov. Ron DeSantis in 2018, but the Panhandle Republican is changing his tune.
In a NewsNation interview, Gaetz griped about DeSantis' unwillingness to offer Donald Trump protection against an indictment, and chastised DeSantis as "uncouth" for taking a "jab" at Trump's legal circumstances.
"If I were Governor of Florida, I would not allow any Floridian to be hauled before some George Soros-backed prosecutor in some blue city over politics. And I wouldn't make an exception to not protect the President of the United States," Gaetz contended.
"Ron DeSantis should be standing in the breach to stop any sort of extradition of President Trump from the state of Florida."
This represents significant daylight from DeSantis' position. While the Governor said he had "no interest in getting involved in some type of manufactured circus by some Soros DA," he also noted he was agnostic to whether Trump was indicted in the Sunshine State.
"We're not getting involved in it in any way," he said.
Gaetz contended that while DeSantis is a "friend," his inaction "puts every Floridian at risk who could be the subject of a false allegation." He also argued DeSantis "hasn't been the target of false and persistent allegations like President Trump has."
"And so I don't think he really understands the nature of this fight right now. I think that it was a bit uncouth for him to take a jab at the former President," Gaetz said.
DeSantis has distanced himself from the former President's legal woes.
"You're talking about this situation, and like, I don't know what goes into paying hush money to a porn star to secure silence over some type of alleged affair. I just can't speak to that," DeSantis said in Panama City, comments that earned a rebuke from Trump and his son.
On Truth Social, the former President pilloried the Florida Governor, casting aspersions on his heterosexuality in the process.
"Ron DeSanctimonious will probably find out about FALSE ACCUSATIONS & FAKE STORIES sometime in the future, as he gets older, wiser, and better known, when he's unfairly and illegally attacked by a woman, even classmates that are "underage" (or possibly a man!). I'm sure he will want to fight these misfits just like I do!"
Trump's comments were atop a post where he rebooted a scurrilous story about the Governor drinking with prep school students when he was a teacher decades ago, arguably the same type of "false and persistent allegations" about which Gaetz groused.
"So DeSantis thinks that Dems weaponizing the law to indict President Trump is a 'manufactured circus' & isn't a 'real issue,'" Trump Jr. tweeted. "Pure weakness. Now we know why he was silent all weekend. He's totally owned by Karl Rove, Paul Ryan & his billionaire donors. 100% Controlled Opposition."
DeSantis is not backing down from his position, as an interview with Piers Morgan indicates.
"Well, there's a lot of speculation about what the underlying conduct is. That is purported to be it, and the reality is that's just outside my wheelhouse. I mean that's just not something that I can speak to," DeSantis said, echoing comments he made Monday in Panama City.
DeSantis also compared Trump unfavorably to the nation's Founding Fathers.
"At the end of the day as a leader," he said, "you really want to look to people like our Founding Fathers, like what type of character. It's not saying that you don't ever make a mistake in your personal life, but I think what type of character are you bringing? So, somebody who really set the standard is George Washington because he always put the Republic over his own personal interest."
Gaetz has endorsed Trump for President already, and the NewsNation interview suggests he could be a potent weapon against DeSantis' own expected bid for the White House.
However, it was clear that the DeSantis/Gaetz rift happened long before that. Asked about Gaetz's own legal complications in 2021, which ultimately led to no charges, DeSantis said he didn't "have anything to say."
Gaetz accompanied DeSantis on a three-stop tour of cities in June 2018, joining DeSantis during question and answer sessions at those events. He also accompanied DeSantis to at least one debate during the primary campaign.
And once the Primary was in the rearview, Gaetz only got rougher with DeSantis' General Election opponent.
"I don't know whether to call him Andrew Gillum or 'Andrew Kill-'em,'" Gaetz said during an October campaign event with DeSantis in Southwest Florida of DeSantis' then opponent. The joke was about Tallahassee's murder rate, but critics saw it as just another in a series of racial gaffes from the DeSantis side.
Gillum was under scrutiny at the time from the FBI, which was investigating larger issues in Tallahassee. Gaetz suggested a better name for the Democratic nominee would be "Andrew Guilty."
Gaetz and DeSantis were fixtures at events not just in Gaetz's home in the Panhandle, but throughout the state. He ended up with a plum prize, of course, a prominent role on the Governor's transition team.
But since that halcyon era of cooperation, distance has emerged between the Governor and a once key ally.