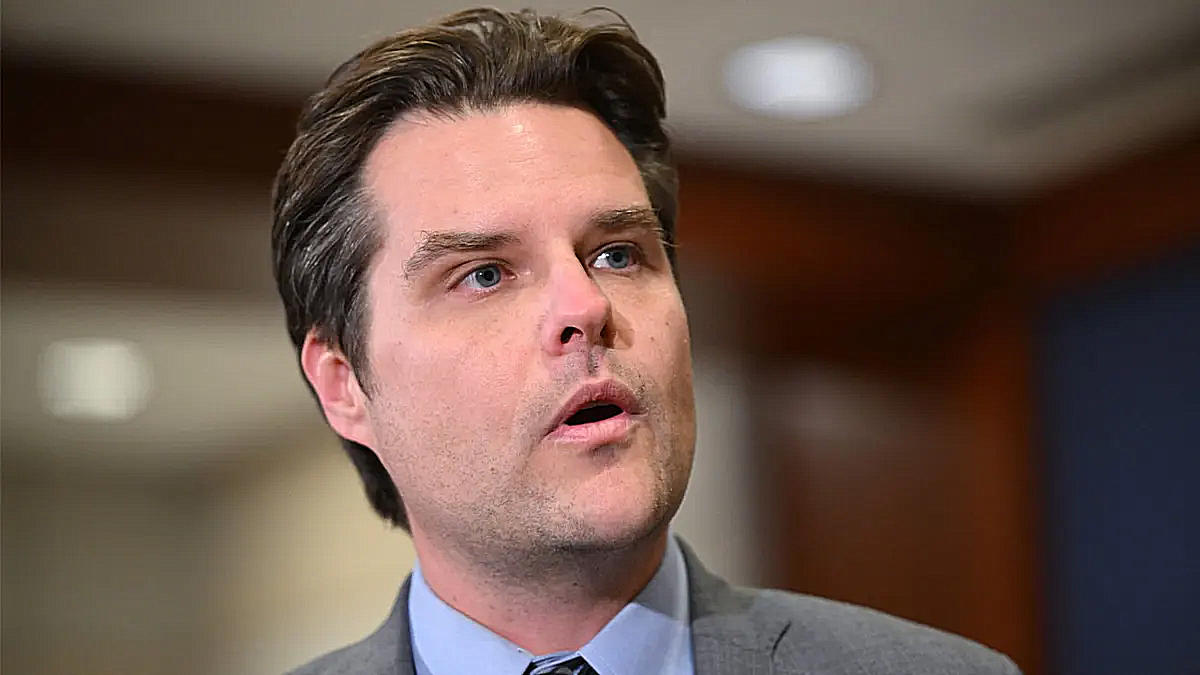 'This is no time for amateurs or impersonators or understudies.'
Matt Gaetz issued the strongest statements yet regarding Ron DeSantis and his political debt to Donald Trump Saturday.
Warming up the crowd in Waco, Texas for Trump, Gaetz made it clear that DeSantis would be ill-advised to challenge Trump in the 2024 Republican Presidential Primaries.
Gaetz noted Trump did three rallies for DeSantis in 2018, and if he hadn't, "my Governor today would probably be Andrew Gillum. How weird is that?"
Gaetz also singled out Texas Sen. Ted Cruz, noting that "patriots of the MAGA movement delivered for you in your time of need. Today, Ron DeSantis and Ted Cruz should endorse Donald Trump for president and stand with us as we were so proud to stand with them."
"This is no time for amateurs or impersonators or understudies. There is no success without victory and there is no Trumpism in 2024 without Donald J. Trump," Gaetz added.
Gaetz himself was a key DeSantis supporter and surrogate in 2018, but the breach between the former allies is now pretty clear.
In a recent NewsNation interview, Gaetz griped about DeSantis' unwillingness to offer Trump protection against an indictment and chastised DeSantis as "uncouth" for taking a "jab" at Trump's legal circumstances.
"If I were Governor of Florida, I would not allow any Floridian to be hauled before some George Soros-backed prosecutor in some blue city over politics. And I wouldn't make an exception to not protect the President of the United States," Gaetz contended.
"Ron DeSantis should be standing in the breach to stop any sort of extradition of President Trump from the state of Florida."
The DeSantis/Gaetz rift has been years in the making. Asked about Gaetz's own legal complications in 2021, which ultimately led to no charges, DeSantis said he didn't "have anything to say."
Gaetz accompanied DeSantis on a three-stop tour of cities in June 2018, joining DeSantis during question and answer sessions at those events. He also accompanied DeSantis to at least one debate during the primary campaign.
And once the Primary was in the rearview, Gaetz only got rougher with DeSantis' General Election opponent.
"I don't know whether to call him Andrew Gillum or 'Andrew Kill-'em,'" Gaetz said during an October campaign event with DeSantis in Southwest Florida of DeSantis' then opponent. The joke was about Tallahassee's murder rate, but critics saw it as just another in a series of racial gaffes from the DeSantis side.
Gillum was under scrutiny at the time from the FBI, which was investigating larger issues in Tallahassee. Gaetz suggested a better name for the Democratic nominee would be "Andrew Guilty."
Gaetz and DeSantis were fixtures at events not just in Gaetz's home in the Panhandle, but throughout the state. He ended up with a plum prize, of course, a prominent role on the Governor's transition team.
But since that halcyon era of cooperation, distance has emerged between the Governor and a once key ally.