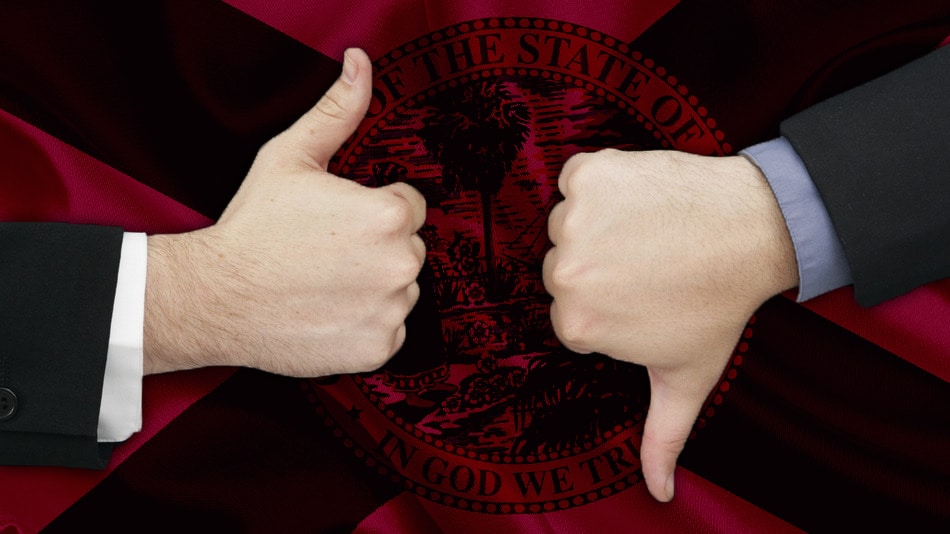 Lawmakers were busy this week, passing major bills on school choice and tort reform.
The tête-à-tête between Ron DeSantis and Donald Trump kicked up another notch this week, with DeSantis offering his most direct critiques of Trump yet and Trump continuing to roll around in the mud with attacks against DeSantis.
This week's back-and-forth was triggered by erroneous reports, amplified by Trump himself, that Trump could be arrested Tuesday in connection with an investigation into allegations he violated campaign finance laws by backing a payoff to porn star Stormy Daniels to cover up an affair.
That prompted right-wing agitators to begin pushing DeSantis to ignore, and outright block, any effort to arrest or move Trump out of the state.
Asked about the potential charges Monday, DeSantis criticized any effort to charge Trump over the incident. But as to whether the Governor would step in?
"I have no interest in getting involved in some type of manufactured circus by some Soros DA, okay? He's trying to do a political spectacle. He's trying to virtue signal for his base. I've got real issues," DeSantis said.
And he also added this remark, which really ticked off MAGA world.
"You're talking about this situation, and like, I don't know what goes into paying hush money to a porn star to secure silence over some type of alleged affair. I just can't speak to that," DeSantis added.
Oh boy. And again, DeSantis did try to undercut the idea Trump should be charged. But he very slyly slipped in that dig against the former President, which triggered an onslaught of attacks, including from former DeSantis ally Matt Gaetz.
Trump joined in as well, re-heating so-called "groomer" attacks against DeSantis, even questioning the Governor's sexuality, in Trump's typical anything goes fashion.
But instead of taking it lying down, as DeSantis has done in the past, the Governor more directly responded to Trump during a talk with Piers Morgan.
"At the end of the day, as a leader, you really want to look to people like our Founding Fathers," DeSantis said, in response to being asked about Trump directly. "It's not saying that you don't ever make a mistake in your personal life, but I think, what type of character are you bringing? … I think the person is more about how you handle your public duties and the kind of character you bring to that endeavor."
DeSantis also went after Trump's record as President, particularly related to his handling of COVID-19. DeSantis argued Trump should have fired National Institute of Allergy and Infectious Diseases Director Anthony Fauci.
The volley then went to Trump, who fired back with cherry-picked stats undercutting DeSantis' effort to frame Florida as a shining beacon of success in recent years.
Sure seems like Presidential Primary material, even though DeSantis has yet to throw his hat in the ring. And the rhetoric between the two is taking a step up from its most recent spike earlier this year.
Now, it's on to our weekly game of winners and losers.
Winners
Honorable mention: Marco Rubio. Rubio was recognized for his work getting bills through a Senate controlled by the opposition party, as he was ranked the No. 3 most effective member of the U.S. Senate.
The rankings came courtesy the University of Virginia and Vanderbilt University's Center for Effective Lawmaking. Rubio places third behind U.S. Sens. Gary Peters, a Michigan Democrat, and John Cornyn, a Texas Republican.
"There is a lot that happens in Congress that the media doesn't care about because it doesn't generate ratings or clicks," Rubio said, responding to the high ranking. "I am going to keep focused on the things that matter and do what I can to help real people in Florida and all across the country."
Rubio secured that ranking despite ranking as ideologically conservative, according to the outlet. That mirrors an evolution for Rubio where he gradually has become more of a defender of former President Trump after famously skirmishing with him during the 2016 Presidential Primary.
But Florida's Senior Senator still has an ability to work with his colleagues across the aisle and get results, as we've spotlighted before. And as Rubio has opted against a presidential run in 2024, he'll likely continue his focus on that work in the Senate in the years ahead.
Almost (but not quite) biggest winner: Insurance companies. Gov. DeSantis signed legislation reforming the state's regulations over tort lawsuits, aiming to crack down on frivolous suits and cut down on litigation costs for the state's businesses.
The win is a boon for businesses and insurance companies. The Governor, Senate President Kathleen Passidomo and House Speaker Paul Renner all prioritized the bill. That was evidenced by the Senate passing it on Thursday (following an OK the previous week from the House), and DeSantis turning around and signing the bill Friday.
"Florida has been considered a judicial hellhole for far too long and we are desperately in need of legal reform that brings us more in line with the rest of the country," DeSantis said.. "I am proud to sign this legislation to protect Floridians, safeguard our economy and attract more investment in our state."
"The vast majority of attorneys work very hard to provide sound legal representation for Floridians in these difficult circumstances," Passidomo added.
"Unfortunately, there are a few bad actors who are in the business to draw out civil cases as long as possible, collecting more and more fees from insurance companies. Litigation drives up the basic costs of goods and services for everyone across all areas of industry and commerce. Under the leadership of Gov. DeSantis, we have taken many steps to help keep Florida affordable for growing families and seniors."
The GOP-controlled Legislature is taking a standard conservative position in passing this bill, as tort reform has been a rallying cry for the party for ages. Democrats, meanwhile, argued that eliminating one-way attorneys fees and making it harder for plaintiffs to recover when they are more than 50% at fault will hurt consumers and policyholders.
"The people who won't be getting any gifts from this bill are the insured, the citizens of Florida, the constituents who sent us here to serve their interests against the deep pockets of large corporations," argued Democratic Sen. Lori Berman. "Our constituents will continue to pay rising premiums and find themselves in situations where coverage is inadequate."
The biggest winner: School choice advocates. The ideological Right got another win with the Legislature approving a major reform to the state's education system, opening up private school vouchers to all Floridians, regardless of income.
Speaker Renner also had this bill high on his priority list, pegging it as HB 1. With the Senate approving the measure this past week, Senate President Passidomo called it "one of the most transformative education bills in the history of the state."
Now, Democrats raised some legitimate concerns during the process about how much the bill will cost. The House has budgeted $110 million in reserves for potential overruns, while the Senate slotted $350 million in its proposed budget. That's just potential overrun costs. The total cost will be higher, with one group opposing the measure putting it in the billions.
It's unclear where that figure will land, as the Florida Department of Education did not release any study on the potential costs. Democrats also worried the shift in funding could hurt the state's public schools.
But Republicans championed the measure as opening up better educational opportunities for the state's children from families of all financial backgrounds.
And as we've said repeatedly following the 2022 Midterms, Republicans have the power here with a supermajority in the Legislature and the Governor's Mansion. They ultimately get to push through legislation they deem a high priority, and this week marked a big win for the school choice cause in Florida.
Losers
Dishonorable mention: Joe Harding. Harding's guilty plea is in after he was charged with securing fraudulent COVID-19 loans. Harding now faces a potential sentence of decades in prison, as he awaits a July 25 sentencing hearing.
The guilty plea represents a swift fall from grace for the lawmaker, who was tasked just last year with sponsoring Florida's signature "parental rights" legislation, a measure derided by critics as the "Don't Say Gay law." That signaled Harding had a significant role ahead in the Governor's ongoing culture war against "woke."
Harding then won re-election to his House District 24 seat unopposed in November. But in December, Harding was indicted on charges alleging he acquired $150,000 in COVID-19 loans by applying for money on behalf of a dormant business he had owned. One day later, he resigned.
At that time, Harding signaled an intention to fight the charges. But now he's changed his plea to "guilty."
Harding is clearly trying to make a play for a lesser sentence by copping to the charges. But regardless of what U.S. District Judge Allen Winsor decides in July, Harding has fallen a long way from the perch he held just last year.
Almost (but not quite) biggest loser: LeAnna Cumber. The Jacksonville mayoral election is headed to a runoff between Democrat Donna Deegan and Republican Daniel Davis following Tuesday's election results. City Council member Cumber, meanwhile, flopped tremendously in the crowded field.
After weeks of intense fire against Davis, a fellow Republican, Davis nevertheless significantly outperformed Cumber. He took 25% support to Deegan's 39%.
But Cumber, one of the top spenders in the contest, didn't even manage to take third place. That went to City Council member Al Ferraro, who secured 16%.
So, was it a close fourth for Cumber? Nope. That went to former Democratic Sen. Audrey Gibson, who garnered 9% of the vote. Instead, Cumber finished a distant fifth, with just 5% support, only topping afterthought candidates Frank Keasler Jr., Omega Allen and write-in Brian Griffin.
The race was expected to head to a runoff, likely featuring the top-performing Democrat and Republican. Cumber made a big bet she would take that Republican slot, pouring in millions.
The effort ended in an epic flop, as Cumber never made a dent in the polls and finished about as low as expected Tuesday. And if her true aim was simply damaging Davis enough for another Republican like Ferraro to leap ahead, that too failed, leaving Cumber on the outside looking in come the General Election in May.
The biggest loser: Trial lawyers. Here is one group that's not a fan of that newly passed tort bill. Tort lawyers definitely took a hit this week, as evidenced by a statement from the Florida Justice Association (FJA), which represents trial lawyers.
But FJA President Curry Pajcic said the bill was the "largest rights-grabbing legislation in recent history," and framed it as a "direct assault on the rights of every Floridian by insurance companies and corporate elites who think they can dictate which rights should be preserved and which can be tossed aside."
Putting up roadblocks to these suits is certainly bad for business for tort lawyers. It remains to be seen when they will (ironically) mount any formal lawsuit against the measure. But the Florida Chamber of Commerce is already promising to put together a team to fight against any such legal challenge.
"The personal injury lawyer industry has habitually used the courts to undo the work and intent of the Legislature and the citizens of Florida those elected officials represent. This is evidenced by legal challenges to several of the most impactful recent legal reforms in Florida — from workers' comp to medical malpractice to the repeal of joint and several liability and others — which all faced legal delays upon being signed into law," Florida Chamber President and CEO Mark Wilson argued.
"While our attorneys have closely reviewed the legislation and unanimously conclude it is legally sound, past behavior is often indicative of future actions. The Florida Chamber anticipates personal injury trial lawyer industry resistance, as the long-overdue dam of frivolous litigation earnings begins to close."