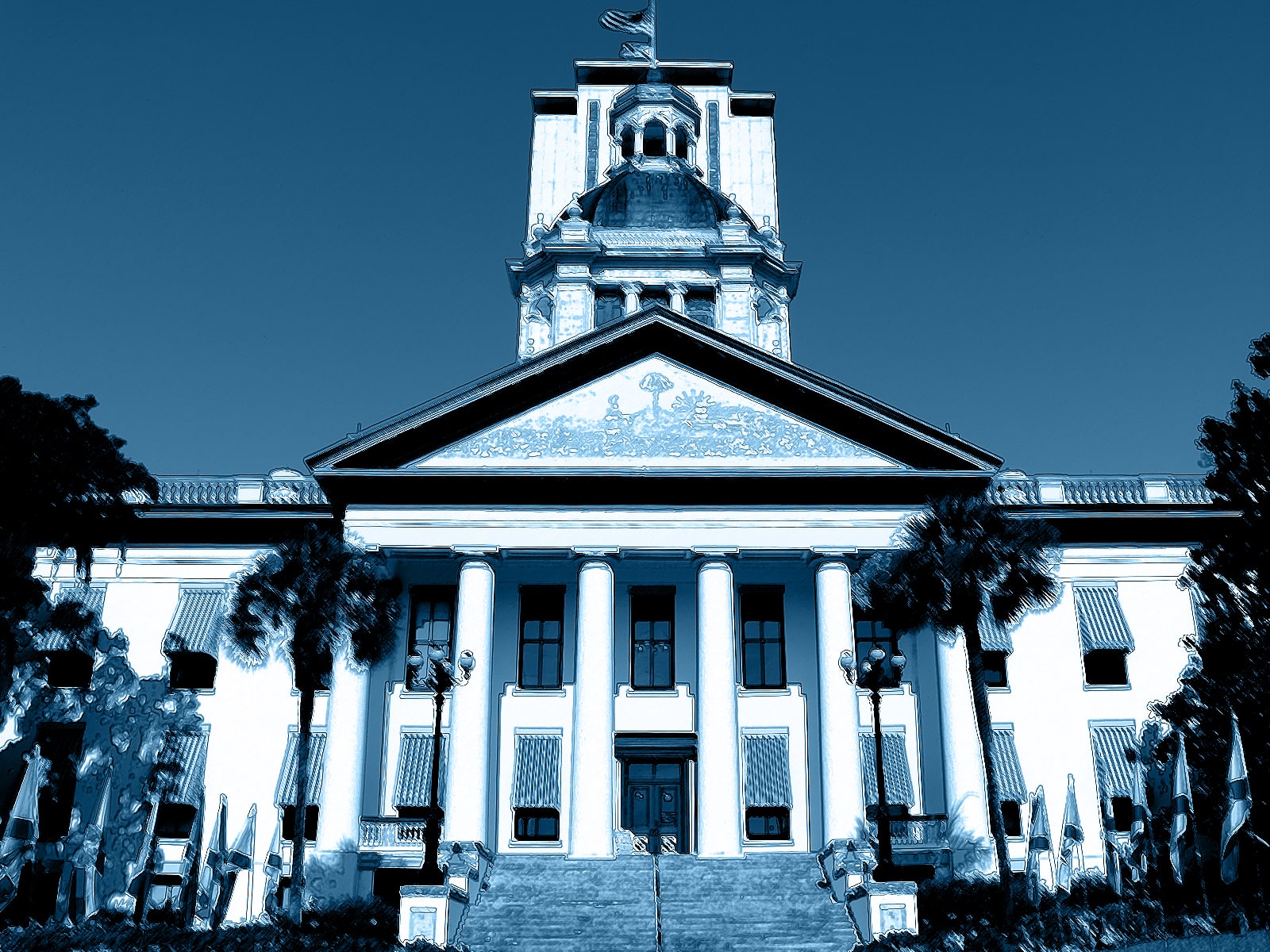 Springtime Tallahassee is back with music, arts and crafts, a 10k race, fair food, and the 55th annual parade.
Who's ready for a parade? A really long parade?
It's that time of year again in the Capital City.
Springtime Tallahassee — coming amid the annual pollen blooms that turn every car yellow — is back in full force. It means music, arts and crafts, a 10k race, fair food and the 55th annual parade.
Springtime Tallahassee was first organized in the late '60s as a response to a discussion of moving the state Capitol to Orlando. "We should have a festival in the spring when Tallahassee is so beautiful!" was one of the ideas suggested at a luncheon held by the Tallahassee Real Estate Association.
And, just like that, the first festival was held in the spring of 1968.
This year's Springtime Tallahassee includes the Jubilee in the Park. Open from 9 a.m. to 5 p.m., it features arts and craft vendors, a food court (stay away from those corn dogs) and a children's park.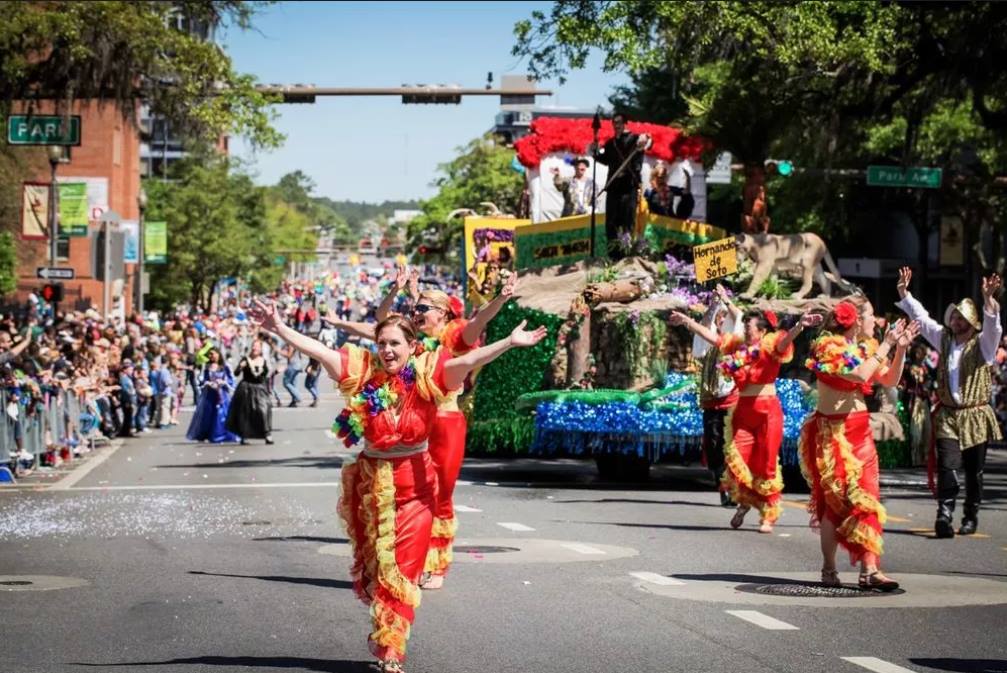 But if you plan on eating those corn dogs, you can work the calories off in advance. A one-mile Springtime Race starts off at 7:30 a.m. and 5K and 10K races follow at 8 a.m.
Springtime Tallahassee organizers say the parade — which is scheduled to last today from 10:30 a.m. to noon — is one of the largest in the Southeast. It will include more than 100 colorful units and floats, marching bands, as well as floats from the Springtime Krewe.
It starts on Monroe Street just south of the intersection with Brevard Street, which is close to the Governor's Mansion, and runs south to Madison Street just south of the Capitol.
Fun fact: The first parade featured costumes and only horse-drawn units.

Country music singer Chris Lane played at the Springtime Tallahassee Music Festival last night. Lane's special guests were Walker Montgomery and Temecula Road
___
Coming up, the usual assortment of news, intel, and observations from the week that was in Florida's capital city by Peter Schorsch, Drew Wilson, Gray Rohrer, Christine Jordan Sexton and the staff of Florida Politics.
But first, the "Takeaway 5" — the Top 5 stories from the week that was:
Take 5
—#FloridaMan indicted: Donald Trump was indicted in New York on charges involving payments made during the 2016 presidential campaign to silence claims of an extramarital sexual encounter. Gov. Ron DeSantis said he will not assist in an extradition request given the "questionable circumstances," surrounding the indictment.
—Gov. promises to sign gun bill: Eligible gun owners could soon be able to carry a concealed firearm without a permit in Florida. After a two-hour debate, The Senate voted 27-13 for HB 543 along mostly party lines, with Sen. Ileana Garcia of Miami the only Republican to join Democrats voting against it. The House approved the bill March 24 by a 76-32 vote. DeSantis has promised to sign the bill next week. Meanwhile, Sen. Jay Collins, a Tampa Republican and sponsor of the Senate version of the bill, stressed that those who are ineligible to carry a firearm, such as ex-felons, would still be banned from carrying a gun. Democrats, though, said the process of getting a license — which includes firearms training and a background check — is a needed hurdle to filter out people who can legally carry a gun. Meanwhile, DeSantis is pushing for a Special Session to further expand gun rights. During a campaign event in Georgia, an activist asked DeSantis, "will you call a Special Session for open carry?" DeSantis' response was clear. "If I can get the votes."
—Workforce housing now law: Flanked by police officers, politicians and Realtors, DeSantis signed Senate President Kathleen Passidomo's top priority: a package of incentives to encourage the development of workforce housing. The bill includes tax breaks for developers and boosts funding for existing programs. The bill also bans local governments from imposing rent control ordinances.
—Vouchers for all: Private school vouchers are available to all, regardless of income, now that DeSantis has signed HB 1. The bill was a priority of House Speaker Paul Renner. Florida joins just five other states that allow universal choice. Some of those states approved the changes while Florida's legislation was being debated. Florida is by far the largest among the other universal school choice states, which are Arizona, Arkansas, Iowa, Utah and West Virginia.
—"Don't Say They": The House has approved a bill seen as an extension of last year's legislation critics dubbed the "Don't Say Gay" law, expanding the prohibition against gender and sexual orientation instruction to pre-K through eighth grade and more strictly regulating the use of pronouns in schools. The vote was 77-35 with two Republicans voting with the minority. Now it moves on to the Senate. The House floor discussion saw fiery Democratic opposition and one Republican citing a debunked report that schools are providing litter boxes for children who identify as cats.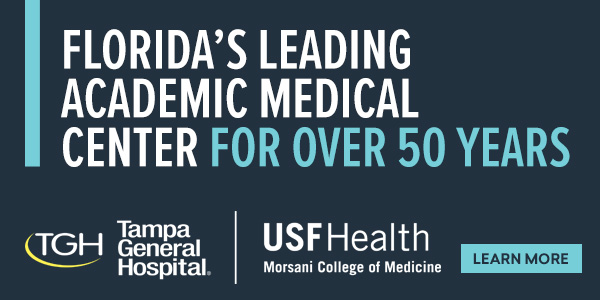 Grants delivered
The Governor is making it rain in rural Florida, doling out $5.4 million in grant funds this week.
The cash heading to Callahan, Stark, Haines City and Labelle will be used on various infrastructure projects expected to boost job opportunities in each community.
"This $5.4 million in infrastructure funding we are awarding today will create opportunities for families and strengthen local economies," DeSantis said. "We are yet again providing our small and rural communities with the resources they need to grow."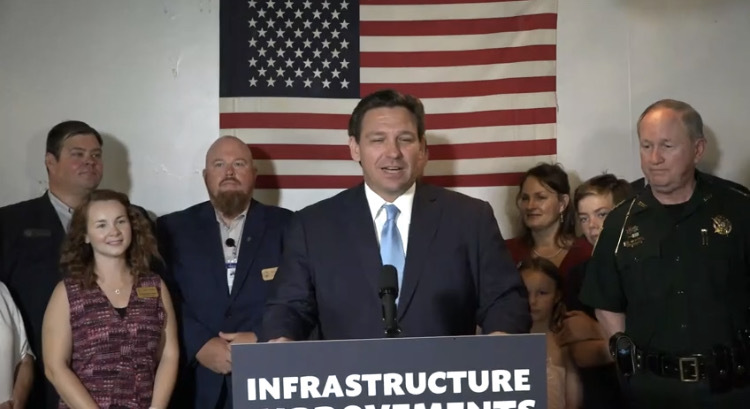 Callahan is getting the bulk of the money. It'll cash a $3.4 million check to design and build a water treatment facility, wastewater pump, and a pipeline to the treatment facility. The new infrastructure will connect the Crawford Diamond Industrial Park, which is delivering an initial capital investment of $450 million and is expected to create at least 500-800 jobs.
The other three towns will get $700,000 apiece.
Stark's grant will be used to renovate and expand the RJE Community Center; Haines City will install 9,049 linear feet of sidewalks in the Park Avenue neighborhood; and Labelle will rehabilitate or replace 10 low-to moderate-income homes.
"Thanks to Gov. DeSantis' commitment, these small and rural communities will have the resources they need to thrive," said Meredith Ivey, the acting Secretary at the Department of Economic Opportunity. "DEO is proud to work closely with the communities receiving awards to rehabilitate homes and strengthen infrastructure for future economic development opportunities."
Schedule Z
Attorney General Ashley Moody is asking the U.S. Drug Enforcement Administration to put the drug "tranq," also known as xylazine, on the federal list of controlled substances.
Tranq, a so-called "zombie drug," is part of an ever-growing matryoshka of illicit substances. The DEA recently issued a public safety alert saying that the novel drug is starting to show up in seized fentanyl, an opioid that is likewise used to juice other drugs.
Disturbingly, tranq isn't referred to as a zombie drug because it turns users into shambling wrecks (it does), but because it is itself a flesh eater. People who use it may develop severe wounds, including necrosis — the rotting of human tissue that may lead to amputation.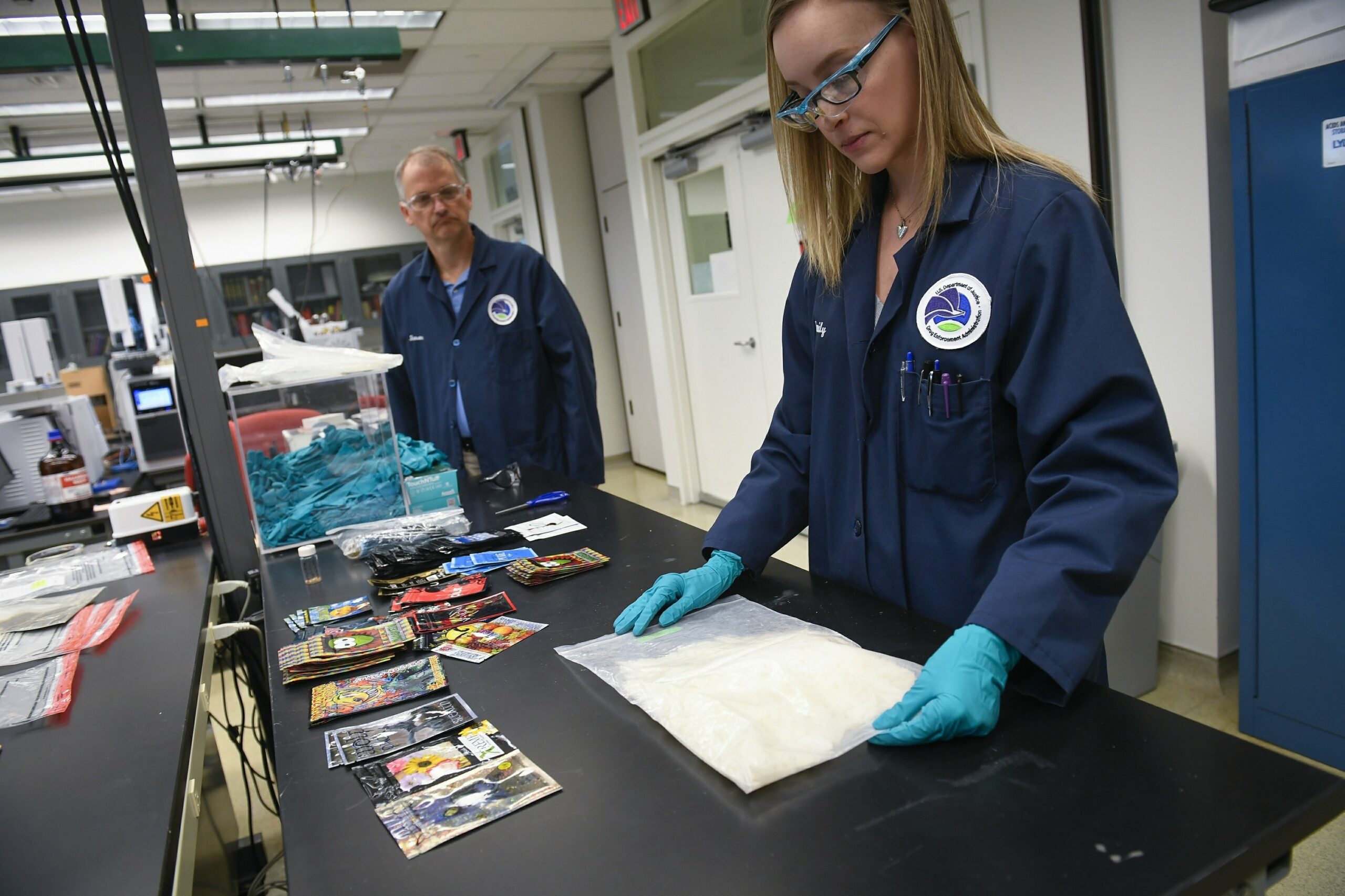 Moody has issued warnings about tranq in the past and those who haven't nope'd out of trying it after hearing the risks should know that, despite its lack of classification at the federal level, it is listed as a Schedule I controlled substance in Florida, meaning it is a crime to possess or sell in the state.
"Our nation is experiencing a drug overdose crisis fueled by massive amounts of fentanyl flooding across the U.S. Southwest Border. Now, xylazine is being found mixed with this illicit Mexican fentanyl, making the already lethal substance even more deadly. We've taken action in Florida to ban xylazine, and now I'm asking the DEA to act on the federal level to curb abuse and save lives nationwide," Moody said in a news release.
The Attorney General made the request in a letter addressed to DEA Administrator Anne Milgram. In it, she cites DEA's own alert noting that 23% of fentanyl powder and 7% of fentanyl pills are laced with tranq.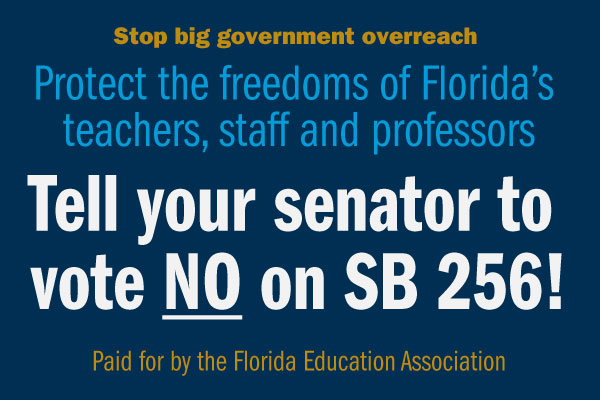 Hurricane Ian cavalry
As thousands of Hurricane Ian victims continue to struggle to reap the full amount of their claims, Chief Financial Officer Jimmy Patronis said this week he's tapping Insurance Consumer Advocate Tasha Carter to be the Chief Recovery Director overseeing claims related to the storm.
The move will help "streamline" the claims process, he said.
"Wherever we see a squeaky wheel, when it comes to Ian claims, we want to short circuit the solution," Patronis said in a released statement. "I want (Carter) empowered to go directly to leaders at insurance companies and see if we can shorten timelines. I've also asked her to work with the insurers to develop a system where we've got liaisons with the carriers."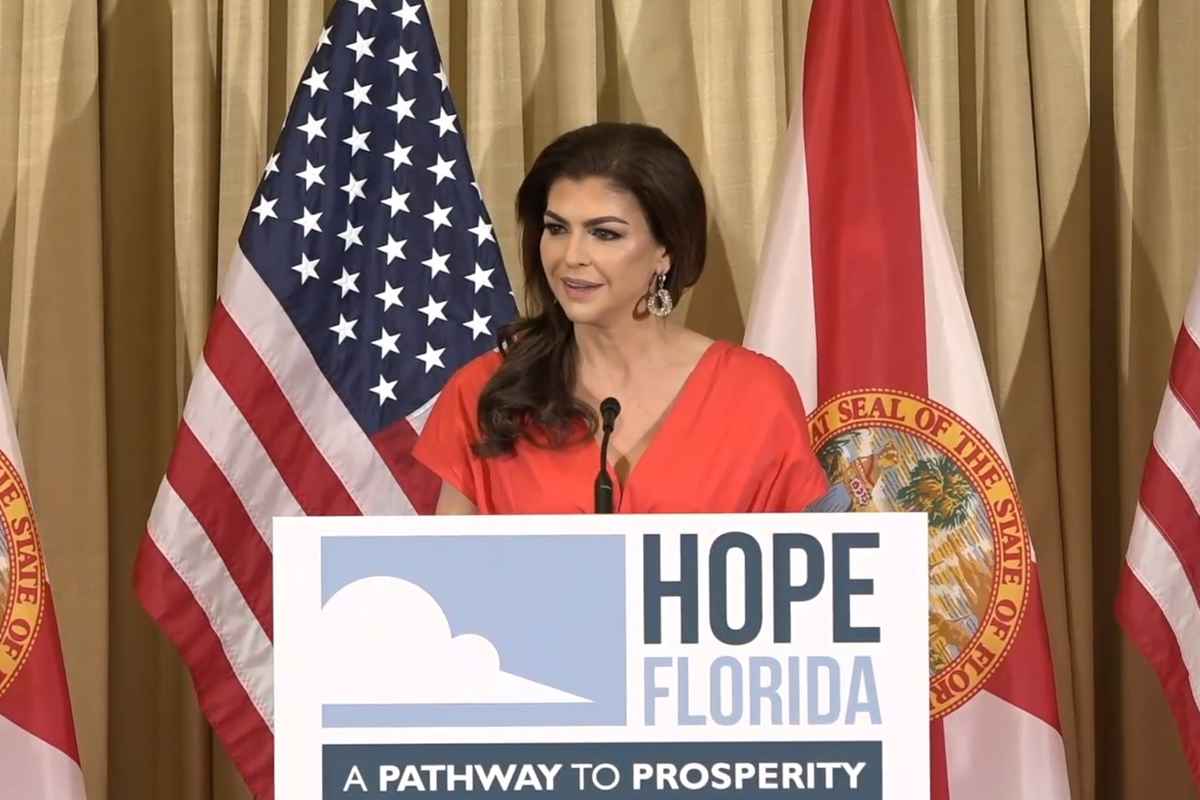 Carter previously led the Consumer Services Division within the Department of Financial Services, which houses the Office of Insurance Regulation.
"My priority has always been and will continue to be finding consumer-focused solutions in the industry and improving the insurance claims process for consumers," Carter said. "Together, we will ensure insurance consumers receive what they're entitled to and that their claims are resolved fairly and timely."
Hurricane Ian slammed into Southwest Florida as a Category 4 storm on Sept. 28, killing more than 100 people and causing massive damage through storm surge and heavy winds and rains. Hundreds remain displaced from their homes six months after the storm.
Instagram of the week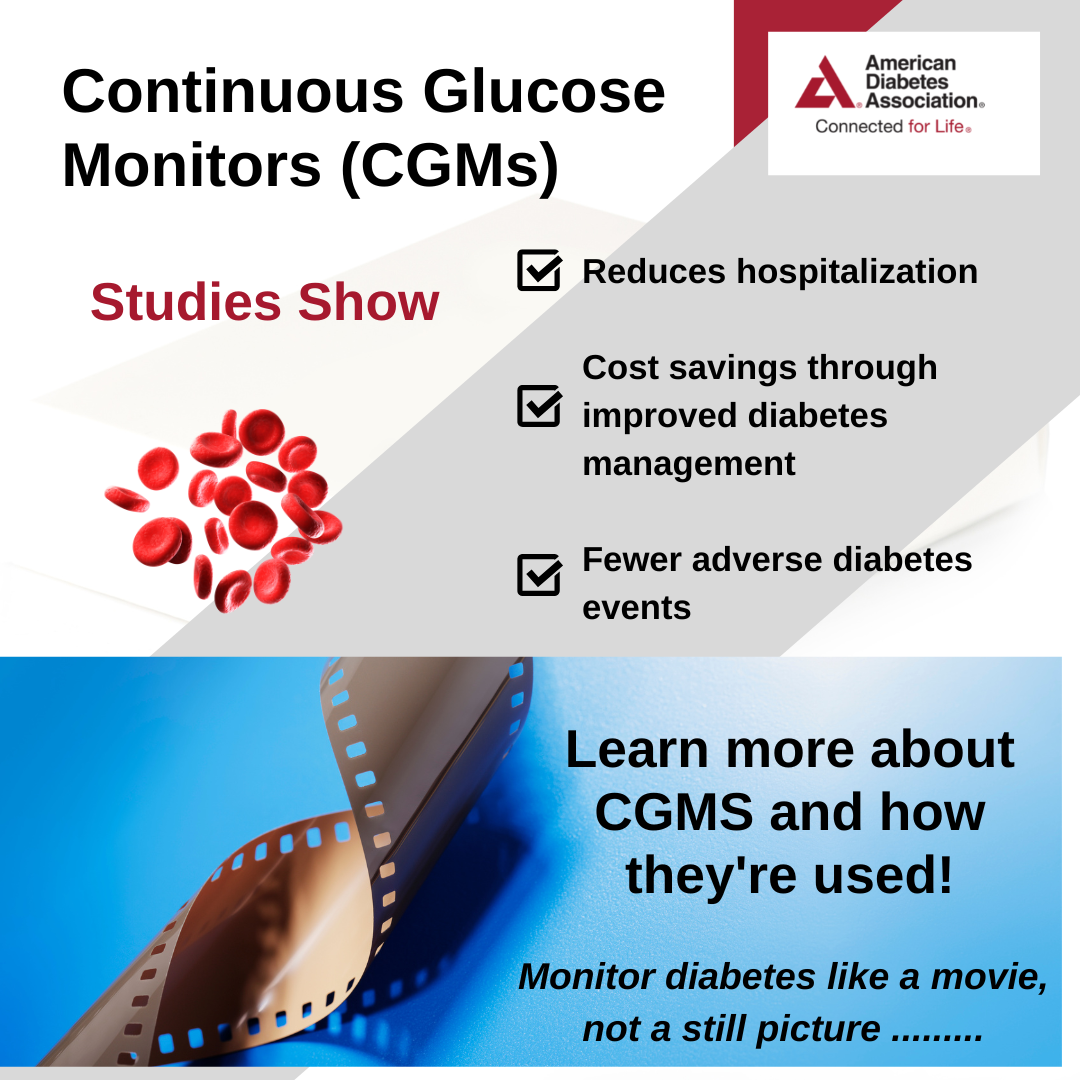 The Week in Appointments
Florida Agricultural & Mechanical University Board of Trustees — DeSantis named Natlie Figgers to the FAMU Board of Trustees. Figgers is the owner and founder of Figgers Law and the Chief Human Resources Officer for Figgers Communication. She is the Figgers Foundation Secretary and Treasurer and was named Florida Memorial University's "Most Ardent Community Advocate" in 2022. She earned her bachelor's degree in criminal justice from FAMU and her law degree from Nova Southeastern University.
Florida Atlantic University Board of Trustees — DeSantis reappointed Bradley Levine to the FAU Board of Trustees. A Lantana resident, Levine is the CEO and founder of Tellus and the president of Tarpon Dreams. He has served on the Board of Trustees for Florida Atlantic University since 2018 and was previously appointed to Florida's Board of Medicine. Levine earned his bachelor's degree in agricultural economics from the University of Florida and his MBA with a concentration in international finance from Schiller University.
Florida International University Board of Trustees — The Governor appointed Alan Gonzalez to the FIU Board of Trustees. Gonzalez, of Miami Lakes, is the principal information technology systems administrator at Florida Power & Light. He is an IBM Certified Associate and a Certified Information Systems Auditor by the Information Systems Audit and Control Association. Gonzalez earned his bachelor's degree in finance and his MBA from FIU.
First Lady spreads hope
Florida First Lady Casey DeSantis announced the launch of Hope Florida — A Pathway to Potential, an expansion of her existing Pathway to Prosperity.
The new endeavor seeks to break down government silos and expand services for at-risk youth and their families.
"In Florida, we believe that every child has been blessed with unique talents and gifts, even if they haven't realized it yet, which is why we are launching this new program to put at-risk youth on a Pathway to Potential, "DeSantis said. "We also know that involvement in the juvenile justice system does not happen overnight, and a lot of the time it is the result of difficulties at home and at school. With this new expansion of Hope Florida, we are making sure children across the state are connected with support and mentors in their communities that can help put them back on the right path."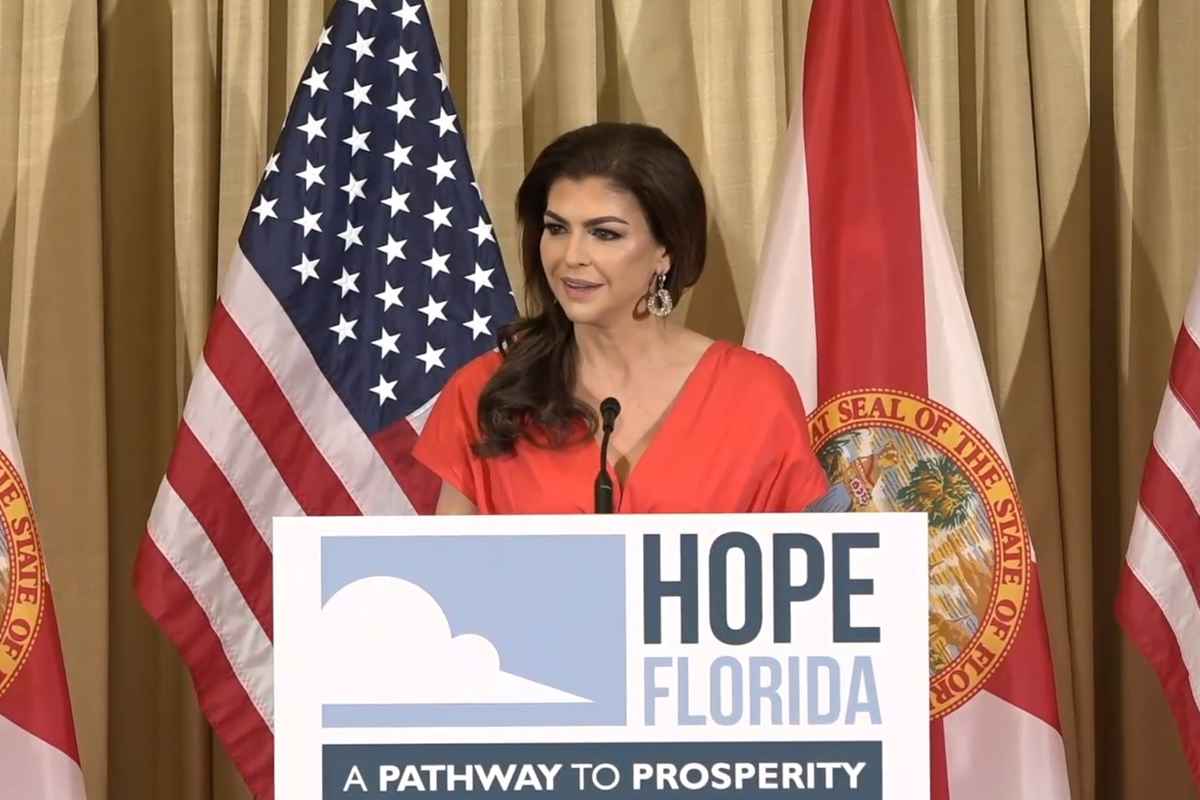 The new Hope Florida arm will include 40 Hope Navigators to connect youth and their families to resources to mitigate short- and long-term challenges.
The program will also include help for parents and guardians to support challenges with kids who are frequently out of school, who run away or who are forming negative relationships and being negatively affected by peers.
The Department of Juvenile Justice will operate the new Pathway to Potential.
"We know the best way to keep kids from entering the juvenile justice system is by helping them at the first sign of trouble," Department of Juvenile Justice Secretary Eric Hall said. "Creating Hope Florida — A Pathway to Potential will allow us to assist youth who are going down the wrong path, which will ultimately help to build stronger families and increase public safety in our communities. I am so grateful to our First Lady for her support and for supporting our state's most vulnerable children."
Hope Florida — A Pathway to Prosperity similarly utilizes Hope Navigators to help Floridians be prosperous and economically self-sufficient. It is implemented by the Florida Department of Children and Families and focuses on community collaboration between the private sector, faith-based communities, nonprofits and government entities.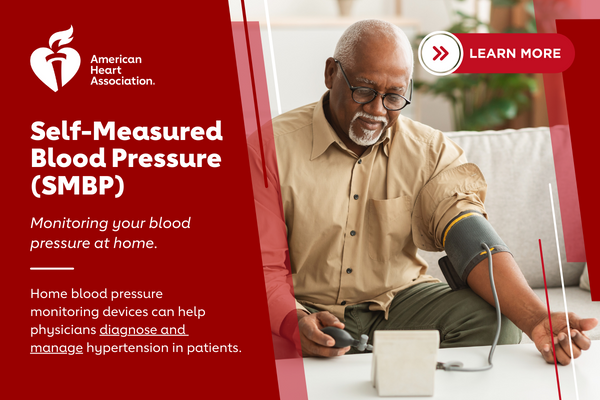 Power scams
Regulators received updates this week from utility companies on new scam attempts targeting customers by pretending to be utility officials.
"Scams happen every day and often prey on vulnerable populations," said PSC Chair Andrew Fay. "We must continue to arm customers with the tools and information they need to avoid becoming victims of these scams, along with additional resources to fight back."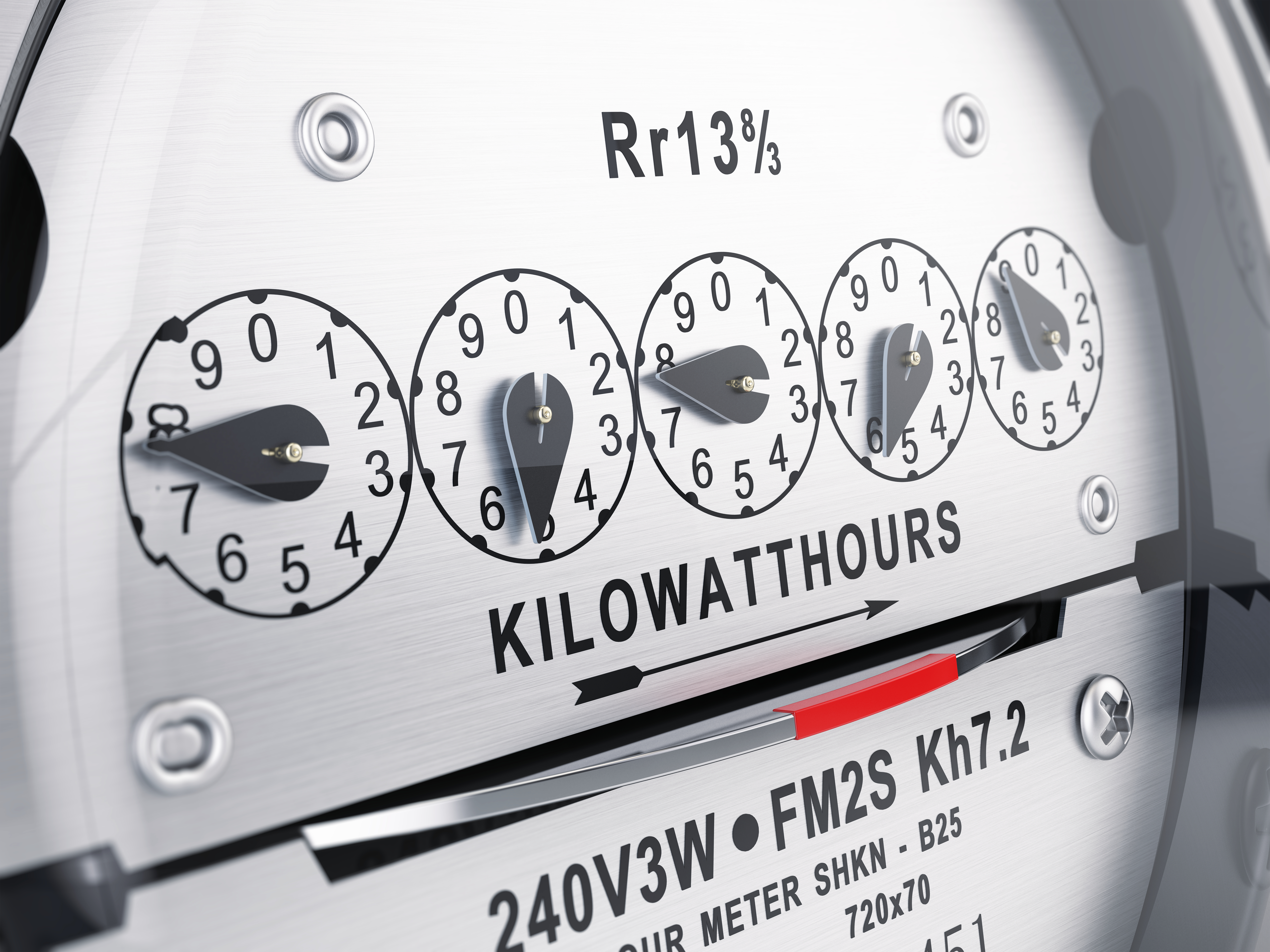 Officials from Florida Power & Light and Duke Energy Florida said fraudsters have texted or emailed potential victims posing as a utility and asking for an account number or Social Security number; called pretending to be a utility employee and asking for payment; made an in-person visit posing as a utility employee; or even used a false web domain to send an invoice.
Businesses are also scam targets, FPL Customer Advocacy Manager Melissa Booher said, and FPL keeps customers updated on the latest types of scams and how to avoid them.
Duke Energy's director of Consumer Advocacy, Brandon Green, said their customers report about 10,000 scams per month.
Neither utility will call, text or email demanding payment by prepaid card, wire transfer or banking application, nor request personal information over the phone unless the customer initiates contact. They don't do door-to-door solicitations of energy audits, either.
Get to the river
As Florida begins a long run of warm, sunny weekends, what else to do but to grab a rod and head to the river or lake? It's possible for everyone to go freshwater fishing this weekend as it's April's two license-free fishing days.
"License-free freshwater fishing days provide an excellent opportunity for those new to fishing without needing to first purchase a license," according to a Florida Fish and Wildlife Conservation Commission announcement. "On these days, the fishing license requirement is waived for all recreational anglers, including residents and non-residents. All other rules, including seasons, bag and size limits still apply."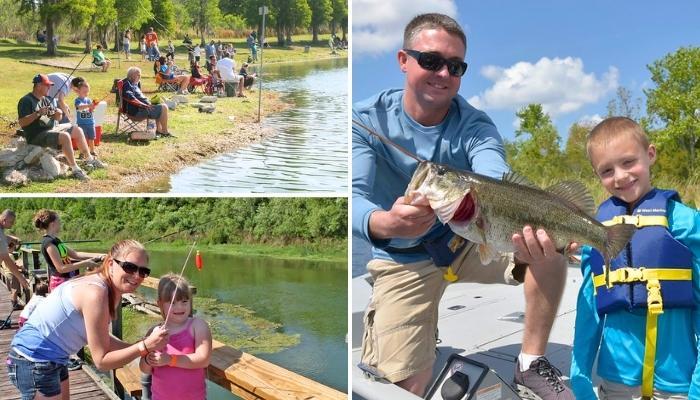 FWC is playing host to two free events to celebrate the weekend. The Florida Bass Conservation Center Youth Fishing Derby is in Webster at the Florida Bass Conservation Center on Saturday, 9 a.m.-2 p.m.
The Tenoroc Youth Fishing Derby will be in Lakeland at the Tenoroc Public Use Area on Saturday, 8 a.m.-1 p.m. It requires registration to participate, and the registration window closed Friday afternoon.
Should fishing tug at your line, FWC administers a bass fishing angler recognition program known as TrophyCatch, which is in its 11th season. This season is dubbed the "Season of Research."
Folks who'd like to hit the water whenever they'd like can get their fishing license at GoFloridaOutdoors.com, and find information on freshwater fishing in Florida at the FWC website.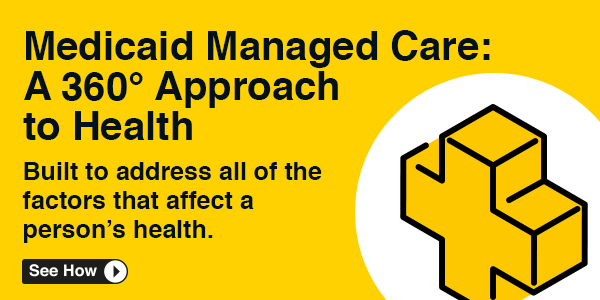 Mia Casa
File this under good things that can grow out of emergencies.
Republican Sen. Ileana Garcia of Miami was home from Session to celebrate the grand opening of a new facility dedicated to homeless seniors called Mia Casa.
Garcia helped secure $1.75 million in state funding for the 65-room facility that can accommodate 120 seniors, answering a critical need. About 39% of those on Miami's streets experiencing homelessness are seniors, Garcia said in a prepared statement.
"I see this every day and regularly engage with individuals experiencing homelessness to better understand their stories and to see what can be done to help them," Garcia said. "Housing is a big part of the solution."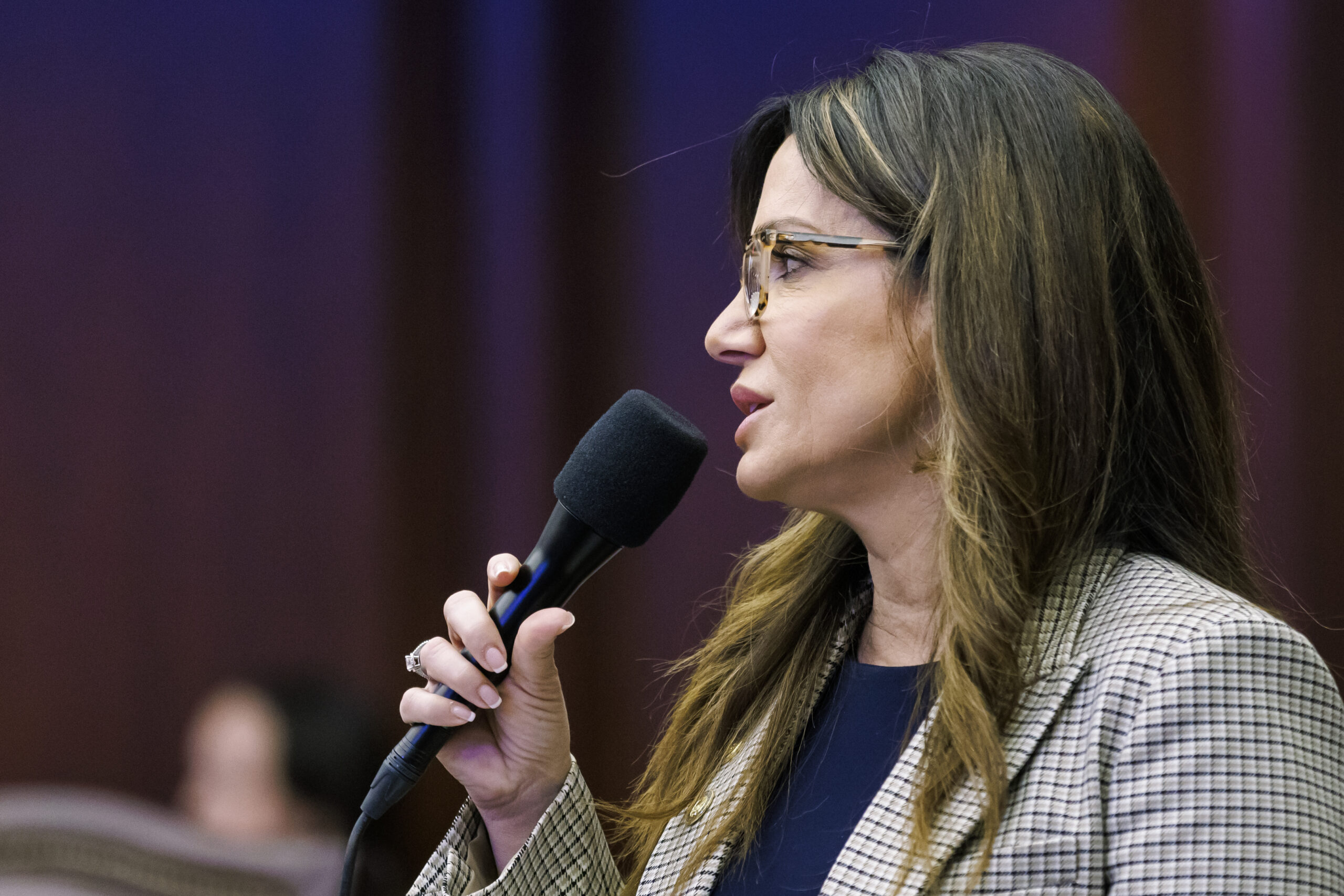 Mia Casa allows for the quick placement of seniors, getting them off the streets. From there, the Miami-Dade County Homeless Trust works to move the seniors to other housing in the community, according to a Senate news release.
The facility began in 2020 as a response to COVID-19 epidemic. The Miami-Dade County Homeless Trust began operating a housing site in North Miami, trying to help seniors, who were at higher risk of COVID's complications, to a safer place.
Since then, over the past three years, the effort that got the nickname "Mia Casa" has had more than 600 seniors pass through its doors. With the state and the county working together, a collaboration secured the purchase of an assisted living facility to make it more permanent.
Senate President Kathleen Passidomo said that Garcia has been a champion of seniors as she's served as Chair of the Senate Committee on Children, Families and Elder Affairs.
"Our seniors built the thriving communities where we now live, work and raise our families, and they deserve to live out their golden years in comfort and safety, surrounded by important support systems. I am so pleased that we could play a role in the funding for Mia Casa," Passidomo said in a prepared statement.
Now it's personal
How personal politics can become was on full display on the House floor Thursday as the bill (HB 1069) that expands the Parental Rights in Education Act was debated.
Democratic Rep. Michele Rayner-Goolsby of St. Petersburg introduced an amendment that would have struck the word "heterosexual" out of the bill in the phrase that children in the state's public schools would be taught about "heterosexual marriage."
Rayner-Goolsby, who's in a same-sex marriage, says she wasn't proposing the amendment to be cheeky.
"So I'm going be very, very clear with all those of you who vote down on my amendment," she warned, adding that if they vote down, she said, they might as well not ever talk to her or say "hi" in the hallways.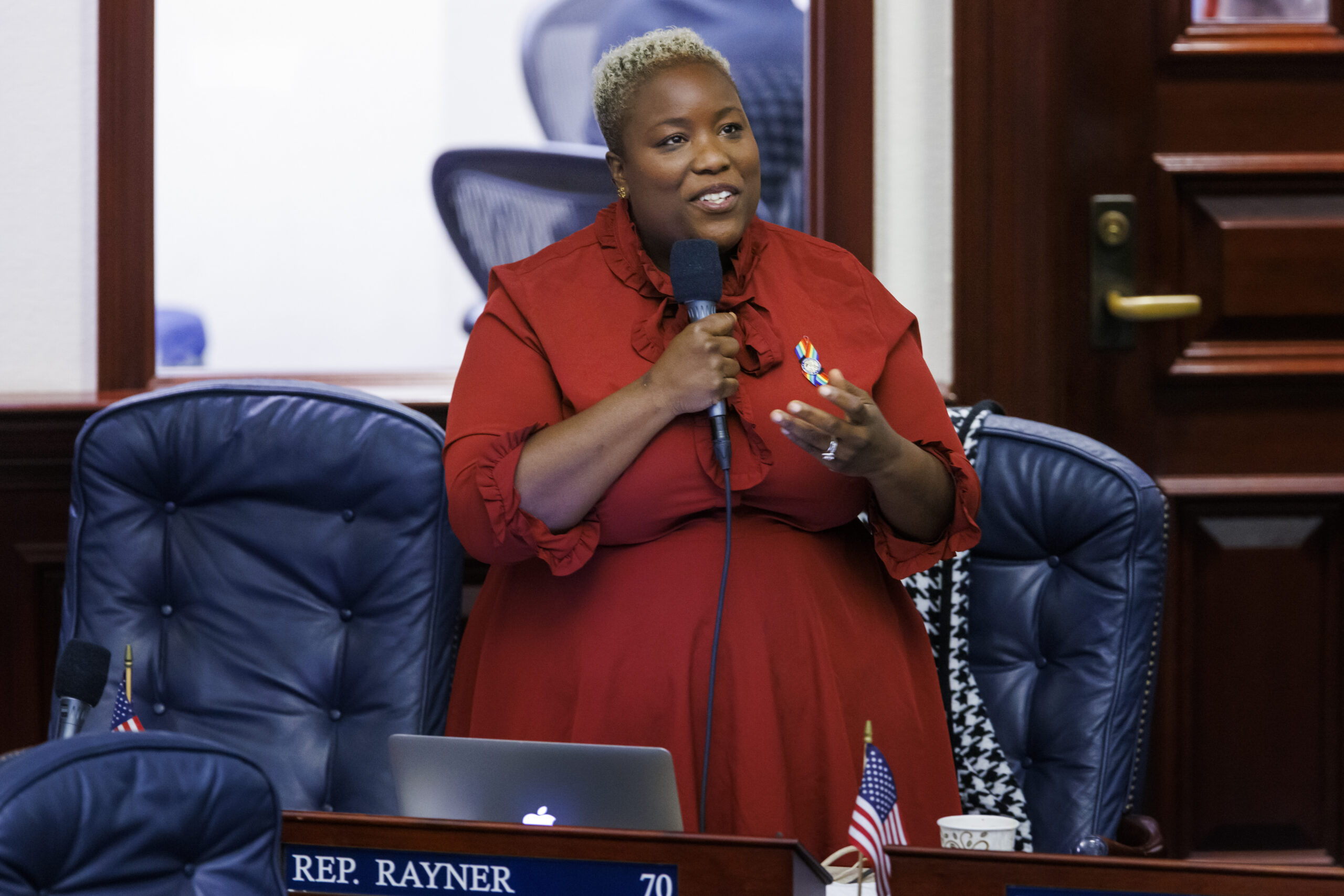 "Because the essence (of this bill) is that I do not matter," she said. "That your marriage is more important than mine. … That is what you are telling me in this moment, and I will not forget it … You have said the quiet part out loud … that people who love like me do not matter and our marriages do not matter."
A show of hands put the nays up on the board, showing 83 people she wouldn't be talking to again.
Democratic Rep. Angie Nixon of Jacksonville argued for her amendment, which would have removed the lines that define "sex" and explained students should be learning the difference between "sex," "gender" and "gender identity."
She closed on the bill with some revelations about what confusion about those terms have cost her. Her sister committed suicide she told the House. And every 45 seconds, statistics show that an LGBTQ child attempts to die by suicide.
"Until you have a child like mine who is a member of the LGBTQ community, you should not be passing bills this way," she said. "One of my children no longer wants to let the world know who they are because of bills like this.
"I lost a sister because she felt unsafe," Nixon continued. "She killed herself. She killed herself because she felt unsafe. And now with this legislation, I have to worry about my child."
Nixon's amendment failed.
'This is what Democracy looks like'
About 200 people from across the state gathered on the fourth floor of the Capitol Friday to protest the passage of HB 1069, chanting, "We are not a political agenda" and "this is what Democracy looks like."
The boisterous crowd included people ranging in age from 8 to 70. Wanda Tillman, a 70-year-old grandmother from Tallahassee, accompanied her grandson, a 7th-grader, to the rally.
"I'm here just to stand up and tell them (the Legislature) what you're doing is wrong," Tillman told Florida Politics.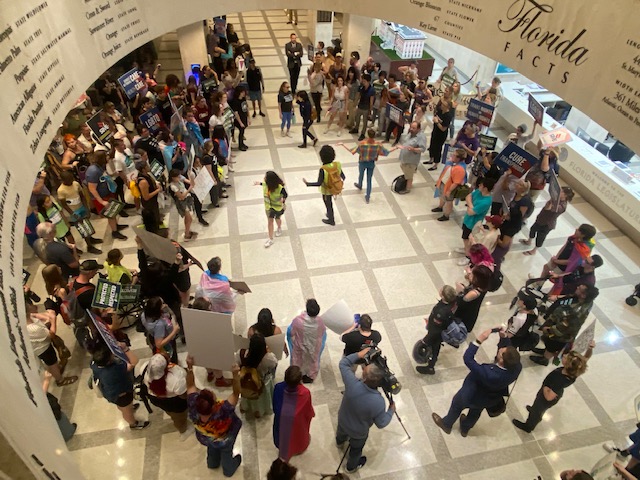 Tillman and her grandson were part of a group of 35 people from Cornerstone Learning Community in Tallahassee to attend the protest. Cornerstone Director Jason Flom said the school offered the protest rally at the Capitol as a field trip opportunity to students in grades 5-8.
The Student Unity Coalition of South Florida spearheaded the rally. Nationwide, thousands of students rallied Friday as part of the "National March for Queer and Trans Youth Autonomy."
House Minority Leader Fentrice Driskell and Rep. Anna Eskamani addressed the crowd after the House passed HB 1069 with a 77-35 vote. Reps. Michele Rayner-Goolsby and Angie Nixon also mingled with the crowd.
Meanwhile, Driskell encouraged the crowd to register to vote and to show up at the polls in 2024.
Vote for Driskell
House Minority Leader Driskell is in the running for the Gabrielle Giffords Rising Star Award presented by EMILY's List and your vote can help her win.
Starting her third term in the Florida Legislature, Driskell has carved out a reputation for being a champion for abortion rights, public education and voting rights. She also has directed her talent to preserve and repair abandoned and historic cemeteries.
Driskell is the first Black woman to serve as Minority Leader in the state House and the first Black student to be elected student government president at Harvard, where she earned her bachelor's degree. She has a law degree from Georgetown University.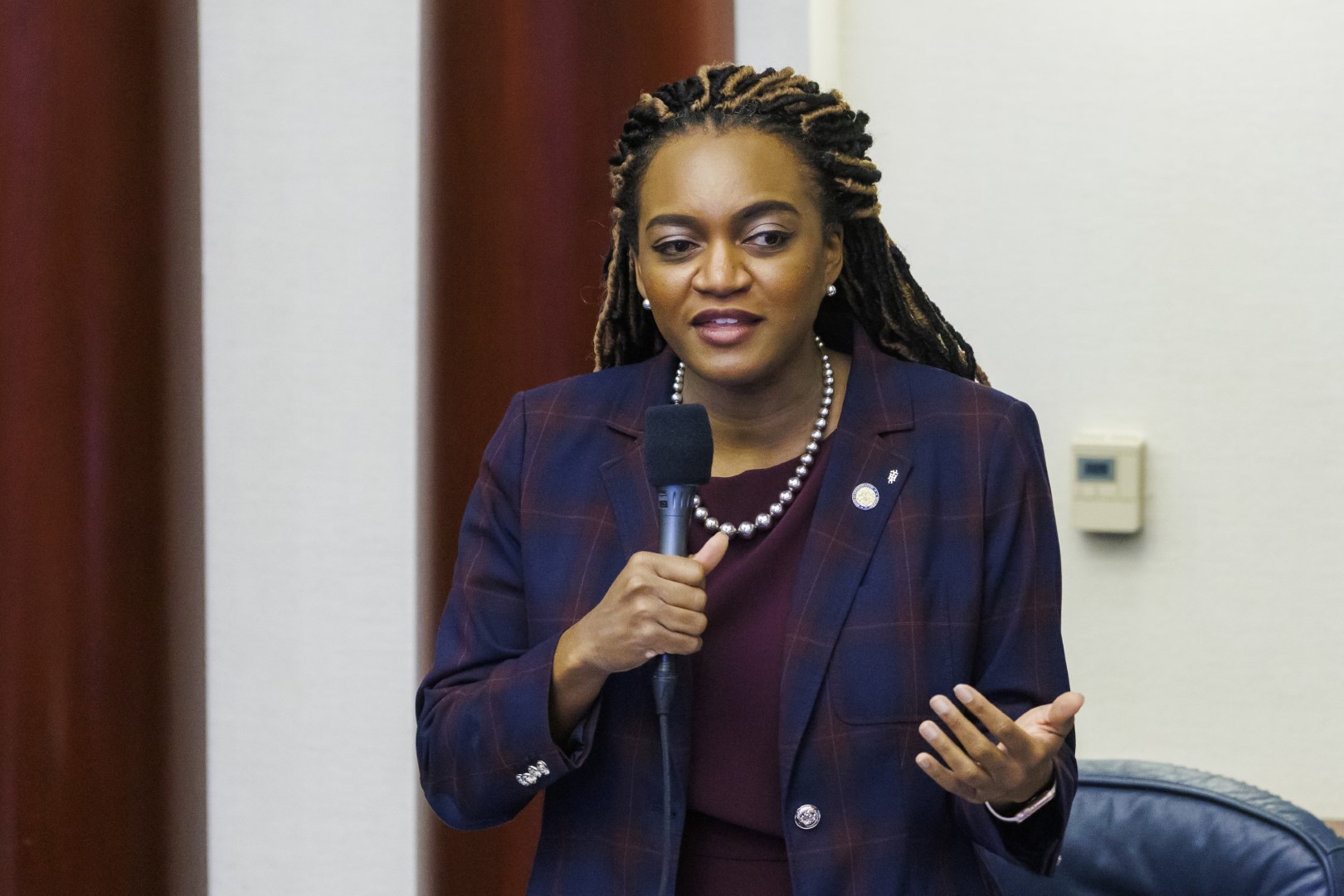 "Leader Fentrice Driskell has been a beacon of hope to the people of Florida's 67th House District during a time when state Republicans have been determined to roll back freedom for all Floridians by any means necessary. Leader Driskell has seen the challenges that her community faces and risen to the occasion, and that ability has defined her career as a legislator and an attorney," EMILY's List President Laphonza Butler said in a prepared release. "In office, she has fought to fund Florida's schools, reform the criminal justice system, and defend reproductive health care in spite of attempts to restrict it. We applaud Leader Driskell for all that she has accomplished and are proud that she is one of our nominees."
This will be the 10th time EMILY's List has been bestowed with the Gabrielle Giffords Rising Star Award. The award celebrates women who, like the award's namesake, demonstrate commitment to women and families with civility and determination.
Other nominees include Nevada state Rep. Shea Backus, California state Rep. Sabrina Cervantes, Pennsylvania House Speaker Joanna McClinton, Virginia state Delegate Danica Roem and Georgia state Rep. Michelle Au.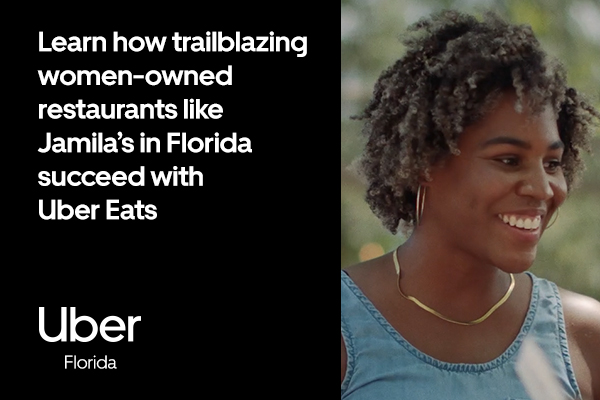 A welcome repose
The Associated Builders and Contractors Florida East Coast Chapter (ABC-FEC) is celebrating the passage of a bill that would reduce the amount of time a claim could be brought against a contractor for faulty work.
It would also better define "material violation" to mean a Florida building code violation in a completed building, structure or facility that could or has resulted in physical harm or damage to a building, among other changes.
"The new law corrects Florida's liberal Statute of Repose laws that had given trial attorneys carte blanche to file abusive lawsuits," said Peter Dyga, president and CEO of ABC Florida East Coast Chapter. "They had caused financial harm to the construction industry, costing contractors, businesses, homeowners and insurers billions of dollars."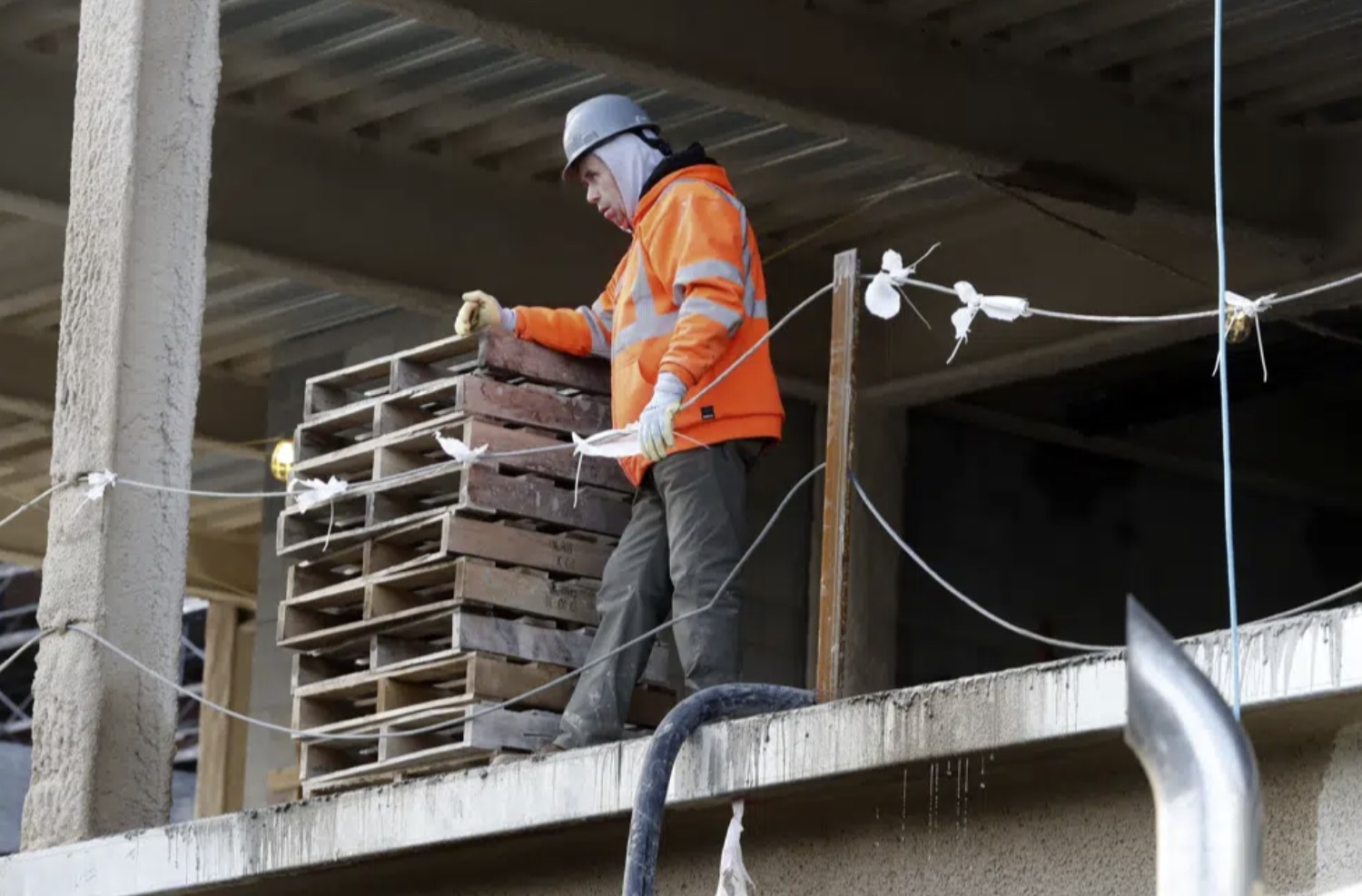 The legislature cleared the Senate version of the bill (SB 360) sponsored by Sen. Travis Hutson. Rep. John Snyder carried the measure in the House.
This is the fifth year ABC-FEC has successfully lobbied for significant legislative changes affecting the construction industry.
The measure would shorten Florida's existing Statute of Repose from 10 years to seven for all construction. It would also change when the clock starts on that statute to include abandonment if construction is incomplete; a certificate of occupancy or a temporary certificate of occupancy is issued; or upon receipt of a certificate of completion from a local building department or other applicable entity.
"We congratulate our ABC Florida Government Affairs team, led by chief lobbyist Carol Bowen, for their untiring efforts," Dyga said.
ABC-FEC represents general and specialty contractors as well as associate and supplier members from Key West to Brevard County. The group advocates for open and competitive processes and promotes the importance of industry education, training and safety.
AmeriHealth helps
AmeriHealth Caritas cut a $100,000 check to Hope Florida — A Pathway to Prosperity, an initiative from Florida First Lady DeSantis implemented through the Florida Department of Children and Families.
The program helps Floridians, including children and their parents or guardians, to overcome barriers to achieve their goals and become prosperous.
The group's contribution helped DeSantis expand the effort from regional to statewide access, including the launch of Pathway to Potential.
AmeriHealth Caritas is a Medicaid managed care plan that helps underserved communities access care, stay well and build healthy communities. It collaborated with Hope Florida to provide education and resources to benefit Florida kids aging out of foster care, as well as pregnant mothers battling substance abuse and families who otherwise need help.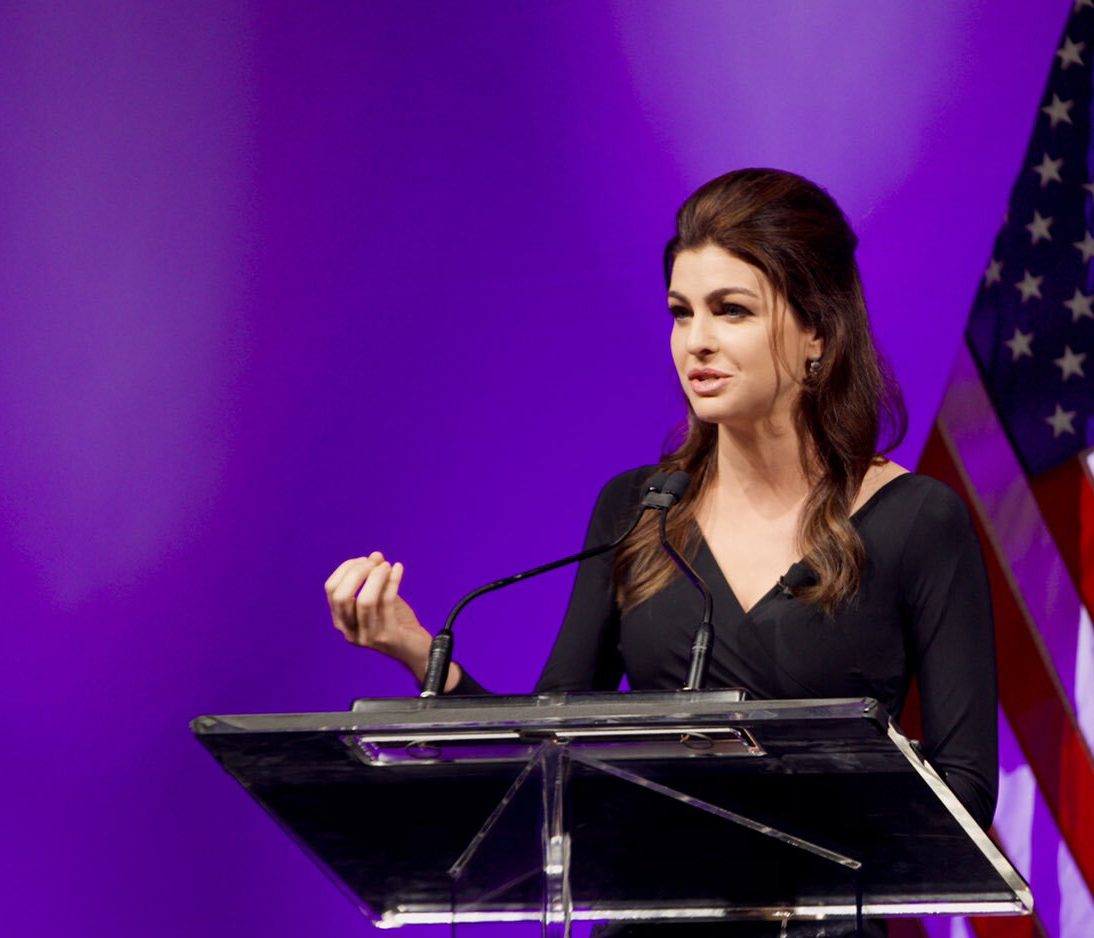 Both programs connect service recipients to Hope Navigators to identify goals and barriers and connect to partners and resources to reach goals and overcome challenges. It utilizes community partners in the private, public and faith-based sectors to provide one-on-one support aimed at helping individuals reach economic self-sufficiency.
"AmeriHealth Caritas is dedicated to making high-quality, compassionate care accessible to Floridians while also supporting and improving local communities," said AmeriHealth Caritas Family of Companies Regional President Kathy Warner. "Hope Florida has helped so many Florida families achieve prosperity and economic self-sufficiency, and we're proud to support this program and help even more Floridians in need live healthier, happier lives."
Warner said the collaboration was an obvious and easy fit, as both organizations place special focus on serving low-income Floridians and ensuring they have access to the resources they need to reach their full potential.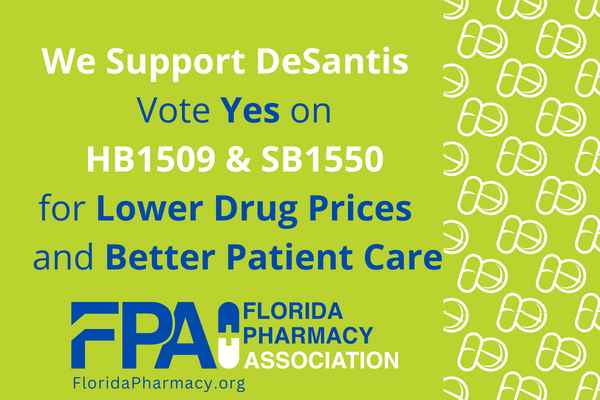 Sachs Media 'nets' national nod
Sachs Media's advertising campaign to beat back efforts to scrap a consumer-friendly solar energy program earned the company an honorable mention for a national public affairs award.
The Tallahassee-based company earned the nod in the Public Affairs category at the 24th Annual PR Week Awards for the 2022 campaign to defend "net metering," an energy policy that allows Florida utility customers who generate more power than they use to receive a credit on their bills.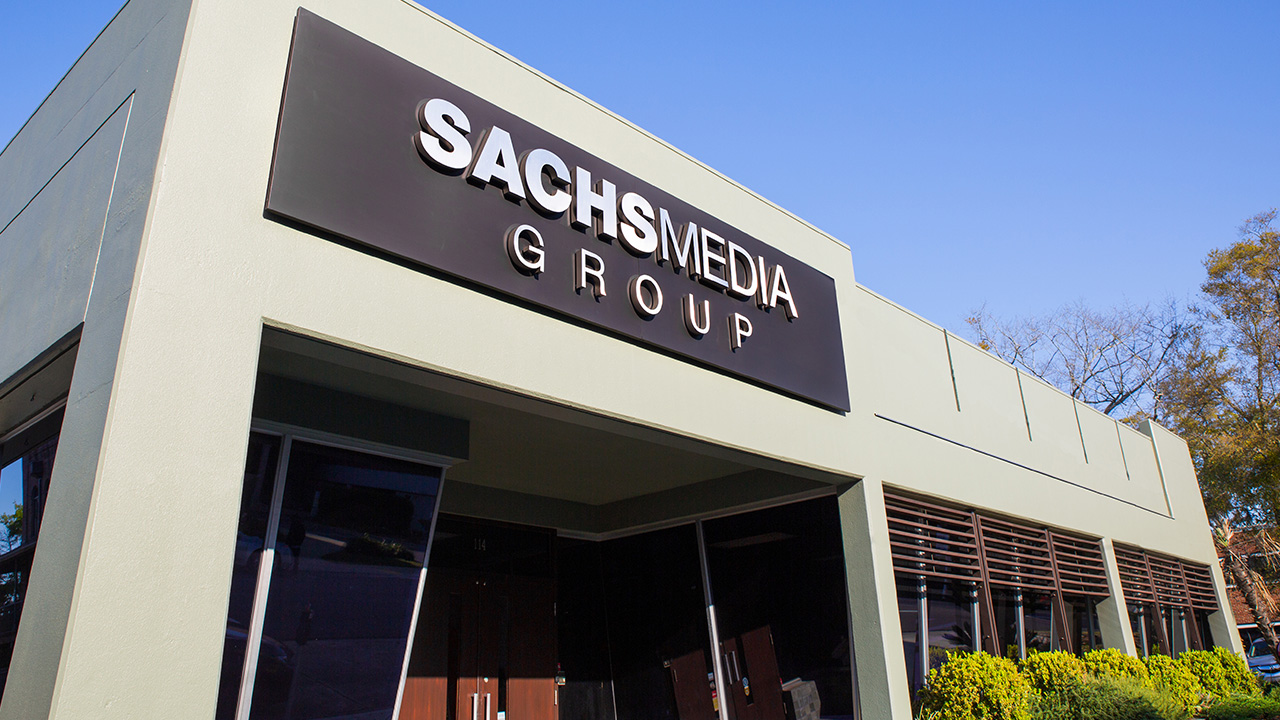 "PRWeek sets the gold standard for our industry, so it's truly an honor for our work to be recognized among the best campaigns in the nation," said Michelle Ubben, president and CEO Of Sachs Media. "We are committed to high-impact work that is helping our clients change the world, and this campaign certainly reflects that."
Sachs Media was the only Florida-headquartered firm honored this year.
More than 10,000 comments were sent to policymakers as a result of the net metering campaign. Ultimately, DeSantis vetoed the bill that would have eliminated the policy.
"Our team is driven by work that matters and having the opportunity to elevate an issue that has such a meaningful impact on people's lives is truly a privilege," said Drew Piers, partner and managing director at Sachs Media. "To be recognized alongside some of the biggest global communications firms is a great honor — it's the kind of excellence we strive for every day."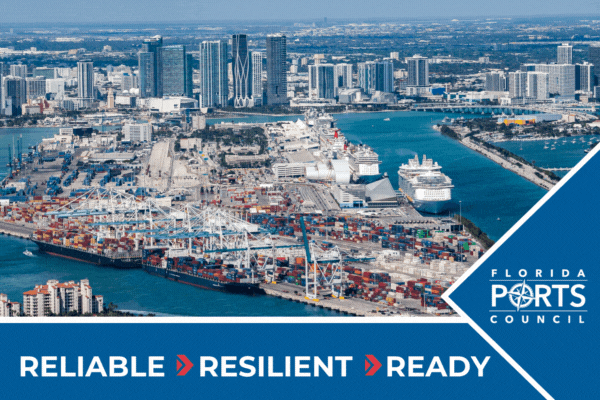 Futuristic flying
The Florida State University Flying High Circus is 76 years young and looking to the future.
From April 7 through April 22 the student-run circus will be treating audiences to futuristic circus acts in its spring show, "COSMIC!"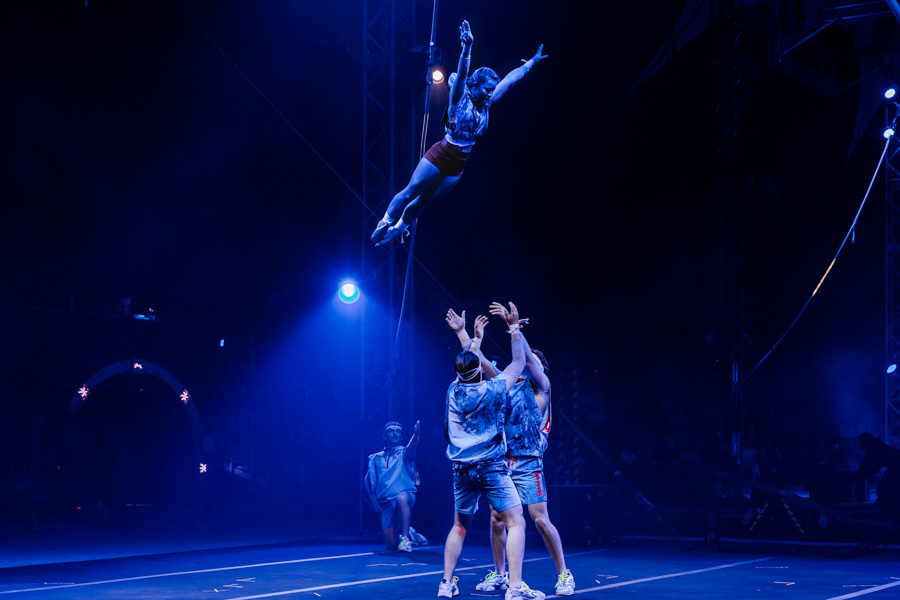 "I'm always in awe watching the drive and determination that the students and staff bring to the FSU Circus," said Celina Dezzuto, creative director for the FSU Circus. "The artistry and skill of the cast has made the annual spring show series a community favorite that is enjoyed by Tallahassee families and FSU students alike."
All members of the performance cast and the technical crew are FSU students.
The show represents a year of activity, from auditions and practices to putting the finishing touches on the show.
"Without fail, every April they make the whole process look easy," Dezzulo said.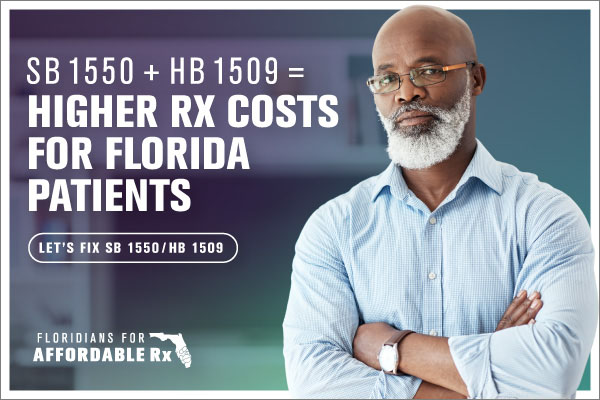 Capitol Directions

Rule of Law — Crossways — Haven't you heard? It's "un-American" now.
Ron DeSantis — Down — Hey, where was the quarter-page ad!?!? Oh, wait …
Disney — Up — The empire struck back.
King Charles III — Up — Long may he reign.
Joseph Ladapo — Up — Dr. Ladapo is way cooler than conspiracy theory Ladapo.
Christina Pushaw — Question mark — When you gonna drag 'em?
Ashley Moody — Crossways — Nice Reedy Creek records request. Now do New College.
Randy Fine — Up — He'll either become FAU prez, or there will be a mid-Session bill making it UF's PBC campus.
39 — Fingers crossed icon — The number of lawmakers who wish Uni presidents were subject to Senate confirmation, just this once.
Ed Hooper — Up — We can't wait to see all these parks we've been paying for.
Michael Beltran — Up — Five-point harnesses are pretty cool, ngl.
Sadowski Coalition — Up — What's the opposite of sweep?
Andy Gothard — Down — You're screaming into the void, my man.
State employees — Up — High five for your highest five.
Court clerks — Down — It's gonna get worse before it gets better.
7-Eleven — Crossways — OK, fine, but you better let Medallion Scholars wheeze the ju-uice.
Loxahatchee — Crossways — The "City of" or not, it's still Loxahatchee.
Neighborhood kids — Crossways — Don't worry, Rep. Stevenson's bill doesn't say anything about ghostin' down the country club sidewalk.
Oenophiles — Up — We'll spare you the Google search: A full-size barrel can roll through a standard doorframe with about 1.375" to spare.
SpaceX — Up — Welcome to Florida, free liability shield with proof of admission.
Florida Realtors — Up — We're going to do this one time as a thank you for that killer party: Realtor®
Christian Minor — Up — How many success stories y'all need? Will 150 work?
"David" — Up — He's the world's most famous porn star, apparently.
Dario Nardella — Up — Ti prego, give us tickets to the reception.
Tallahassee Classical — Down — Hillsdale has left the chat.
Sex ed — Crossways — Eh, they'll just learn the "optional material" on TikTok and Tinder. What could go wrong?