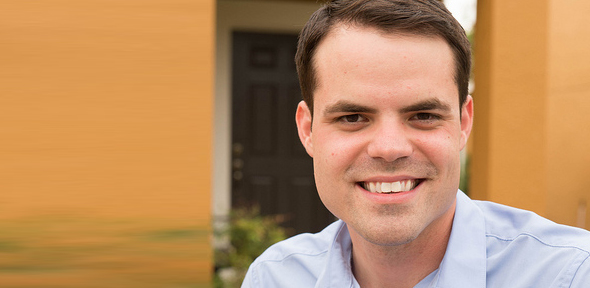 'HD 106 deserves a lawmaker who doesn't vote against his constituents in the Capitol and then panders to us at Pride.'
Community activist and former Democratic Rep. Joe Saunders is running to unseat Republican Rep. Fabián Basabe, a first-term state lawmaker who has drawn rebukes in recent weeks from constituents outraged by his voting record and alleged misconduct.
Saunders made history in 2012 as one the first openly gay members of the Legislature and has worked for nearly a decade as political director of LGBTQ advocacy group Equality Florida.
He is the first person to challenge Basabe for the seat in House District 106, which covers a coastal strip of Miami-Dade County between Miami Beach and Aventura.
Saunders, 40, cited Basabe's support of bills restricting LGBTQ-inclusive instruction in public schools and cracking down on exposing minors to "lewd" live shows, including drag performances, as motivating factors.
He also criticized Basabe — who ran last year as a moderate and "anti-politician" — for voting to repeal a post-Parkland ban on under-21 long rifle purchases and abstaining from voting on a since-passed measure prohibiting abortion after six weeks of gestation.
"HD 106 deserves a lawmaker who doesn't vote against his constituents in the Capitol and then panders to us at Pride," Saunders told Florida Politics, referring to Basabe's participation in the Miami Beach Pride Parade on April 16. Videos show protesters booing Basabe and chanting "shame."
One day earlier, Saunders helped lead a protest outside of Basabe's North Bay Village office. He's also been a frequent critic of Basabe on Twitter and Facebook.
"We need leadership who is fighting to fix the affordability crisis in Miami-Dade, fighting for fair wages and taking on out-of-control property insurance companies," Saunders continued.
"We deserve better than a lawmaker who fails to oppose an extreme abortion ban and votes to repeal gun safety laws drafted by Parkland survivors. I'm running to give our community the representation we deserve and to bring balance back to the Florida House."
Basabe, the son of a wealthy Ecuadorian businessman who appeared on the 2005 TV series, "Filthy Rich: Cattle Drive," won election to HD 106 in November after defeating former Democratic Bal Harbor Islands Mayor Jordan Leonard by just 242 votes.
His tenure until this month was largely quiet until April 13, when he released a statement blaming Democrats for the new abortion ban and news broke that he is under investigation for allegedly slapping an aide.
The combo attracted renewed scrutiny of Basabe, his pre-election history and legislative choices this Session, including "no" votes on dozens of amendments Democrats filed to soften the abortion ban and a "yes" vote for a new law eliminating a requirement that Floridians obtain a license to carry concealed firearms.
Basabe, 45, has maintained his position on each issue is far more nuanced than what is being reported in media and represented by "advocacy groups whose sole existence relies on the funding they can raise with the controversy they continue to promote."
Asked to comment on Saunders' announcement, Basabe said, "I look forward to running another clean campaign based on proactive solutions, along with my ongoing relationships in Tallahassee and beyond to better my hometown community and our state."
Despite the negative attention aimed at Basabe, which may subside by Election Day next year, Saunders does not have a clear path to victory in HD 106, a district that like much of Florida has trended increasingly conservative.
Saunders, who served a single, two-year term representing Orlando in the House before losing his re-election bid, is not originally from the district.
He was born in Fort Lauderdale, attended the University of Central Florida and worked for years in Central Florida. Miami-Dade Property Appraiser records show he has owned a one-bedroom apartment in Miami Beach since April 2021.
He's also neither Hispanic nor Jewish, two demographic groups that compose a significant portion of the HD 106 electorate.
"It's going to be a very interesting race," said Leonard, who told Florida Politics he "still considering" whether he'll run again in 2024.