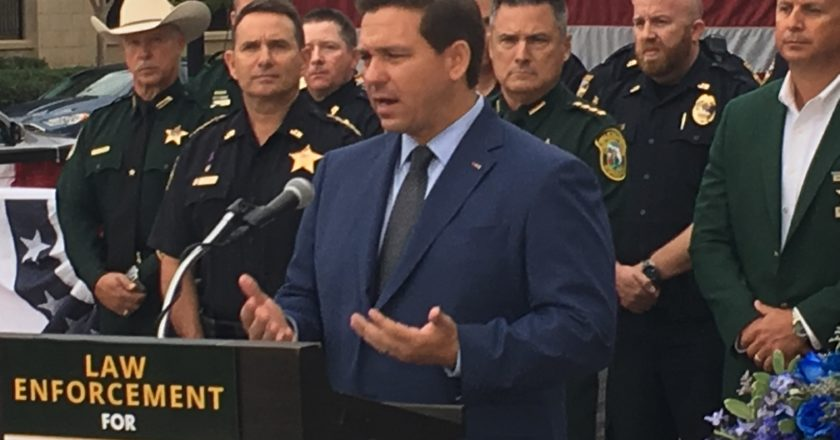 'These people are paid to be agitators quite frankly.'
Gov. Ron DeSantis doesn't believe there is anything spontaneous about protests in the Florida Capitol's Plaza Level this week.
During a very friendly interview on Newsmax, the Florida Governor suggested the protesters were paid provocateurs, using a loaded phrase to make his point.
"These people are paid to be agitators quite frankly," DeSantis said Friday night, before telling his interviewer that the "agitators" didn't bother him a bit.
(The word "agitator" has historically been used to malign civil rights protests, and it's unclear whether DeSantis was embracing that lineage here intentionally.)
"But, you know, with me, that has no impact on the idea that if you protest me that I'm going to like trim my sails. No, that just tells me I'm over the target and that tells me that the Left knows that they're losing and they have been losing in the state of Florida."
"I think some of these paid protests are kind of a result of the fact that they're coming to terms with the fact that they have lost these debates," DeSantis added. "So the Left is on the run here."
The Associated Press reports that 14 people were arrested and taken to the Leon County Jail, with the Florida Capitol Police and Florida Highway Patrol providing law enforcement response.
The responsible party was the Dream Defenders, a group with which DeSantis has something of a history dating back to the 2018 campaign.
During a debate with Andrew Gillum, DeSantis said that Gillum signed a "pledge" to the group, an assertion the Democrat denied.
On June 11, the day of a Freedom Forum hosted by the Dream Defenders, Gillum signed the Freedom Pledge, as did the other major Democratic candidates running for governor at the time.
On stage, every candidate vocally pledged not to accept financial contributions from private prison companies like The GEO Group. Gillum acknowledged that during the debate.
"The only thing that I said is that as Governor, I will not see private prisons operating here in the state of Florida," Gillum said.