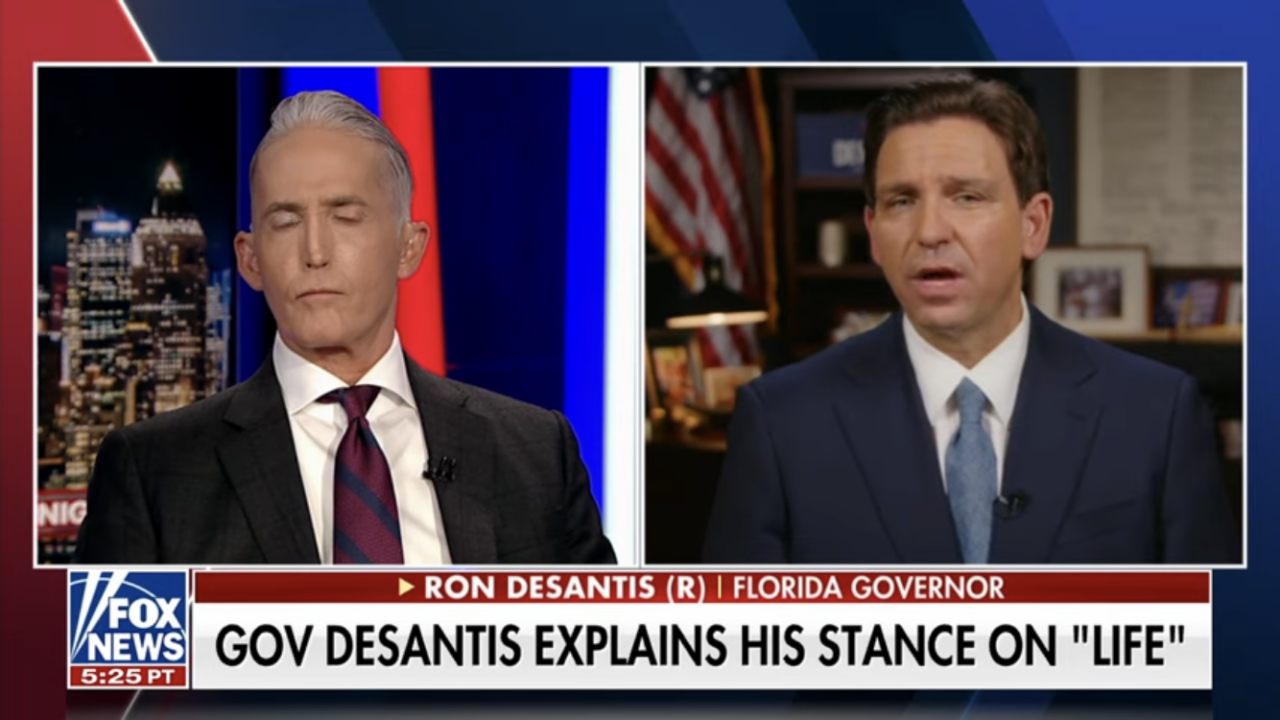 'Fighting for life and protecting life really is a bottom up movement.'
Gov. Ron DeSantis has made moves in successive years to tighten Florida abortion prohibitions. Yet despite ultimately landing on a six-week abortion ban as right for Florida, the Governor declined a chance to state whether he would nationalize that prohibition.
During an appearance on "Fox News Tonight," DeSantis said that after the U.S. Supreme Court's Dobbs decision, "there's a role for both the federal (government) and states" to play going forward.
But without clearly laying out what that federal role may or may not be, he implied that states should primarily handle the issue.
"I think at the end of the day, fighting for life and protecting life really is a bottom up movement. I think we've been able to have great successes at the local level," DeSantis told interviewer Trey Gowdy.
The Governor's fear, now that he is running for President officially, is that Democrats could federalize abortion protections.
"I am concerned about a Democratic administration with a trifecta trying to nationalize abortion all the way up until birth," DeSantis continued.
"That would be a violation of what states like Florida have done to protect life. It would be a violation of what states like Iowa have done to protect life. And I think that that would be an abuse of power for them to try to override every single pro-life protection in this country and allow abortion all the way up to the moment of birth, which 90% of Americans find to be truly horrific."
The Governor seemed to accept that some liberal bastions will not offer severe restrictions on the procedure, thus creating abortion destination jurisdictions.
"I think that there's just a practical reality that the country is divided on the issue. And so the question is, you know, how are you going to be able to save, you know, more lives?" DeSantis said.
"Some of this is a matter of strategy, some of it is a matter of, you know, what could you do to be able to advance the ball forward?" he added. "Clearly in California, you know, you are going to have very, very hostile views."
The Governor went on to malign the Golden State further.
"They want to have abortion all the way up till birth. I think they actually allow it post birth if you can believe that, which I think is truly horrific."
DeSantis signed Florida's Heartbeat Protection Act in the dead of night after a campaign trip, and his rhetoric has shifted depending on the day since.
During a speech to the National Religious Broadcasters Convention, DeSantis promoted the "strongest pro-life bill that Florida has seen in its modern history" as "not harsh," countering a critique from Donald Trump. The former President claims the Governor is "losing women voters like crazy" and "has a big problem with women voters" because the law was "too harsh."
However, other crowds have gotten cursory mentions of Florida's abortion law changes, and some (including in New Hampshire) have not heard about it at all.
"We have stood for life by enacting the heartbeat bill in the state of Florida," was how DeSantis summed it up to the Utah Republican Convention, in remarks shortly after he signed the legislation late one night after returning to Tallahassee from a political trip.
"We recently signed the Heartbeat Bill to Protect Life," DeSantis said at The Heritage Foundation's 50th Anniversary Celebration.