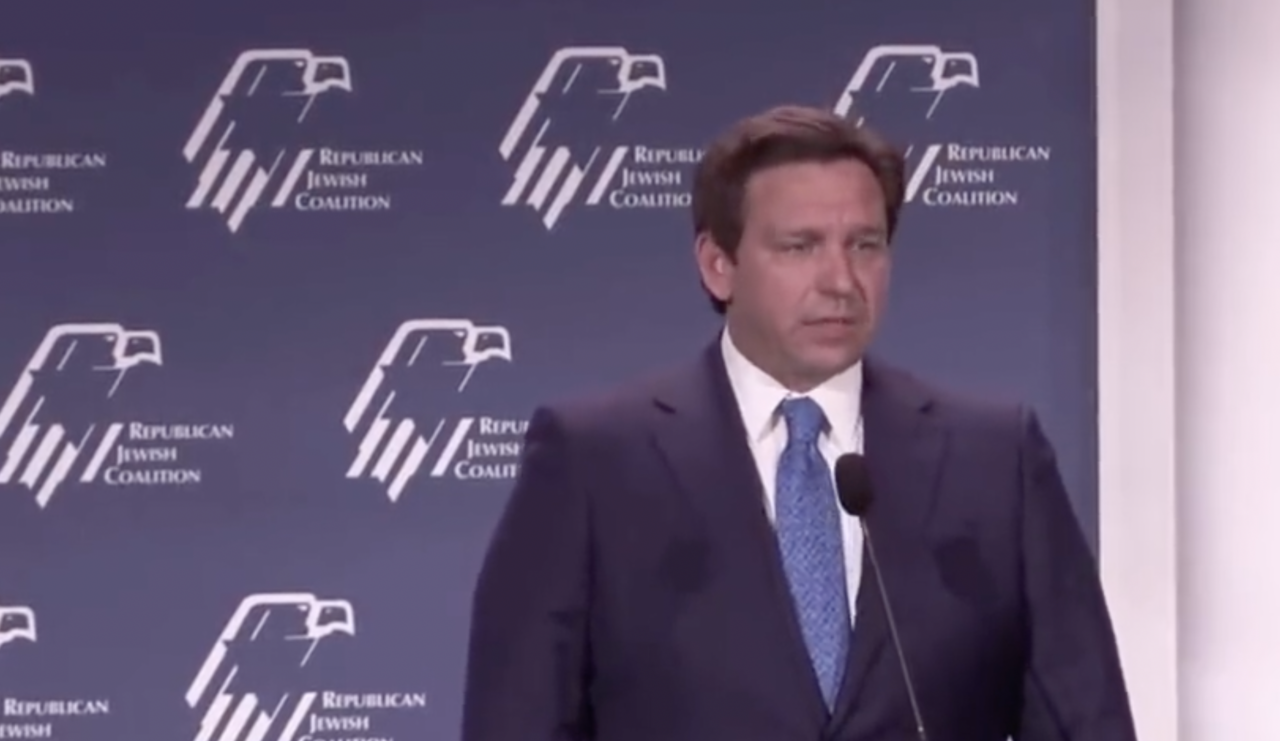 '...unless he approves of it.'
The Jewish Democratic Council of America (JDCA) is calling for stronger action by Ron DeSantis following new reporting that senior aides to his presidential campaign oversaw the creation and distribution of a video featuring a Nazi symbol.
DeSantis' campaign has already fired one aide, speechwriter Nate Hochman, who shared the video and reportedly had a hand in creating it.
That isn't enough, according to JDCA press secretary Benny Stanislawski, who cited a Tuesday Semafor report that uncovered what appears to be a concerted, covert effort by DeSantis' campaign communications team to design and disseminate divisive, discriminatory messages, memes and videos on social media to presumably drum up support among the far- and alt-right.
The aforementioned video, which has since been deleted, features a version of the Sonnenrad, a circular symbol associated with Nazi Germany that appears near the end of the clip as something of a halo around the Governor's head.
It was first posted online by an anonymous account called Ron DeSantis Fancams, before Hochman shared it on X, formerly known as Twitter.
Another video created by a staffer still under DeSantis' employ, according to the New York Times, took aim at the LGBTQ community. It was first posted by an X user called ProudElephantUS before the DeSantis campaign's official "Rapid Response" account shared it with its nearly 121,000 followers.
Using screenshots of a private chat on Signal, an encrypted messaging app, Semafor reporters determined both videos and many other controversial campaign media were put together and laundered for anonymous publication by DeSantis' rapid response team, led by the Governor's rapid response director, Christina Pushaw.
DeSantis' press secretary, Bryan Griffin, was also a member of the chat, where senior aides led a high-risk effort to produce and post promotional and attack media without having the material traced back to the campaign as its source.
The team has since shut down the chat, according to Semafor.
The screenshots show staffers like Kyle Lamb, the campaign's former director of research and data, lauding the Sonnenrad video and commenting that it "belongs in the Smithsonian" before it was published and drew widespread censure. He was one of 38 staffers laid off recently as part of a DeSantis campaign "reboot."
DeSantis' campaign told The Hill last week that it also fired Hochman, but declined to comment further on the matter. Hochman, who previously worked at the conservative publication The National Review, once praised the impact of White nationalist Nick Fuentes.
Stanislawski said the video, combined with DeSantis' reluctance to condemn hateful demonstrations across Florida and the participation of several antisemites during his digital campaign launch in May, imply there is a "blatant pattern" of either poor judgment or malicious intent inside the Governor's presidential campaign.
"Americans deserve to know where this rhetoric comes from and whether it is intentional. Ron DeSantis — you must condemn this latest embrace of antisemitism by your campaign and investigate the source immediately," he said in a statement.
"DeSantis must act to end antisemitism coming from his campaign — unless he approves of it."
The Governor's record on antisemitism has been lacking in messaging but not necessarily in policy. Following a neo-Nazi rally in Orlando — which Pushaw alleged was fake in a since-deleted X post — DeSantis said those demanding that he condemn the event were trying "to smear me as if I had something to do with it."
He's remained similarly disinclined to denounce numerous hateful demonstrations across the state since, aside from once calling a group of protestors "jackasses."
In criticizing opponents, he's also repeatedly brought up Jewish billionaire and Holocaust survivor George Soros as purportedly controlling politicians and prosecutors, a claim Jewish advocacy groups say is a dog whistle for antisemitism.
But DeSantis has also taken steps to counteract record-high levels of hate acts against Jews in the Sunshine State. In April, he signed a measure during a visit to Jerusalem that makes it a felony to harass people for their religion or ethnicity. The new law also penalizes littering materials depicting hateful images, messages or any other "credible threat" on a person's private property.
During his first term in 2019, DeSantis signed legislation banning antisemitism, including Holocaust denial, in public schools. The signing, which also took place in Jerusalem, marked the first time in Florida history that a Governor ratified a bill on foreign soil.
He said at the time that he was proud "to make clear through a bipartisan effort that antisemitism has no place in our state, and our educational institutions will not tolerate discrimination against Jewish people."