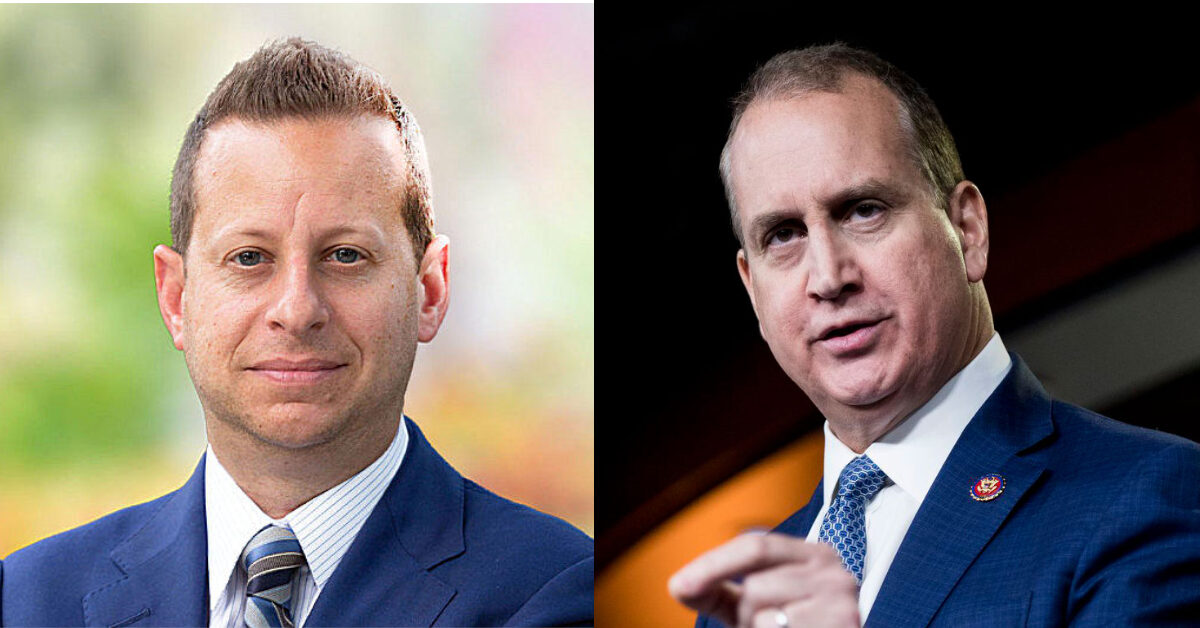 They invited every member of Congress.
Seven federal lawmakers have accepted Jared Moskowitz's invitation to accompany him and fellow U.S. Rep. Mario Díaz-Balart for what could be a final tour of the site where Florida's deadliest school shooting took place.
They include U.S. Reps. Jamaal Bowman of New York, Madeleine Dean of Pennsylvania and Nanette Diaz Barrigan of California, as well as Florida U.S. Reps. Sheila Cherfilus-McCormick, Carlos Giménez, John Rutherford and Frederica Wilson.
Díaz-Balart, Giménez and Rutherford are the only Republican lawmakers participating.
All will take a somber walk Friday morning through the 1200 building of Marjory Stoneman Douglas High in Parkland, Moskowitz's alma mater, where 17 students and faculty were murdered and 17 others were injured more than five years ago.
Some of the victims' family members and several Broward County officials will join the lawmakers for the 8-9:30 a.m. tour and a school safety roundtable afterward.
A re-enactment of the shooting as part of a lawsuit against Scot Peterson, the Broward Sheriff's deputy who was assigned to the school at the time of the massacre, will occur the same day. Dubbed the "Coward of Broward" in the shooting's aftermath for his inaction during the rampage, Peterson was acquitted in late June of felony child neglect and other criminal charges but could still be liable for civil damages.
The tour and roundtable discussion will be closed to the public, according to Moskowitz's Press Secretary, Keith Nagy. Press will be permitted in a specific area on the school property, but will "under no circumstances" be allowed inside the building.
The roundtable will run from 10:10-11:30 a.m. at the Fort Lauderdale Marriott Coral Springs. A 10-minute period of opening remarks will be open to the press. There will also be a press availability once the roundtable concludes.
The 1200 building has remained largely unchanged since the massacre on Valentine's Day 2018 as the case against the shooter proceeded. With the trial and sentencing now finished and the shooter sentenced to life in prison without parole, the structure is slated for demolition later this month, before the beginning of the school year.
That means time is running out for people to get a firsthand look at the aftermath of one of America's worst mass shootings — something that prompted Max Schachter, who lost his son Alex in the carnage, to challenge elected leaders last month to accompany him through the building before its destruction.
"ALL members of Congress and state legislatures should walk beside me thru the Parkland school shooting site before it's torn down," he wrote July 15 on X, formerly known as Twitter. "I want you to understand what happened that day. Work with me to prevent this from happening again. Who will walk beside me?"
As Florida Politics previously reported, Moskowitz and Díaz-Balart co-authored an open letter 12 days later inviting their congressional colleagues to join them Aug. 4 for a walk through the building's halls, an experience they said will "help foster discussions on school safety and security for our children."
On August 4th, I will lead a bipartisan visit inside the Marjory Stoneman Douglas school shooting site before it is torn down.

All of Congress has been invited, so they can witness the aftermath of a school shooting & the horrific impact it's had on our community in Parkland. https://t.co/bugdvtzief pic.twitter.com/QbzF3BHHs0

— Congressman Jared Moskowitz (@RepMoskowitz) July 27, 2023
Just four Florida's of 26 additional House members, and only three of 407 non-Florida members of the chamber, accepted.
Other officials participating include Florida Department of Education (FDOE) Safe Schools Executive Director Tim Hay, FDOE Safe Schools Vice Chancellor Scott Strauss, Broward State Attorney Harold Pryor, Broward Assistant State Attorney Steven Klinger and Broward School District spokesperson Jonathan Sullivan.
Participating family members of the victims joining Schachter include:
— Lori and Ilan Alhadeff, parents of 14-year-old Alyssa.
— Debbi and Corey Hixon, wife and son of 49-year-old Christopher, who worked as an athletic director, wrestling coach and security specialist at the school.
— Gena Hoyer, mother of 15-year-old Luke.
— Tony and Jennifer Montalto, parents of 14-year-old Gina.
—  Andrea Pena, sister of 17-year-old Joaquin Oliver.
Former Democratic U.S. Rep. Debbie Mucarsel-Powell, who now works as a senior adviser to gun control advocacy group Giffords, told Schachter on X that she will walk with him too. So did Esther Panitch, a Democratic Georgia state Representative who was born and raised in Miami-Dade County, Broward's immediate neighbor to the south.
Moskowitz and Díaz-Balart are members of the Congressional Bipartisan School Safety and Security Caucus, a group Moskowitz and Republican U.S. Rep. Tony Gonzalez formed in May to focus on "commonsense solutions around school safety." The caucus came together one year after a similar school shooting resulted in the deaths of 19 children and two teachers at Robb Elementary School in Uvalde.
Since the shooting at Parkland, Moskowitz has made curbing gun violence his signature legislative priority as both a state and federal lawmaker. Many credit his impassioned, 15-minute testimony on the floor of the Florida House shortly after the massacre as key to moving his colleagues to vote for the state's first gun reform law in decades.
He and fellow freshman Democratic U.S. Rep. Maxwell Frost are Co-Chairs of the Gun Violence Prevention Task Force in Washington, where he's also introduced measures to ban the online distribution of blueprints for 3D-printed firearms called "ghost guns," raise the purchasing age of assault-style rifles to 25 and co-sponsored legislation to require silent panic alarms in all schools and increase funding for school resource officers.
Díaz-Balart, Florida's longest-serving member of Congress, this year filed a similar bill to fund police presences at public schools.
In February, he and Moskowitz refiled the EAGLES Act, which would reauthorize and expand a federal training and prevention initiative against targeted violence and school violence prevention.
The measure — of which U.S. Sens. Marco Rubio, Rick Scott, Catherine Cortez-Masto, Susan Collins, Chuck Grassley, Angus King and Joe Manchin are carrying a companion measure — is named after Marjory Stoneman Douglas High's mascot.
A study by Education Week published Monday found that there were 51 school shootings last year alone — more than double the number from 2018. Last year marked a record, as 100 people were shot and 40 people died from gunshot wounds on school campuses.