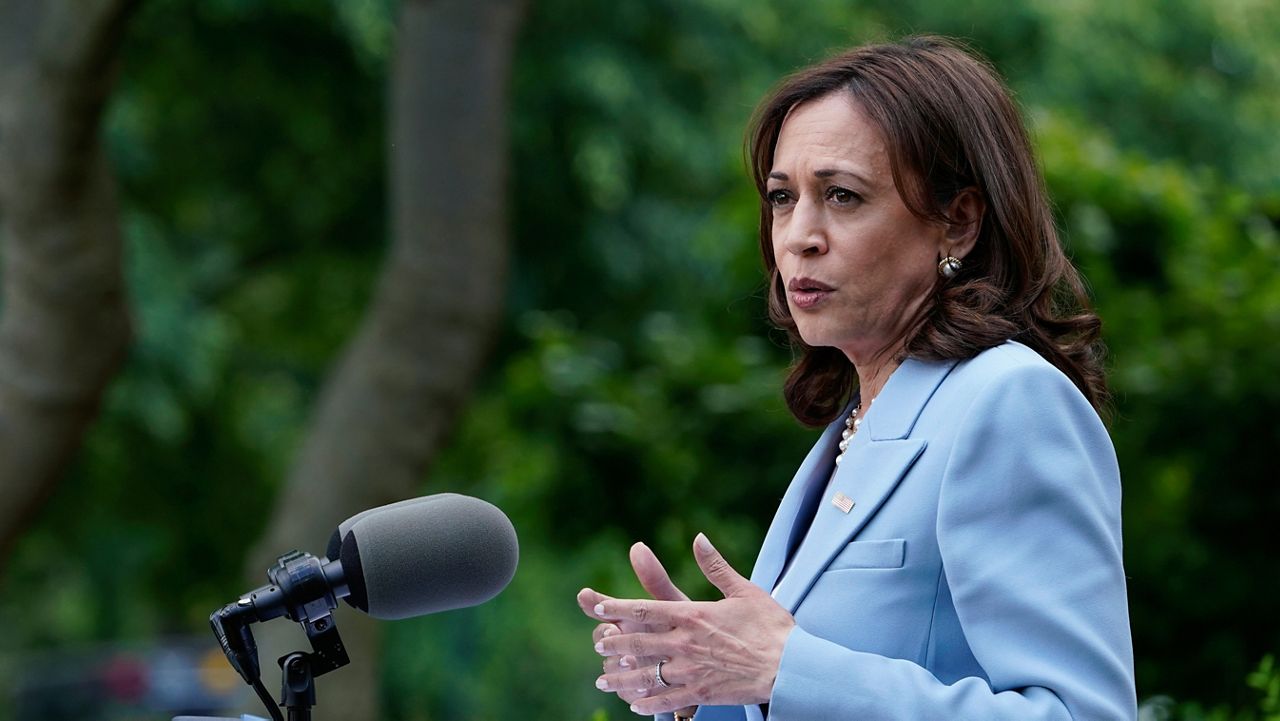 It's part of an ongoing push to strengthen the young, progressive vote ahead of the 2024 election.
As students and others arrive at Florida International University's (FIU) Ocean Bank Convocation Center to see Vice President Kamala Harris speak Thursday afternoon, they'll have an opportunity to register to vote.
Voters of Tomorrow, a national, Generation Z-led political nonprofit, is leading a voter registration drive outside the arena.
It's part of an ongoing push to strengthen the young, progressive vote ahead of the 2024 election. And while Florida has shifted red in recent election cycles, it's also home to one of the group's largest chapters.
"That's really because where we see attacks by the right directly on young people, we see increased chapter involvement," Voters of Tomorrow National Press Secretary Jack Lobel told Florida Politics. "So, fortunately or unfortunately, we have great involvement in Florida, and we have lots of people participating in this event."
Harris' stop at FIU's Modesto A. Maidique Campus in unincorporated Miami-Dade County is part of her one-month "Fight for Our Freedoms College Tour."
She is to take part in a moderated discussion with students on a host of issues, including abortion rights, gun safety, climate change, LGBTQ equality, mental health and book bans. All are subjects front-and-center in an ongoing culture war spearheaded by Gov. Ron DeSantis, who is running for President, and the GOP-dominated Florida Legislature.
The Florida chapter of Voters of Tomorrow is partnering with the Florida Democratic Party and People Power for Florida, a third-party voter registration organization, to sign up unregistered attendees. It conducted a similar drive Tuesday in Georgia during a visit Harris made to Morehouse College.
In Florida, due to a law the Legislature passed earlier this year constraining certain election activities, Voters of Tomorrow decided not to conduct the registration drive itself. The group was among several groups, including the Florida NAACP and Disability Rights Florida, that won a preliminary injunction in early July against the law.
"They're really trying to prevent us from doing work," Lobel said. "I think they're scared, based on what they've seen in cycles, that Gen Z is going to overpower them."
Voters of Tomorrow has chapters in more than 20 states and volunteer presences in all 50 states. In the leadup to the 2022 Midterms, the group says it contacted young voters more than 8.4 million times, including 170,000 times in Florida.
Miami-Dade is ground zero for Florida's deepening red hue. Last year, DeSantis became the first Republican Governor other than Jeb Bush to win the county, which has long been considered a Democratic stronghold.
Many have attributed the flip to the inroads Republicans have made with Hispanic voters.
Thursday marks the third time this year Harris had come to the state, following two drop-ins over the summer to denounce Florida's recently adopted Black history standards, which among other things require that students be taught how slaves gained skills that could be used for their personal benefit.
In a Sept. 7 statement accompanying the tour's announcement, Harris stressed how important the Gen Z vote will be for her and President Joe Biden next year.
"This generation is critical to the urgent issues that are at stake right now for our future," she said. "It is young leaders throughout America who know what the solutions look like and are organizing their communities to make them a reality. My message to students is clear: We are counting on you, we need you, you are everything."
About 20 Voters of Tomorrow Florida chapter members will be at FIU Thursday. Lobel said the group will have a table outside the event to sign attendees up as they wait to go inside, and it expects attendance will be strong and fervent.
"You can expect long lines," he said. "You can expect a pretty powerful speech from her. We've been tracking these events across the country, and I'm sure it'll be the same story in Florida where despite all these attacks from the far right — or I'd say in some cases because of these attacks from the far right — young voters are going to be increasingly mobilized leading into 2024."
———
Anne Geggis of Florida Politics contributed to this report.