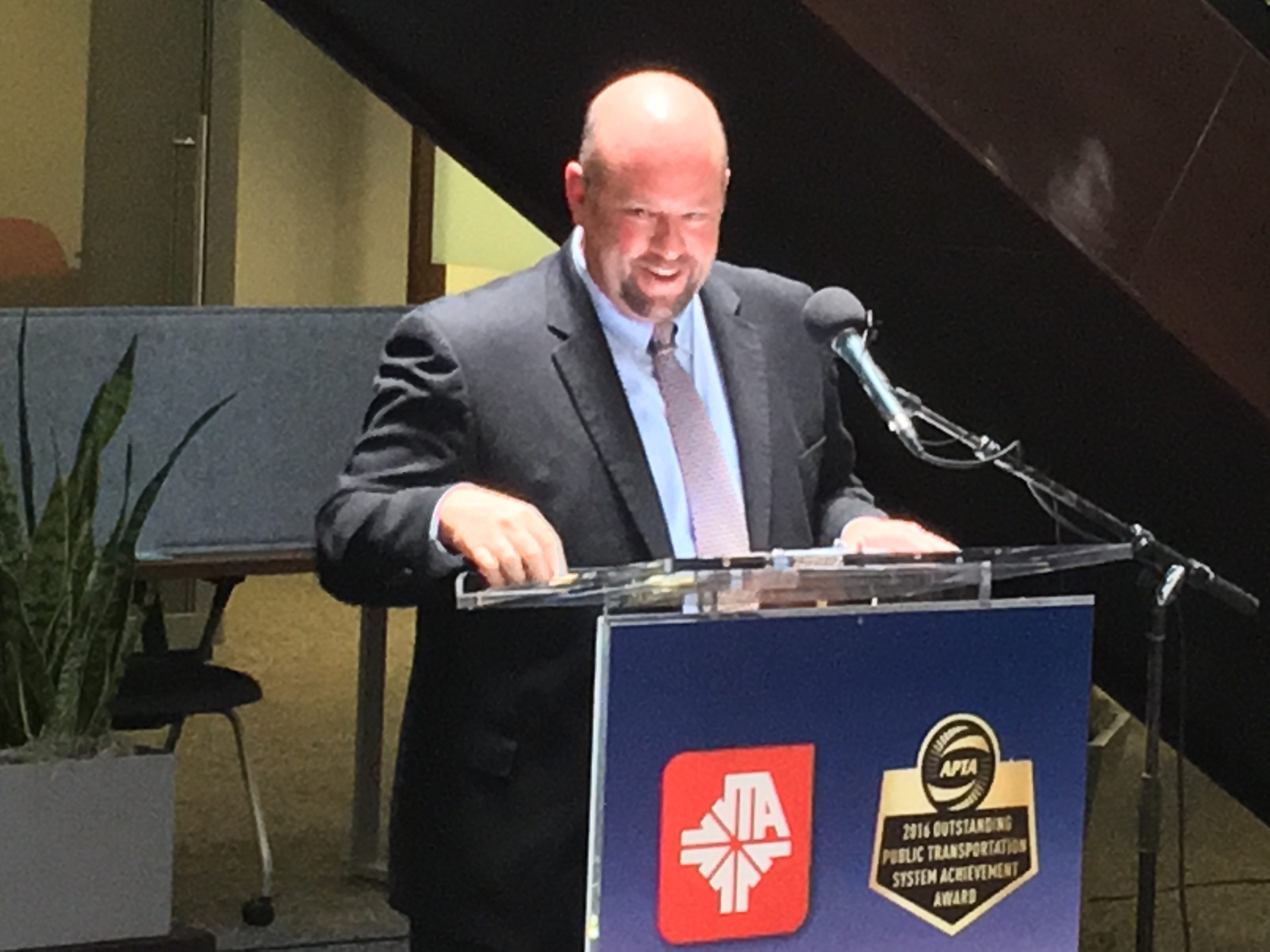 The Jacksonville Transportation Authority took a victory lap Thursday for its recent national award: the 2016 "Outstanding Public Transportation System Achievement Award" from the American Public Transportation Association (APTA).
JTA first publicized the award in May at the State of the Authority luncheon; however, on this occasion FDOT head Jim Boxold was on hand to celebrate the achievement.
Boxold "put the award in very simple terms … of midsize transportation systems, JTA has been named the best" in the country and is an "example for other systems to follow."
Boxold noted that since he came aboard at FDOT, there have been three straight years of record budgets; however, those budgets are amplified by "more efficiency, more innovation."
"Every dollar we save," Boxold opined, is "important."
JTA has gotten $55 million of state funding since 2011, and JTA CEO Nat Ford contended Thursday that money has been put to good use, improving the efficiency and effectiveness of Jacksonville's transit system.
The First Coast Flyer, JTA's rapid transit for commuters, has one leg live and will have another route going later this year.
Route optimization in the last three years has reaped benefits in frequency of buses, with 20 routes with frequency of every 30 minutes of better, and 10 routes with buses every 15 minutes.
More direct service and more evening and weekend service, Ford added, were priorities rooted in practicality.
"The community works 24 hours a day," said Ford. "Life happens 24/7."
Ridership is up 6 percent. Accidents, down 10 percent. Bodily injury and liability payments have decreased an aggregate 29 percent between 2013 and 2015.
The Regional Transportation Center is scheduled to begin work in January, and by October, 46 compressed natural gas buses with wi-fi will be on Jacksonville roads.