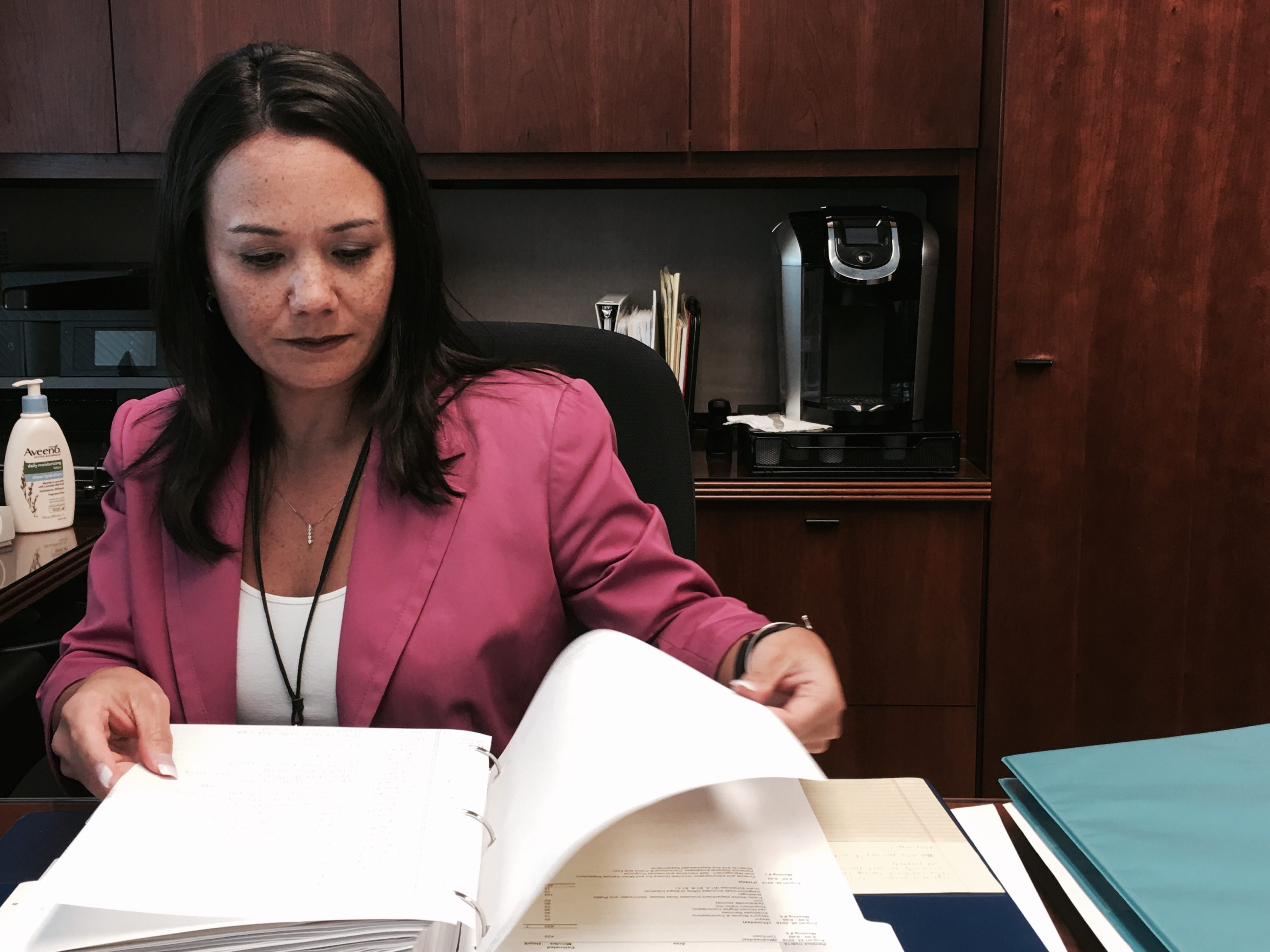 With a little more than a month to go before qualifying in the Jacksonville mayoral race, there is little drama.
Incumbent Lenny Curry has almost $3,000,000 cash on hand for his re-election campaign while he awaits a challenger with any sort of fundraising traction to file (only NPA Connell Crooms, who has about $1,000 on hand, has filed).
Curry has been running an active campaign for the better part of 2018, fundraising and even occasional television spots included. On Monday evening, the Republican will speak to a crowd of supporters at Impact Jax, the young professionals group of the Jax Chamber (the political committee of which itself endorsed him months back).
Upon accepting the fait accompli Chamber endorsement (something that was not a done deal in 2015 when he ran against Alvin Brown), Curry noted that while "a lot of work" was ahead, his "record is clear and I just want to make sure the people of Jacksonville know that I've delivered on everything I said I'd deliver, but I'm not resting on that," Curry said.
"The best is yet to come," Curry emphasized.
Curry has manufactured consent like no other mayor, often pushing major reforms through with (at most) a scattered no vote from the City Council. Among examples: the Kids Hope Alliance, a comprehensive reform of children's programs; radical changes to the composition of boards and commissions; pension reform, which included ending entry to cost-prohibitive defined benefit plans for new hires.
In an interview earlier this year, Curry noted that "risk" was involved in pushing these reforms, but clearly it was a risk his administration successfully hazarded.
Curry has often credited his success to "relationship building," and by many accounts, those relationships are solid, including across party lines. Democrats such as former Mayor Tommy Hazouri are among his biggest backers, while Republicans such as Lori Boyer, Greg Anderson, and Bill Gulliford have consistently ensured that the mayoral agenda is not derailed.
This kind of aggressive reform posture, and the steps taken to get there, were presaged in Curry's inaugural speech, where he noted that "four years will be gone in a blink of an eye."
Yet, despite his administration's accomplishments, there is much left to do: Continued downtown revitalization, addressing capital improvement needs, and finding a way to stem the bloody tide of shootings in Jacksonville streets (something which more cops and more investments in children's services have yet to stymie).
Jacksonville has seen cakewalk re-elections before: consider Curry's Republican predecessors John Delaney and John Peyton as examples of relatively recent vintage.
Yet while Curry has effectively received the consent of most influencer groups in the city on one issue or another, there is still some question as to whether 2019 will be a walkthrough or a competitive election.
That question rests on whether or not Curry draws high-profile opponents. Two City Council members, Republican Anna Brosche and Democrat Garrett Dennis, have flirted with the race.
Brosche and Dennis are both the key dissenters on the Council, a role that has led to more press coverage than tangible results.
Brosche looks to have access to upwards of a million dollars in commitments. Dennis, who was visible in support of statewide Democratic candidates in 2018, may have been better positioned to run if the Governor's race had gone differently.
The expectation among most observers is that Brosche runs. Dennis could also run, though he functionally would be a stalking horse for Brosche, lobbing bombs at Curry while foreclosing the entry of another big name Democratic opponent.
Brosche has noted that she has until January to decide her next move, a position that those familiar with the Curry camp's thinking dismiss.
"Her window's closing," went one informed take.
Every day Brosche delays her run is another day Curry has to himself in the field, a position already augmented by a number of solid relationships with media, including the baritone-voiced television reporters who frame the narrative for casual voters.
Brosche, of course, has a platform of her own: the City Council dais, where a bill she filed looks likely to go down in flames Tuesday night.
The bill, written after a task force on open government and transparency during Brosche's Council Presidency earlier this year, includes a number of reforms.
The legislation would require anyone doing more than $1 million worth of business with the city to disclose local political donations over the last five years. It would also require emails between Councilors and registered lobbyists to be posted to an online portal as the public record documents they are. Text messages would also have to be archived.
In Tommy Hazouri's Rules Committee last week, the bill went down 8-0, with Jacksonville City Council President Aaron Bowman chiming in on the chorus of condemnation.
"I see nothing in this bill that will do anything but threaten and scare people," Bowman said, sending a message to Brosche, his immediate predecessor as Council President.
A public hearing on the legislation will happen before the vote, ensuring that if citizens want to talk about the bill, they can.
One of the issues Brosche has faced as a potential candidate: her tenure as Council President, defined for many when she took a stance toward removing Jacksonville's Confederate monuments after the violence in Charlottesville last year, then pulled back from the position when it was clear there was little appetite on the Council for that move.
Brosche's year as president, say critics, was characterized by quixotic decisions such as that, and trying to stand in the way of the Kids Hope Alliance, as well as appointing two Democrats to the Finance Committee who have since been federally indicted for fraud related to the use of taxpayer incentive money.
Brosche made Finance a majority-Democratic committee, a consequence of a deal made to get support that proved pivotal to victory.
Regarding her transparency bill, the same critics' language is often too salty to be quoted in a family publication.
The disagreements between Curry and Brosche have often seemed personal, and have spilled over into the staff realm. The absolute dealbreaker may have been accusations from February that a Curry senior staffer "accosted" Brosche's legislative aide, charges the city's general counsel determined to be without merit.
The likelihood of Brosche's transparency bill somehow getting through City Council is minimal. It was described as "Anna's bill" in committee rather derisively.
That will underscore, yet again, her problems in getting bills through Council. And it should accelerate the "running or not?" decision process.
But then again, many data points this year would have seemed to accelerate that process also. And thus far they haven't.