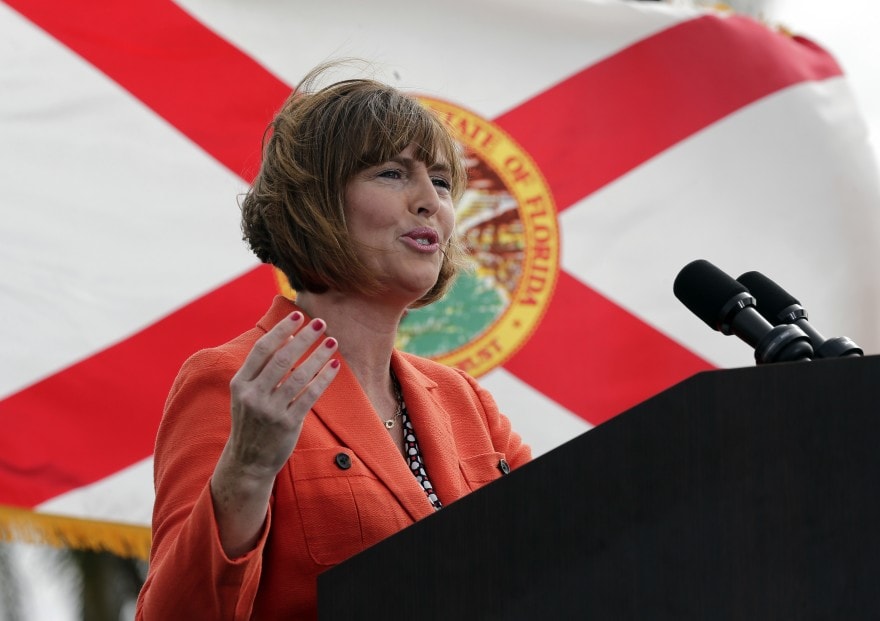 The state could receive billions of dollars to fund Medicaid expansion.
U.S. Rep. Kathy Castor met with state health care leaders Monday to discuss the impact of the American Rescue Plan on the state's budget — specifically, health care and Medicaid expansion.
Castor was joined by members of the Florida Alliance for Retired Americans (FLARA), Florida Voices for Health and Lower Drug Prices Now (LDPN) to talk about the budget adjustments brought on by the $1.9 trillion pandemic relief package.
The Tampa Democrat highlighted that Florida would receive $10 billion in aid from the package, and that the state could also receive billions of dollars through Medicaid expansion — a move that would impact the state's nearly $1.4 billion pandemic shortfall.
"There have been a number of studies that have demonstrated not only do you improve people's health care, not only do you improve their access, but, the state of Florida would gain billions of dollars and be able to fund additional services for our older neighbors such as services for those who are homebound, home care services," Castor said about expanding Medicaid.
Before the COVID-19 relief bill's passage, the federal government offered to pay for up to 90% of new Medicaid costs for states adopting Medicaid expansion, with the remainder of the cost left to the state.
But a new provision in the American Rescue Plan provides even more federal dollars to encourage Medicaid expansion in any state that has not already expanded those benefits. The additional federal dollars would trickle in for two years and could cover another 5% of costs for expanded access.
Florida is one of 12 states that has not expanded Medicaid, although at least two of those states are moving forward with plans to expand.
"It's a real head scratcher, now, why the state of Florida is in this small minority of states that refuses to accept the additional dollars," Castor said. "This is the hard earned tax money of people who live and work in the state of Florida, send it up to Washington, D.C., and right now, those dollars are going to subsidize the health care of people in other states."
Expanding Medicaid would extend coverage to people who earn up to 138% of the federal poverty level, which stands at $18,000 per year for an individual and $37,000 for a family of four.
Pre-pandemic estimates put the number of impacted individuals around 900,000 if the state was to expand Medicaid. But now, there are some projections that it could be up to about 1.5 million, according to WUSF.
"A lot of the folks who are caught in the Medicaid gap here in Florida are working part time, they don't have access to private health insurance," Castor said. "It's really fiscal malpractice by the Florida Legislature and Governor (Ron) DeSantis not to draw down our tax dollars, and put them to work."
The Congresswoman echoed the sentiments of Florida Democrats, who are pushing the GOP-controlled Legislature to expand Medicaid now under the American Rescue Plan's incentives.
However, Republican leadership in the state appears to be moving in the opposite direction, prioritizing cuts to Medicaid coverage.
On Wednesday, state House members will hear a health care budget bill (HB 5201), which will include an amendment filed by South Florida Democrat Rep. Joe Geller to expand Medicaid. Scott Darius, the Executive Director for Florida Voices for Health, expressed enthusiasm for the amendment during the meeting with Castor and encouraged support for the move.
"Wednesday really is the first opportunity in years, that we'll have to hear our legislators debate this important issue," Darius said. "We really hope that they go into it with an open mind and are willing to have a robust debate on Medicaid expansion."
However, the bill itself, crafted by the Health Care Appropriations Subcommittee and Miami-Dade Republican Rep. Bryan Avila, makes extensive cuts to Medicaid and would also make permanent a controversial policy that would eliminate a 90-day window for people to retroactively apply for Medicaid.
The Senate's budget plan proposes a $251.2 million reduction to inpatient and outpatient base Medicaid rates, a cut that would affect all hospitals. Additionally, it would eliminate $77.3 million directed to hospitals that treat large numbers of Medicaid patients.
The House plan would go further, reducing Medicaid payments for inpatient and outpatient hospital care by $288 million.
The proposals drew criticism from health care groups.
About two weeks ago, House Speaker Rep. Chris Sprowls announced bipartisan legislation to extend Medicaid coverage for pregnant women for one year after they deliver their babies. The additional months of eligibility would apply to about 97,600 Florida women each year, according to the Agency for Health Care Administration.
However, this bill would not expand Medicaid to new populations in Florida. Sprowls briefly addressed Medicaid expansion in the state after announcing the bill, simply stating, "reasonable people can disagree."