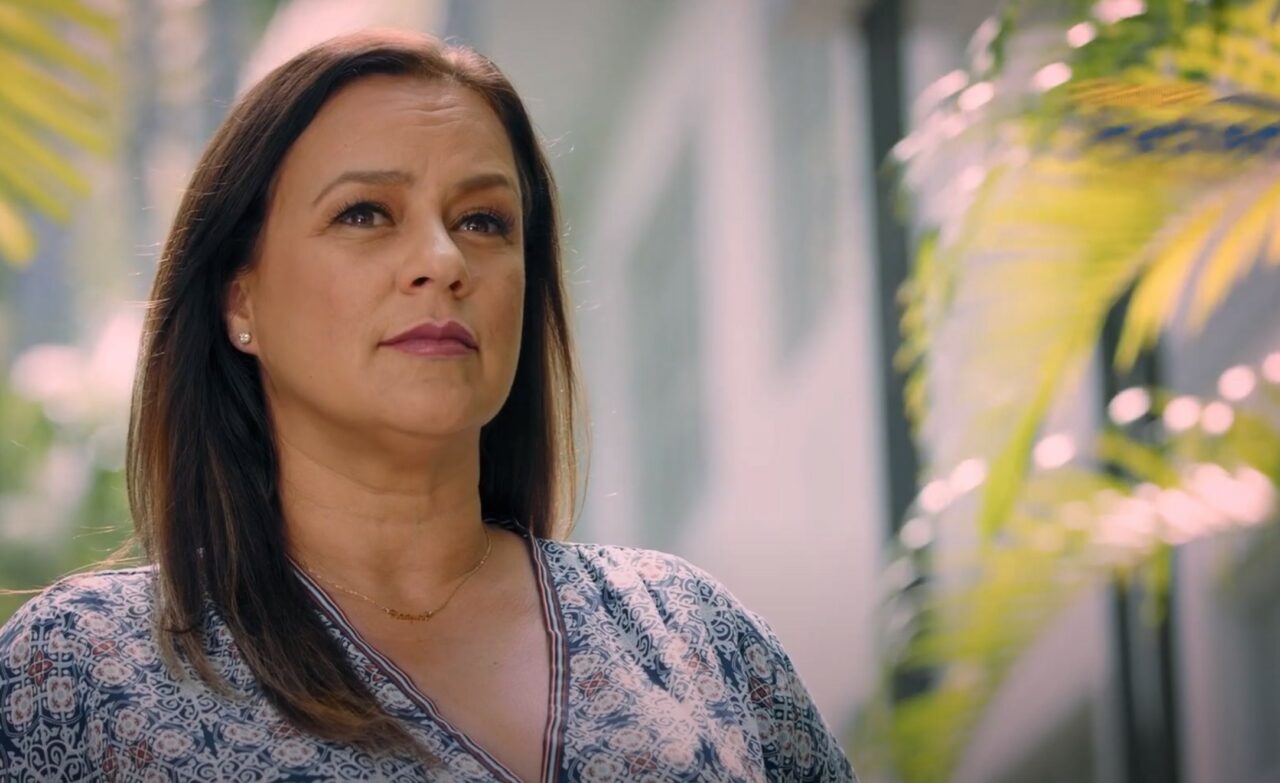 The GOP-funded ad suggest Pacheco is trying to trick Miami-Dade voters into thinking she's Cuban. She's never claimed to be, her campaign says.
A new ad is bashing Democratic candidate Raquel Pacheco for what it characterizes as a pattern of dishonesty meant to mislead voters and gain favor with Miami's Cuban community ahead of the General Election.
The ad, paid for by the Florida Republican Senatorial Campaign Committee (FRSCC), began airing Thursday in Senate District 36, where Pacheco is challenging incumbent Republican Sen. Ileana García.
It takes aim at a campaign video Pacheco debuted Aug. 9. In the video, Pacheco says she fled her home country as a child "because of Fidel Castro and his communist military invasion." The video includes images of Castro and what appears to be refugees on a boat.
"Why does Raquel Pacheco want you to believe she's from Cuba, misleading voters into thinking her family fled the island? In reality, her parents are Portuguese and she was born in Angola," the FRSCC ad says.
What the ad does not mention is that Castro sent troops to Angola in 1975 when Pacheco was about a year old, an incursion that at the time prompted the United States to send $50 million in arms to help Angolans defend themselves.
Fearing for her safety and unable to flee themselves, Pacheco's parents sent their infant daughter to live with relatives in Portugal, according to her campaign spokesman, Jeff Garcia, who stressed Pacheco has never claimed to be Cuban or from Cuba.
His assertion is supported by a biography Pacheco submitted to the city of Miami Beach in January 2019 ahead of an unsuccessful campaign for the City Commission. The bio said Pacheco "spent the first 10 years of her life living in the countries of Portugal, Spain and Morocco" before she moved to Connecticut.
Asked about the possibility some viewers of Pacheco's video may incorrectly infer she's from Cuba — an assumption that could benefit her at the ballot box — Jeff Garcia, who is of Cuban descent, said her experience wasn't dissimilar from that of his own family and countless others who ultimately settled in South Florida.
"The image of people fleeing on a boat is the universal image of 'you had to flee your country' — Syria, Haiti, Cuba — and she had to flee her country as a 1-year-old because Castro invaded," he said. "What's fair to say is she had a similar, shared experience, but there's nowhere she said, 'I'm Cuban.' Their ad is a lie."
The FRSCC ad also takes shots at Pacheco's financial history and her record as the President of a condo association. While Pacheco "wants you to believe she's a successful business owner," the ad says, "in reality, she filed for bankruptcy twice and left taxpayers on the hook for her debt."
"There's more," the ad continues. "As head of her condo board on Miami Beach, Pacheco was negligent and reckless with finances, hurting her neighbors.
"Not Cuban. Not honest. Not qualified. Pacheco in the Florida Senate? Not a chance."
Pacheco told Florida Politics that while she did indeed file for two bankruptcies — something well-documented by local and state media — both were personal bankruptcies, not business bankruptcies, and both speak to issues she hopes to address in office.
She filed for bankruptcy for the first time while she was in college and enlisted in the Army National Guard, where she earned a historic "Soldier of the Year" nod.
"I was a small business owner. The business was only a couple of years old, and I had a lot of credit card debt as many college-age students do," she said. "I needed a way to get out of that, to get my business off the ground and give my life the jumpstart it needed. And I still own that business today."
The second time, she said, was when she was 37. She had private health insurance and was paying premiums of more than $800 a month. But when she got pregnant and went to see a doctor, she discovered she didn't have maternity coverage.
"That just points to a much bigger issue, which is that insurance doesn't work in the favor of women," she said.
Because at her age her pregnancy was considered high-risk, Pacheco was subject to a slew of additional testing and costs. She said she paid it all off, but four years later her finances had again reached a point where she needed to file for bankruptcy "because of this terrible insurance system that we have."
"But I can't be prouder of the life I've created as a business owner for over 25 years and a single mom with her own home," she said before contrasting herself with her opponent, who founded Latinas for Trump. "It's interesting that she supports former President (Donald) Trump who had six or seven bankruptcies. She's also a single mom, and she's had her struggles. She's had a foreclosure on her house, so she should understand that being a single mother is hard.
"I'm no different than most Americans who are one medical emergency away from either being homeless or going bankrupt. That's the reality of our economy right now. We have work to do."
Regarding the issue with her homeowners' association, Pacheco said she served as its President for eight years, a year and a half of which happened after the lawsuit in question.
"Anyone who's lived in a condo understands condo politics can sometimes be really aggressive and mean-spirited, and we had a situation where disgruntled owners decided file a frivolous lawsuit," she said. "The outcome was that the plaintiffs were asked to sell their condos and leave the property, and I was allowed to continue on as the board President until I resigned a year and a half later of my own volition."
The battle for SD 36 — which covers a center-east portion of Miami-Dade County spanning the lower half of Miami Beach, a large portion of Miami, including the barrier island of Virginia Key, and parts of the cities of Coral Gables and Sweetwater — is expected to be one of the most tightly contested races this election cycle.
Pacheco, the current Chair of the Miami Beach Personnel Board, filed to run in early June after Democratic Miami Beach Rep. Michael Grieco dropped out, complaining of funding woes.
She quickly gained endorsements from Ruth's List Florida, a progressive organization backing women candidates who support reproductive rights, and Senate Democratic Leader Lauren Book, who leads Senate Victory, the fundraising arm for Democrats in the chamber.
Senate Victory lists Pacheco as one of five "frontline candidates" running this year whose campaigns the organization is prioritizing.
García, the incumbent, won office by just 32 votes in a 2020 race later revealed to involve a "ghost candidate" scheme that has since led to criminal charges.
Miami State Attorney Katherine Fernandez Rundle said her office had no evidence García knew of or took part in the plot, and García has denied involvement. Democrats nonetheless called for her to resign and face a Special Election. She did not.
García has attracted sharp criticism this year over statements about abortion, racism and the LGBTQ community. During a single interview with CBS reporter Jim DeFede in January, she said some women use abortion as a form of birth control and that racism against African Americans is no longer an issue in the United States because Barack Obama was elected President and served two full terms.
She has since said being homosexual "is not a permanent thing" — a statement for which she later apologized — and that Florida's new ban on abortion after 15 weeks with no exception for rape or incest helps victims of human trafficking because carrying unwanted pregnancies will make their captors less inclined to sell them for sex.
Her controversial comments have drawn attention from the positive work she's done in the Legislature, including successfully sponsoring multiple bills to help at-risk youths and curb human trafficking and domestic violence. She has also secured millions of dollars to help communities in South Florida, and hers was the only Senate or House office to participate in a December roundtable in Miami on Florida's significant illicit trade problem.
García has had far more runway to fundraise than her opponent, and it shows. From December 2020 to Aug. 26, 2022, García amassed more than $844,000 to defend her Senate seat. That doesn't count more than $200,000 worth of in-kind aid the FRSCC has given her to cover polling, consulting, research and campaign staff costs.
Pacheco, meanwhile, has raised about $88,000 and received about $42,000 worth of assistance from the Democratic Party of Florida, mostly for campaign staffing.