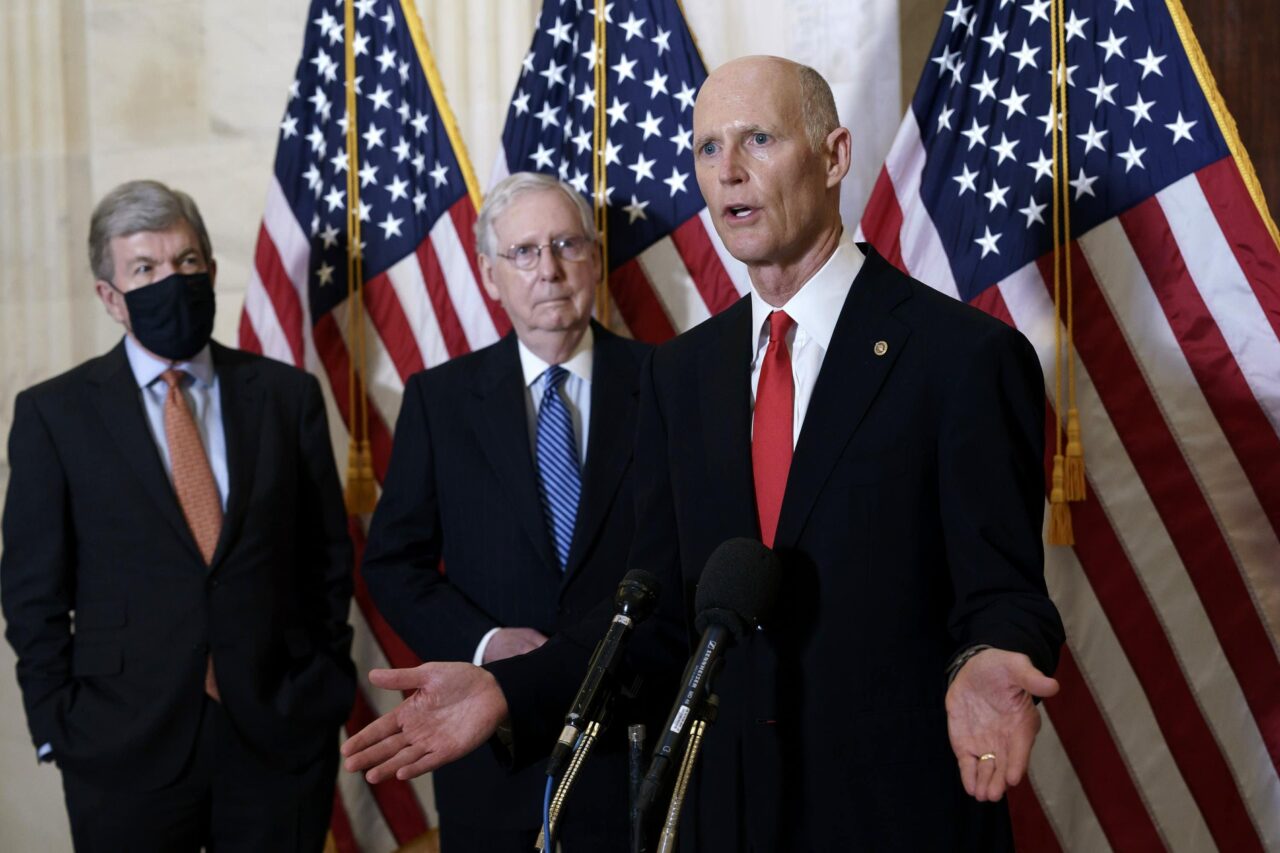 Endorsement comes at a cost with the former President.
U.S. Sen. Rick Scott hasn't scored a lot of wins in his ongoing back-and-forth with the leader of the Senate Republicans, but one key conservative bulwark is backing him.
Club for Growth is offering a strong endorsement of Scott, rebuking his frequent critic Mitch McConnell in the process. However, even that win came with a loss, as former President Donald Trump isn't happy.
"Bad news for Senator Rick Scott of Florida! Club for NO Growth just announced they are going to back him, and without my backing them, an Endorsement from them is the kiss of death," Trump posted Wednesday night to Truth Social. "Be careful, Rick, and most importantly, fight for Social Security and Medicare. THERE WILL BE NO CUTS!"
The Trumpian blast cast a shadow over Scott's win earlier in the day.
"While other Republicans have caved to massive tax-and-spend packages that have strained our economy, Rick Scott has consistently championed small government solutions centered around fiscal responsibility, and because of that he's faced the unfounded and false attacks of liberal Democrats like President (Joe) Biden and even establishment Republicans like Leader McConnell," David McIntosh, president of the Club for Growth, told POLITICO.
The POLITICO report says the conservative group will back its words with financial help for Scott, who has a capacity for self-funding that has helped him win three statewide General Elections. Elected to the Senate in 2018 in a close win over incumbent Democrat Bill Nelson, the Senator also won races for Governor in 2010 and 2014.
The Club for Growth endorsement came at an opportune time for Scott, who has been mired in a war of words with McConnell, whom he frames as part of the "Washington establishment."
For his part, McConnell has contended Scott is vulnerable in next year's elections, seemingly discounting strong Republican performance up and down the ballot last November.
"I think it will be a challenge to deal with this in his own reelection in Florida, a state with more elderly people than any other state in America," said McConnell, in his latest assertion that Scott's policy proposals known as the "12-point plan to rescue America" included language that could lead to the sunset of Social Security and Medicare.
The hurt feelings, which started roughly a year ago, have festered even more. After the Midterm Elections, when Scott's promise to flip the Senate Republican as head of the National Republican Senatorial Committee went unfulfilled, and the Florida Senator mustered just 10 votes in an ill-fated leadership challenge to McConnell.
More recently, Scott has complained about McConnell's move to remove him from the Commerce committee, framing it as retributive and "pretty petty"
McConnell denies "reprisal" or "animus" drove the decision to boot the Florida Senator from the prized committee post.