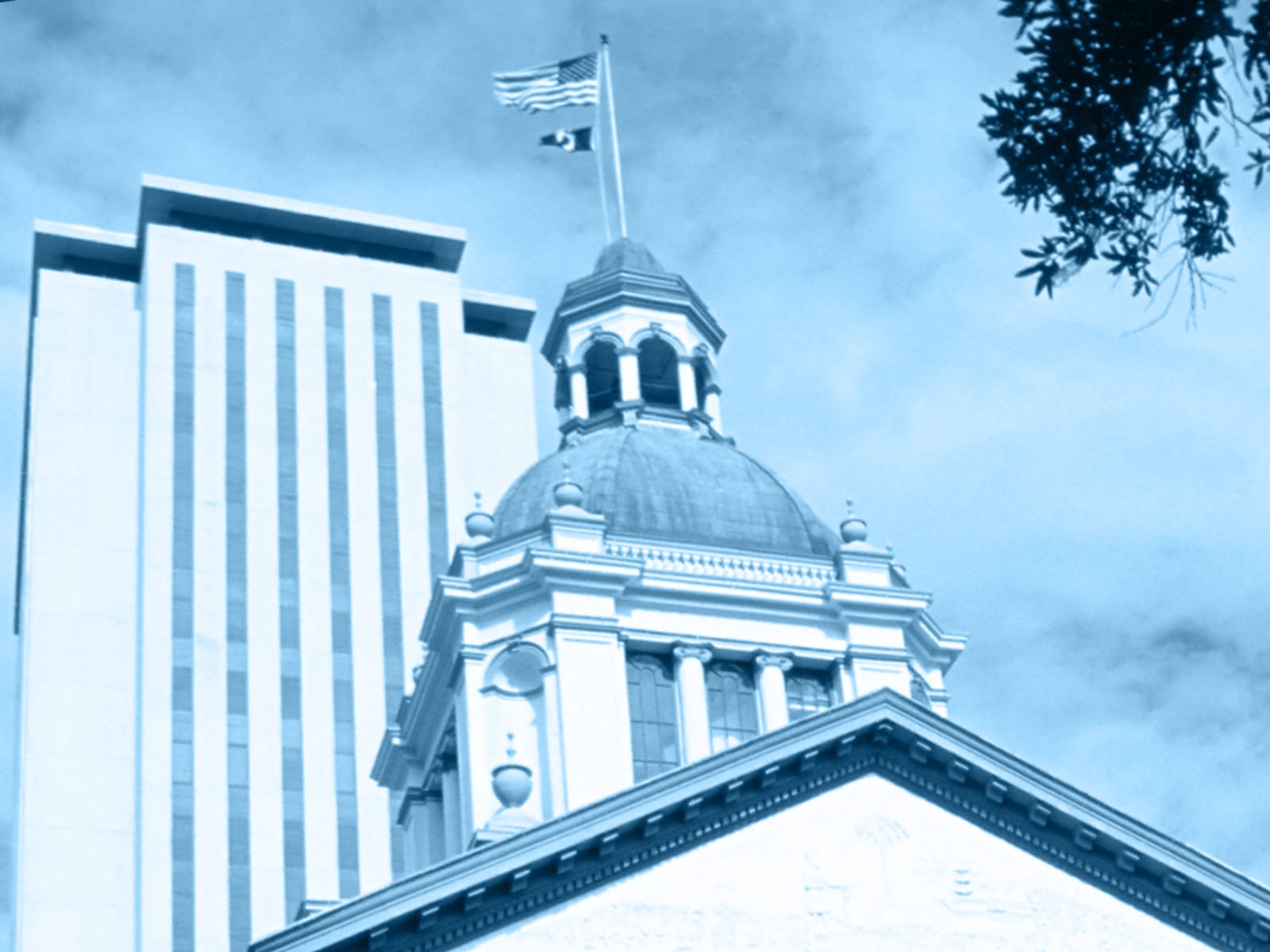 Tally's top law enforcement officials are coming to the Capitol Tiger Bay Club.
The Capital City's top two law enforcement officials will be leading a discussion on public safety — an issue that has commanded a great deal of attention in recent years.
Both Leon County Sheriff Walt McNeil, Tallahassee Police Chief Lawrence Revell, and 2nd Judicial Circuit State Attorney Jack Campbell will appear before the Capital Tiger Bay Club at noon Tuesday at the Donald L. Tucker Center.
Their appearance comes at a time when the most recently released crime data has shown an overall dip in Leon County. There are concerns, though, about recent activity in downtown Tallahassee and other incidents such as a mass shooting tied to rival gang factions from neighboring Gadsden County.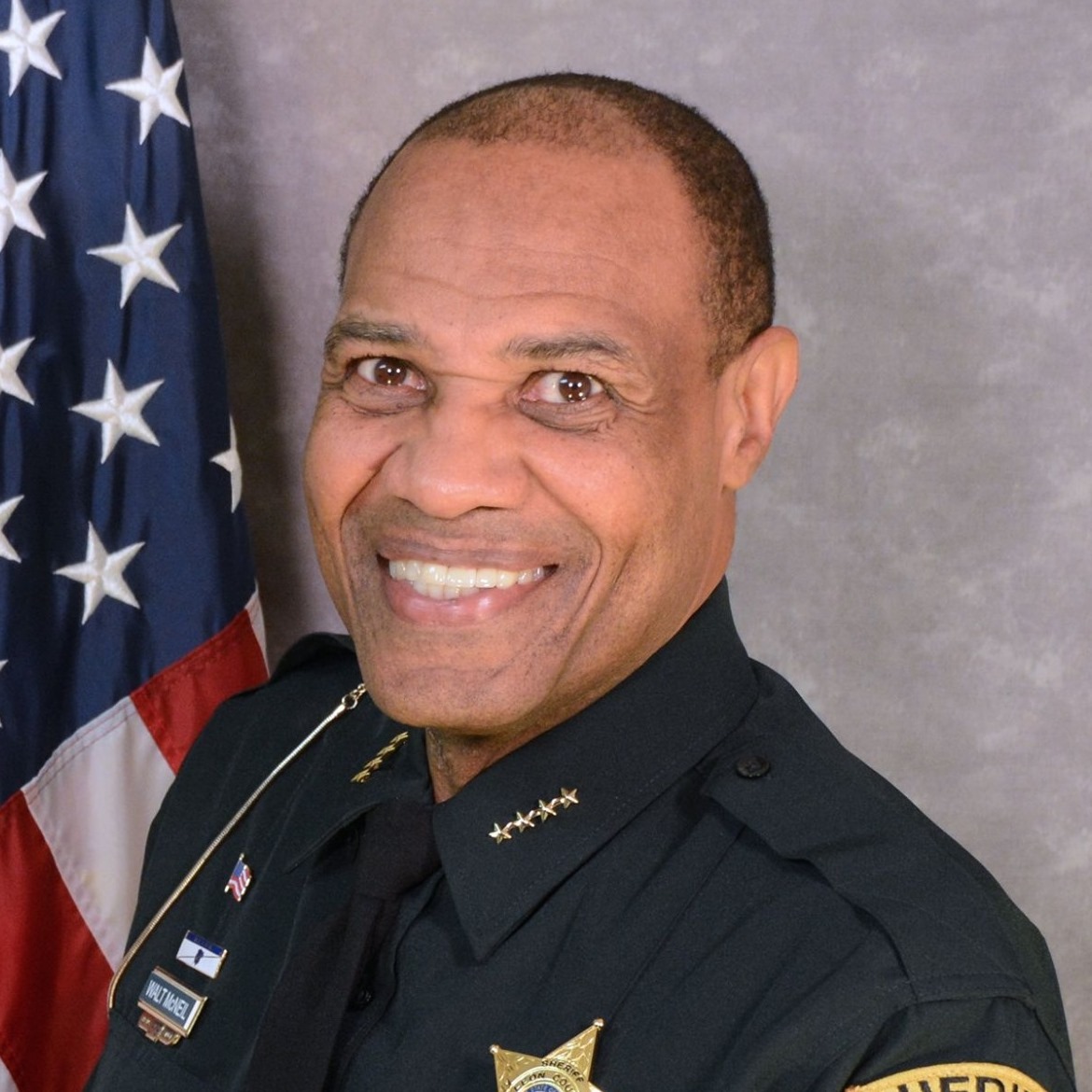 The latest crime report from the Florida Department of Law Enforcement (FDLE) estimated that in 2021 that Leon County's overall crime rate dropped by 5.9% and the total number of murders and rapes dropped while aggravated assaults and car thefts increased.
McNeil was first elected Sheriff in 2016. During his lengthy career in law enforcement, he served 10 years as Tallahassee Police Chief and led the Department of Corrections under former Gov. Charlie Crist.
Revell has been Tallahassee's Police Chief since January 2020 and has been with TPD for 28 years. Since 2016, he has been Chair of the Department of Homeland Security Domestic Security Coordinating Group — Specialty Response Teams for the state of Florida, which encompasses all specialty teams such as SWAT, aviation, Hazmat and others.
Campbell was first elected State Attorney in 2016 and was re-elected without opposition in 2020. He has encouraged his employees to volunteer and provide community service outside the office.
Since being elected he has spoken and presented to classes at Florida State University and Florida Agricultural & Mechanical University.
The Capital Tiger Bay Club said those looking to attend the talk must RSVP no later than Monday. There is a $35 fee for non-members. There is no charge for club members.
Coming up, the usual assortment of news, intel, and observations from the week that was in Florida's capital city by Peter Schorsch, Drew Wilson, Gray Rohrer, Christine Jordan Sexton and the staff of Florida Politics.
But first, the "Takeaway 5" — the Top 5 stories from the week that was:
Take 5
Anti-ESG package unveiled: Gov. Ron DeSantis is going after "woke banking," telling a Naples audience this week that "environmental, social and governance," or ESG, should play no role in investment decisions or corporate governance. Following up on last year's ban on ESG investments on the state level, such as pension funds, DeSantis said he now wants to put the ban into statute as well as change the law to enact protections against "discrimination for religious, political and social beliefs." Moreover, DeSantis wants bans on the use of "social credit scores" and housing deposits in "institutions pursuing this woke ESG agenda." House Speaker Paul Renner offered support as did Senate President Kathleen Passidomo and Chief Financial Officer Jimmy Patronis. "When it comes to ESG, many of us have been boiled like a frog. The Governor is right that over time ESG has wound its way into too many aspects of American society, and pulling it back is going to take work. This proposed legislation puts returns first, it puts the Constitution first, and it puts corporate America on notice that if they play politics with Florida residents, we'll have the tools to hold them accountable," Patronis said in a prepared release.
Tort reforms inbound: House Judiciary Committee Chair Rep. Tommy Gregory this week filed a 22-page bill that makes significant changes to the state's tort system, eliminating one-way attorney fees and attorney fee multipliers across all lines of insurance and putting the kibosh on the use of letters of protection (LOP). At press time there was no companion for Gregory's HB 837. Florida Justice Reform Institute President William Large said "solving" the LOP issue was the "most important" issue to tackle this Session. Meanwhile, DeSantis appeared with legislative leaders this week to announce his support for the changes. "You have a lot of use of the legal system that's been put toward not benefiting someone in the system," DeSantis told reporters in Jacksonville. "We don't want cases that are brought where we know there's no real liability but nevertheless it adds to the cost." DeSantis didn't release any details regarding the changes he'd like to see made this Session.
Big Tech crackdown: DeSantis' latest efforts to target Big Tech censorship and install privacy protections includes a ban on TikTok on networks operated by public K-12 schools and universities. The TikTok ban is part of a broader yet-to-be-released proposal aimed at restricting large tech firms such as Google, Facebook, Twitter, Amazon and Apple from censoring or abusing the privacy of users. Other parts of the plan, dubbed the "Digital Bill of Rights" by DeSantis, would ban tech giants from surveilling private conversations without explicit authorization from users; ban "unfair censorship" on social media platforms; require transparency in search engine algorithms, and require tech firms to allow users to control their personal data. DeSantis issued an executive order last year banning TikTok on devices issued by the state government and he said the popular video app, which critics say is tied to China's communist government, operates differently in China than in the U.S., where reams of data are collected from users. Meanwhile the House this week heard a presentation from Dr. Nicholas Kardaras on the deleterious impact of screen time on children and adolescents.
DeSantis continues fight with College Board: The Governor suggested this week that legislative consequences are ahead for the College Board, an academic body that he said attempts to "jam its agenda down our throats." DeSantis' comments come after the College Board condemned the state's rejection of its initially proposed African American Studies Advanced Placement course. In a letter made public over the weekend, the Board said the state's critiques lacked substance. "In the discussion, they did not offer feedback but instead asked vague, uninformed questions like, 'What does the word 'intersectionality' mean?' and 'Does the course promote Black Panther thinking?'" the letter noted. "We have made the mistake of treating FDOE with the courtesy we always accord to an education agency, but they have instead exploited this courtesy for their political agenda," the College Board contended. DeSantis said that Florida may further divorce itself from the group's offerings this Session as legislators "re-evaluate" the state's relationship with the College Board.
'Don't Say Gay' lawsuit tossed: A lawsuit seeking to block Florida's law banning the teaching of sexual orientation and gender identity in K-3 classrooms was tossed, with U.S. Judge Allen Winsor ruling this week that the petitioners didn't have standing to challenge the law. It's the second time that the lawsuit has been dismissed. U.S. Judge Wendy Berger of Orlando dismissed the suit last year when it was brought by a group of students, parents and teachers, noting that it didn't include complaints of imminent harm caused by the law's enforcement. Berger, though, allowed the suit to be refiled, which happened in October.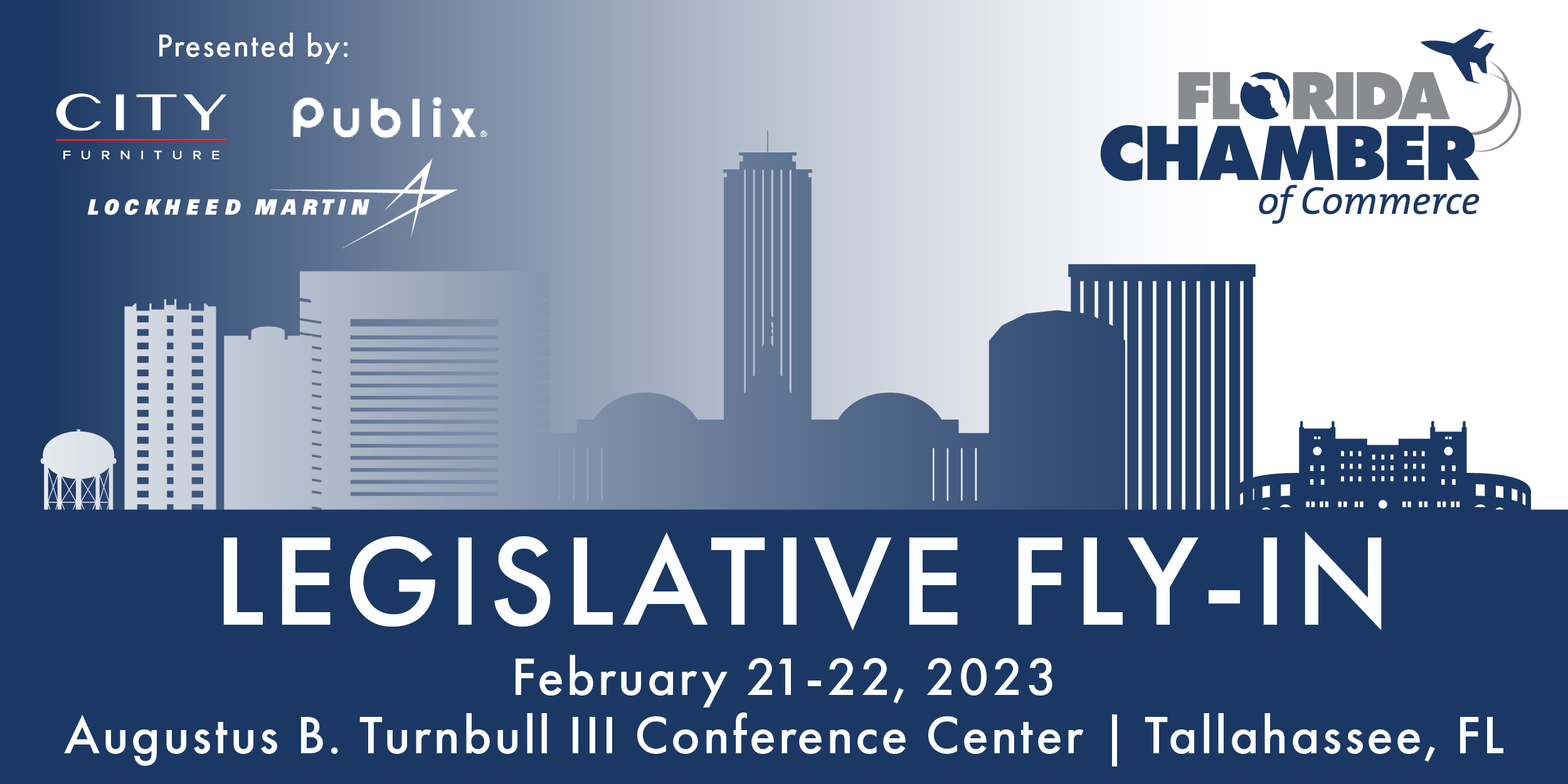 Return of the Mc
Attorney General Ashley Moody is recruiting man's best friend in the wars against opioids and counterfeit goods.
The state's top cop this week held a news conference alongside McGruff the Crime Dog, an anthropomorphic Great Dane that served as the face of the National Crime Prevention Council from the 80s through the 2010s before selling out to do GEICO ads.
Moody said the Madison Avenue creation will return to his roots as part of a new crime-prevention campaign coinciding with the Daytona 500, which will be held Saturday. The trench-coat-wearing purebred will have his likeness stamped onto the #53 Ford Mustang driven by NASCAR's Joey Gase.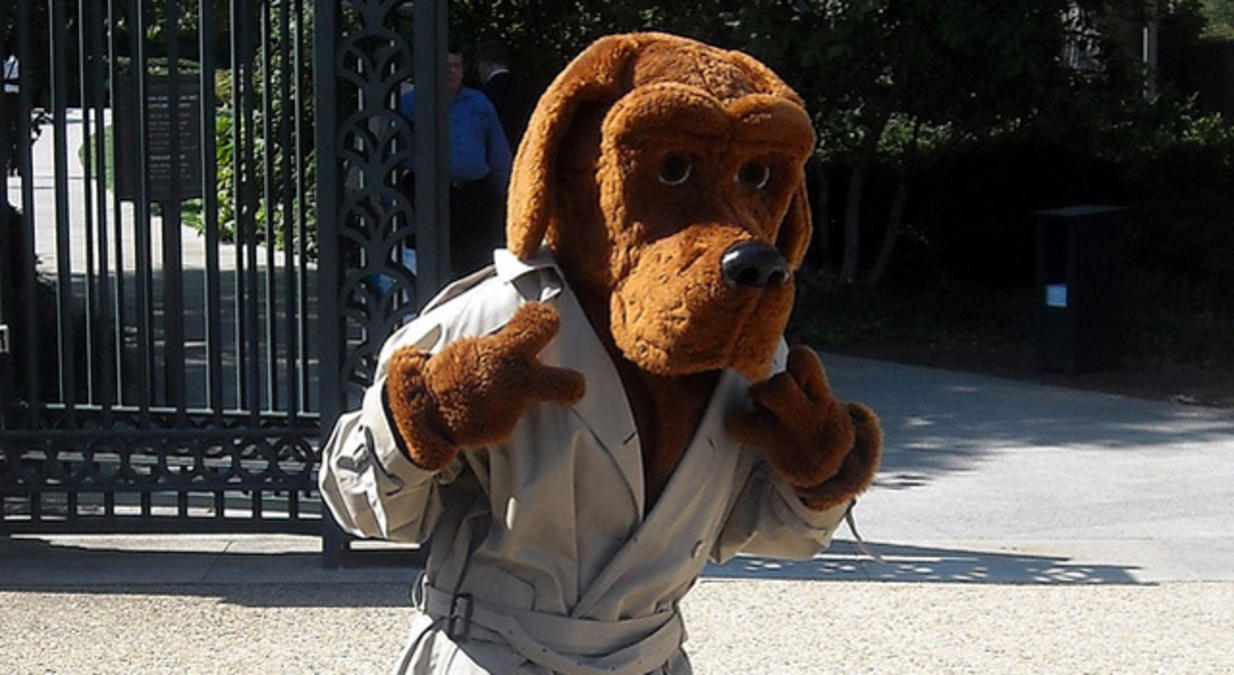 The decal will also include the message "Go For Real." The slogan is meant to discourage teens from purchasing counterfeit goods and, presumably, should not be viewed as a tacit endorsement of name-brand pain meds.
Still, Moody did warn that counterfeit pills purporting to be other drugs, such as Xanax or Adderall, do sometimes contain fentanyl — a powerful synthetic opioid that accounts for the preponderance of overdose deaths in the state.
Sales of other counterfeit goods — such as clothes, shoes and the like — also fund criminal enterprises that may be contributing to other types of crimes, including but not limited to the smuggling and sale of illicit fentanyl. Additionally, Moody said, counterfeit goods harm consumers by forcing companies to raise prices on authentic products.
"I'm excited to stand with McGruff and Joey against counterfeit products — especially fake pills containing fentanyl that are killing record numbers of Americans," Moody said. "This weekend, many people will see Joey's #53 car and McGruff's image and be reminded that they can help 'Take A Bite Out Of Crime.'"
The Attorney General said the partnership with McGruff is not a one-and-done deal and her office will be unveiling more campaigns with the law enforcement icon later. Moody did not indicate whether McGruff's troubled teen nephew, Scruff, would also be coming out of retirement.
'Stronger future'
Historic Goldsboro Main Street is being recognized for its contributions to the state, Florida Secretary of State Cord Byrd announced this week.
Goldsboro was settled as a Freedmen's Bureau community in 1870 and incorporated in 1891. The Freedmen's Bureau was created for Black Americans who worked at local rail yards, farms, produce houses, and ice houses during the Reconstruction Era. Goldsboro is the second oldest Black-founded community in the U.S.
"It is important that communities realize their value, leverage their strengths, and build their future by preserving their past," Byrd said. "Historic Goldsboro Main Street is an excellent example of how the past can be used to create a stronger future."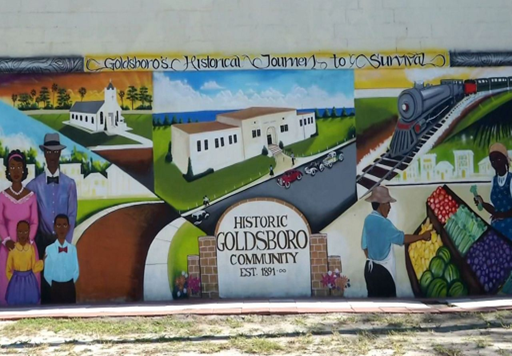 As other nearby communities near Goldsboro grew, the town faced an erosion of its independence and in 1911 the Sanford City Council passed a resolution to annex the town, which the Legislature later adopted. Following annexation, the city of Sanford renamed some of Goldsboro's historically named streets.
But in 2011, the Goldsboro Museum opened at the site of the original town post office and in 2013 the city renamed Lake Avenue as William Clark Avenue, after the town's founder. The following year, the Goldsboro business district was renamed Historic Goldsboro Boulevard.
Goldsboro Main Street was officially accepted into the Florida Main Street program in 2021.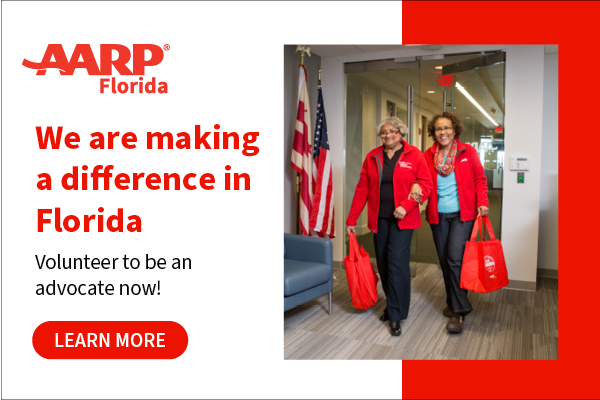 Instagram of the Week
The Week in Appointments
Southwest Florida Water Management District — The Governor has appointed James Holton, Dustin Rowland and Robert Stern to the SWFWMD. Holton is the president and owner of JWH Properties, MHH Enterprises and James W. Holton, P.A. He was previously appointed to the Citizens Property Insurance Corp. Board of Governors and the Pinellas County Economic Development Council. He earned his bachelor's degree from Stanford University and his master's degree and a law degree from Boston University. Rowland is the president and owner of Rowland Truck Lines. He currently serves as a member of the Pasco County Fair Board as well as the National and Florida's Cattlemen's Association. He is a former board member of Habitat for Humanity. Stern is a partner and attorney for Trenam Law. He previously served on the University of Florida Board of Trustees and is the former president of the University of Florida National Alumni Association. He earned his bachelor's degree in business administration and his law degree from the University of Florida.
Broward College District Board of Trustees — DeSantis tapped Cindy Kushner, Alexis Yarbrough, and Mario Zanotti-Cavazzoni for seats on the board and re-appointed Zachariah "Reggie" Zachariah Jr. to another term. Kushner is a partner with Crowe LLP, the Chair and Founder of Women Executive Leadership Florida and was listed as one of Florida's 500 Most Influential Business Leaders in 2019. She earned her bachelor's degree in accounting and finance from Thomas Jefferson University. Yarbrough is the current Vice Chair of the 4th District Court of Appeal Judicial Nominating Commission and the former General Counsel for the Florida Department of Transportation. She earned her bachelor's degree from the University of Miami and her law degree from Nova Southeastern University. Zanotti-Cavazzoni is the senior adviser of Organizational Transformation for CONMEBOL and the former senior vice president of Latin America for Millicom International. He earned his bachelor's degree in electrical engineering from the Pontifical Catholic University of Rio Grande do Sul and his master's degree in business administration from Universidad Católica de Asunción in Paraguay. Zachariah is a shareholder at Greenberg Traurig. He was previously appointed to the 17th Circuit Judicial Nominating Commission and is a current member of the American Bar Association. Zachariah earned his bachelor's degree in economics from the University of Pennsylvania and his law degree from UF.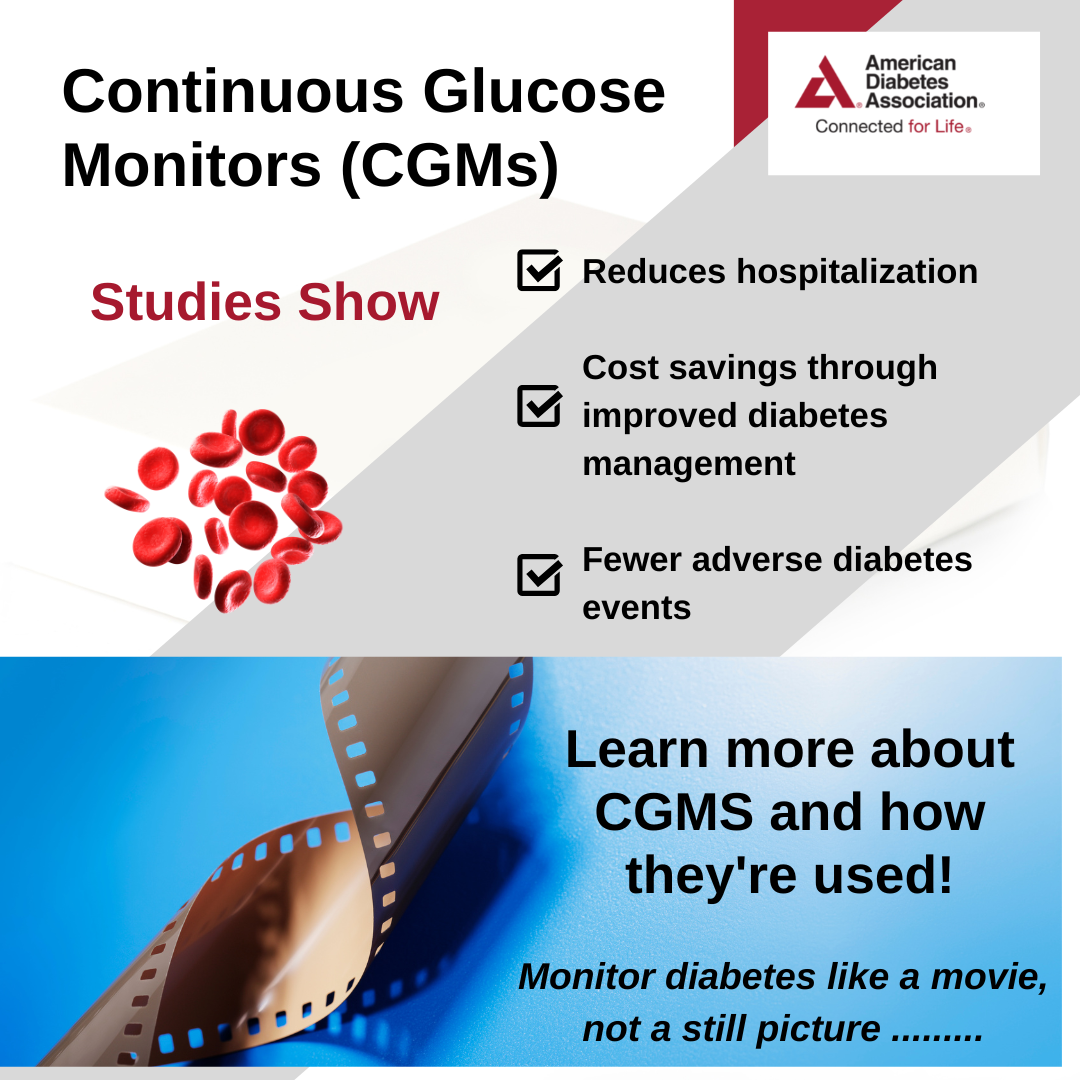 Florida, resilient
As the Legislature takes its look at DeSantis' "Framework for Freedom" budget, the Department of Environmental Protection announced record funding for resilience — efforts that try to deal with the existential issue of climate change without acknowledging words or phrases that make the Governor politically uncomfortable.
DEP awarded more than $28 million through 128 planning grants statewide to help local communities prepare for stronger storms, more-intense flooding and rising sea levels through 222 local government vulnerability assessments.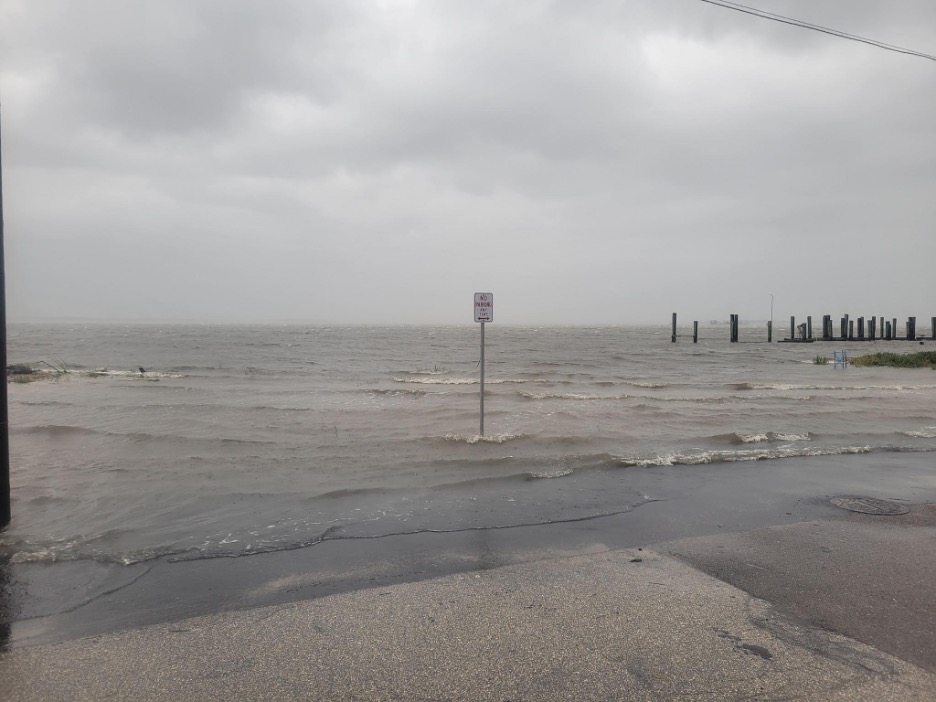 "Gov. DeSantis has consistently encouraged DEP and the Statewide Office of Resilience to empower local communities to better understand their unique flood vulnerability and to begin designing effective adaptations to reduce current and projected flood and storm surge risks to their residents and infrastructure," said Chief Resilience Officer Wes Brooks.
"This round of Resilient Florida planning grants reflects the state's ongoing commitment to supporting these critical efforts across inland and coastal communities, and I'm proud that Florida is on track to ensure that every county and municipality in the state has completed an up-to-date and comprehensive vulnerability assessment by 2026, consistent with the Governor's Executive Order 23-06."
Once the assessments are complete, all Florida counties will have completed a vulnerability assessment and be eligible for inclusion in the Statewide Flooding and Sea Level Rise Resilience Plan.
DeSantis also recently announced awarding more than $275 million for 75 resilience projects using funding already appropriated through Resilient Florida to protect communities from flooding and storm surges.
Pay down, Sally
Five Panhandle counties battered by Hurricane Sally in 2020 will receive $63.5 million in grants from the Department of Economic Opportunity, the agency announced this week.
"Under Gov. DeSantis' leadership, Florida's hurricane recovery process focuses on repair and resilience, going beyond replacing what was lost and ensuring communities are prepared for the next storm," DEO Acting Secretary Meredith Ivey said. "We encourage local governments in panhandle communities to apply for funding to support their communities' recovery efforts."
Sally's eye made landfall in Alabama but brought hazardous winds and rain to Bay, Escambia, Okaloosa, Santa Rosa and Walton counties.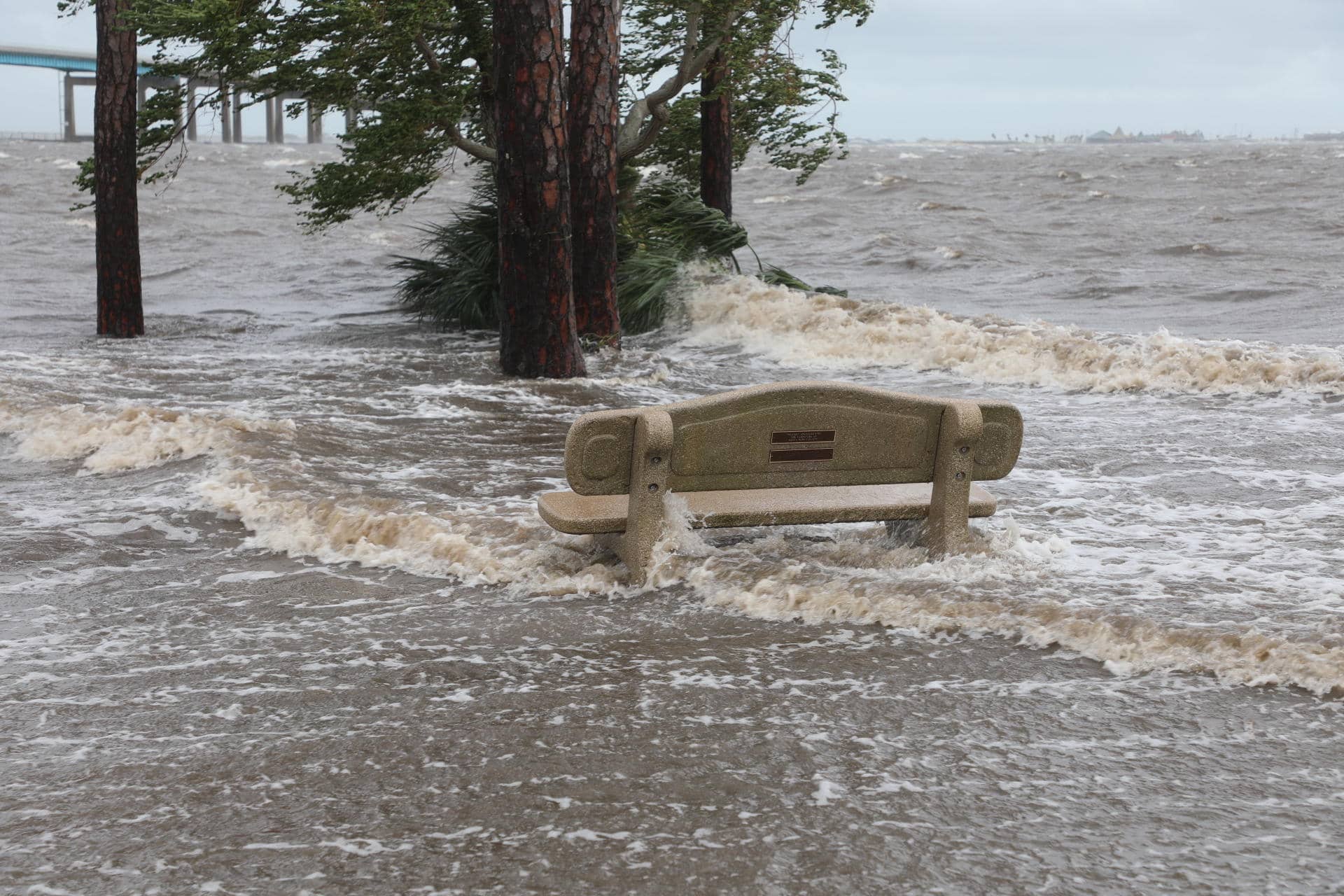 Those counties will receive $13.5 million to restore business and economic activity through the Hometown Revitalization Program, $5 million for local workforce development boards through the Rebuild Florida Hurricane Sally Workforce Recovery Training Program, and $45 million to repair or replace damaged homes through the Housing Repair and Replacement Program.
The grants are funded by the federal government through the U.S. Department of Housing and Urban Development's Community Development Block Grant-Disaster Recovery Program.
The deadline to apply for the Hometown Revitalization and Workforce Recovery programs is 5 p.m. May 1. For the housing replacement program, the deadline is 5 p.m. May 15.
Click here for more information on Hurricane Sally's grant programs.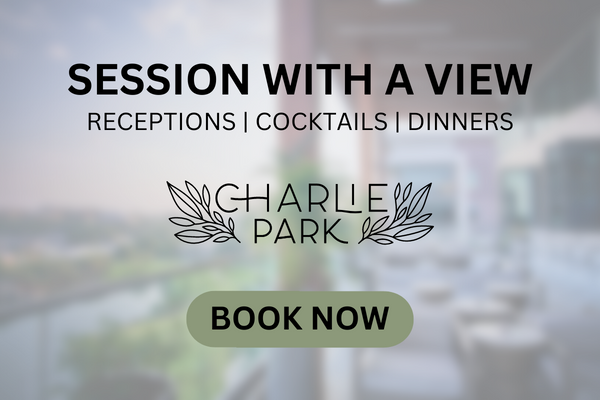 Go fish!
The Florida Fish and Wildlife Conservation Commission is about to embark on a massive project to restore aquatic habitats around Lake Kissimmee.
How massive? The commission said it will be putting about 325,000 native aquatic plants in the ground — or water, actually — across nearly 35,000 acres of land. The end goal is to bring the world-renowned sportfishing lake back to its former glory.
The greenery will include 180,000 maidencane and 66,000 paspalidium, both of which are species commonly known as Kissimmee grass. The remaining 77,000 or so will be bulrush plants, a type of perennial sedge.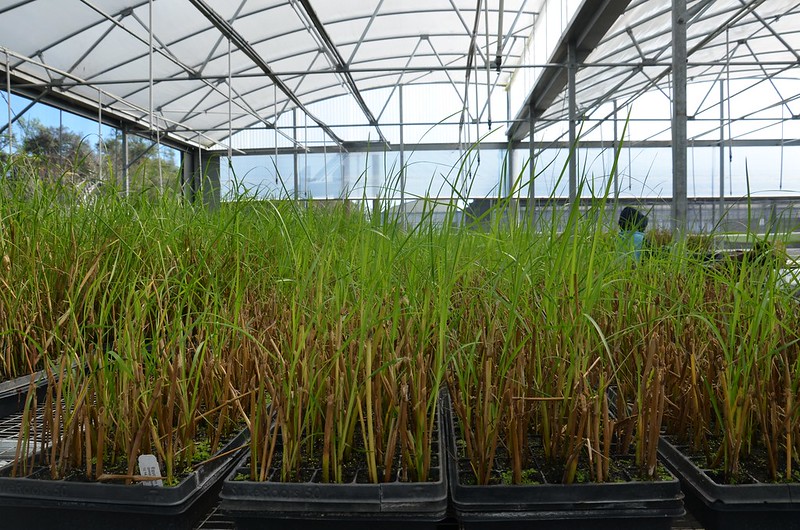 The plants will take root on the northern and eastern shorelines of the lake as well as North Cove. They will be planted in 1-to-2 feet of water within the lake's marsh. FWC said Phase I of the, which saw a contractor grow 66,000 paspalidium plants in a nursery, is nearly complete.
Invasive apple snails deserve a disingenuous thank you card for the project since, according to FWC and others, it has literally eaten the native fish population's lunch. However, hurricanes and artificially stabilized water levels are also being given a share of the blame.
Once complete, FWC said the plants will provide an "excellent habitat" for fish and many other species of Florida fauna, including the endangered Everglade snail kite. Lake Kissimmee's most prized catches include largemouth bass, bluegill, redear sunfish, and black crappie.
More information on the project can be had with a call to FWC's Aquatic Habitat Conservation and Restoration Section at 407-846-5269, or a visit to the commission's aptly titled webpage "What's Happening on My Lake."
The Women in Blue
The Florida Department of Law Enforcement shouted out some of its top women employees in recognition of the International Day of Women and Girls in Science.
In an over-the-weekend news release, FDLE said many of the people it relies on to put criminals behind bars are forensic scientists, many of whom are trailblazing women.
Those recognized by the department include FDLE Crime Laboratory Analyst Supervisor Theresa Adams, who was elected 2022-2026 President of the Property and Evidence Association of Florida, an organization that promotes education and professionalism of the property and evidence function within the state.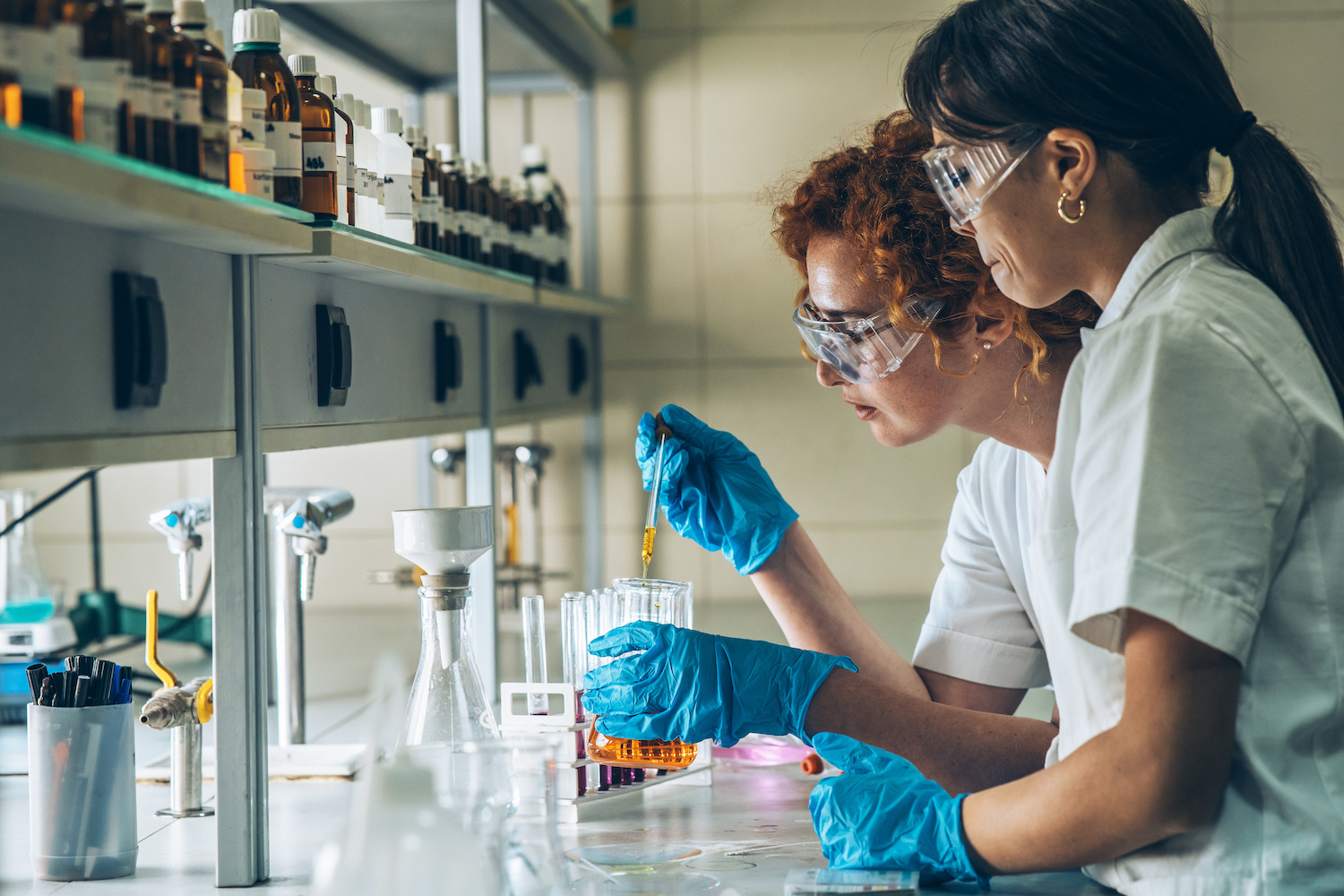 Next up: FDLE Crime Laboratory Analyst Amanda Stratton. Stratton was recognized with the Daniel E. Watts Outstanding Law Enforcement Officer Awards' Meritorious Service Award from Florida's 4th Judicial Circuit for her diligent efforts in a 2018 Nassau County homicide investigation that resulted in a conviction.
FDLE Forensic Technologist Jennifer Spatola is a previous winner of the agency's Distinguished Support Member of the Year award for her extensive research on a new chemical called Nile Blue for the development of latent prints.
Finally, FDLE Senior Crime Laboratory Analyst Corey Crumbley was awarded the 2022 FDLE Forensic Scientist of the Year award. The biology and DNA expert wears many hats: She's a CODIS Administrator, the principal instructor for Crime Lab Analyst trainees, and serves on training committees beyond her region, among several other things.
In addition to the women who were individually recognized for their achievements, FDLE Crime Laboratory Analysts Rachel Aponte, Molly Carter, Maria Hiott, Victoria Kipker and Jennifer Eatmon, along with SeniorCrime Laboratory Analyst Michelle Mullins, Assistant Quality Manager Jillian White, and Database Administrator Xujing Sun were part of the team that won the 2022 Innovation of the Year agency award.
Meanwhile, FDLE Crime Laboratory Analysts Jennifer Lewis and Lauren Huene, as well as Crime Laboratory Analyst Supervisor LeAndra Higginbotham were part of the Toxicology team that received the 2022 Contribution to Criminal Justice agency award.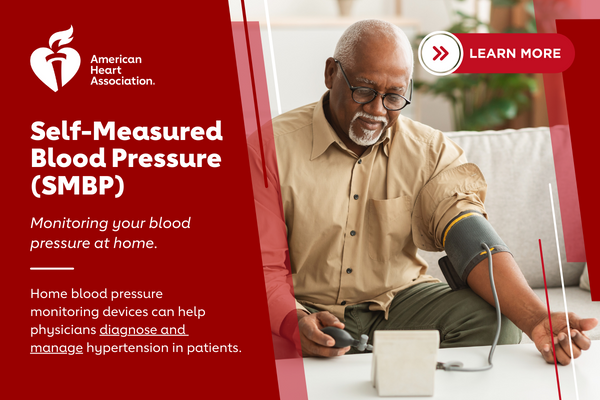 Checks and balances
There are no checks and balances in Florida's government according to Sen. Tina Polksy.
At a Tuesday news conference, the South Florida Democrat said the Florida Legislature and the state judicial branch have lost their independence, giving Gov. Ron DeSantis control over all three branches of Florida's government.
She noted that in the most recent Special Session, the Florida Legislature agreed to pass bills to fix three legal problems DeSantis was facing: his legal tussle with Disney over Reedy Creek, his illegal removal of Hillsborough State Attorney Andrew Warren, and the use of state funding to relocate migrants.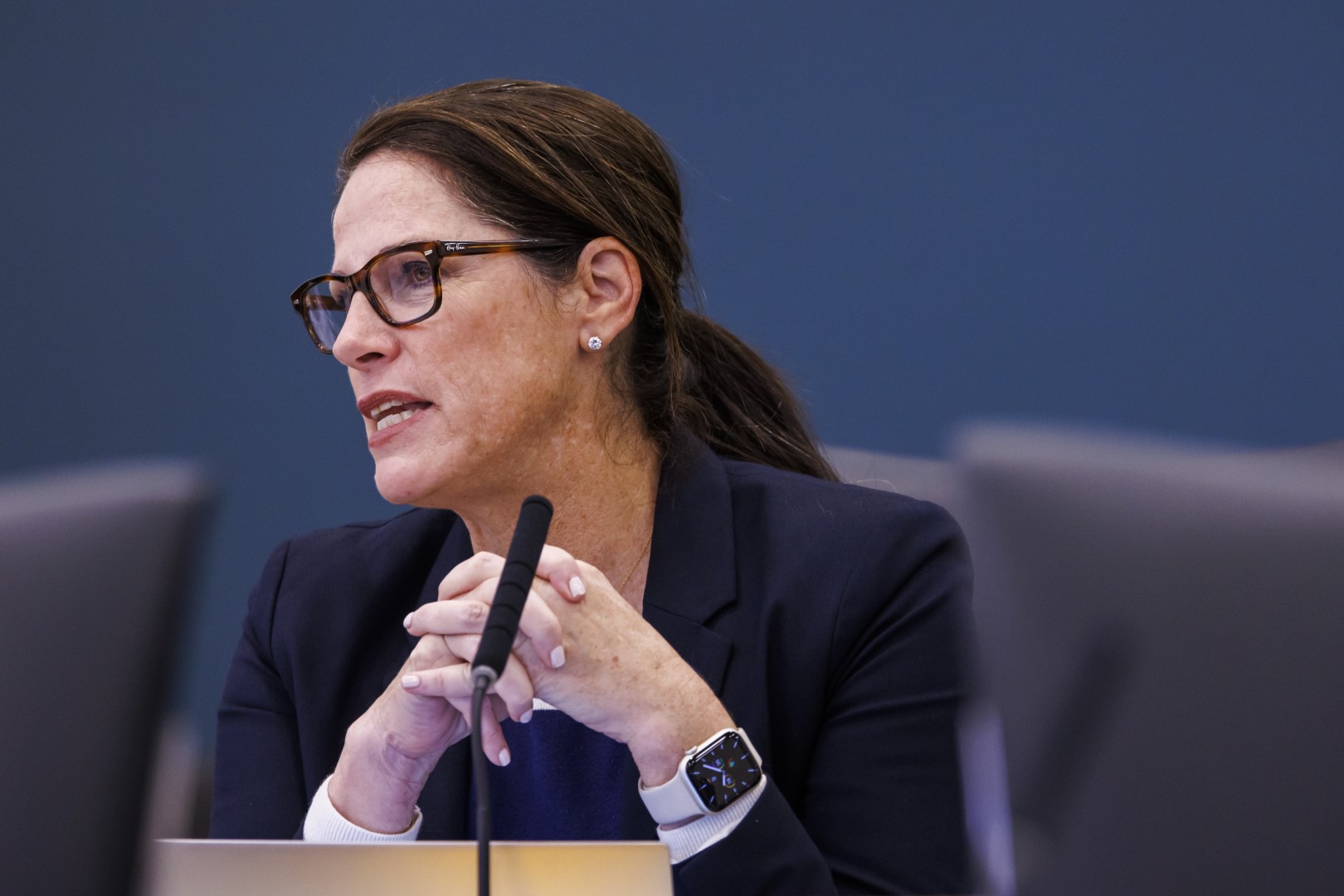 "He took executive action and in the most dictatorial fashion imaginable, he had the Legislature change the laws to fit his executive actions," she said.
Moreover, Polsky noted that there was a flurry of judicial vacancies following DeSantis's election and the Governor has had scores of appointments to appellate courts.
"Obviously the Governor is entitled to appoint judges and to his luck, there were quite a few who retired at the time he came in. He appoints the most conservative justices he can find from the Federalist Society," she said.
"It is politics wrapped up in the judiciary and it's completely inappropriate. So, we no longer have that backstop that Florida always had. But nothing untoward was done in those nominations except the choices I believe he made were purely political not based on judicial merit."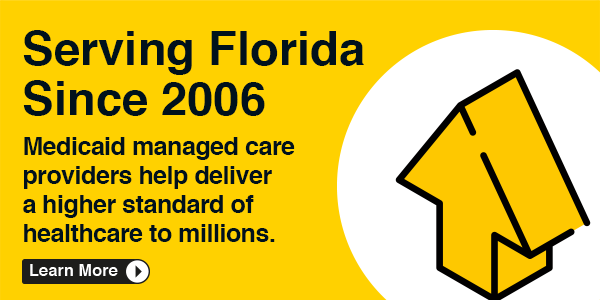 Disclosure before discovery
Sen. Linda Stewart wants landlords and property management groups to disclose in writing to tenants, and prospective tenants, whether a rental property is in a flood zone.
"With the unexpected flooding in many communities brought upon us by hurricanes Ian and Nicole, it's important that we provide transparency to tenants. This communication serves to benefit both landlords and tenants," Stewart said in a news release announcing the filling of SB 716.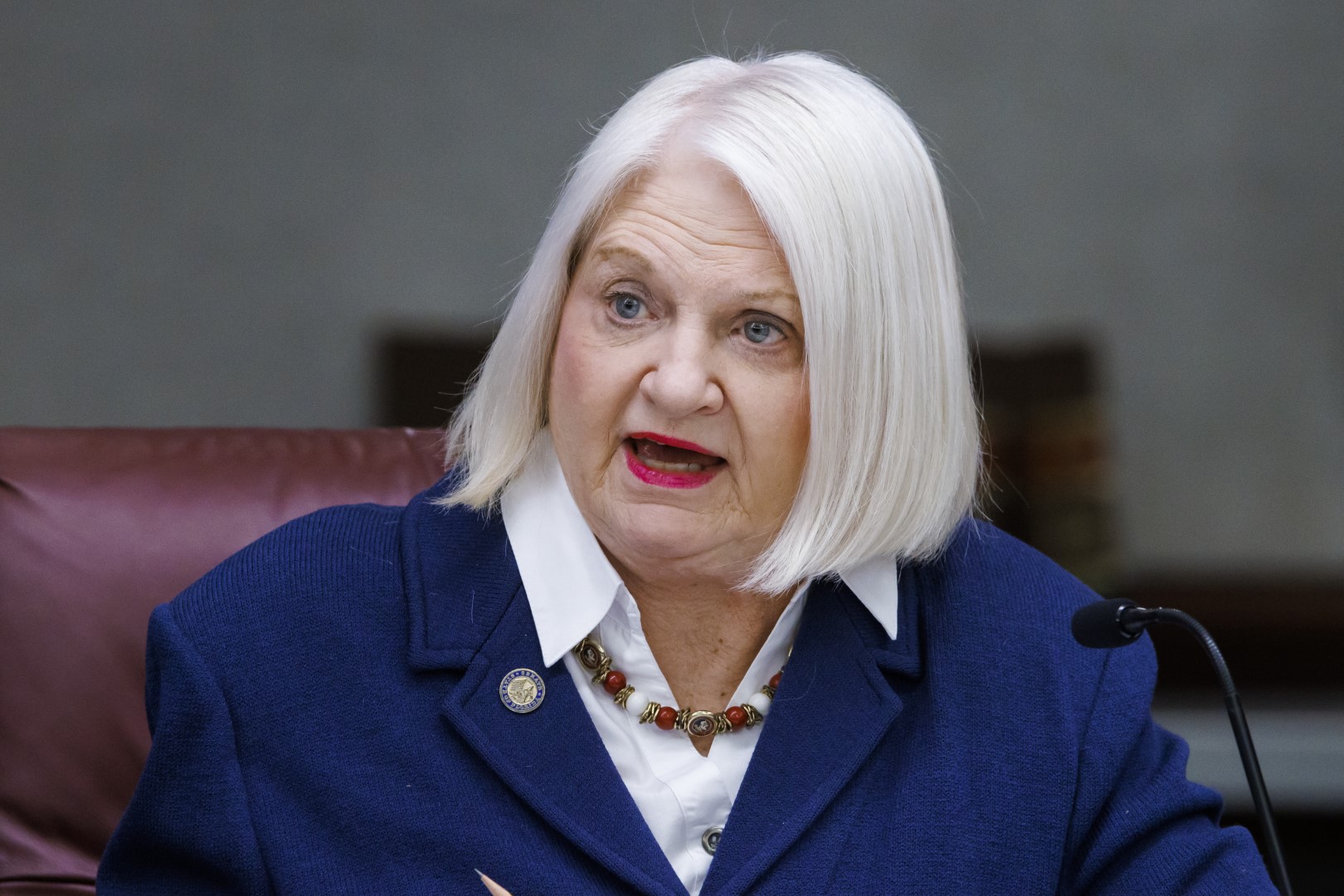 If the property is located within a flood zone the disclosure must include the risk designation and the Federal Emergency Management Agency's definition of the designation.
"Having the knowledge of this risk may encourage the purchase of flood insurance and will better inform tenants on how to prepare for storms," said Stewart.
The bill makes clear that the notification must be in writing and allows for notification to be sent via email.
Stewart filed the bill this week. To date, it has not been referred to any substantive committees, and there is no House counterpart.
Protecting pregnant prisoners
Undeterred by last year's defeat, a pair of Democratic lawmakers are pushing for changes to state law to ensure that pregnant prisoners receive proper health care.
Rep. Diane Hart and Sen. Shevrin Jones are dubbing their efforts "Ava's Law," in memory of an infant who died after her mother gave birth to her in an Alachua County jail cell block.
Hart said she prays for Erica Thompson, Ava's mother, and was honored to file the bill, HB 779.
"While this legislation will not bring Ava back, it will ensure that no other mother or child will have to experience what Erica and Ava did in that county jail," she said.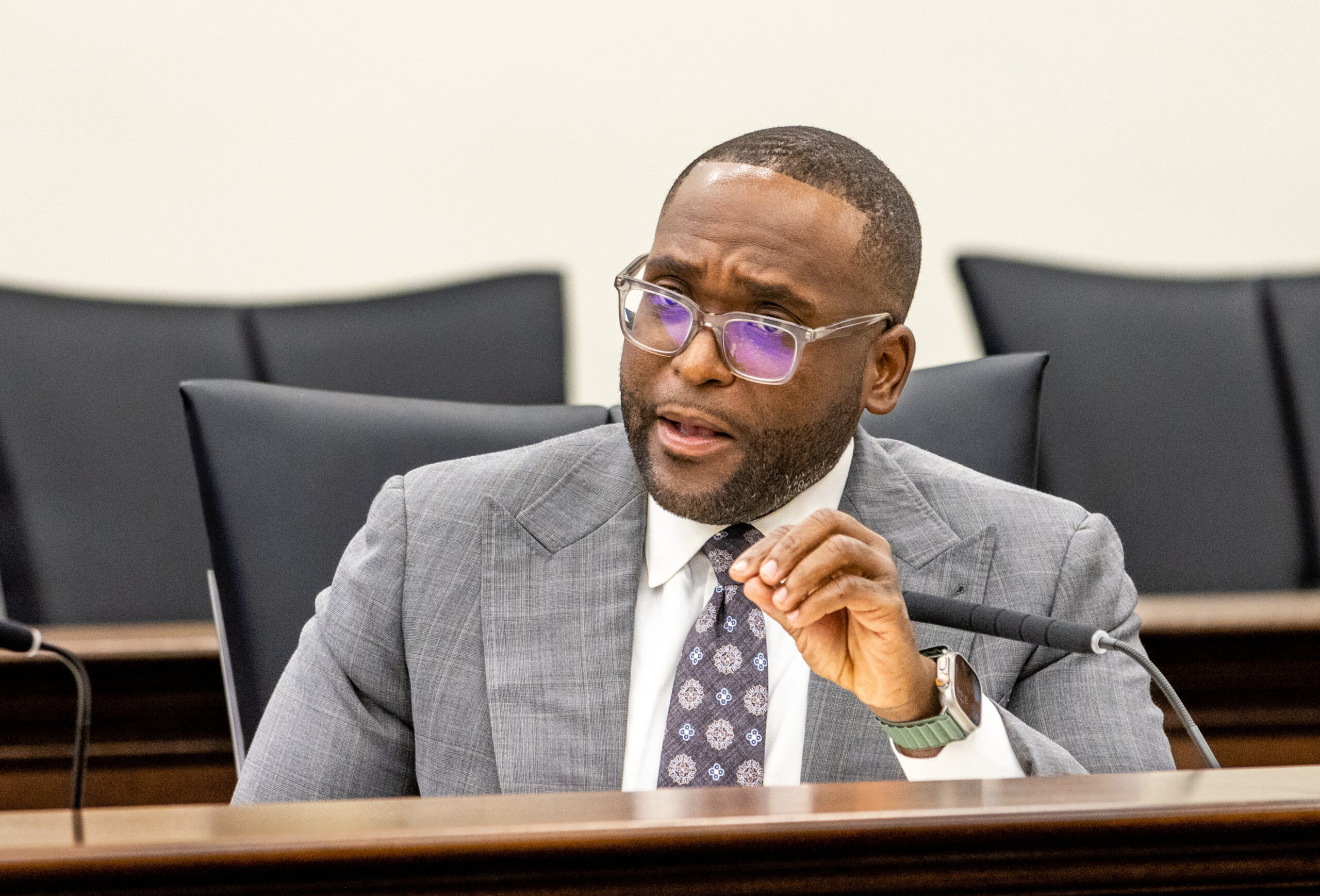 Jones continues his fight in the Senate for the legislation, which he said takes a "crucial step forward in the treatment of pregnant women who are incarcerated in Florida."
The bills would allow every woman who is arrested but not released on bond within 72 hours to request a pregnancy test. If requested, the test must be administered within 24 hours.
The bills also would allow a judge to stay the sentence for any convicted pregnant woman. Under the proposals, judges could stay the period of incarceration for up to 12 weeks after the pregnant woman gives birth or is no longer pregnant.
In considering whether to stay the incarceration a judge must consider the severity of the offense; whether the defendant was previously convicted of a felony; the rights of the crime victim; and whether staying the incarceration is "consistent with protecting the life health and safety of the unborn child and its life during the first 12 weeks after birth."
The bills require the Department of Corrections to publish quarterly reports about sentences that were stayed and the number of births (including live births and stillbirths) among those women. The bill also requires the department to collect statistics about the number of women
"By ensuring that every woman in custody has the right to a pregnancy test, we can avoid the tragic circumstances that befell Erica Thompson and her daughter Ava after whom this bill is named," Jones said in a statement.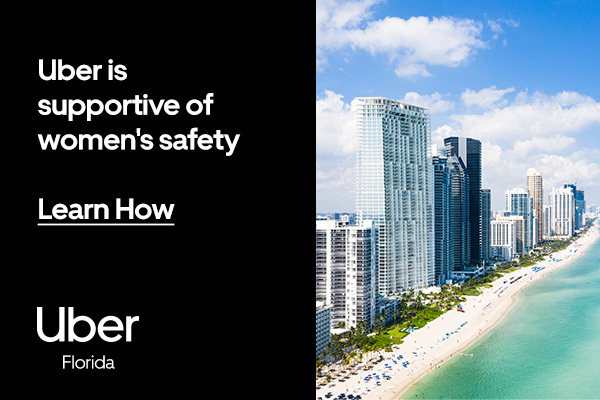 'Never Again'
A pair of lawmakers want to enshrine Jan. 27 as Holocaust Remembrance Day in Florida.
Filed by Sen. Lori Berman and Rep. Rita Harris, SB 832 and HB 863, respectively, would require the Governor to annually proclaim the date as "Holocaust Remembrance Day." The bills also required that day be "suitably observed" in public schools, the state Capitol "and elsewhere as the Governor may designate."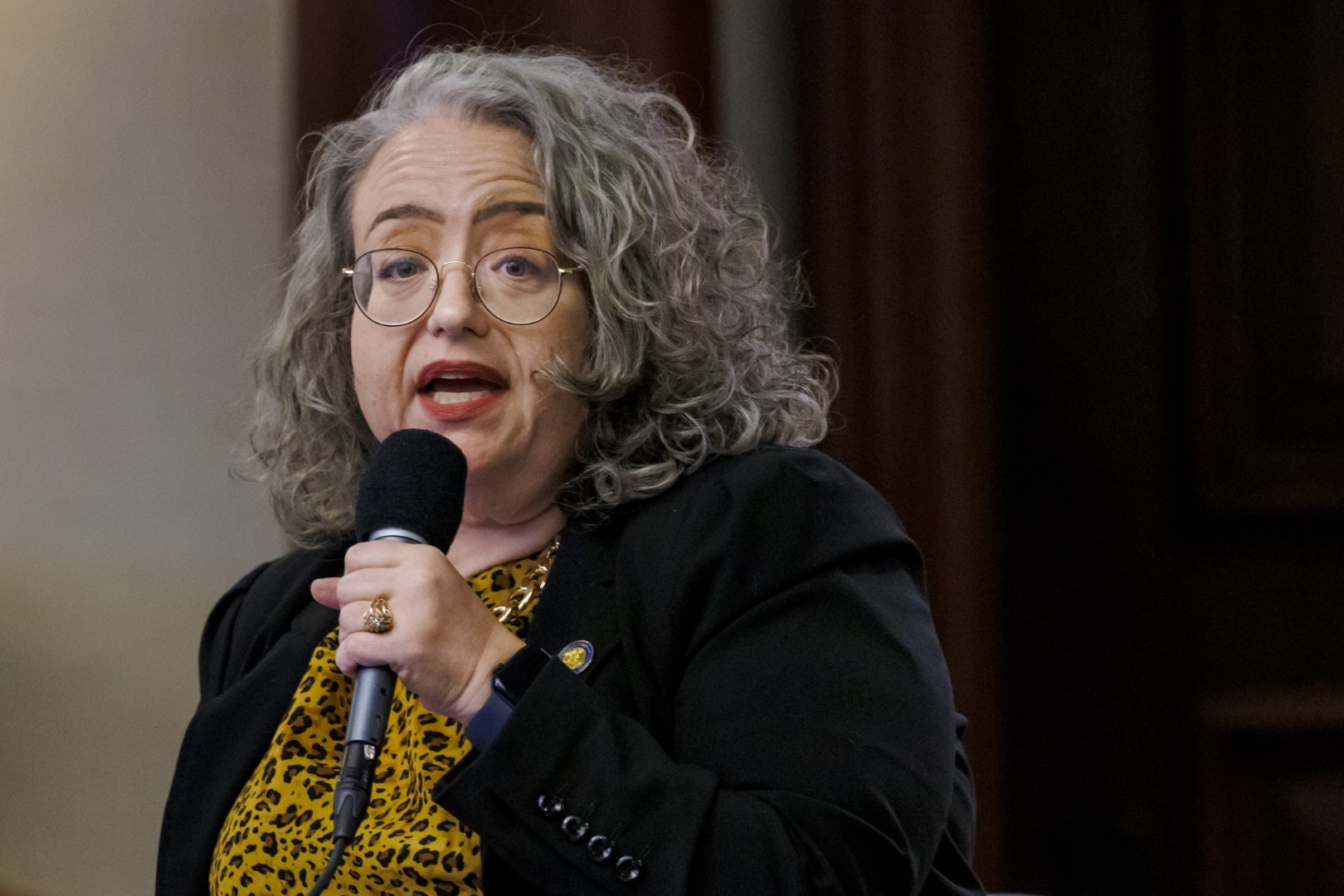 The bills come as the state has seen an increase in antisemitic incidents. According to the Anti-Defamation League, there was a 50% increase from 2020 to 2021 in the number of antisemitism incidents in the state. Moreover, the organization tracked more than 50 incidents in 2022.
"The history of the Holocaust offers us an opportunity to reflect on the moral responsibilities of individuals, societies and governments to remain vigilant against hatred, persecution and tyranny," Berman said in a news release.
"Sadly, the vitriol and vandalism continues at an all-time high in Florida and this destructive path is clearing the way for more hate. It is more important than ever that we recommit ourselves to the principle of 'Never Again' as we continue to see heightened attacks on Jewish people."

Harris noted in a statement that an antisemitic incident occurred in Orlando in the House District she represents.
"This bill to observe Holocaust Remembrance Day and further education about the Holocaust and harmful impacts of antisemitism sends a message to all Floridians that our diverse community is what makes Florida so special and despite these hateful attacks, everyone is welcome here," she said in a release.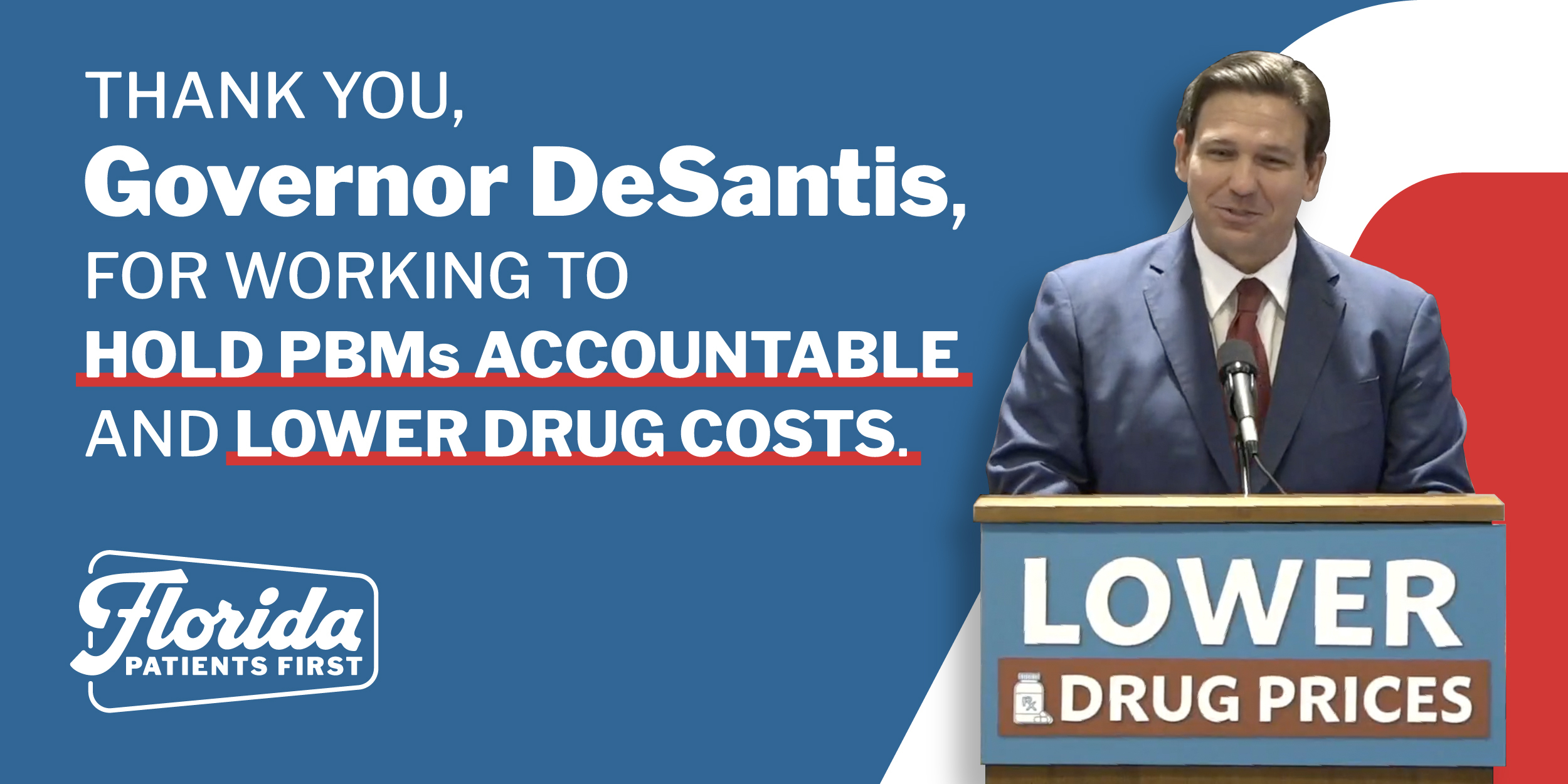 Hock'd and loaded
Rep. Michele Rayner-Goolsby has a few thoughts to share on an important topic in the culinary world: Collard greens.
Well, not exactly. The St. Petersburg Democrat announced this week that she would be hosting a panel discussion at the Tampa Bay Collard Green Festival. The substance of her remarks will be about food insecurity, access, public health and community.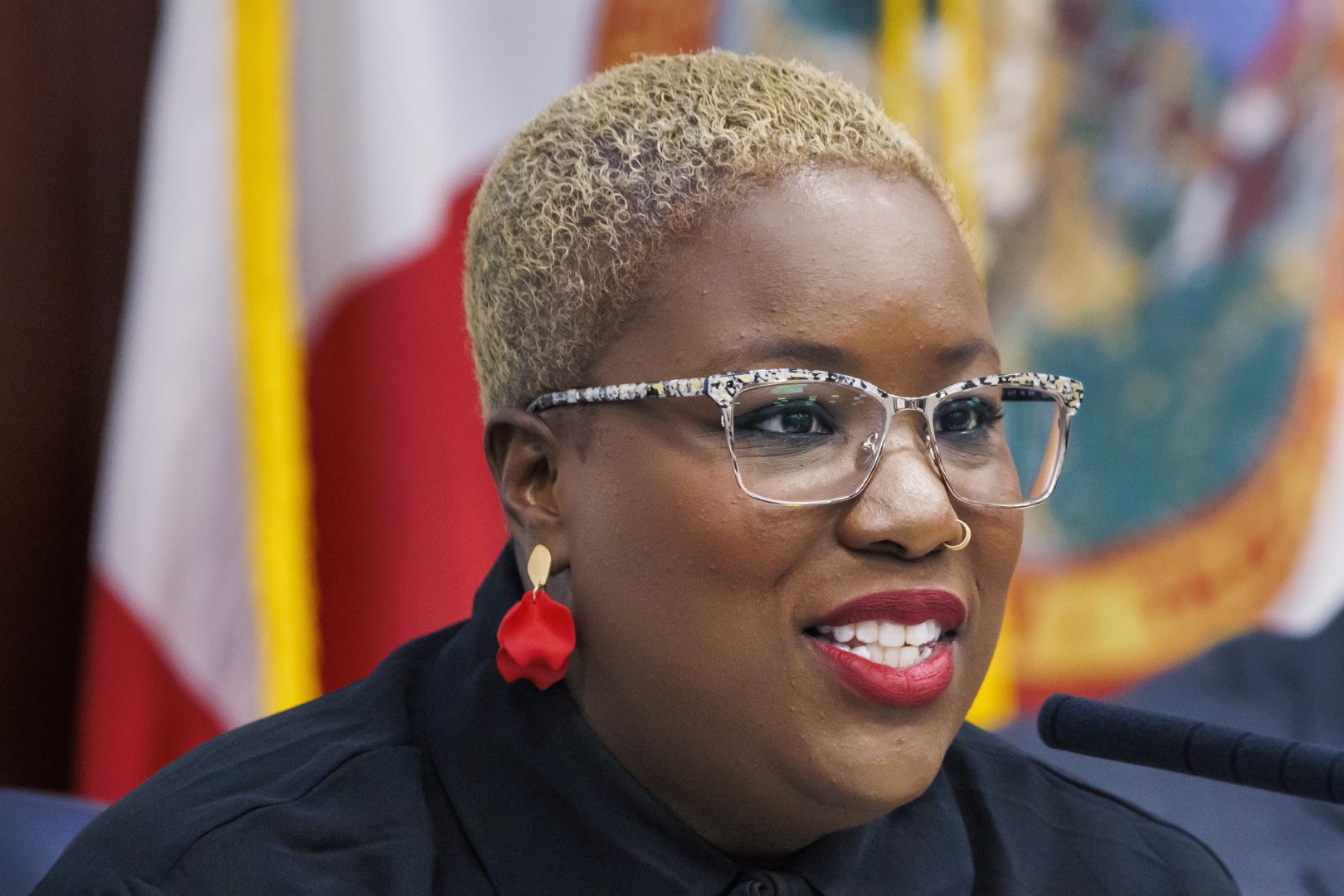 The festival is a joint effort of the Dr. Carter G. Woodson African American History Museum and Publix. Attendees will be treated to live music, a block party and a lot of great food. One of the cornerstone agenda items is a collard greens competition where the top three contestants in two categories — hock'd and meatless — will win cash prizes.
The festival will also emphasize education in food consumption, agricultural science, and improved lifestyle choices and fitness with special attention paid to health care disparities within the Black, Brown, and African American populations through the museum's "Health is Wealth" initiative.
The event will be held from 10 a.m. to 5 p.m. at the museum, located at 2240 9th Ave. S in St. Petersburg. There is no cost to attend.
Rayner-Goolsby's panel discussion will be held at 2 p.m. on the main stage. Panelists will include registered dietitians and licensed nutritionists Wendy Wesley and Carla Bristol of St. Pete Youth Farm.
More information on the festival is available online.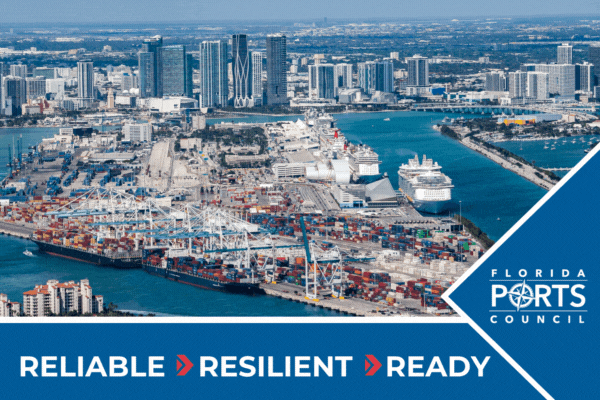 Give 'em a break
A House panel this week advanced a bill that expands the definition of first responder in Florida's tax code to include those who work for the federal government.
The move, by Broward Democratic Rep. Marie Paule Woodson, means that the ad valorem tax exemptions of a first responder working for the federal government killed in the line of duty will be extended to the surviving spouse.
Currently, those exemptions are extended only to the spouses of first responders employed by state or local governments.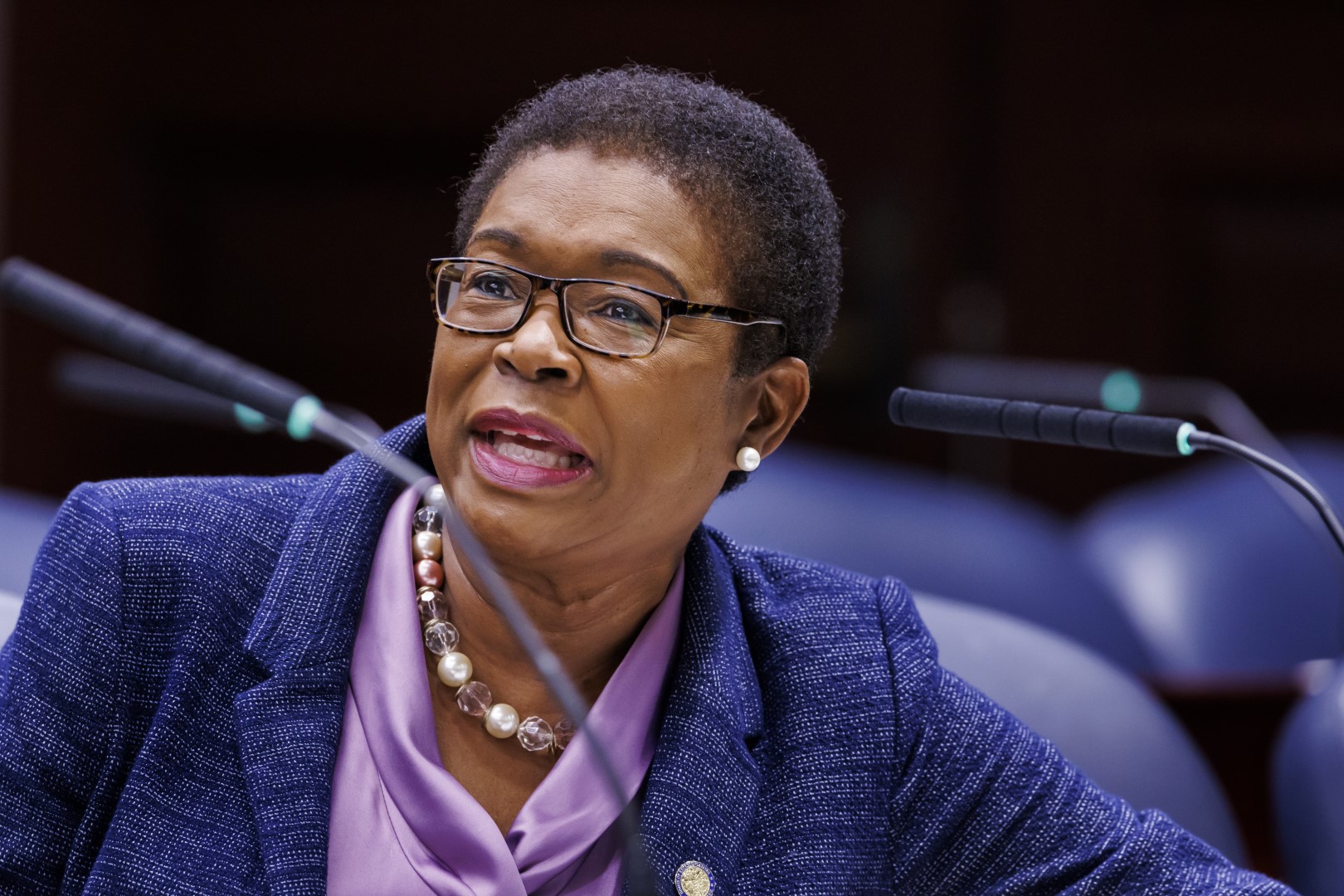 "This bill is completely bipartisan, and I thank my colleagues for their unanimous support. I also want to thank Broward County Property Appraiser Marty Kiar for working with me on this bill. I'm looking forward to moving this vital piece of legislation forward," Woodson said.
Ad valorem taxes are annual taxes levied by counties, cities, school districts, and certain special districts. These taxes are based on property values as determined by county property appraisers Jan. 1 of each year.
If passed, the ad valorem tax exemption would apply to the 2024 tax year.
Florida's top economists said that while the proposed change would reduce tax revenues, the impact on local governments would be insignificant.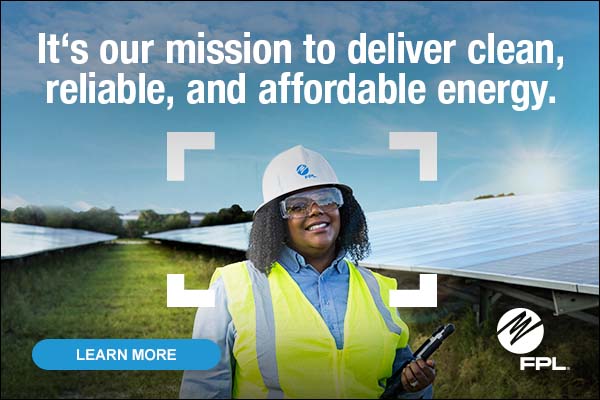 New digs
FAMU continues to expand its on-campus housing options for new and returning Rattlers.
The institution announced this week that it purchased a 57-unit, seven-building apartment complex on Eugenia Street using $12.7 million in funding from the U.S. Department of Education.
Formerly known as Citivue at Railroad Square, the space has been renamed Rattler Pointe East. It sits a short distance from Rattler Pointe West, a 118-bed apartment complex it bought last October that was formerly known as the Light House at Brooklyn Yard.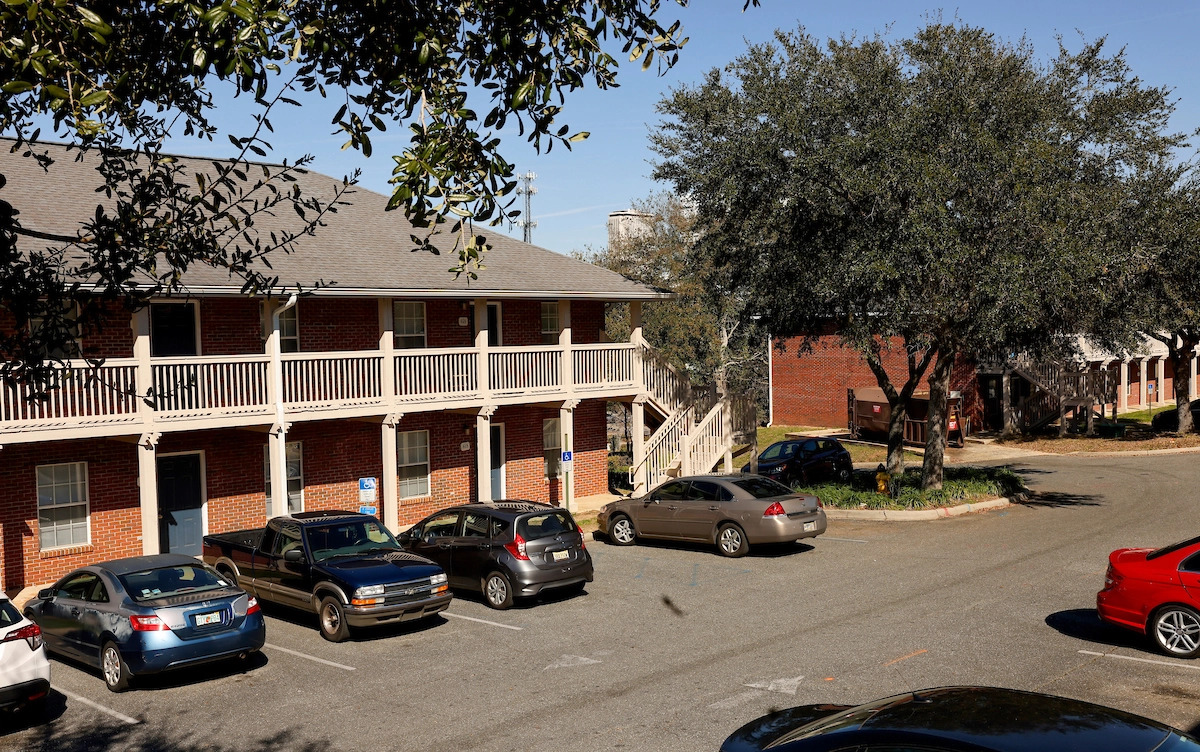 The two acquisitions are part of the university's master plan which calls for it to add additional on-campus housing options for 2,000 students. The goal is to provide on-campus housing options for about 45% of its student population, according to the university.
In addition to Rattler Pointe East and Rattler Pointe West, the university also offers access to 2,450 beds located at Polkinghorne Villages, Samson & Young, Phase III and Palmetto South.
"This is another significant step in the life of our University. Providing quality housing for our students is in keeping with our mission and strategic priorities," FAMU President Larry Robinson, Ph.D., said in a news release.
Vice President for Student Affairs William E. Hudson, Jr., Ph.D., agreed.
"This gives us the opportunity to continue enhancing our housing portfolio," said Hudson. "This is only a phase. We have other plans to continue to increase our on-campus housing. We began this process years ago. This is the fruit of our labor."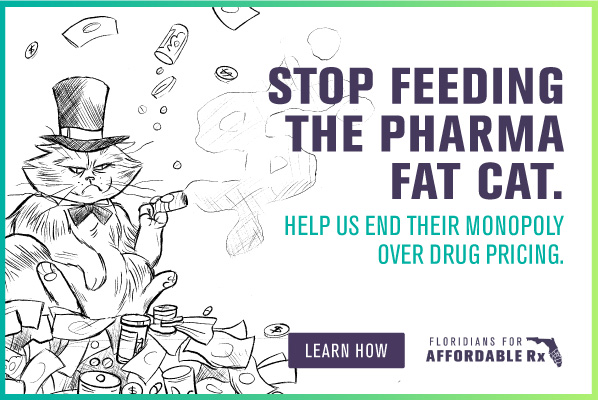 No place for slackers
The good news: More than 71,000 students have applied to FSU for Fall 2023 and that number is growing.
The bad news: FSU expects to enroll 6,000-6,200 first-year students for Summer/Fall 2023.
FSU released its regular admissions decisions this week for those who applied by Dec. 1, 2022. Florida residents who applied for early action received their decisions Dec. 15, 2022.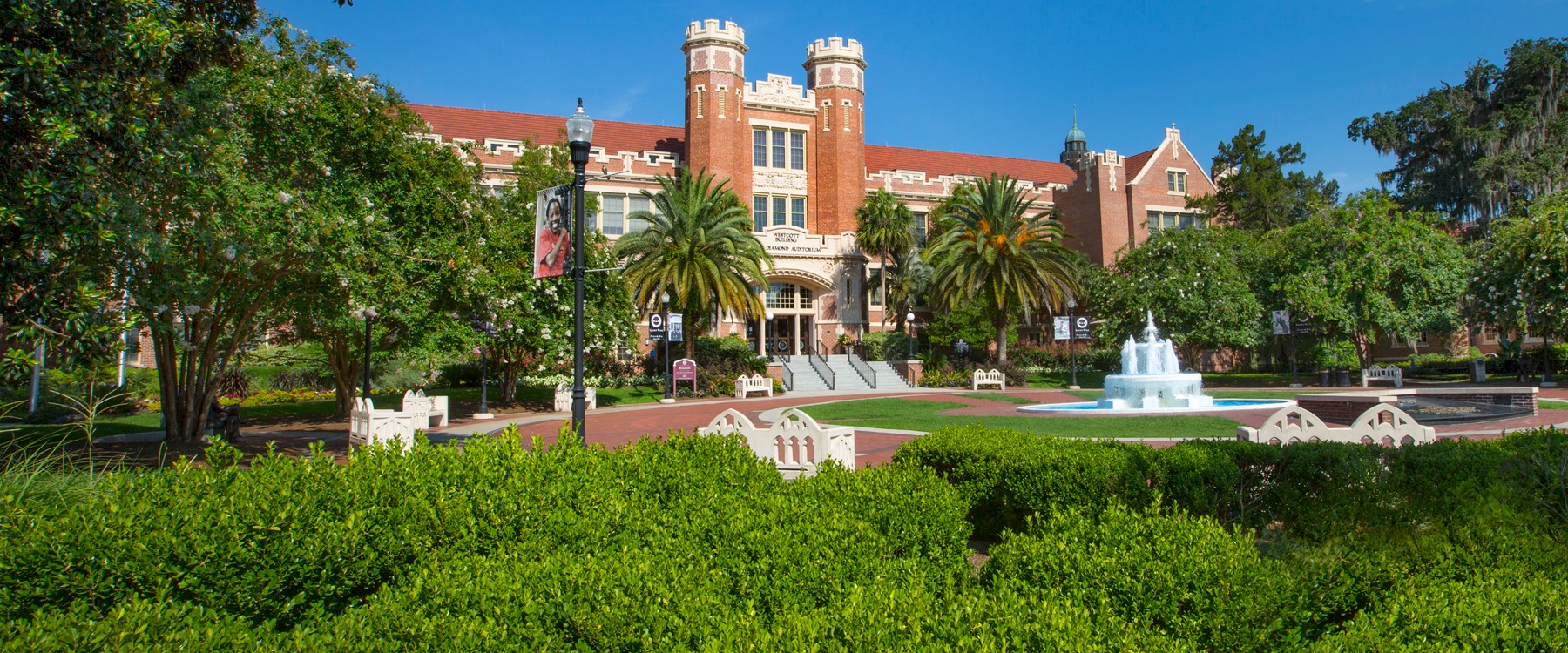 According to the university, 79% of the admitted class to date come from 614 high schools across the state and from all 67 counties. More than one in five, or 22%, of FSU's admitted class are the first in their family to go to college.
To date, the students admitted for Fall 2023 had an average core GPA of 4.4, an ACT composite score of 31 and an SAT total score of 1370. Not surprisingly, 88% of the admitted students are among the top 10% of students in their graduating class.
The top three areas of study for admitted students were business, biological science and engineering.
Capitol Directions

Ron DeSantis — Up arrow — Walker 2016 was wishcasting, DeSantis 2024 is forecasting. There's a difference.
Ron DeSantis — Down arrow — But banning AP is how you lose the white upper-middle-class vote … js.
Richard Corcoran — Up arrow — It's basically one pair of Gucci loafers per student.
Jimmy Patronis — Up arrow — The CFO put a pile of treasure back in the chest.
Wilton Simpson — Up arrow — … and kudos to the Commish for not taking public funding in the first place.
FHSAA — Down arrow — They're about to get Reedy Creek'd.
Atyia Collins — Up arrow — She knows how to do her job. A Cristina Pushaw tweet just confirms it.
Chip LaMarca — Up arrow — Signing day is the first Wednesday in February … and apparently the third Thursday, too.
Gayle Harrell — Crossways arrow — We found the one person who saw "Deck the Halls" in theatres.
Parental Rights — Up arrow — *MOM & DAD used MY HOUSE MY RULES. It's super effective!*
"Billboard attorneys" — Crossways arrow — S'not all good, man.
Florida Bar — Crossways arrow — Look at it this way: The Governor is going to take some of those complaint investigations off your plate.
Ballot amendments — Crossways arrow — Florida Republicans are just making it harder to raise the bar to 100% later.
Roberto Clemente — Up arrow — When's his bio getting banned? Cuando Colón baje el dedo.
Streakers — Down arrow — They'll give you fresh linens and crocs in lockup.
Trulieve — Up arrow — Forget Twitter Blue. It's time for Twitter Green.
JetBlue — Up arrow — If you have any approps requests, the South Florida Delegation is listening.
Tallahassee Memorial — Crossways — Their silence is worse than when the doc tells you to come in to review your test results.
McGruff the Crime Dog — Up arrow — How Scruff'n'dem?