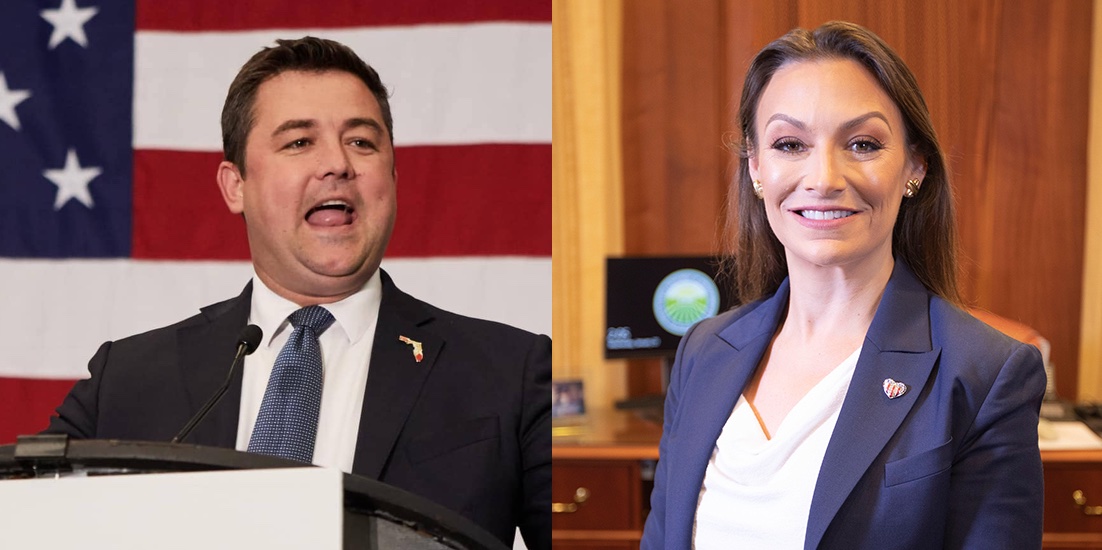 Christian Ziegler welcomed his Democratic counterpart the only way he knows how.
While a battle for party chair appeared to divide Florida Democrats, one group voiced extreme satisfaction with the outcome. Florida Republicans.
After Nikki Fried won the race to lead the Florida Democratic Party, Republicans were eager to voice satisfaction.
Christian Ziegler, the recently elected Republican Party of Florida State Chair, welcomed his Democratic counterpart to her job. He did so with a promised level of aggression.
"Before Nikki Fried can address the 19.4% shellacking at the ballot box and the runaway 650,000 net voter registration gain for Republicans under Ron DeSantis, she is going to have to start by convincing the 65% of Democrats who rejected her just months ago," Ziegler said.
That's a direct reference to Fried's loss in the Democratic Primary last year in the race for Governor. Primary victor Charlie Crist went on to lose to Gov. DeSantis by 19 percentage points.
But Ziegler also tossed some jabs at Fried about her own history in Republican politics, a matter that opponents of her election as State Chair have pointed out since her entry into the party contest.
Just when you thought Nikki Fried couldn't support the Florida GOP more than when she campaigned for a former Republican Senate President and the current Republican Secretary of Education, she goes and takes control of the Florida Democrats," Ziegler tweeted, with pictures of Fried in her lobbyist days supporting former state Sen. Joe Negron's leadership bid and Education Commissioner Manny Diaz's state Senate campaign.
"The Florida GOP appreciates Nikki Fried and the Florida Dems' continued efforts to ensure Republican victory in Florida!"
The official line from the Florida GOP came from spokesperson Julia Friedland who commented after Fried's election, "Radical Nikki Fried who got walloped in the Democrat primary for governor will become the new face of a party that doesn't even like her. That's on brand for a party that clearly has no bottom."
For her part, Fried told the press after her election as Chair she has little use for today's Republicans.
"The Republicans have become radicalized," she said. "They are not the old Republican Party of small government, of less taxes, less spending. Home rule does not exist here in the state of Florida. We are seeing that every single day with the Republican Party that is headed up by Ron DeSantis."
Of note, Ziegler just won his own divisive election, defeating Leon County GOP Chair Evan Power in a contest both had effectively wages for the past five years. After Ziegler won his race on a first ballot, Power was elected as Vice Chair.
But upon Fried's election, Power and Ziegler seemed to hold similar takes.
"I want to thank the Florida Democratic Party for electing Nikki Fried as Chair," he said in a statement. "This is gigantic win for the Republican Party of Florida. Everytime you think the FDP has found rock bottom they seem to continue to dig; today they exploded dynamite at the bottom of that hole."