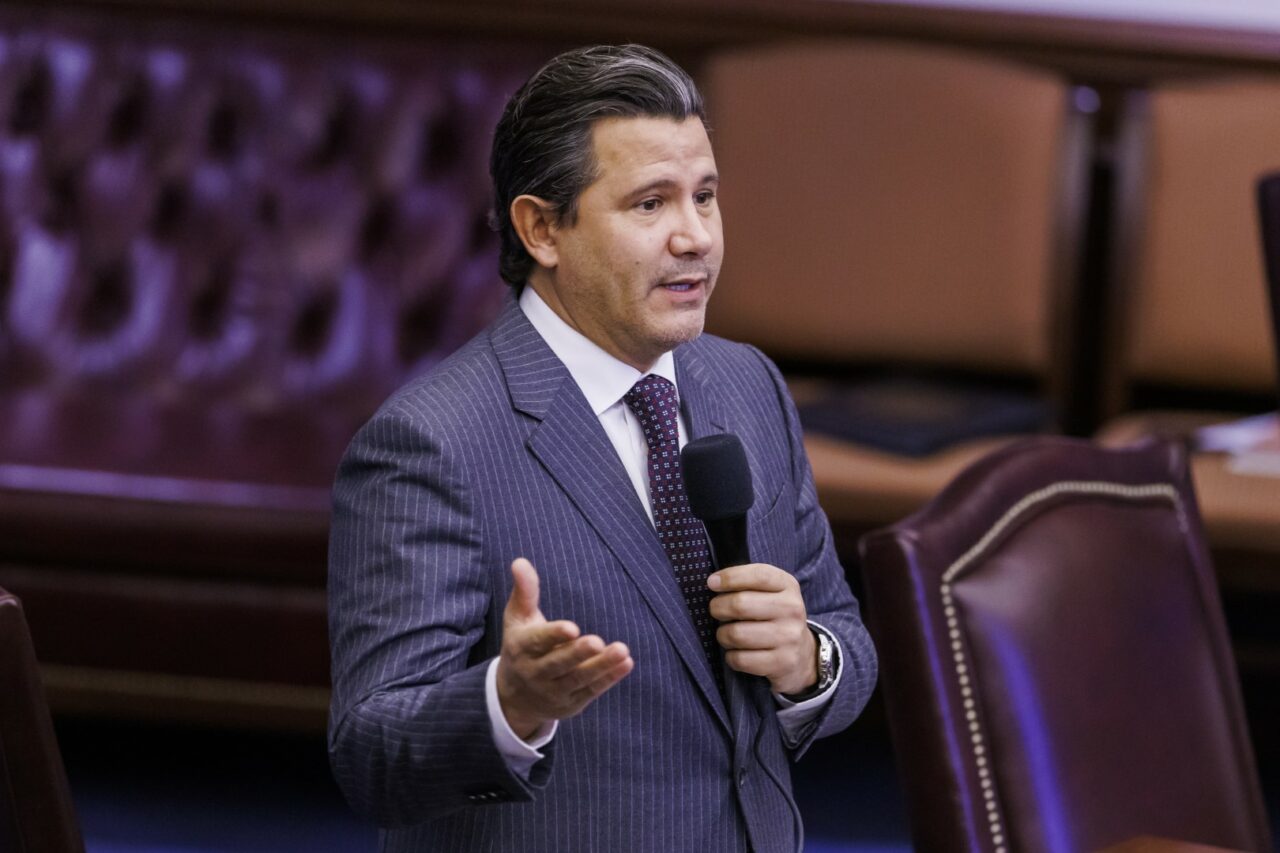 If you don't care about getting credit for the work, Pizzo said, 'you can get a lot done.'
Miami Democratic Sen. Jason Pizzo has — technically — only introduced or co-introduced 13 bills so far for the 2023 Legislative Session.
But he says that number is hardly an accurate representation of his actual lawmaking influence and the number of bills he's had a hand in authoring. He just cares less about getting credit than seeing his priorities succeed.
Take, for instance, a law Gov. Ron DeSantis signed in April 2022 expanding access to the emergency opioid overdose treatment Narcan in Florida, including at public schools. Pizzo tried for years to get his own bill heard that would have done the same. Each year, however, the measures stalled due to Republican opposition.
That changed once the opioid epidemic became a favorite issue for Republicans and Pizzo ceded sponsorship to Republican Sen. Jim Boyd.
It's good Florida now has added safeguards against teen overdoses, Pizzo said. But Republican inaction when he carried the bill caused irreparable damage in the meantime.
"When my Narcan bill didn't get heard for two years because of partisanship, how polarized we are and (Republicans') inability to just acquiesce sometimes for the sake of an objectively good idea, kids f****ing died," he said. "That's dangerous."
He also proposed legislation in 2019 and 2021 that failed to get votes on the Senate floor that would have helped to shore up condominium association accountability. The latter stalled without a hearing less than two months before the Champlain Towers South condo collapsed in Surfside, killing 98 people.
Aspects of those measures were incorporated into a Special Session bill Boyd sponsored last year, which DeSantis signed in May.
Pizzo said those bills and numerous others made clear that being acknowledged for good legislation, which he argued is appropriate when it's earned and politically advantageous, isn't as important as getting the changes made. So, he's decided to do more work behind the scenes to get bills he wants to succeed into the hands of lawmakers who can make it happen — without worrying whether he'll get credit.
That attitude, combined with his growing responsibilities within his party — the Senate Democratic Caucus unanimously elected him to lead them in 2024 —  has translated into fewer bills under his name than in previous years.
Pizzo said that's fine with him.
"No one will remember that in 20 years. But they may remember they were forced to take a tough-love measure to repair something in their building and, because of that, they're still alive," he said. "If you don't have pride of authorship in this process, you can get a lot done."
That's not to say there aren't a few bills in Pizzo's 2023 roster he's hoping will make it into law.
One measure (SB 1508) would help lawyers who serve the public fresh out of law school to repay their student loans.
Pizzo, a former Miami-Dade prosecutor, noted the "ridiculous attrition rate" State Attorneys and Public Defenders deal with in their offices every year. The new bill would create a new program providing $3,000 annually to prosecutors and public defenders in their fifth and sixth years for student loan payments. In years seven through 10, they'd get $5,000 yearly.
Freshman Democratic Rep. Ashley Gantt, a former Broward County Assistant Public Defender, is carrying the bill's House twin (HB 1213).
"Everyone does a three-year commitment at the State Attorney's Office and sometimes the Public Defender's Office, but they've got to pay their bills," Pizzo said.
"With this, we'll be able to tell them, 'We can give you a stipend at an accelerated fashion to keep you in the system and keep you longer.' And it's night and day, honestly, the difference between someone who's been there for three years and someone who's been there five years."
Another bill (SB 1518) would increase the maximum amount payable through Florida's unemployment system from $6,325 to $9,375 over 25 weeks, equal to $122 more per week. Enrollees must still prove they applied for at least three jobs weekly to receive the aid.
Republican Sen. Jason Brodeur sponsored an almost identical bill in 2021 as Florida's economy struggled to rebound from the COVID-19 pandemic. That bill cleared the Senate before dying in the House.
Pizzo said he's sponsoring the bill now because he hasn't forgotten about that time and wants to ensure that if something similar happens in the future, the people most impacted will suffer less.
"Everybody has super-short-term memories about how desperate people were two years ago," he said. "All I'm doing is copying and pasting Brodeur's bill, which had bipartisan support. … But then Brodeur sent it to the House and they killed it."
Florida's unemployment system is using "antiquated numbers," Pizzo continued, and it's time to bring them more in line with the national average.
"These are probably the second-lowest in the country on unemployment," he said. "While I hope we never need it, let's put it to where everyone agreed it should go. This is a statement about how genuine people were two years ago when they expressed consideration for this. It's not about their political status, condition or futures but the viability of neighborhoods and communities."
Then there's SB 1512, which would ban the intentional outdoor release of any balloons "inflated with a gas that is lighter than air" — helium, typically — other than governmental balloons for scientific or meteorological purposes and hot air balloons that are recovered after launching.
Current law allows people to release up to 10 balloons in a 24-hour period. Violators face fines of $250.
Pizzo said he filed the bill as something of a test for his fellow lawmakers. Republican Rep. Linda Chaney is sponsoring its House companion (HB 91).
"I want to see if there's any scintilla of a bipartisan or nonpartisan shift, left or right, and here's something that shouldn't be political that we should all agree on," he said.
"It might sound silly to some people, and I'm sure I'll get Twitter hate for it, but the releasing of balloons is objectively horrible for the environment. It's an antiquated, stupid thing people do. It's the functional equivalent of abusing pyrotechnics for a gender reveal party."
The 2023 Legislative Session runs March 7 to May 5.