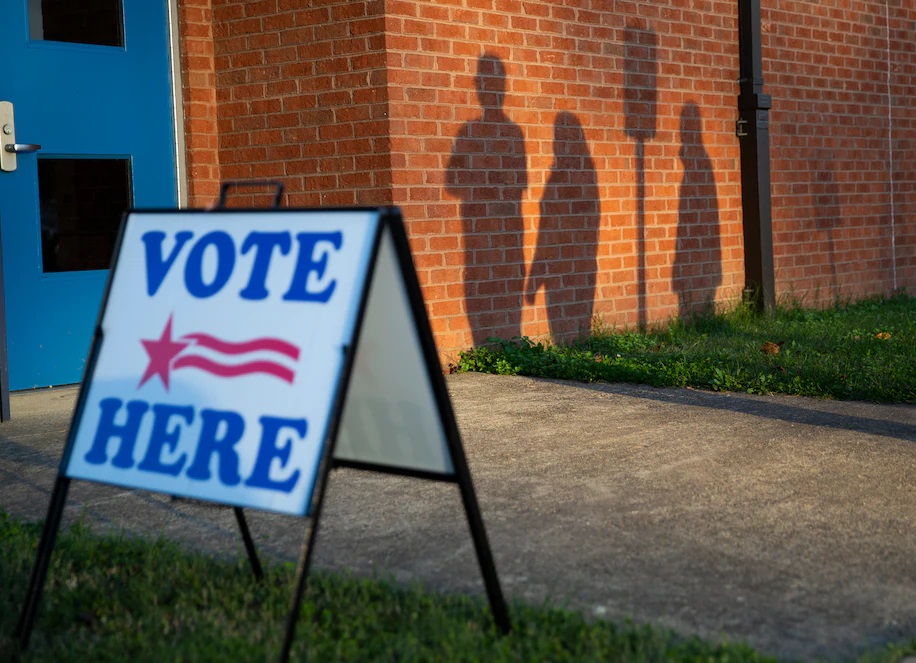 Turnout is expected to be low, but there are plenty of exciting contests.
Races for all but one City Council district and the Mayor's Office are on the ballot Tuesday for Tampa's municipal elections.
District 7 incumbent City Council member Luis Viera was re-elected to his seat without opposition, and Mayor Jane Castor faces only write-in opposition, all but ensuring her re-election once polls close. But competitive races are set up in most other contests.
The races feature two incumbents attempting a seat swap, a battle between an appointed progressive and a political powerhouse, a referendum of sorts on the Mayor, and an incumbent facing a crowded pack of challengers.
Here's everything to know ahead of Election Day in Tampa.
Mayor's race
Castor will appear at the top of the ballot alone. Write-in candidate Belinda Noah qualified for the race, but as a write-in, her name will not appear on the ballot.
District 1
Incumbent Joe Citro, the current City Council chair, is facing a tough re-election, with three challengers hoping to end his tenure on the dais. 
By the numbers, it would appear Citro's toughest challenge is coming from Alan Clendenin, a former foe who lost to Citro and Walter Smith four years ago. Clendenin has raised nearly $95,000 for the race as of March 2. Citro raised less than $59,000. No other candidate reached five figures.
Yet a recent poll shows challenger Sonja P. Brookins, a teacher who serves on the Soil and Water Conservation District, in a statistical tie with Clendenin and a full 7 percentage points ahead of Citro. But it's worth noting that the poll, taken Feb. 28 and Mar. 1, showed more than half of voters yet to cast a ballot were still undecided, so there is plenty of room for Citro to make gains, or for a candidate to pull ahead. 
The other challenger in the race, Chase Harrison, has raised just about $8,500 and polled at just 7% support. He faced some controversy when Creative Loafing did a piece on an internal affairs report from Harrison's tenure as a Tampa police officer that showed 10 sustained violations.
Harrison is a registered Republican, while all of the other candidates are Democrats, though City Council races are nonpartisan and candidates' affiliations will not appear on the ballot.
District 1 is an at-large seat open to voters citywide. Given the crowded field, this race likely is headed to a runoff. If no candidate receives 50% plus one vote, the top two vote-getters will battle it out again April 25.
District 2
The District 2 race features incumbent City Council member Guido Maniscalco, who currently represents District 6, and four challengers, including Maniscalco's former Council colleague, Mike Suarez.
Maniscalco is facing term limits in his current District 6 seat, a single-member district, and is running for a third term in District 2 citywide to restart the term limit clock. He served as Council Chair for one year in 2020 and 2021. 
Suarez served two terms on the City Council, leaving office due to term limits in 2019 and running unsuccessfully for Mayor in the race that delivered current Mayor Castor.
Suarez served four of his eight years alongside Maniscalco, from 2015-2019.
It won't be the first time Maniscalco faces Suarez. Maniscalco lost his first bid for City Council in 2011 to Suarez.
But now Maniscalco has incumbency on his side, while Suarez has been out of politics for the past four years. Maniscalco also has a slight money edge, with more than $67,000 raised as of Mar. 2, compared to just shy of $59,000 for Suarez. 
Two other candidates are also in the race. Robin Lockett is an organizer with the progressive nonprofit Florida Rising, which advocates for social justice. She was among a coalition of activists pushing the City Council last year to adopt rent stabilization, often referred to as rent control, to tamp down soaring housing costs in the city.
Lockett has also advocated across the Bay in St. Petersburg for residents of Childs Park facing persistent odors in the predominately African American community. She's raised more than $22,000 for the race.
While Maniscalco and Suarez are both registered Democrats, Lockett represents the more progressive voice in the race — a feature that may not play well in a citywide race.
The fourth candidate, Michael Derewenko, is not affiliated with a political party. He's raised less than $9,000.
District 3
Perhaps the most high-profile of the City Council races this cycle, the citywide District 3 race features appointed incumbent Lynn Hurtak against former Sen. Janet Cruz and a trio of other less competitive (and poorly funded) candidates. 
The race has been marked by what could be best described as a referendum on Mayor Castor. Hurtak has been part of a three-member coalition to vote against Castor's administration or in favor of measures to erode her executive authority.
Cruz, meanwhile, has something of a familial relationship with the Mayor. Her daughter, Ana Cruz, is Castor's longtime partner. Castor has, not surprisingly, endorsed Cruz and the two share at least some campaign staff. 
Considering those dynamics, the race has gotten heated, with Hurtak recently calling Cruz out for her relationship with the Mayor and her family during an NAACP candidate forum and Cruz following with a backhanded question for Hurtak, asking if she has a problem with gay people. The Cruz campaign has been sending out mailers referring to Hurtak as "Lying Lynn."
While both women are registered Democrats, Hurtak is the progressive darling while Cruz is the more moderate liberal. Hurtak's campaign has ties to local Democratic Socialists.
Also running are K.J. Allen, George Feshev and Jose Vazquez. None have come even close to five-figure campaign hauls, while Hurtak has raised more than $65,000 and Cruz nearly $125,000.
Given the crowded field, it's likely Cruz and Hurtak will have to square off in an April runoff. 
District 4
In another race with ties to the Mayor, incumbent Bill Carlson is facing challenger Blake Casper. Casper filed for the race with just hours left before the qualifying deadline passed, dashing any hopes Carlson might have had of being reelected without opposition. 
Insiders believe Casper was a Castor recruit to challenge Carlson, who has become a frequent critic of her administration.
The matchup, which will be decided Tuesday since no other candidates are in the field, pits a progressive Democrat in Carlson against a Republican who has donated hundreds of thousands of dollars to Gov. Ron DeSantis and former President Donald Trump. 
Casper is the co-owner of Caspers Company, which up until recently was the largest owner of McDonald's franchises in Tampa, including more than 60 locations statewide. Using his vast fortune, Casper has largely self-funded his campaign with $255,000 of his own money poured into the campaign. 
Casper has raised, including his self-funding, more than $333,000, while Carlson has raised nearly $110,000.
Despite the funding disparity, Carlson appears to be holding on. A recent survey from St. Pete Polls showed Carlson leading Casper by a significant margin of 17 percentage points, a strong position considering the undecideds were at just 29% when the poll was taken Feb. 28 and Mar. 1. 
District 5
This downtown area district race features incumbent Orlando Gudes, who faced a damning controversy last year involving an employee complaint alleging Gudes had made inappropriate comments and created a hostile work environment. 
While he did not resign and a sexual harassment lawsuit against him was dismissed, two colleagues — Citro and Viera — called on him to step down. A city probe into allegations against him found Gudes created a hostile work environment and made sexual and misogynistic comments toward an aide, the aide's daughter and Castor. Following the report, Castor said she would fire him if she could.
Now Gudes faces Gwen Henderson who, like him, is a registered Democrat. The race has been quiet and Gudes boasts support from many of the same voters backing Hurtak and Carlson, which could help carry him on Election Day.
Gudes is also backed by stronger finances in the race. He's raised nearly $49,000 while Henderson has brought in just $22,000.
District 6
The West Tampa District 6 features a veteran name in Tampa City Council politics. District 2 incumbent Charlie Miranda is running for the single-member district in hopes of again avoiding term limits and securing a ninth term on Council, where he has served at various times since 1974.  
Miranda, by far, has the funding advantage, with nearly $124,000 raised. His most competitive challenger, Hoyt Prindle, has raised less than $40,000.
At first, it looked like Miranda's support may have been wavering. He opened his campaign with $40,000 in self-funding, and raised just over $9,000 on top of that. Insiders speculated in hushed whispers that many thought it was time for Miranda to retire.
But since early February, Miranda has brought in another $74,000 from mostly top-dollar contributions from groups, political committees, wealthy donors and community leaders. 
Still, Miranda's long tenure on Council and his advanced age could throw a curveball into conventional wisdom in these low-turnout elections. Prindle has been aggressively deploying a grassroots campaign with a message about fresh leadership on the Council. 
Given the crowded field — three other candidates (Tyler Barrett, Rick Fifer and Nicole Payne) are also running — Prindle is likely hoping to force a runoff, which could send a message to Tampa's donor class that Miranda is facing for the first time in a long time a credible threat to re-election.
But even if that happens, Prindle will have a long way to go to quickly re-up his campaign coffers. As of the beginning of March, he retained less than $3,000 while Miranda had about $74,000 remaining in his campaign account. 
While the other candidates have raised limited funds, they aren't exactly tomato cans. Fifer, a local real estate agent, raised more than $14,000. Barrett, a University of Tampa alumnus who has run for the City Council before, has raised more than $11,000. Payne has raised just $6,400, though still enough to garner at least some campaign activity. Those efforts combined could pull enough votes to force a runoff.
And with any election, surprises are never out of the question.
Turnout so far
With vote by mail ongoing and early voting now over, turnout in the Tampa municipal election has reached just over 7%, with 17,503 ballots cast. Most of those, 10,516, have been mail ballots. 
Voter turnout four years ago reached nearly 21%, though that year there was a competitive Mayor's race on the ballot. Turnout this year is on pace to be much less. For example, turnout in the 2015 municipal election, when then-Mayor Bob Buckhorn was similarly the sole name at the top of the ballot facing only write-in opposition, was just shy of 13%.