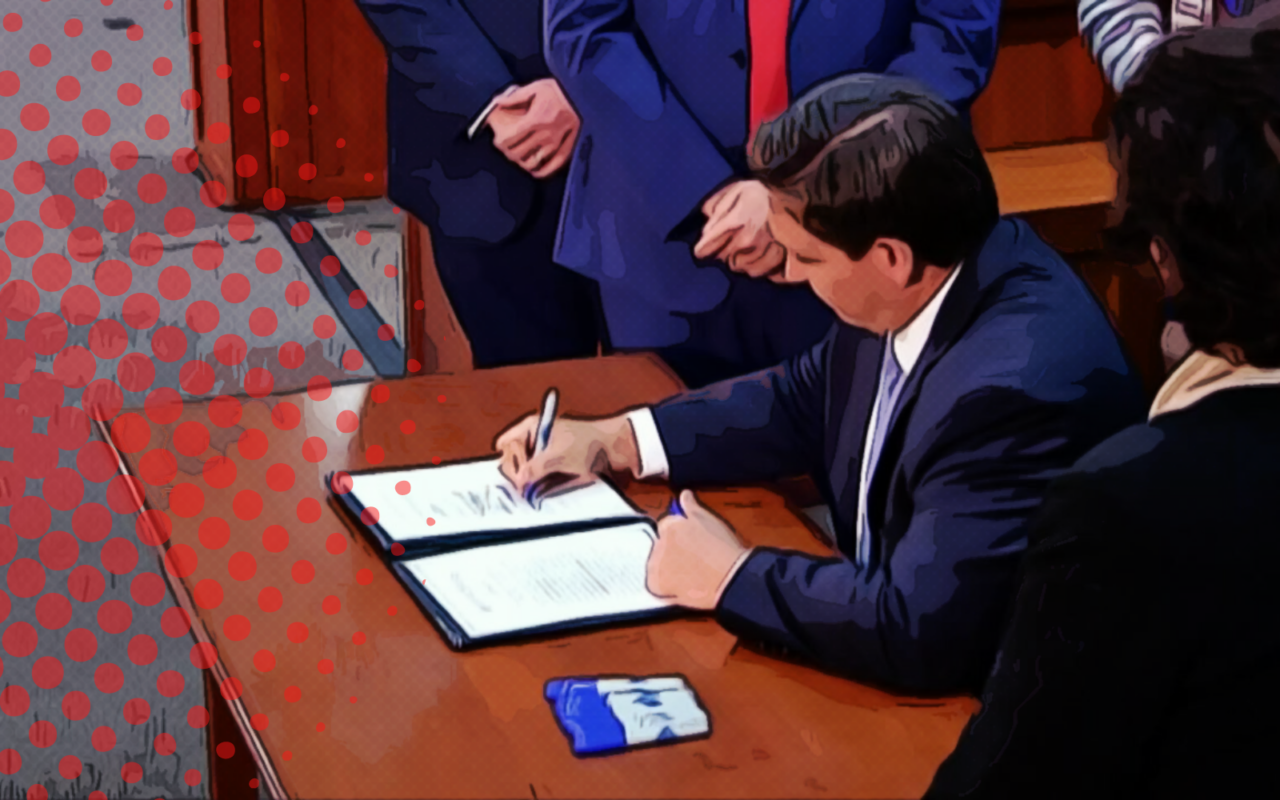 'Whatever utility that these applications have is clearly outweighed by the benefit that the CCP gets.'
Gov. Ron DeSantis has made an executive order he issued last year permanent by signing a measure banning TikTok and other apps owned in seven hostile nations from government devices and networks.
The legislation (SB 258) extends to state and local government agencies, including public universities and colleges, where the installation and use of the apps on government-issued devices and Wi-Fi will either be blocked outright or penalized.
While the measure applies to apps made by any of the "foreign countries of concern" identified in state statutes — China, Cuba, Iran, North Korea, Russia, Syria and Venezuela — the Governor in his remarks singled out China, where the companies that owns TikTok and the popular WeChat messaging app are headquartered.
"The CCP (Chinese Communist Party) has used apps … like TikTok to access personal information and to compile data on Floridians and on the American people," he said Monday.
"What this is doing is, it's blocking access to dangerous applications like TikTok on all government and educational servers and devices … because whatever utility that these applications have is clearly outweighed by the benefit that the CCP gets from data mining and being able to collect information."
Lawmakers last week unanimously approved SB 258, which also asserts the right of government entities to remotely wipe prohibited applications from "compromised" government devices.
The bill, which goes into effect July 1, does not extend to a person's private devices or personal wireless data plans.
Government employees have exactly one month from the effective date to uninstall any questionable apps from their work devices, with exceptions for law enforcement officers who need to use the applications for public safety or investigative purposes.
Public employees who receive waivers from the Department of Management Services will also get a pass.
Zephyrhills Republican Sen. Danny Burgess, the bill's sponsor and one of several officials to attend the bill's signing in Brooksville, described TikTok as "a literal spyware app that has no place on government devices."
"ByteDance, TikTok's parent company, is using the application to collect Americans' personal and sensitive information and feeding it to the communist Chinese government," he said.
"Make no mistake, China is attempting to project power. It is a very real, near-peer competitor. The CCP's goal is to break us from within, whether that means a Chinese spy balloon traversing the American continent, buying our lands or stealing our information through cyberattacks and platforms like TikTok."
Rep. Carolina Amesty, an Orlando Republican who carried a version of the measure in the House, called the bill "an effective plan of action to safeguard our state against a deceitful, digital spy."
"U.S. intelligence experts at the highest level have warned that TikTok is a Trojan horse of the CCP. In Florida, we take this threat very seriously, and this bipartisan measure will help safeguard the privacy of our residents against hostile, foreign actors who are actively working to undermine our security," she said before advising parents, educators and businesses to take similar action.
"I encourage parents, guardians, teachers and employers to echo our sentiment that TikTok is dangerous and that it's being used to undermine our country. Please tell our children about its dangers."
SB 258 was one of three bills DeSantis signed Monday to crack down on the influence China and the other "countries of concern" have in the Sunshine State. The two other measures will restrict the ability of those nations to purchase land near "critical infrastructure," including military bases, and prohibit Florida's public colleges and universities from having monetary or educational arrangements with them.
Agriculture Commissioner Wilton Simpson, Florida State University System Chancellor Ray Rodrigues, Sens. Danny Burgess and Jay Collins, Reps. David Borrero, Jennifer Canady, Jeff Holcolmb and Katherine Waldron, Hernando County Sheriff Al Nienhuis, and Chi-Yu Chou, director general of the Taipei Economic and Cultural Office in Miami, attended the signing.
Some spoke at a podium that read, "Stop CCP Influence."
"If you think of where we are with respect to the CCP, they have established a position of economic might, of industrial hegemony, and their military is far stronger today than it was 20 or 25 years ago," DeSantis said.
"When you see what they're doing in the Western Hemisphere to expand their influence, we really need to have a unified effort in this country to deter the CCP's ambition and influence, and part of that is asserting our economic sovereignty."