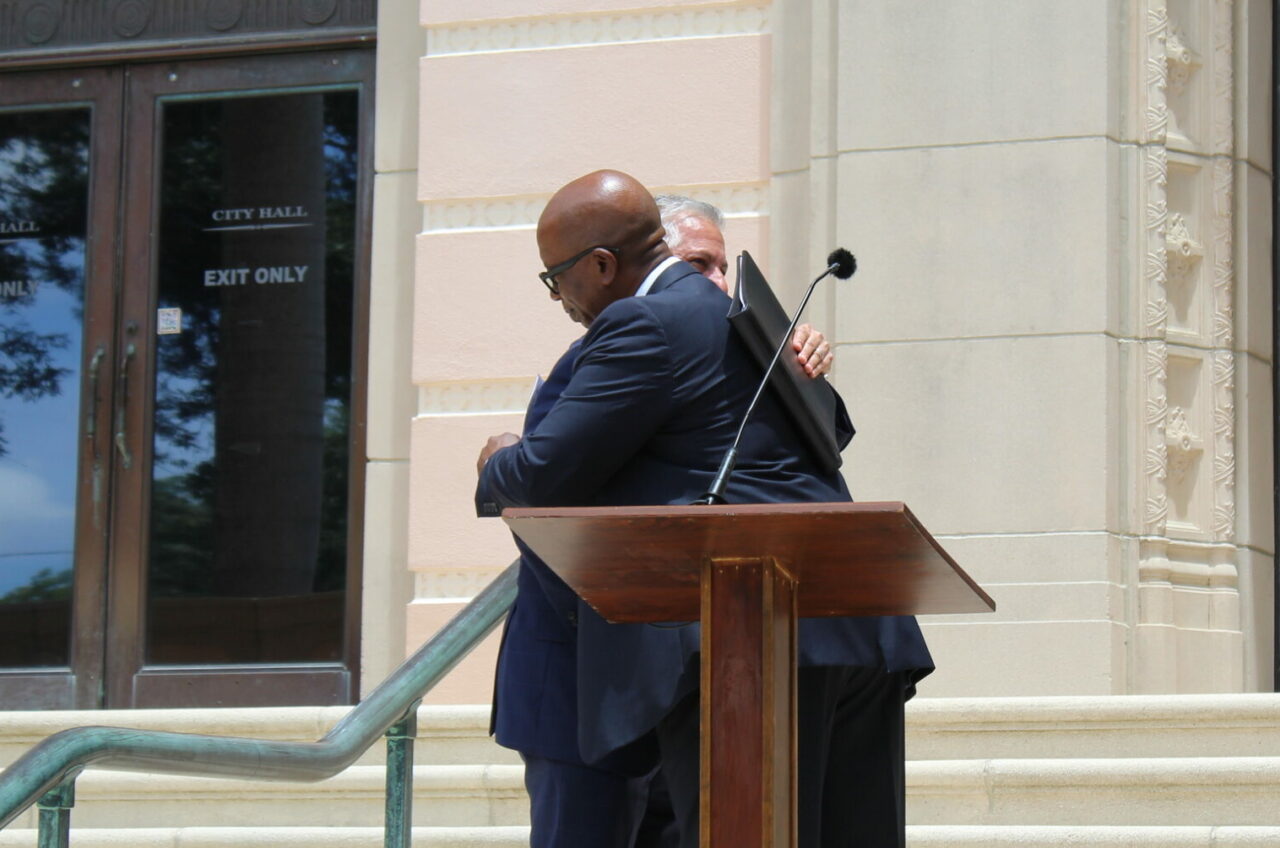 The endorsement is a loss for Darden Rice.
St. Petersburg Mayor Rick Kriseman is endorsing former Pinellas County Commissioner Ken Welch as his successor.
"Ken has been at this for a long time, always on the side of right, always fighting for what's right, and doing so in a thoughtful, deliberate manner. His approach to issues is why he receives such broad support," Kriseman said Monday. "Ken is a uniter."
The endorsement from the term-limited Mayor is a significant nod in the upcoming election. Kriseman, a Democrat, stayed within party lines in endorsing Welch, who is a front-runner in the race.
"Today, we are truly a green city with sustainability and resilience incorporated into everything that we do. We are a city of small businesses, a city of the arts, a city of innovation — but, we are not perfect," Kriseman said. " Now more than ever, as cities contend with bigger and bigger issues, a steady hand is required to steer the ship when we can't risk going backward."
This endorsement also comes at a jab to St. Pete City Council member Darden Rice, also a Democrat, who found herself at odds with Kriseman's decision to move forward with the Trop development without the Tampa Bay Rays. Kriseman later announced that he would resume negotiations after pressure from Council.
"I don't know all of his opponents. But I do know a few of them. And none of them are as prepared as he is," Kriseman said.
The two were also at odds in early 2019 when Rice launched a political committee ahead of her mayoral bid, which signaled her intent to run just one year into Kriseman's second term. At the time, Kriseman criticized the move as premature.
"We are just over a year into my second term and this year's council races have yet to even heat up, and so it's both unusual and disappointing that fundraising and campaigning for mayor has already begun," Kriseman said at the time, according to the Tampa Bay Times. "I believe all Americans, and certainly the residents of this city, want elected officials to focus more on policy and doing their jobs as opposed to perpetual fundraising and campaigning for their next elected office."
Kriseman's endorsement may also deflect recent criticism Welch has shouldered from Rice's campaign. Her committee, Friends of Darden Rice, paid for campaign mailers that hit mailboxes this weekend attempting to tie Welch to former President Donald Trump. The mailers pointed to some Welch donors who had ties to the Republican Party. Welch Supporters immediately took to social media decrying the mailer as hypocritical. Rice's donor list includes numerous Republican donors, some of whom publicly supported the former President.
Kriseman has been vocal in his opposition to Trump and the politics that follow him.
In January, Kriseman didn't hold back when Republicans remained silent after the Jan. 6 insurrection at the U.S. Capitol. Kriseman groused that he had been vocal about his feelings on then-President Donald Trump since he first landed on the campaign trail in 2015. He made national headlines following Trump's travel ban affecting several predominantly Muslim nations by, in return, banning Trump from St. Pete.
Welch touts an array of high-profile endorsers already, including Congressman Charlie Crist, Pinellas County Commissioners Karen Seel, Rene Flowers, Charlie Justice, Pat Gerard and Janet Long, former Congressman Jim Davis, and former Pinellas County Commissioner Bob Stuart.
Two members of the existing City Council, who would serve under a Welch administration, have also offered support — Lisa Wheeler Bowman and Deborah Figgs Sanders. Former City Council members Charlie Gerdes and Connie Kone, as well as former Pinellas County Public Defender Bob Dillinger, civil rights advocate and member of the "Courageous 12″ Leon Jackson and St. Petersburg Housing Commissioner Stephanie Owens have also offered endorsements.
Kriseman's endorsement will likely give Welch a boost among Democratic voters, with the advantage of strong name recognition locally. He is repeatedly a fixture in the Top 5 of Tampa Bay's most powerful politicians. He held onto his No. 5 spot this year, after dropping one spot from No. 4 in 2019.
"Like Mayor Kriseman, every Mayor will face challenges and we must rely on our own life experiences to conquer those challenges," Welch said Monday. "Rick has been a visionary leader for our city. And I've had the honor of working with him for more than two decades now."
Kriseman, who became Mayor in 2014 and was reelected in 2017, has been a vocal critic of Gov. Ron DeSantis, especially for his pandemic response, making headlines for blasting the Governor in his move to lift all local emergency orders.
"Your decision making based on facts and science was particularly impactful during the height of the COVID-19 pandemic, protecting our public health system and saving lives," Welch said Monday.
Kriseman fostered a locally regulated response to the COVID-19 pandemic, including a mask mandate, strict social distancing requirements, and other mitigation efforts. He also made clear his goal: get the city's positivity rate down to 5%.
The mitigation efforts appeared to affect the spread of the virus in the region, with Pinellas County often reporting fewer COVID-19 cases than other densely populated Florida counties, likely earning him bonus points with Democratic voters in the region.