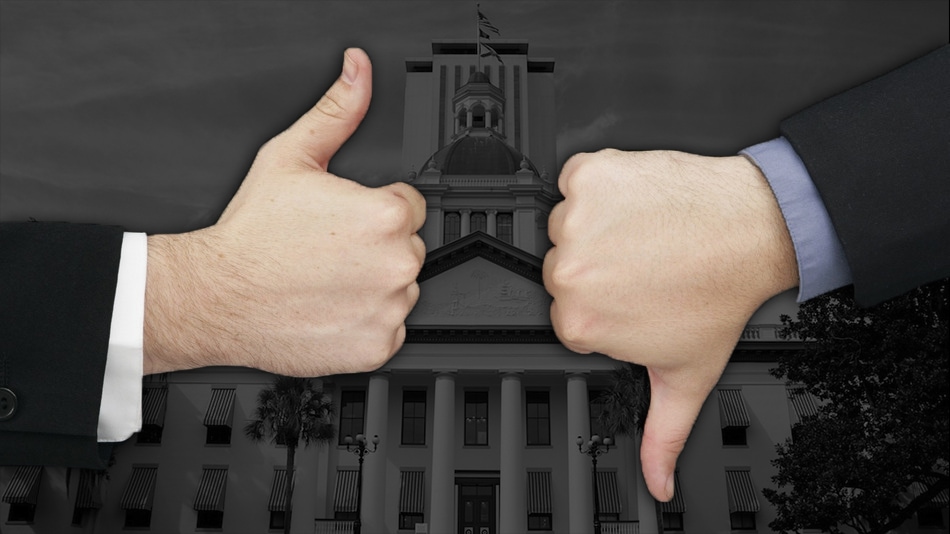 Lake Okeechobee got a much-needed upgrade, but school districts and Superintendents are continuing to feel the heat.
The chaos surrounding the implementation of last year's "Parental Rights in Education" law hit a fever pitch this past week.
Manatee County's school district is covering bookshelves. In Sarasota, they are freezing book donations for fear of accepting something too radical. And teachers are under threat of a felony if they don't comply.
Now, as we've written before, we don't share much of the panic and mania surrounding this legislation that many Democrats do. Calling it the "Don't Say Gay" bill is a misnomer; it doesn't go that far. And students and schools do need some rules about what is and isn't appropriate for children.
But is this law actually giving that guidance? In all the examples above — as well as a story reported last year of a school threatening to nix a Hanukkah presentation before backing off — the law, as of now, seems to simply be providing only confusion.
For activists who think schools are flooded with sexually inappropriate material (I'm not sure what schools they went to!), they are probably fine with the confusion so long as they are getting what they want. Better to err on the side of removing or banning too much, rather than let this supposed tidal wave of filth reach their poor children's eyes and ears.
But we cannot stress how nuts this looks to the rest of us. That includes people like us, who, as we said, are not immediately opposed to some tighter restrictions on what is and isn't allowed in schools.
Those restrictions, however, do need to be clear. And the main problem with this bill, from the beginning, was not that it was an outwardly hateful piece of legislation, as the most strident critics claimed. It was that the measure was too vague, leading to unforeseen consequences and, by extension, opening the door for those more extreme critiques.
No doubt those activists supporting the legislation are going to back it until the end, because their side won and that's all that matters in politics these days. But if anyone is actually concerned about constructing effective legislation and governing properly, and winning over doubters or those in the middle, lawmakers really need to provide more clarity as to what is and isn't allowed here or give more funding to allow local school districts to wade through the law's vagueness.
Otherwise, the law's proponents are inviting more concerns and criticism about widespread book banning.
Now, it's on to our weekly game of winners and losers.
Winners
Honorable mention: Teachers. Confusion about the parental rights bill aside, teachers did get at least some welcome news this week on the pay front.
Gov. Ron DeSantis announced a legislative proposal to add another $200 million toward pay raises aimed at bringing the starting teacher salary in the state to $48,000.
The news comes after reporting this month that teacher vacancies remain sky high, despite prior pay raises and other efforts at bringing more educators to Florida (ahem, I don't think the chaos on the book and curricula issues is helping).
Now, this proposed legislation is not without some caveats. DeSantis is floating a provision to stop union dues from being automatically deducted from teacher paychecks. Efforts to do so in the past have earned rebukes from Democrats. But with the GOP now holding a supermajority in both chambers, Democrats don't have much of a say in the matter.
The legislation also adds more restrictive term limits for School Board members, going from 12 years currently down to 8.
Democrats have argued the legislation is a mere attempt at a political win, and won't actually substantively affect teacher recruitment.
It remains to be seen whether those competing provisions do more harm than good for attracting more people to the field. But at least on the paycheck front, teachers appear to be getting a win in the upcoming Legislative Session.
Almost (but not quite) biggest winner: SW Florida voters. Southwest Florida residents received some welcome news this week, as Secretary of State Cord Byrd empowered Lee County Supervisors of Election Tommy Doyle to make it easier for residents to vote in local elections in March.
The region is still recovering from Hurricane Ian, making it difficult for some in Estero and Sanibel to show up in-person for the upcoming election.
Current law restricts vote-by-mail ballots from being sent to a new or non-permanent address. But Byrd's edict allows Doyle to ignore those restrictions and send ballots out to wherever residents may be living while they search for new homes.
"Displaced residents of Lee County Florida have experienced long-term effects as a result of Hurricane Ian," Byrd said, announcing the move. "In an effort to help the voters in Lee County, the Department of State wants to ensure that we make the necessary accommodations to give voters who have been displaced an adequate opportunity to cast their ballot."
That's welcome news for the still reeling region. Both Estero and Sanibel will hold elections on March 7, with several elected positions up for grabs.
The biggest winner: Lake O. It took 18 years and $1.5 billion, but workers have completed renovations of the Herbert Hoover Dike surrounding Lake Okeechobee.
The U.S. Army Corps of Engineers held a ribbon-cutting ceremony to commemorate the occasion this past week.
"This construction project has been a monumental undertaking that started in 2005. Corps team members and construction contractors, as well as the supporting staff from Federal, Tribal and State agencies, have dedicated a significant part of their careers to this project, and I thank them for their efforts," said Col. James Booth, U.S. Army Corps of Engineers Jacksonville District Commander.
"The Herbert Hoover Dike has never been in better shape than it is right now. That is great news for the lakeside communities. The Brighton Reservation and the cities of Clewiston, South Bay, Belle Glade, Pahokee, Okeechobee, and Moore Haven are safer and more protected than they have ever been. These communities are why we restored the dike. Because of our collective efforts, Herbert Hoover Dike is now better suited to protect lakeside communities for many years to come."
The dike helps manage water flow and prevent flooding outside of Lake O. Prior to the repairs being completed, engineers at times had to keep water levels down, for fear that a large amount of rainfall could put pressure on the dike and cause a collapse.
With repairs completed, the Army Corps will have more flexibility to keep the lake at higher levels as the Corps moves to a new Lake O regulation schedule. Having more water in the lake helps ensure water is available for communities who use the water source even in a period of drought.
Losers
Dishonorable mention: Rocky Hanna. Earlier this month, Hanna announced his intention to run for a third term as Leon County Superintendent. This past week, it was revealed he may be the subject of a state investigation.
What for? Well, the Florida Department of Education (FDOE) is looking into whether his "personal views" are affecting his job performance.
According to Tallahassee Reports, the probe stems in part from an email Hanna recently sent employees, seemingly thumbing a nose at state efforts to monitor school activities more closely.
"I will always have your back!" Hanna wrote.
"Continue to teach the standards just as you have always done and do not worry for one minute about naysayers political and others who are trying to mislead people and control what you can and cannot say in your classroom. If someone wants to come after you they will have to go through us and our attorneys."
Of course, there is backstory here too. Hanna is one of a dozen Superintendents who defied the state's ban on mask mandates during the COVID-19 pandemic.
While those other Superintendents are appointed — and potentially removed by — the School Board, Hanna is elected. That means he can lose his job if voters throw him out, or if the Governor steps in and removes him.
The fact that the FDOE is looking into Hanna certainly isn't a good sign for his tenure. But Hanna reportedly received a letter acknowledging the investigation on Dec. 22. He announced his decision to run after that, making it clear he's intending to fight going forward.
Almost (but not quite) biggest loser: Curt Anderson. U.S. Sen. Rick Scott's main consultant was likely salivating at a potential 2024 presidential run. But news this week put a serious damper on that possibility.
Scott had publicly said he intended to run for re-election in the Senate, even if his actions chairing the National Republican Senate Committee and challenging Senate Minority Leader Mitch McConnell signaled Scott has larger aspirations.
But Thursday, Scott made it official, telling NBC News he would pursue a second Senate term.
Sure, Scott's re-election run will ensure Anderson and other familiar names have a steady gig this upcoming cycle. But Anderson could have built a pair of beach houses with the money he would have made off a presidential run. Now, he'll have to wait until 2028 — or later.
The biggest loser: Vickie Cartwright. Well, on the bright side, at least Cartwright's wild ride as Broward Superintendent is over.
Cartwright agreed this past week to depart as chief of Broward's school district. That's after a DeSantis-appointed majority fired Cartwright on its last day in control, only for the newly elected School Board to rescind that firing. Then, after further criticism for the state, Cartwright was again rumored to get the ax, before she finally stepped aside.
Superintendents in the state have been falling left and right in this era of schooling reform. And while Broward's school district deserves plenty of criticism — mainly related to the 2018 Parkland shooting — that mainly preceded Cartwright's tenure.
Ah, but she did institute a mask mandate in defiance of the DeSantis administration. That put a target on her back, one the Governor's allies were all too willing to fire upon.
I'm sure it was just a coincidence that, as the School Board readied Tuesday to vote on whether Cartwright should go, the FDOE dropped a letter Monday evening asserting Cartwright was not complying with requested school safety information from the state. Certainly that timing was not a deliberate effort to sap support from Cartwright the evening before the final vote.
Cartwright was meant to be the reformist following the rocky end of former Superintendent Robert Runcie's tenure. Now, that task will go to someone else, who should be well aware that, just like in Leon County, Tallahassee will be watching their work closely.